The ultimate Times Square eating and drinking guide
Browse our definitive manual of midtown's best restaurants and bars.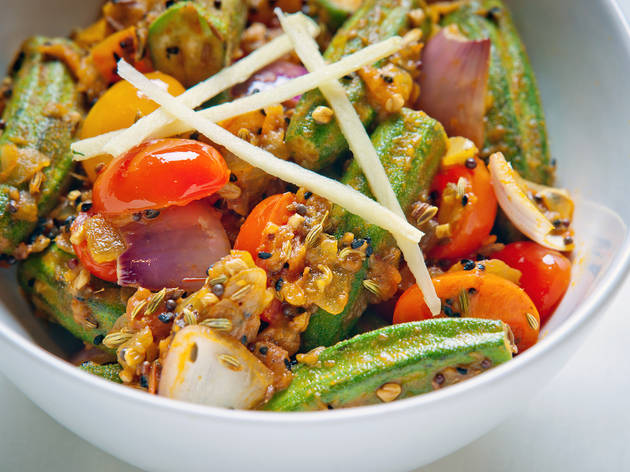 1/20
Time Out, Photograph: Paul Wagtouicz
Benares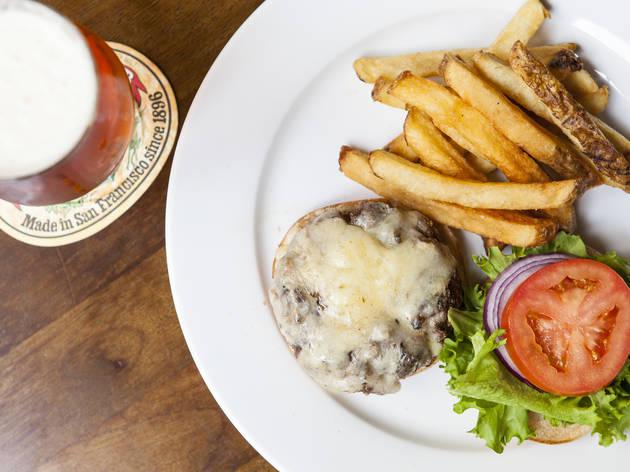 2/20
Photograph: Jakob N. Layman
Beer Authority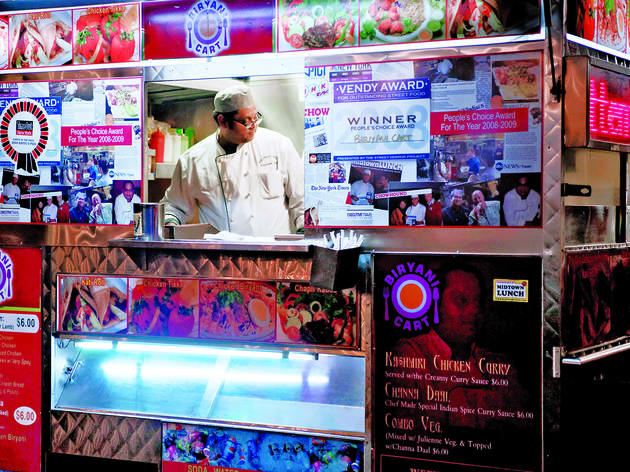 3/20
Photograph: Paul Wagtouicz
Biryani Cart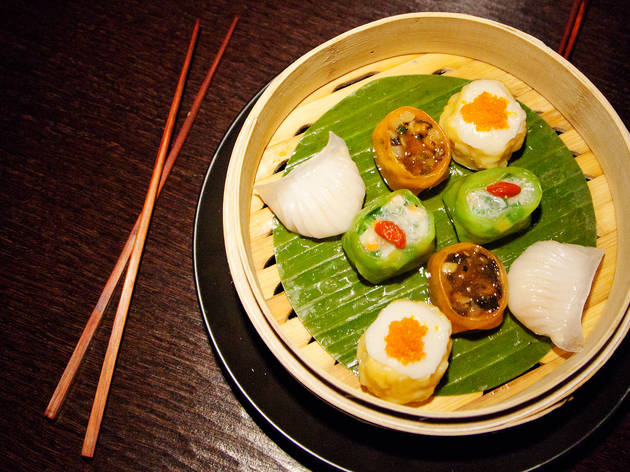 4/20
Photograph: Dominic Perri
Hakkasan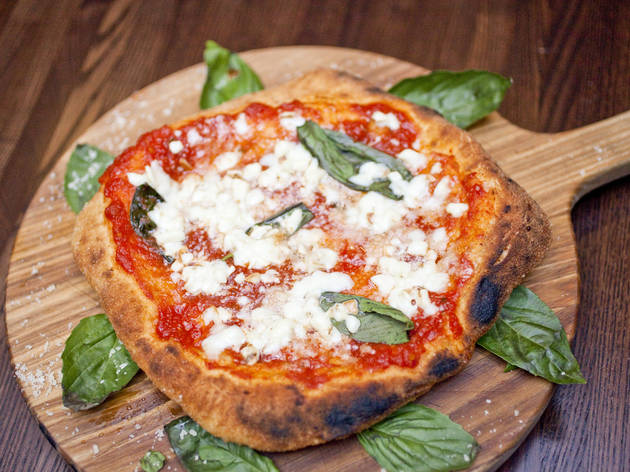 5/20
Time Out, Photograph: Alex Strada
Don Antonio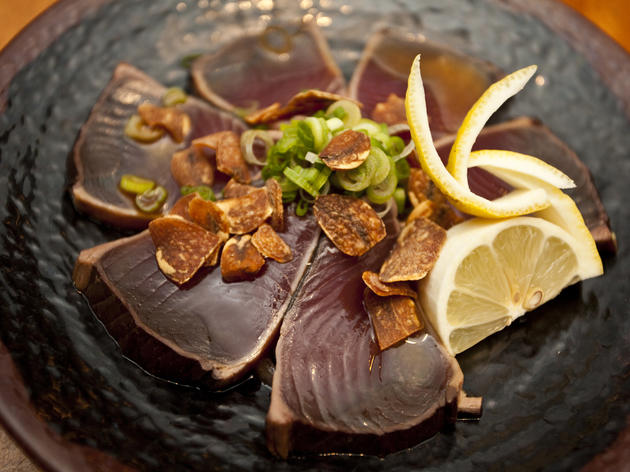 6/20
Time Out, Photograph: Caroline Voagen Nels
Sake Bar Hagi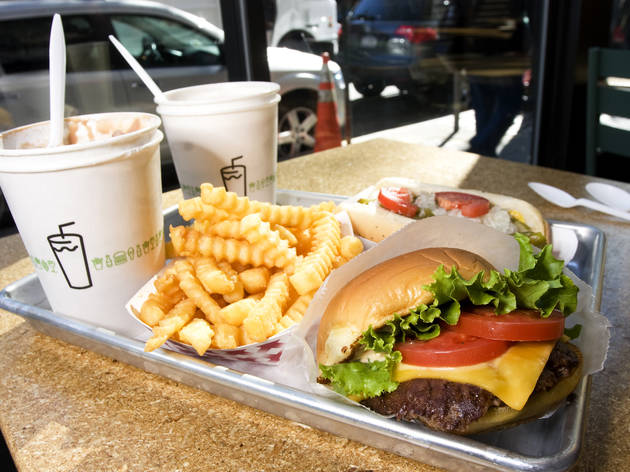 7/20
Shake Shack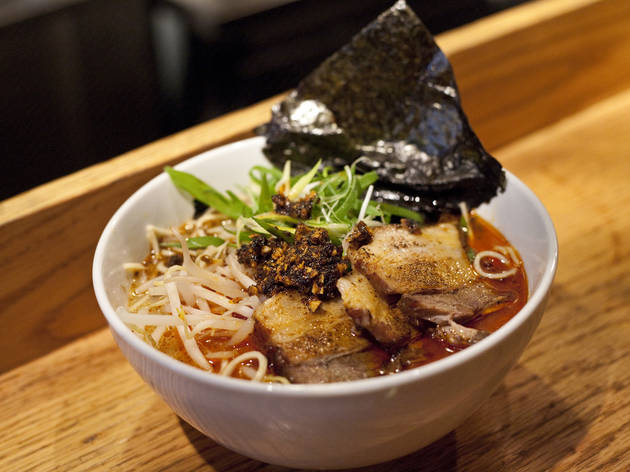 8/20
Photograph: Krista Schlueter
Totto Ramen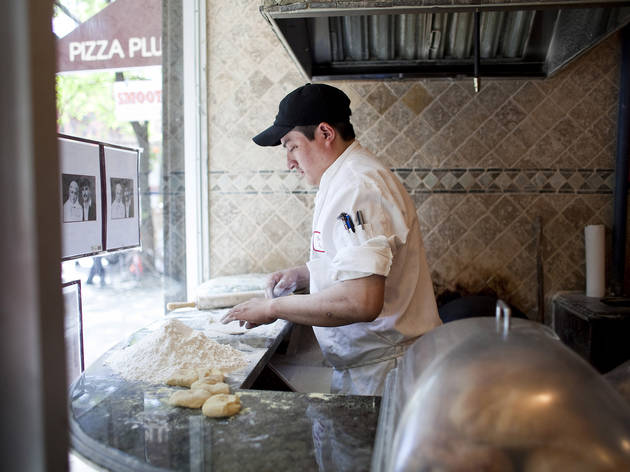 9/20
Photograph: Anna Simonak
Gazala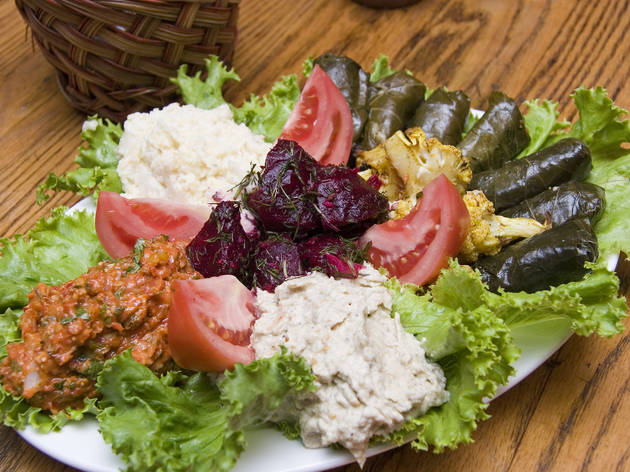 10/20
Photograph: JQ
Kashkavel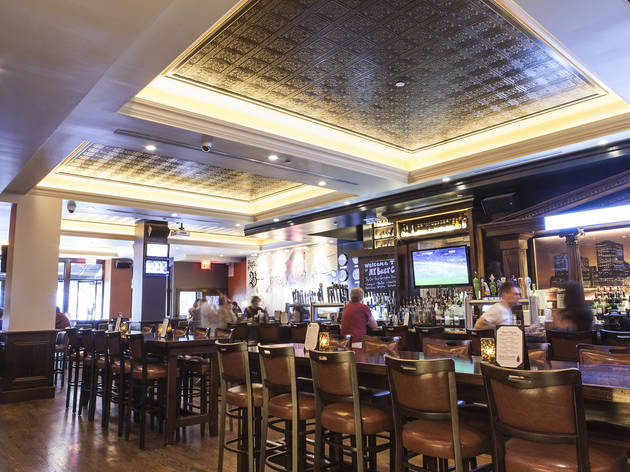 11/20
Photograph: Jakob N. Layman
New York Beer Company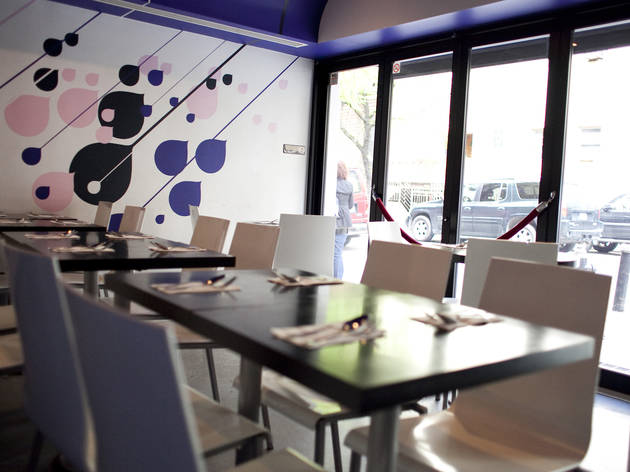 12/20
Photograph: Anna Simonak
Pam Real Thai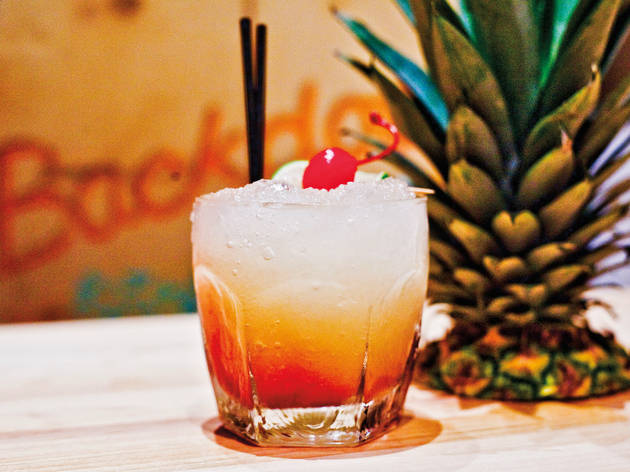 13/20
Photograph: Aubrey Therklesen
Reunion Surf Bar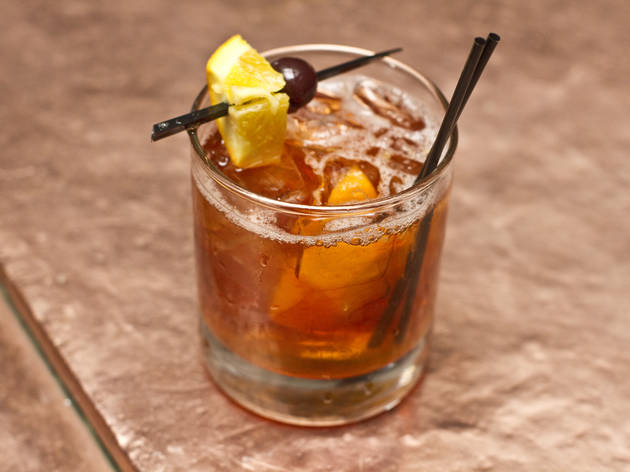 14/20
Copyright Caroline Voagen Nelson, Photograph: Caroline Voagen Nels
Rum House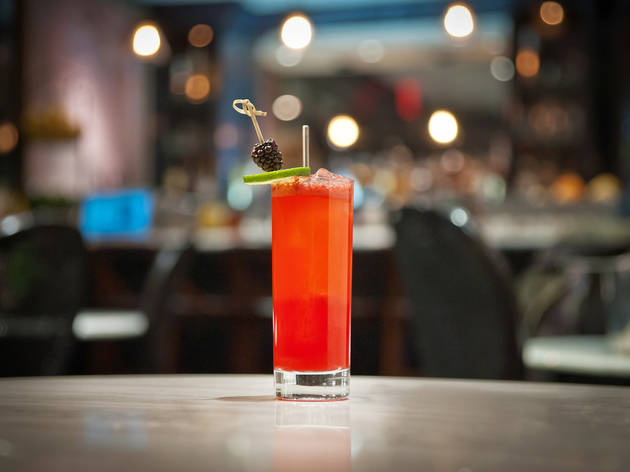 15/20
? Paul Wagtouicz, Photograph: Paul Wagtouicz
Lantern's Keep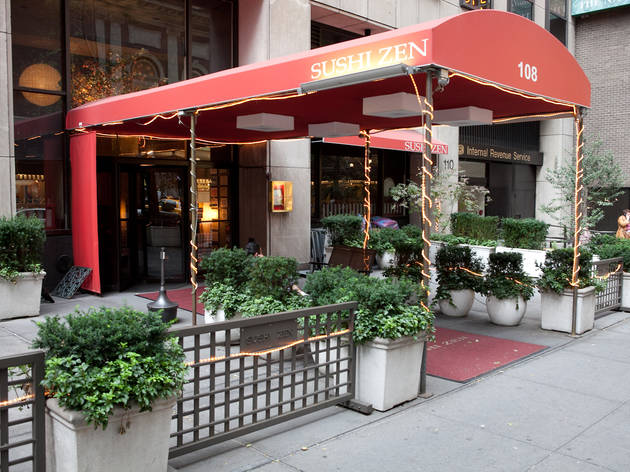 16/20
Time Out, Photograph: Zenith Richards
Sushi Zen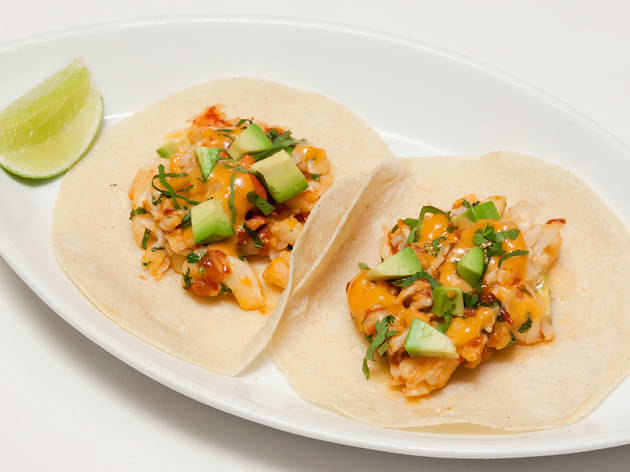 17/20
Time Out, Photograph: Jakob N. Layman
Toloache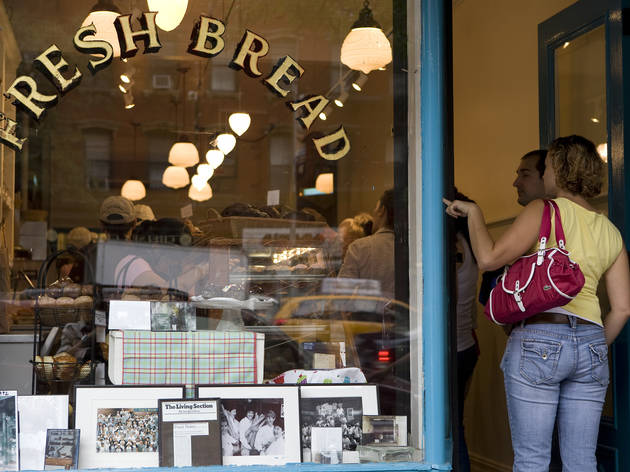 18/20
Time Out © 2008 sophia wallace, Photograph: Sophia Wallace
Amy's Bread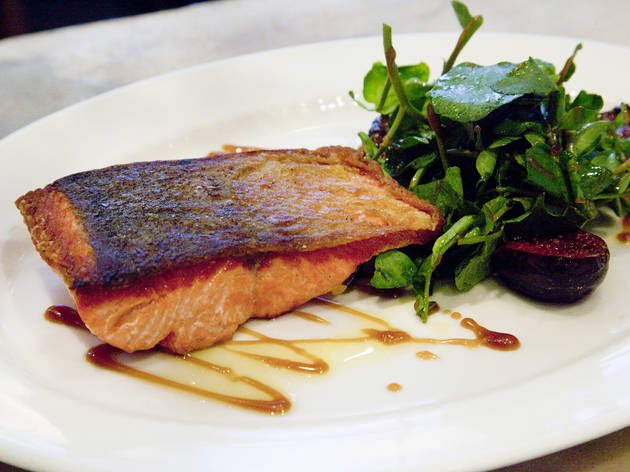 19/20
Time Out, Photograph: Andrew Fladebow
Esca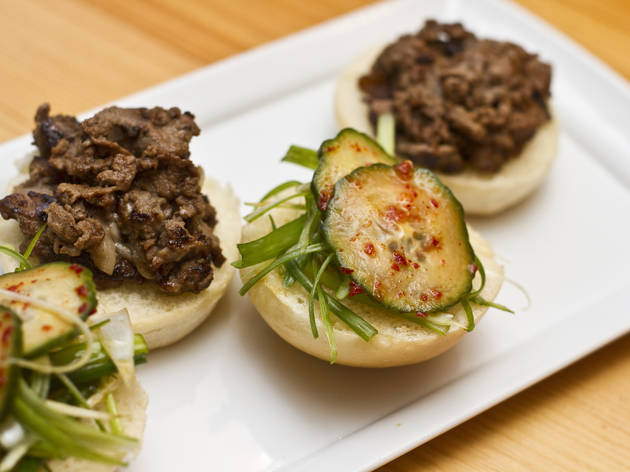 20/20
Copyright Caroline Voagen Nelson, Photograph: Caroline Voagen Nels
Danji
Love it or loathe it, Times Square is an essential part of the New York experience. Whether you're working in midtown, heading to the Theater District or catching a bus at Port Authority, the city has a way of pulling residents and visitors alike toward the bright lights of Broadway. Thankfully, there are fine places to eat and drink amid the gaudy chains and tourist traps—you just have to know where to look. Here, we round up the best new restaurants and bars around Times Square, plus the all-time classics you can count on in a pinch. Did we miss any of your favorites? Let us know about 'em in the comments.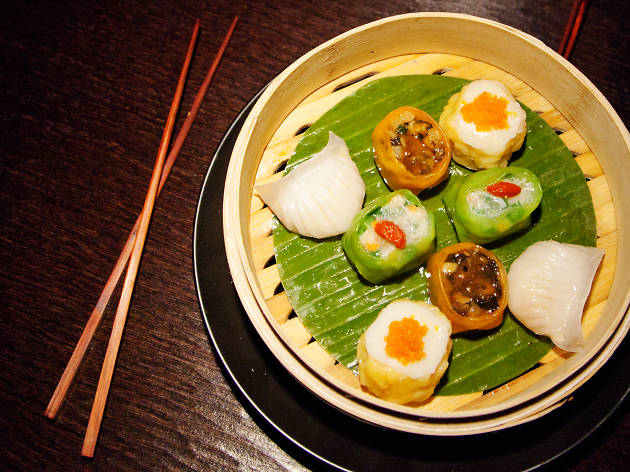 Photograph: Dominic Perri
Broadway has its share of imported blockbusters from London, but this one is more likely to court the high rollers than the culture vultures. The slick, spendy Cantonese chain—its Michelin-starred forebear has spawned outposts from Mumbai to Miami—feels right at home in Times Square with its theatrical, Westernized take on upscale Chinese food. Luxe ingredients anchor dishes such as the roasted silver cod dressed with champagne and Chinese honey, and a fat-cat–baiting Japanese abalone with black truffles (at a hefty $888). Still, expense-account–less diners can find some fine things to eat on the lower end of the price spectrum: The $28 steamed dim sum platter includes tender scallop shumai and delicate, freshly made dumplings stuffed with prawns and Chinese chives, while the Szechuan-style mabo tofu ($19) is compulsive and comforting, with curry powder and house-made pickled chilies providing a warming kick.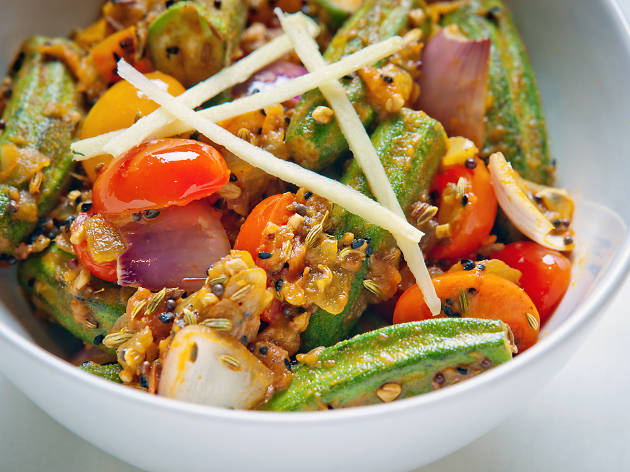 Time Out, Photograph: Paul Wagtouicz
Just a short stroll north of Times Square, the subdued dining room at Benares offers a respite from midtown madness, as well as a taste of the 'hood's most ambitious Indian cooking. Virtuoso chef Peter Beck (Tamarind) oversees the region-hopping bill of fare, which includes a robust selection of seafood and vegetarian dishes (the restaurant takes its name from a city in the northeastern state of Uttar Pradesh, an area known for its veggie-based specialties). Of the latter, we loved the lauki ka kofta—hearty green-squash dumplings smothered in cumin-laced paneer and a buttery, tomato-based makhani sauce. While carnivores can find classics like lamb rogan josh and chicken vindaloo, you might opt for less familiar specialties, like kozhi varutha, a South Indian–inspired chicken curry thickened with coconut milk and spiced with roasted chilies, garlic and ginger.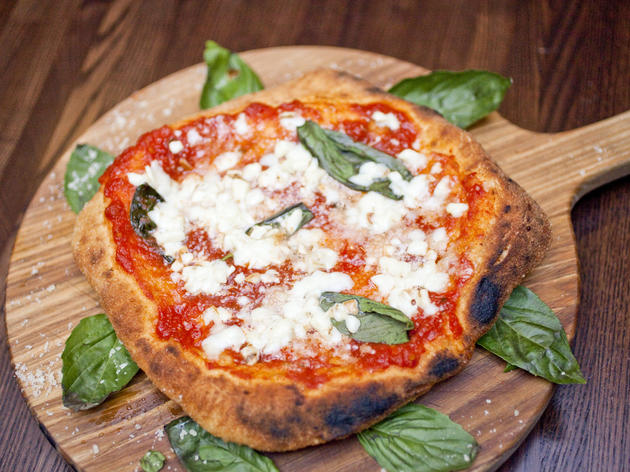 Time Out, Photograph: Alex Strada
While tourists bumble into Sbarro looking for a New York slice, pizza aficionados have been busy colonizing this pedigreed newcomer—a collaboration between Kesté's talented Roberto Caporuscio and his decorated Naples mentor, Antonio Starita. Start with tasty bites like the frittatine (a deep-fried spaghetti cake oozing prosciutto cotto and béchamel sauce), before digging into the stellar wood-fired pies, which range from standards such as the Margherita to more creative constructions like the Rachetta, a racket-shaped pizza with a "handle" made of ricotta-stuffed dough. The main event, however, should be the habit-forming Montanara Starita, which gets a quick dip in the deep-fryer before hitting the oven to develop its puffy, golden crust. Topped with tomato sauce, basil and intensely smoky buffalo mozzarella, it's a worthy new addition to the pantheon of classic New York pies.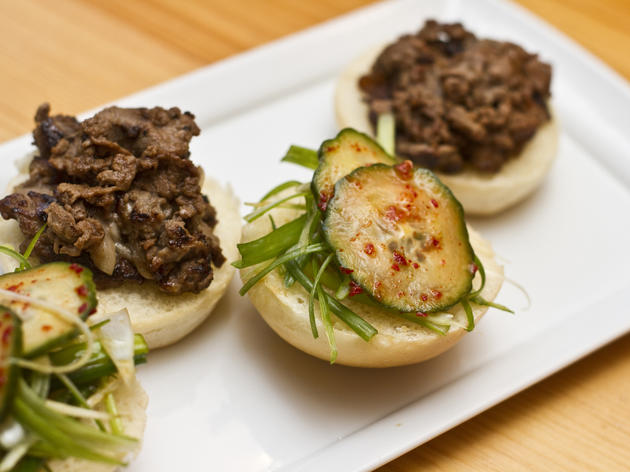 Copyright Caroline Voagen Nelson, Photograph: Caroline Voagen Nels
With butcher-block tables, inventive Korean-inspired small plates and a Michelin star to boot, this diminutive eatery is of the rare breed that would likely be just as packed downtown as it is on West 52nd Street. Chef Hooni Kim (Daniel, Masa) brings his haute French training to bear on the food of his homeland, splitting the menu between traditional dishes and modernist riffs. His flavors are bright and fresh, with a great balance of sweet, spicy and funky elements. The classics seem, for the most part, like upgrades on their source material—scallion pancakes are exceptionally fat and crispy, while chili-slicked buckwheat noodles are paired with a beer-friendly salad of spicy vegetables and chewy, briny whelks. The updated stuff is equally appealing. Sliders may be passé, but you won't want to miss Kim's addictive bulgogi variety, served on pillowy grilled buns with spicy pickles and scallion salsa.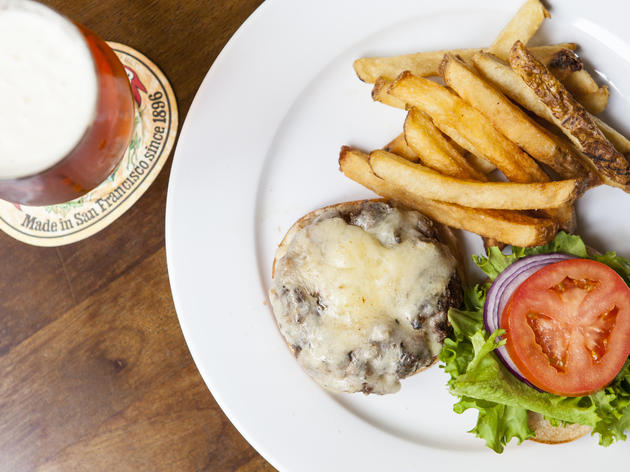 Photograph: Jakob N. Layman
After battling a series of bureaucratic delays, this massive, multilevel craft-beer emporium is finally piping quality brews straight into the thick of midtown. The place may look like a standard-issue Irish pub—indeed, there's a small ground-floor nook that peddles Buds and well shots to folks wandering in off the street—but the second-floor bar is outfitted with a whopping 62 taps, many devoted to top-notch selections from the U.S. and Europe. You can put together a fine session with standouts like Belgium's standard-bearing Saison Dupont, Sierra Nevada's piney Torpedo IPA and creamy nitro pours of Sixpoint Otis Stout, or dig into a solid bottle list that includes picks from Green Flash and Aecht Schlenkerla. When the third-story outdoor patio finally opens (hopefully by summer), it'll be a coveted perch for hops-heads and commuters alike.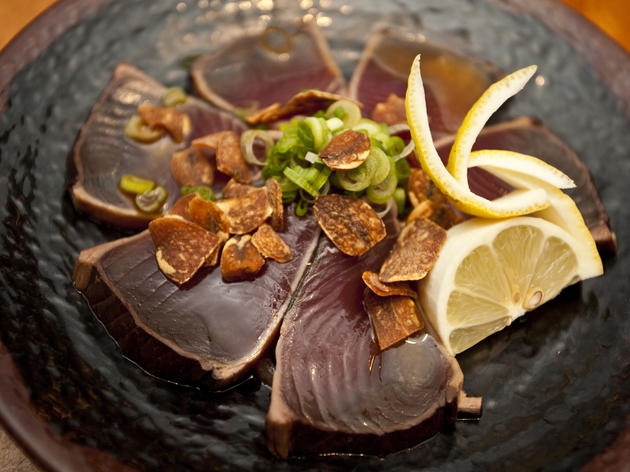 Time Out, Photograph: Caroline Voagen Nels
Located right in the heart of Times Square, this underground izakaya has established itself as one the area's best-kept secrets. Packed with Japanese patrons late into the night (it stays open until 3am), the spot offers an encyclopedic menu of Nippon comfort foods like crispy kara-age (pieces of fried chicken) with ponzu sauce, bonito sashimi painted with citrusy soy sauce and spaghetti tossed with a spicy cod-roe cream sauce. Dirt-cheap pitchers of Kirin fuel the raucous vibe.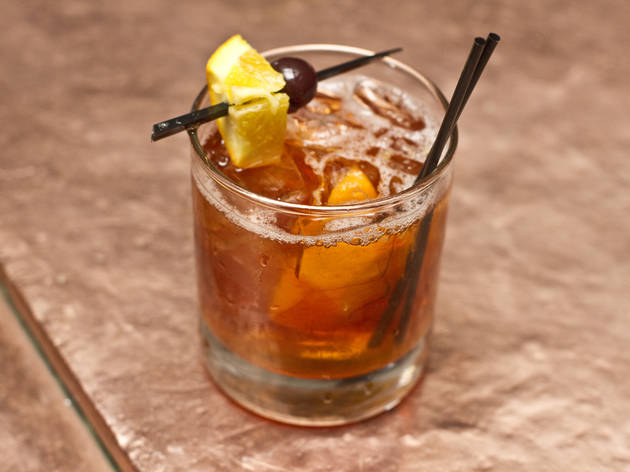 Copyright Caroline Voagen Nelson, Photograph: Caroline Voagen Nels
Get a taste of the old Times Square at this 1970s-vintage piano bar in the Edison Hotel. While the team behind Tribeca mixology den Ward III has recently wiped the scum left behind by the barflies of yore, the upgraded Rum House maintains the charmingly offbeat flavor of the original. Belly up to the tiny bar and listen to live jazz acts (Wednesday–Saturday nights) while vest-clad bartenders mix dark-spirit–heavy tipples, such as a funky old-fashioned riff that showcases the rich, tropical complexity of Banks 5 Island Rum. Those who suffer the cruel fate of being in midtown on a weekend morning can console themselves with a range of six Bloody Marys (11am–5pm).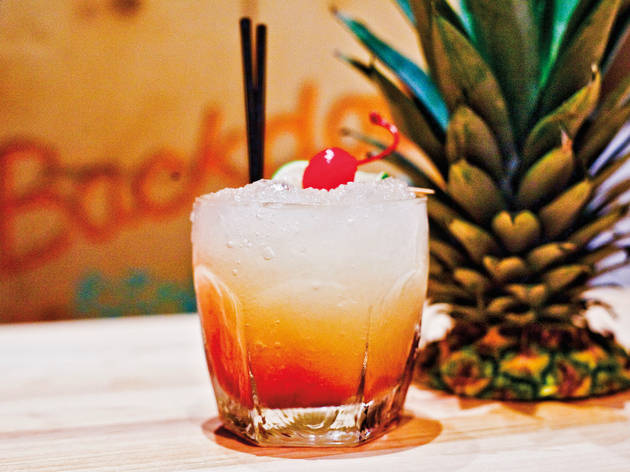 Photograph: Aubrey Therklesen
This subterranean surf shack is plenty kitschy, but it's a far cry from the corporate-backed theme joints that plague the area. Bartenders rocking board shorts and old-school surf tunes warbling over the speakers forecast the spot's chilled-out attitude—a welcome change of pace from the drab tourist traps above ground. Sip a well-balanced dark and stormy floating big bits of ginger, or cool off with the "frozen Corona"—a grown-up slush, with an icy blend of beer, vodka, triple sec and lime. Franco-Asian snacks should save you from a tipsy wipeout on the way home; go for Hanboa Sliders, with tender short ribs and a spicy combo of kimchi and sriracha mayo.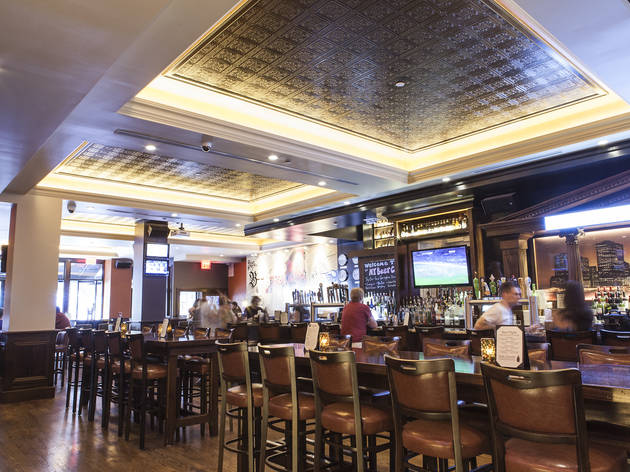 Photograph: Jakob N. Layman
The New York Beer Company
Beer Authority isn't the only place to find quality brews in Times Square. Along with a new outpost of the Empire State–boosting Little Town NYC, this sprawling (and otherwise generic) sports bar has provided a stage for New York's growing cast of artisanal producers. In addition to upstate standouts like Empire Cream Ale, find hyperlocal pours like Bronx Pale Ale and Sixpoint Sweet Action. Market-based pricing on some of the beers means that your tab can fluctuate depending on demand—it's gimmicky for sure, but vigilant drinkers can nab serious deals on lesser-known brews hovering around the $4 mark.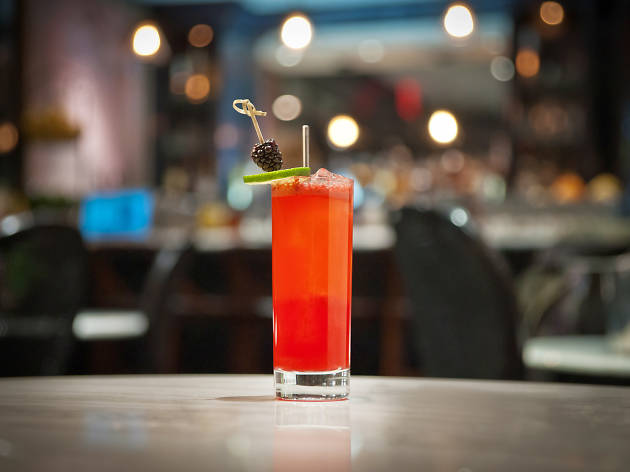 ? Paul Wagtouicz, Photograph: Paul Wagtouicz
Haute cocktails aren't easy to come by around these parts, but this intimate salon—tucked in the back of the Iroquois Hotel—provides an inviting nook for enlightened tipplers. Marble tables, pale blue velvet chairs and Impressionistic paintings help conjure the European salon scene of the 1920s and 1930s. Meanwhile, a small library of cocktail tomes (The Savoy Cocktail Book, Jerry Thomas' Bartenders Guide) is reflected in the classic mixology behind the bar. Among the more esoteric throwbacks is a heady Boulevardier, a sort of love child of the Negroni and the Manhattan that mellows the spicy bite of Elijah Craig bourbon with Campari and sweet vermouth.