Three great neighborhood Italian restaurants
Every 'hood needs a solid, honest Italian standby like Porsena. Here are three of our faves.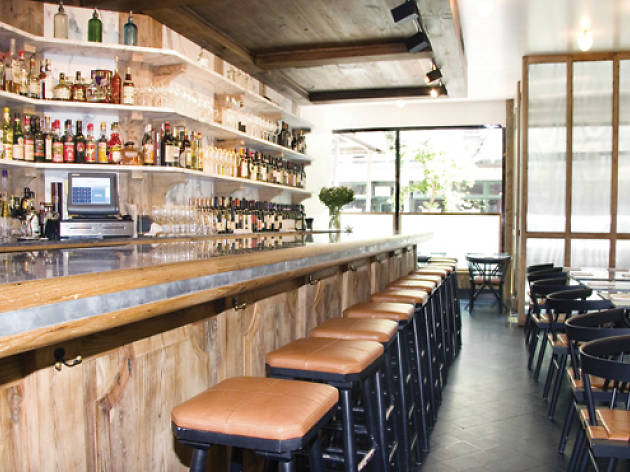 West Village: I Sodi
Locals pack this narrow spot for chef-owner Rita Sodi's fine renditions of her Tuscan mother's recipes. You can post up at the marble-topped bar for an Italian aperitif and a quick bite, or settle in for a full meal. The homespun bill of fare—featuring dishes like succulent fried-chicken chunks—changes weekly according to Sodi's whim. But you'll always find the bubbling meat-rag lasagna—regulars won't let her take it off the menu. 105 Christopher St between Bleecker and Hudson Sts (212-414-5774)

Brooklyn Heights: Noodle Pudding
Don't be fooled by the oddball name and unlikely location: This gem is one of Brooklyn's best Italian joints. Rustic dishes—like braised rabbit with roasted vegetables and polenta, and rigatoni with eggplant, tomato and ricotta—have been drawing locals and itinerant gastronomes since the restaurant opened in 1994. In the winter, the warmly lit brick-and-dark-wood space provides a cozy refuge. Come summer, large windows lined with blooming flower boxes open up to the street. 38 Henry St between Cranberry and Middagh Sts, Brooklyn Heights (718-625-3737)

Upper East Side: Spigolo
Husband-and-wife team Scott and Heather Fratangelo, both Union Square Cafe vets, are behind this unassuming favorite. He dispatches satisfying and rustic plates, like grilled octopus with gigante beans and preserved lemon, or cavatelli with a hearty fennel-sausage rag. Heather oversees the pastry program, and over the years, both have taken turns welcoming both regulars and newcomers to the brick-walled dining room with a friendly ease. 1561 Second Ave at 81st St (212-744-1100)
Related content
See restaurant review for Porsena
Sponsored listing
Alachi Masala
Whether you're looking for takeout or a casual dinner on the Upper West Side, Alachi Masala has you covered. Not only is this restaurant BYOB, but it also doesn't charge any corkage fees. Whether you're dining in or taking your dinner to go, you have a long menu of Indian favorites to choose from. Go the traditional route with vegetable samosas (two for $4.95) or vegetable pakora ($6.95) to start. You'll find classics like chicken tikka masala ($15.95) and saag paneer ($13.95) alongside specialty dishes like emlyka murg, boneless chicken cooked in peppercorns, tamarind and garam masala ($14.95). Of course you'll want some naan—what Indian feast would be complete without it? Try it flavored with garlic ($3.95), stuffed with spiced potatoes ($3.95) or studded with cherries, raisins and coconut ($4.95). Hungry for something sweet? Sample some of the traditional Indian desserts on offer, like the cardamom- and rose-scented pudding called kheer ($4.95) or ice cream flavored with saffron ($4.95).
Venue says: "New York's Best B.Y.O.B. Indian Restaurant famous for the Chicken Tikka Masala and other gluten free and vegan options available!"