U.K. invasion
Royal-wedding fever is sweeping NYC. Track down all of your Anglo essentials at the city's latest crop of British restaurants, pubs and speciality food shops before the big day.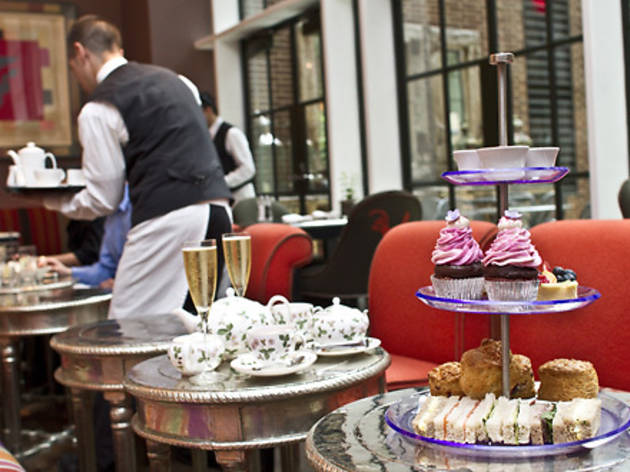 Afternoon tea: The Crosby Street Hotel
High tea calls to mind white-gloved butlers and stodgy drawing rooms, but this buzzy boutique—the first stateside outpost of London's trendy Firmdale hotel chain—gives the tradition a downtown makeover. The plush Crosby Bar's striped banquettes, Moroccan-inspired caf tables and cheeky art (including Warholian portraits of Queen Elizabeth II) set the scene for the irreverent Crosby Afternoon Tea (served 2--5pm; $34 per person). Pots of loose-leaf tea come with a three-tiered glass tray that juxtaposes dainty finger sandwiches (smoked salmon and dill, egg mayonnaise and mustard cress) with a rotating selection of decidedly un-English desserts such as red velvet cupcakes and fat brownies laced with peanut-butter mousse. Traditionalists will forgive the liberties when they bite into excellent house-made scones served with clotted cream, marmalade and strawberry jam. Enjoy the spread on a shaded patio when the weather's nice (or anytime it's not raining, if you're British), and throw in an extra $14 if you want to blow it out with a flute of crisp bubbly. 79 Crosby St between Prince and Spring Sts (212-226-6400)
Roasted meats: Oxley's Carvery
Get your meat and two veg at this Nolita nook, which doles out carvery staples under the guise of a British butcher's shop. While the bowler-hat--sporting staff isn't wielding any cleavers behind the counter, they do slice a selection of roasted meats to your liking (leg of lamb, pork shoulder, rump steak), served alongside authentic sides such as puffy Yorkshire puddings and rosemary-kissed new potatoes. The sausages, too, are serious business—juicy, coarsely ground bangers custom-made based on a traditional Lincolnshire recipe. But the takeout-shop setup is most conducive to grabbing a sandwich for the road. Along with pressed toasties (English-style panini, $10.50), Oxley's delivers a turkey two-hander that recalls an English Christmas dinner: a massive, flour-dusted white-bread bun cradling generous slices of moist poultry, savory homemade stuffing and chunky cranberry sauce. At $7, it's one of the 'hood's best lunch deals. 202A Mott St between Kenmare and Spring Sts (212-343-0550)
British sweets: The London Candy Company
Plenty of bodegas stock U.K. imports like Twirls, HobNobs and Yorkies, but this Upper East Side candy store is singular in its commitment to sourcing hard-to-find English sweets. The sugary bounty—arranged along wooden shelves and stuffed into black baskets—could set any British schoolboy's heart racing. We bit into Crunchie bars, full of honeycomb-like toffee that shatters in your mouth, and picked up boxes of jelly-filled Jaffa Cakes to dunk into our tea. True British-confectionery geeks can get English-made Cadbury treats (creamier than the American ilk) and novelties such as Terry's Chocolate Oranges, which break into segments just like the fruit. After plundering the goodies, sit by the floor-to-ceiling windows and sip a mug of malty Horlicks, frothed to perfection by a barista. 1442 Lexington Ave at 94th St (212-427-2129)
Pints: Black Horse Pub
English transplant Brian McNally channels Britain by way of Brooklyn at his Windsor Terrace saloon, dressing up the standard wood-and-exposed-brick interior with mixed-media paintings depicting English pop icons like the Clash, Massive Attack and Del Boy (of the classic BBC comedy Only Fools and Horses). The pub captures the essence of a local boozer across the pond—a convivial place to read the paper or match wits over a few jars of ale. And fittingly, the banter tends to center on English Premier League soccer, especially on weekends when committed fans pour in early to watch live matches. Order a cup of tea and full English breakfast ($12), featuring proper fried bread and Myers of Keswick bangers; then, move on to 20-ounce imperial pints of creamy Boddingtons ($6) or pitchers of local brews like Ommegang BPA ($22). Catch a London rivalry on Saturday 30, when Chelsea takes on Tottenham at 12:30pm, or set the alarm on Sunday 1 for a true clash of the titans—Manchester United versus Arsenal at 9:05am. 568 Fifth Ave at 16th St, Windsor Terrace, Brooklyn (718-788-1975)
Gastropub grub: Jones Wood Foundry
Unless April Bloomfield's behind the burner, English food tends to draw disinterested shrugs in NYC. But at this refined UES newcomer, chef Jason Hicks—an expat and fine-dining vet (Aureole, Orsay)—gives authentic fare genuine appeal, serving comforting dishes such as Lancashire hot pots and sherry trifle in a chic approximation of a countryside pub. A long, woody front bar leads downstairs to a recessed atrium and a homey dining room dressed up with pheasant-emblazoned place mats and shelves lined with Shakespeare tomes. Well-executed classics include brunch items like house-made crumpets with lemon curd ($7); a toad-in-the-hole ($14) that cloaks chipolata sausages and sweet caramelized onions in eggy Yorkshire pudding batter; and a bowl of kedgeree ($7)—fragrant rice pilaf featuring hunks of smoked haddock and boiled egg tossed with saffron, parsley and curry sauce. Hicks has a knack for sprucing up the English pantry with seasonal ingredients, so keep an eye on the specials board for weekend roasts and rotating pie fillings like Moroccan lamb, fresh eel and cider-braised pork shoulder. 401 E 76th St between First and York Aves (212-249-2700)
Anglo snacks: Shi Eurasia
This shoebox-size Eurasian minimart is the brainchild of three friends who met at the University of Manchester and hatched a plan to one day open a store together in NYC. Homesickness informs the delightfully odd stock on the shelves, made up of snacks, soft drinks and other creature comforts the shopkeepers miss from their native countries—England, Iceland and Malaysia. The U.K. imports go well beyond the usual suspects like McVitie's digestive biscuits and Cadbury chocolates, offering harder-to-find gems such as Ribena—a condensed black-currant juice—and Twiglets, knobbly sticks of puffed wheat that taste vaguely like Marmite. Other corner-shop staples include Nescaf instant-cappuccino pouches, Heinz Salad Cream (a tangy mayonnaise) and crinkly packets of Walkers potato crisps—plus cups of PG Tips ($1.50) brewed behind the register to sip while you browse. Grab a haul of your favorite goodies, then throw in some Icelandic chocolates and freeze-dried durian for good measure. 143A Orchard St between Delancey and Rivington Sts (212-228-7982)
Related content
Where to watch the royal wedding
Sponsored listing
Tio Pepe
Tio Pepe has served Spanish and Mexican dishes in Greenwich Village since 1970.    
Venue says: "We serve Happy Hour Tuesday-Sunday from 4-8. Enjoy $6 cocktails and $6 tapas!"