Waterfront bars
Where your drinks come with a free view.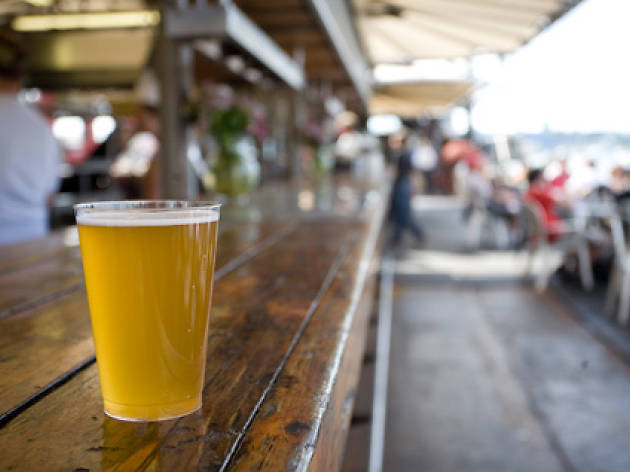 1/6
Photograph: Clotilde Testa
Frying Pan
Pier 66 Maritime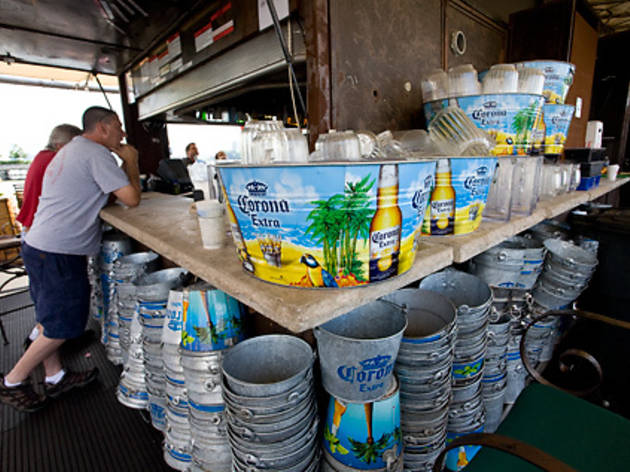 2/6
Photograph: Clotilde Testa
Frying Pan
Pier 66 Maritime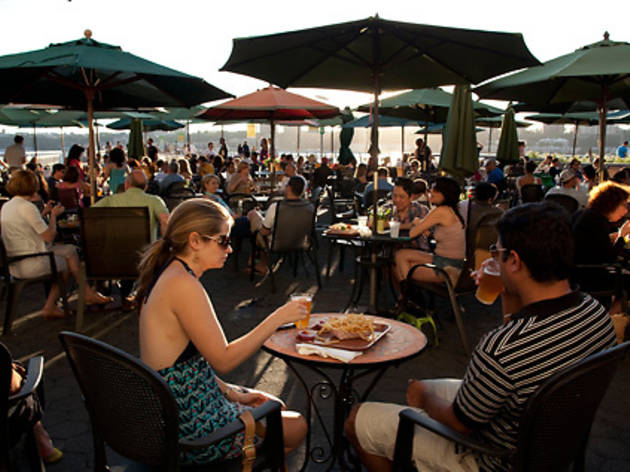 3/6
Photograph: Marlene Rounds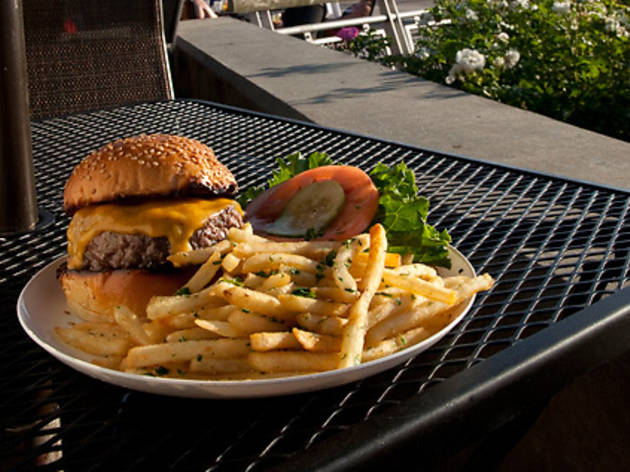 4/6
Photograph: Marlene Rounds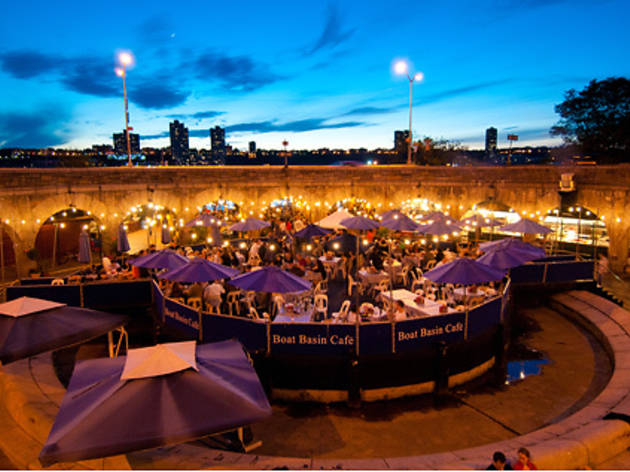 5/6
Photograph: The Drunken Photographer
79th Street Boat Basin Caf
79th Street Boat Basin Caf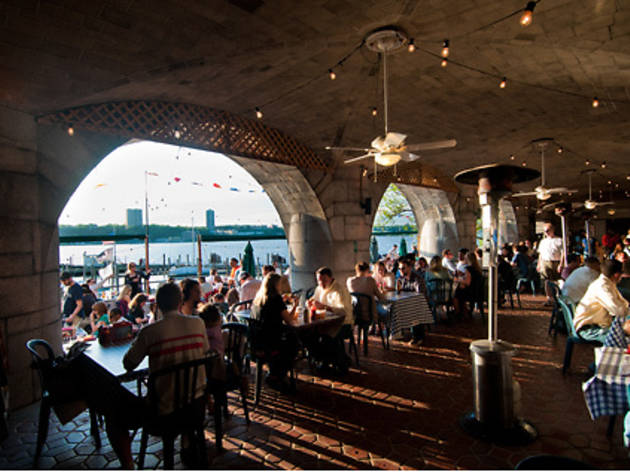 6/6
Photograph: The Drunken Photographer
79th Street Boat Basin Caf
79th Street Boat Basin Caf
Chelsea Brewing Company Restaurant
This 12,000-square-foot waterfront microbrewery is right off the marina in Chelsea Piers and boasts fantastic views of the Hudson River. It's also close to the high-tech Golf Club driving range, so you can hit a few balls before cooling down with a beer. There's plenty to sample, thanks to brewmaster Mark Szmaida, who's apparently a very a busy man: Up to 25 different types of beers are produced here every year. Toast him with the crisp, citrusy Checker Cab Blonde Ale ($6). Chelsea Piers, Pier 59, 18th St at West Side Hwy (212-336-6440, chelseabrewingco.com)
Clemente's Maryland Crab House
When you're in the mood to get tipsy on cheap drinks and load up on seafood, Clem's is a no-brainer. The laid-back crab house overlooks Sheepshead Bay and offers a fantastic one night-only happy hour (Friday 3--6pm); all beers are $3, wine is $3, and quintessential frozen summer drinks like pia coladas and margaritas are half off (each $4), but the biggest attraction is the all-you-can-eat blue-crab special ($32.95). Venice Marina, 3939 Emmons Ave at Knapp St, Sheepshead Bay, Brooklyn (718-646-7373, clementescrabhouse.com)
Connolly's Bar
What's most refreshing about Rockaway Beach is what's missing: pretension. An Irish pub located in the basement of a Victorian house might not sound like the place for summer high jinks, but step inside and you'll find one of the best sandy parties in New York. Post-work lifeguards and beach bums of all ages suck down $5.50 pia coladas in Styrofoam cups. Wonder what makes them so good? The bartenders claim it's just "that special Connolly's touch," although we suspect it's the fact you can sneak off down the street and drink them in the sand. 155 Beach 95th St between Rockaway Beach Blvd and Shore Front Pkwy, Far Rockaway, Queens (718-474-2374)
Pier 66 Maritime and theFrying Pan
A bucket of Coronas (six for $35) or a pitcher of white wine sangria ($37) is the essential compliment to the scenery surrounding Pier 66 and the Frying Pan, a salvaged historic lightship built in 1929. Grab a sirloin burger ($11) with a side of Old Bay garlic fries ($4) and another bucket of brew, then stuff your face on the pier, a stationary booze cruise with sparkling views of Jersey. Pier 66A, West Side Hwy at 26th St (212-989-6363, pier66maritime.com)
Hudson Beach Caf
Tucked inside Riverside Park, this alfresco bi-level patio offers plenty of room for everybody, including your pooch. The draw isn't the basic burger-joint menu—it's the chance to nurse a few drinks while peering down at the Hudson and the volleyball players goofing off on the sand courts below. Bands provide a soft-rock soundtrack, which should help you tune out the chatter of the family-heavy crowd. Or just order another frozen margarita ($8) or Stella (pint $6, pitcher $25). Riverside Dr at 105th St (212-873-1900, pdohurleys.com)
Pier I Caf
At this massive outdoor caf, the Upper West Side clientele are rarely without their favorite accessories, which usually include a dog, children, a novel, a bicycle or all of the above. The vibe here is casual, with no table service and no crowded scene to distract you from your grilled Pat LaFrieda burger ($11) and Corona bucket (six for $35). The caf also provides a prime vantage point for Summer on the Hudson: Movies Under the Stars, a series of free screenings every Wednesday at 8:30pm, put on by the Parks Department. W 70th St at the Hudson River (212-362-4450, piericafe.com)
Ruby's Old Tyme Bar and Grill
Ruby's was built in 1928 as a cabaret, but you won't find any speakeasy secrecy at this authentic hangout. This is a beach dive through and through, with ocean air wafting in via the bar's open facade, masking the smell of spilled beer. You're likely to be passed a malty Ruby's Amber Ale ($7) by a friendly barkeep, who would rather talk about the Mets than the importance of using house-made bitters. Crack open a cold one, take a seat on a piece of mismatched furniture and watch the Coney Island characters parade on the boardwalk. 1213 Riegelmann Boardwalk, Coney Island, Brooklyn (718-372-9079)
79th Street Boat Basin Caf
Dramatic stone arches, boats docked in the marina, the sun setting over the Hudson—the Boat Basin feels like an exclusive yacht club, except anyone can get in. It's an idyllic setting for savoring a mango mai tai ($8), concocted with mango rum, amaretto and pineapple juice; or a lemonade spiked with huckleberry vodka ($8). Expect an eclectic mix of Upper West Siders, ranging from high-heeled partyers revving up for a night on the town to dudes in flip-flops looking to kick back. Rally some peeps and wash down applewood-smoked bacon burgers ($13.95) with a pitcher of Blue Moon ($24) or a bucket of Red Stripes ($30) on the spacious patio. Get there early; there's at least an hour wait for a table on prime nights—but there's also a weekday happy hour (Mon--Fri 4--7pm), when all drinks are $2 off. W 79th St at the Hudson River (212-496-5542, boatbasincafe.com)
Beekman Beer Garden Beach Club
The Manhattan locale of Water Taxi Beach has been rebranded as a beer garden, although a distinctly American one, with four taps dispensing cold craft beer ($7) such as Sixpoint Crisp Lager, Ommegang Witte Beer and Magic Hat #9, and pool, ping-pong and foosball tables. Even the oompah bands have been replaced with Brooklyn indie acts during Sunday's free Beach Party (3pm). 89 South St at Pier 17 (877-974-6998, watertaxibeach.com)
Sponsored listing
Cape House
New England transplants will be happy to know they don't have to go any further than Bushwick to get authentic chowder. Cape House, a clam shack and bar, offers all the classics and a few new options. Traditionalists might go for the whole belly clams, scallops or clam strips, available on a roll or as a platter ($8–$25), or the creamy chowder ($5 for a small, $9 for a large). Not a seafood person? Try a Worcester-style hot dog with chili ($5) or the fried chicken sandwich ($11). If you're in the mood for a more formal meal, order the negroni-braised octopus with herb salad ($20) or the baked haddock with dill cream sauce ($23). And what New Englander would eat clam strips without an ice cold beer? There's Narragansett ($3), Cape House Lager ($4) and Cisco Whale's Tale Pale Ale ($6). You can also order wine and cocktails like the appropriately named The Ancient Mariner with rum, grapefruit and lime ($10).
Venue says: "New England style Clam Shack located right in the heart of Bushwick, Brooklyn. Just a short 2 block walk from the Morgan L train stop."