You need to know about: Gotham Greens
Stuff we're obsessed with this week.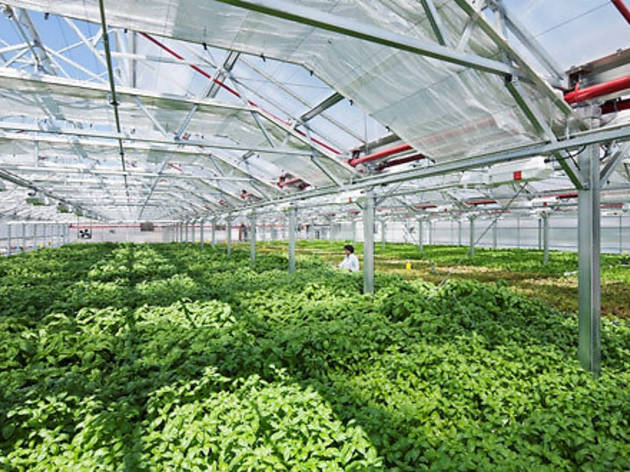 Gotham Greens

Forget the 100-Mile Diet—these days, we're finding that more and more of our greens hail from farms that are close enough to reach by subway. The urban-agriculture movement, while still minuscule by industrial standards, is slowly but surely digging its roots into the city's disused lots and rooftops. In 2009, Annie Novak and Ben Flanner began cultivating seedbeds for what would become Brooklyn's Eagle Street Rooftop Farm, and last year Ben Granger established the thriving Brooklyn Grange in Queens. The latest outfit to tame the concrete jungle is Gotham Greens, which produces a hefty haul of fresh veggies and herbs out of a 15,000-square-foot greenhouse on top of a former bowling alley in Greenpoint. Unlike their compatriots, the trailblazing green thumbs at Gotham use hydroponics—a soil-free planting technique in which roots are bathed in nutrient-rich water—to maximize their year-round growing potential. But this is no backyard weed operation. The first summer's bounty—including sweet basil and tender, buttery Bibb lettuce—has already caught the attention of Michael Anthony (Gramercy Tavern) and other locavore chefs who appreciate that the greens can be delivered within 24 hours of being harvested. And while other urban farms funnel most of their wares to local eateries, Gotham Greens sells its bounty to consumers at big grocery stores like Whole Foods and D'Agostino, at prices that often undercut their organic competition. As production ramps up (the team says it expects to grow 100 tons of produce annually), look out for new crops like red romaine, bok choy and mustard greens. Available at Whole Foods, D'Agostino and FreshDirect. Visit gothamgreens.com for more info.