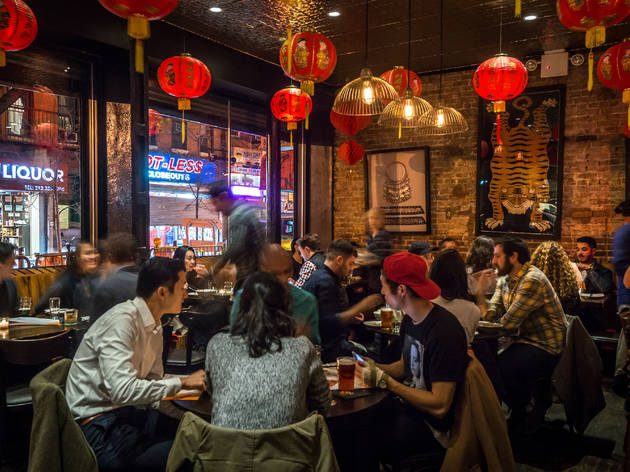 1/4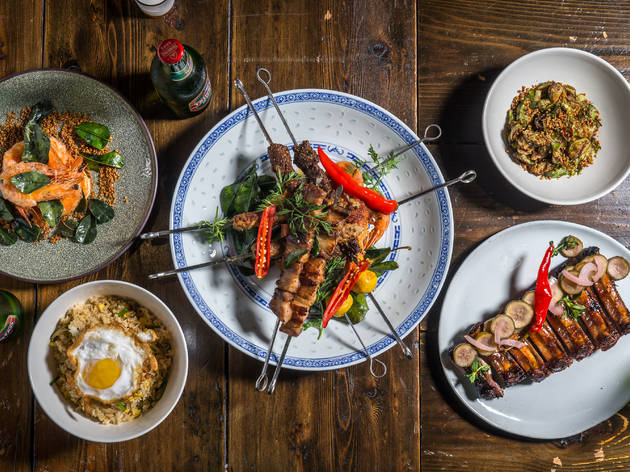 2/4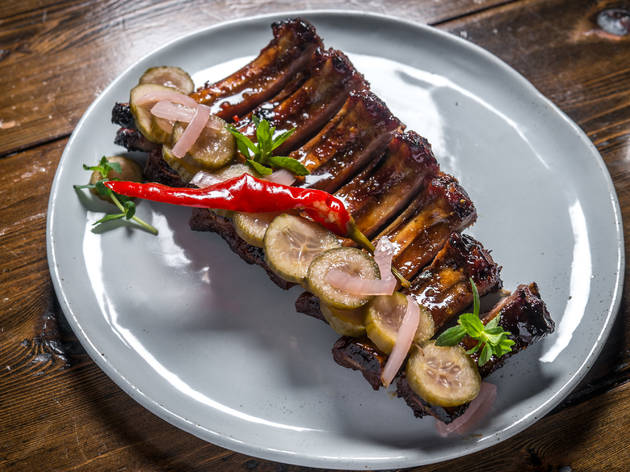 3/4
Paul Wagtouicz
Pork ribs at Yunnan BBQ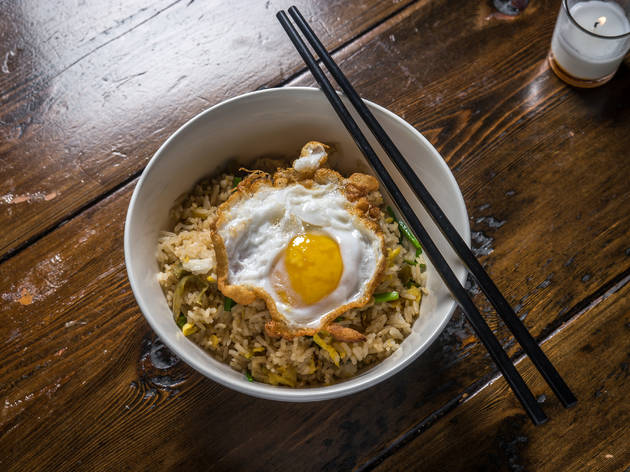 4/4
Paul Wagtouicz
Duck egg fried rice at Yunnan BBQ
In 2012, Erika Chou sought to introduce New Yorkers—already well versed in the peppercorn sting of Szechuan and the sour-and-smoke interplay of Hunan—to the multipersonality rain-forest cooking of China's southwesterly region with Yunnan Kitchen. But the restaurant's market-driven, seemingly Chinese-by-way-of-California small plates did little to grip diners looking for a novel taste of an unfamiliar cuisine.

So Chou and chef Doron Wong did what many struggling teams have done to keep restaurants afloat: switched concepts, swapping out Kitchen for BBQ and small plates for large-format spreads. The problem is, save for a few red lanterns and overpriced-yet-underwhelming meats, not a whole lot has changed at Yunnan.

Those small plates are carried over, packed with fresh greens and herbs: fibrous stir-fried mushrooms with curls of salt-cured ham ($15), peppery chrysanthemum leaves with Asian pears and lily bulbs ($12), and wok-charred brussels sprouts tossed with crushed soybeans and flickering chilies ($12).

But, oddly, so are many of Yunnan Kitchen's main courses, with minimal effort made to tailor them to the BBQ reboot. Cold slices of tepid tea-smoked Long Island duck (half order $22, full order $41), a former starter, are repurposed with cucumber slivers and hoisin sauce and wrapped Peking-style in eggy crêpes. The old menu's shao kao section, a selection of grilled skewers, is neutered into a pupu platter of pasty lamb meatballs, shell-on prawns and shoddily rendered pork belly (half order $23, full order $45). The best of the barbecued bunch is a rack of chao shao pork ribs ($29), glazed in a floral chili honey, but at six ribs to an order, it's too slight a dish to carry that price tag.

Exclamation points punctuate the new menu—"Rice & Noodle Time!", "The Main Attraction!"—but unfortunately, the excitement doesn't translate from page to plate.
Venue name:
Yunnan BBQ
Contact:
Address:
79 Clinton St
New York
10002

Cross street:
between Rivington and Delancey Sts
Opening hours:
Mon, Tue-Sat 5-11pm; Sun 5-10pm
Transport:
Subway: F to Delancey St
Price:
Average main course: $24.
Do you own this business?
You may be interested in:
Average User Rating
4.3 / 5
Rating Breakdown
5 star:

2

4 star:

0

3 star:

1

2 star:

0

1 star:

0
When I first heard about YunnanBBQ, my heart immediately jumped for joy. The website looks great, the food looks great, what can go wrong?
Ordered the ribs, two fried rices, the duck and a veggie appetizer. I usually don't stray away from being adventurous at a Chinese joint but lets be honest here, the rest of the menu did not seem interesting.
The real winner of YunnanBBQ are these cha shao ribs. Disappointingly small portioned, these ribs are heaven sent. I could hear the gods of Guandong just singing choirs as I delve into its honey glazed crevices.
YunnanBBQ has found its footing but can improve.
I live in the neighbourhood and I go to Yunnan at least once a week, either for a healthy serving for seasonal greens and stir fried mushrooms for myself, or for a giant family feast with friends. As much as I am all for people to have their own opinion, I take this review as a personal stab at my culinary palate.
It's nice to eat Chinese food on a regular basis that is closer to what my family eats at home, made with integrity and care. Having had conversations with the owners, I can have peace of mind that every ingredient used at Yunnan is sourced locally, of high quality, and that they are big supporters of sustainable practices. I love the Cha Shao ribs and am more than happy to pay a higher price tag when I know the meat comes from an upstate farm where it has taken 6-9 months for those farmers to raise a happy pig. If you want red-painted cha shao for half the price, go somewhere else my friend. As a person of Chinese descent, it irritates me when people think that just because the cuisine is Chinese, that it should be cheap and it doesn't warrant the same standards as Italian, French of New American cuisine. "Why is it so expensive?" Well, I don't know, maybe because the cuisine is actually just as complicated and rooted in a long history of imperial times, and requires the chef to have the skill to balance sweet with sour, spicy with bitter, not too salty or oily... I don't think their prices are any different to any other market-driven restaurant.
I don't even care that they changed their name. As long as the food is tasty and delicious, and they maintain their high quality of food, I'm there. I for one (and my friends) are happy that they've kept my old time favourite dishes including the rice cakes and fried rice (still the best in the city). I would have been pretty sad to see the restaurant change to be geared to a more "Americanised/Westernised" palate. I think fellow diners would agree - I've eaten there at the same time with the likes of Rachael Ray, Bobby Flay, Padma Lakshmi more than once... Maybe Ms. Izzo should ask them why they're eating there.
I don't know where to start. TimeOut's review is completely out of touch with reality. Yunnan BBQ is one of the best Chinese restaurants in NY. I've sent dozens of people there, and no one has ever disagreed.
It's true that it's not in a fashionable area. So what? It's a destination restaurant. I used to live in NY and now live in Austin. While I don't fly to NY to eat there, I always go when I'm in the city.
It may be true that Yunnan Kitchen was struggling -- I have no idea -- but does that even belong in a review?
There's lots of bad Chinese food in NY. Lots. Yunnan BBQ is top-tier. For TimeOut to give it one star makes no sense at all. It's as if the reviewer had never eaten anywhere else.
The thing is, Yunnan BBQ is very consistent, so I can't even imagine TimeOut's having been there on an off-night. These guys pay attention. I have no idea how such a small place manages to always execute so well, but they do.
Please don't believe the TimeOut review. It's wrong. Try this place yourself, and then please write a review. Note that I have no affiliation with the place. I'm writing this because I hate seeing great, reasonably-priced, small restaurants being killed off. NY is a hard city to run a restaurant in. (I know that because I have a relative who does.) The last thing good places need are completely undeserved poor reviews like this one.
More venues
Sponsored listings