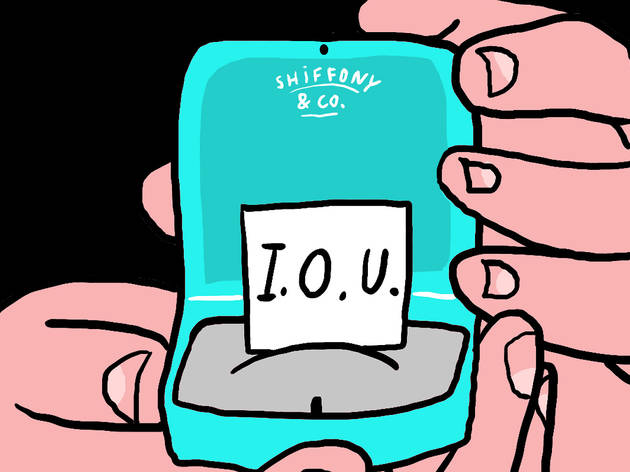 Let Us Sex-plain: Do I have to tell my boyfriend how many people I've slept with?
Your personal wingwoman, Jillian Anthony, answers all your questions about dating and doing it in New York
I get it—being single in the city can be tough, and the ways New Yorkers are having sex these days can be surprising. But whatever your dating conundrum might be, I'm here to help. Consider me (Jillian Anthony, Time Out New York's Senior Things to Do editor) your personal wingwoman, guiding you through dating and doing it in New York in our weekly "Let Us Sex-plain" column. Check out my answers to all your questions online and in the magazine every Wednesday, and submit your own coitus queries below!
A new guy I'm seeing has been pretty persistently asking me how many people I've slept with. I don't really want to share this with him. Should I anyway?
—Darlene, West Village
No. It speaks volumes about his priorities that he's pestering you about this. I predict that whatever number you tell him will either be too high or too low for his liking. Your sex life before this relationship isn't information he automatically has a right to, nor should it matter within the context of your current relationship. Whatever the reason he's asking you about this, it likely has to do with his own insecurities. Keep your number to yourself, and give him the boot if he can't get on board.
I've been in many sexually driven relationships, but my new girlfriend hasn't had a boyfriend since college (we're both 25). She doesn't really know what she's doing in the bedroom. Am I wrong to miss my exes because of their wild sexuality?
—Steven, Harlem
You're not wrong—crazy sex is loads of fun—but it's not like all things are lost with your new girlfriend. Your partner isn't a mind reader, so you have to verbally tell or physically show her exactly what you like. (This goes for everyone! Share, loud and proud,that you like your nipples bitten, just as an example). You can learn exactly how someone likes to come whether you've had sex one time or 10,000 times, so speak up about what you're into, and give things a chance; intimacy grows over time. If she's unwilling to have the kind of "wild" sex you're seeking, that might be more of an issue of incompatible bedroom styles, but first, give her the opportunity to catch up. It may be worth examining whether a committed partnership is actually what you're looking for, as well—you sound a little ambivalent.
I divorced two years ago after a 10-year marriage, and then a few months later, I started dating an amazing woman. We connected on levels I never dreamed possible, but I don't want to get married again, no matter to whom, and she wanted more. I had no choice but to let her go. Did I make a mistake?
—Charlie, Manhattan
If you're certain you don't want to get married again and this woman is certain she does, then unfortunately, there's nothing to be resolved here. You made the right choice. The two of you have key ideological differences, and neither one of you would have been happy being forced into, respectively, matrimony or perpetual bachelorettehood. I'm sure you're missing her terribly, and she you, but you will both be better off with the life you each truly believe in and desire. You'll find the right situation for you.
Read previous weeks' sex columns
Your personal wingwoman, Jillian Anthony, answers all your questions about dating and doing it in New York. Read them all here.