Let Us Sex-plain: My boyfriend kisses with his eyes open and it freaks me out
Your personal wingwoman, Jillian Anthony, answers all your questions about dating and doing it in New York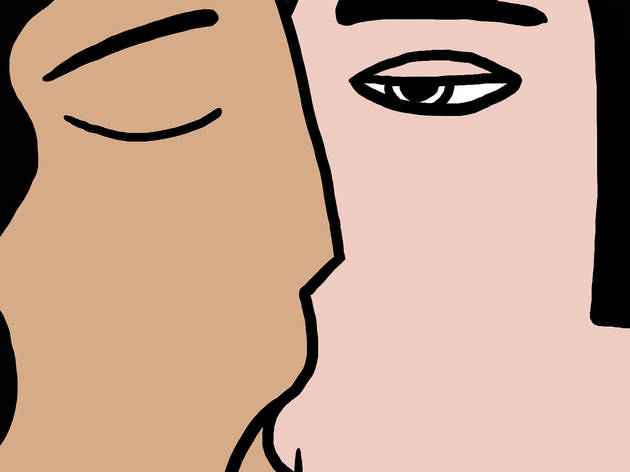 I get it—being single in the city can be tough, and the ways New Yorkers are having sex these days can be surprising. But whatever your dating conundrum might be, I'm here to help. Consider me (Jillian Anthony, Time Out New York's Senior Things to Do editor) your personal wingwoman, guiding you through dating and doing it in New York in our weekly "Let Us Sex-plain" column. Check out my answers to all your questions online and in the magazine every Wednesday, and submit your own coitus queries below!
My boyfriend kisses with his eyes just slightly open. He says he thinks it's more intimate, but it weirds me out. Even when my eyes are closed, I can feel him looking at me. Who's the freak, him or me?
—Tanya, Murray Hill
I think people get scared of open-eye kisses because it's all just a little too intimate. While his peeping might be socially unconventional, you could choose to embrace this quirk and learn to feel more comfortable under your boyfriend's loving gaze. If this is his biggest flaw, you've landed a real keeper. Leave your own peepers closed and live in the moment!
I've been seeing this guy for the past three weeks. The last time we saw each other, he invited me to his house. I took a condom out to perform oral sex, he said he didn't want to continue, and I haven't heard from him since. Did I do something wrong?
—Charles, Bronx
When it comes to your sexual health and safety, you choose what's right for you—no one else. Putting a condom on your partner before giving him head may not be common, but it is safe. The most recent Centers for Disease Control and Prevention report on STIs claims chlamydia, syphilis and gonorrhoea (all of which can be spread through oral sex) were on the rise between 2013 and 2014, and men made up most of the increase in gonorrhoea cases. My point is not to judge you or your partner—each of us has the right to set our own sexual boundaries. But if this guy was turned off by your use of a condom, he may not be willing to stay within your sexual boundaries, and he's not the right partner for you.
I'm a single mother who hasn't dated for quite a while. There's this cute guy I see every day, and we just wave to each other. How can I approach him so we can go on a date?
—Brenda, Queens
It's time to get your groove back, Brenda. The good news is that this guy knows who you are! At least peripherally. This means you have a built-in reason to talk to him. Gather your courage, walk up to him and say, "Hi! I always see you around, so I wanted to introduce myself. I'm Brenda, and I want that fine ass." Just kidding, save that last part for a few dates down the line. But your opening line is that simple! From there, you can ask him if he lives or works nearby, and the conversation is likely to naturally turn toward whether he's married or has a family. If he's single and you're a bold woman (I think you are), you can give him your number right then and there. Or feel free to wait for a couple more happenstance meetings to get to know him a bit better. Talking to strangers is good for your love life!
Read previous weeks' sex columns
Your personal wingwoman, Jillian Anthony, answers all your questions about dating and doing it in New York. Read them all here.
Read more