Heads up! We're working hard to be accurate – but these are unusual times, so please always check before heading out.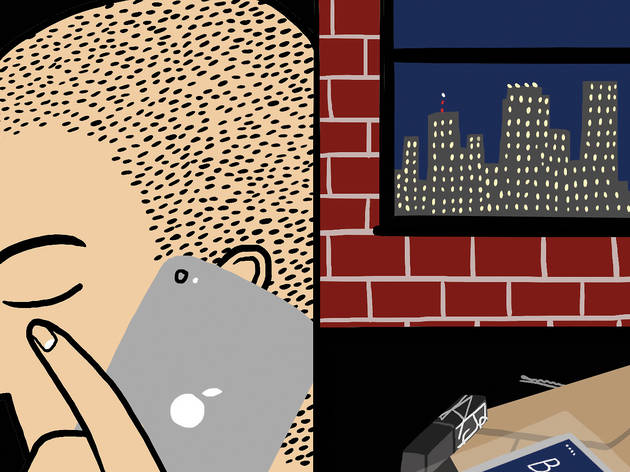 Let Us Sex-plain: Should I ask out my taken coworker?
Your personal wingwoman, Jillian Anthony, answers all your questions about dating and doing it in New York
I get it—being single in the city can be tough, and the ways New Yorkers are having sex these days can be surprising. But whatever your dating conundrum might be, I'm here to help. Consider me (Jillian Anthony, Time Out New York's Senior Things to Do editor) your personal wingwoman, guiding you through dating and doing it in New York in our weekly "Let Us Sex-plain" column. Check out my answers to all your questions online and in the magazine every Wednesday, and submit your own coitus queries below!
My ex and I have a lot of mutual friends, and it's been uncomfortable hanging out together, to say the least; she either ignores me or gives me the cold shoulder, unless I directly speak to her first. This isn't how I want things to be; it would be nice to actually be friends. Should I talk to her?
—Danny, LES
I'm a huge proponent of being the bigger person in these situations. Whenever you're out together, make it your first priority to march up to her with a big smile, say hello and share a nice conversation. If you do this every time, you'll break the ice early and stop her from making things awkward. I'm sure it's hard for her to talk to you, which is why she's ignoring you, so be sensitive to that. But try the "first strike" approach before sitting her down for any formal conversation; that could be more trouble than it's worth.
I'm so into my coworker, but before I worked up the nerve to ask him out, he started dating someone. Now it's been months, and I'm more sure of my feelings toward him, but he seems happy in his relationship. Any advice on how to deal?
—Victoria, Chelsea
Do your best to move on. First of all, you work with this guy, and even if your workplace allows office relationships, it's still really complicated. What happens if you guys break up? You might be into him now, but being forced to see him five days a week if things go south would be a living hell. Second, he's happily taken, and it's not your place to get in the middle of that, especially completely out of left field. Limit your time with this guy to help yourself move forward, and go on some dates with folks outside the workplace.
My boyfriend of seven years and I used to live in New York together, but a couple of years ago we both moved to separate cities to be closer to family—but we're still together. Now I'm planning to live abroad, and he can't afford to move with me. I really love him. Is there any way we can make this work?
—Gabby, Midtown East
You guys need to have a serious conversation about your future, both individually and as a couple. You've already been apart for two years, and now you're moving to another country. If you don't mutually see a scenario in which you're living together again within a year, it likely means you are on diverging paths, and it may be time for your relationship to end. It doesn't mean you don't love each other, and it doesn't necessarily have to be forever. But if your life goals don't match up, it's time to let each other go. You shouldn't let a relationship stop you from experiencing something so life-changing and full of opportunity for growth. Bon voyage!
Read previous weeks' sex columns
Your personal wingwoman, Jillian Anthony, answers all your questions about dating and doing it in New York. Read them all here.