Let Us Sex-plain: Should I warn my partners about my hemorrhoid?
Your personal wingwoman, Jillian Anthony, answers all your questions about dating and doing it in New York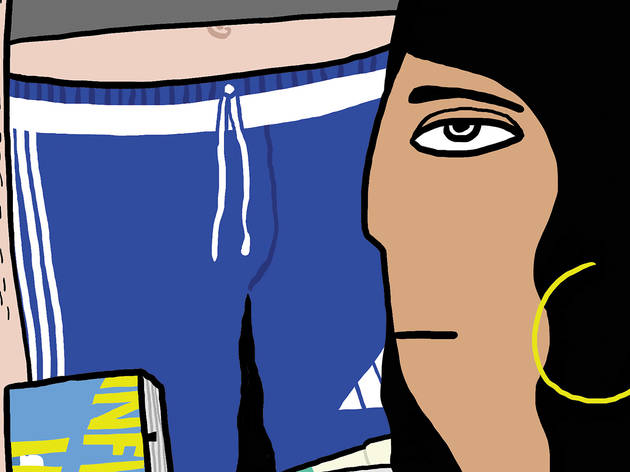 I get it—being single in the city can be tough, and the ways New Yorkers are having sex these days can be surprising. But whatever your dating conundrum might be, I'm here to help. Consider me (Jillian Anthony, Time Out New York's Senior Things to Do editor) your personal wingwoman, guiding you through dating and doing it in New York in our weekly "Let Us Sex-plain" column. Check out my answers to all your questions online and in the magazine every Wednesday, and submit your own coitus queries below!
When you're seated on the train and a guy stands in front of you with his junk swinging around in his pants, right at your eye level, what's the appropriate etiquette?
—Mike, Harlem
As someone who is constantly stared at in public (because of the simple fact that I'm a woman, not necessarily because I'm a gorgeous goddess), I'd say looking deep into this guy's fly like his dick is a rare lunar eclipse is not the polite response. You don't want to make him uncomfortable. That said, you have eyeballs, so use them! But only for furtive glances and a brief, unthreatening appreciation of the simple miracles of daily life. Be respectful, and refrain from making verbal comments on strangers' appearances, whether it's a compliment or not.
I've had a hemorrhoid since I gave birth to my child 21 years ago. Sometimes guys want to lick my butt. Do I let them or forewarn them that it's there?
—Michelle, Park Slope
I'm all for spontaneity in the bedroom, but this would be anything but a happy surprise. Embrace your body the way it is and don't be ashamed, but definitely let your partners know what's going on farther south (if your hemorrhoid can be seen or felt) before they take the express train downtown. Hemorrhoids are collections of swollen veins that are harmless to anyone who may be in contact with them, orally or not. A partner who's right for you won't mind, but I'm sure they'll very much appreciate a heads up.
What is the single most important aspect of a happy, healthy sex life?
—Tom, Nolita
From all of the research I've read and years of frank talk about sex and relationships, the most important quality to sustain a happy sex life seems to be open, honest communication. Relationships change over time, but so will you and your partner's sexual desires and interests. Maybe you want to play out a fantasy you've always been too afraid to voice, or you want to try something controversial in bed but aren't sure how your partner will react. Maybe you've been thinking a lot about opening up your relationship, and you feel like you're going to burst if you don't say something. Addressing your feelings in a sincere, respectful way allows you to communicate more fully with your partner and will hopefully lead to continual happiness in the bedroom, no matter how long you're with the same person. These conversations can seem risky, but they're vital to a relationship's survival because without a sex life you're both excited about, any emotional intimacy will eventually fizzle as well.
Submit your own
Read previous weeks' sex columns
Your personal wingwoman, Jillian Anthony, answers all your questions about dating and doing it in New York. Read them all here.
Read more