Why they're single
Courtney: She's been super focused on her career and moved around a lot before moving to New York.
Maggie: As a lesbian, it's hard to date in Upper Manhattan because most lesbians live in Brooklyn.
Ideal date:
Courtney: Going to a museum or taking a nice walk around the water
Maggie: A cooking class, museum exhibition, rock climbing, or sailing lessons on the Hudson
THE DATE
First impression
Courtney: "We met in the lobby. My first impression was that I recognized Maggie from dating apps. It was as awkward, and not awkward, as blind dates generally are. We got drinks first, and she seemed really willing to jump in and didn't seem super shy or weird about it."
Maggie: "She seemed really warm and bubbly and excited which was nice. I'm always worried I'll walk up to someone and they'll be like, oh, nevermind. She was really outgoing and as we went and grabbed drinks, we immediately started talking, and it seemed really easy."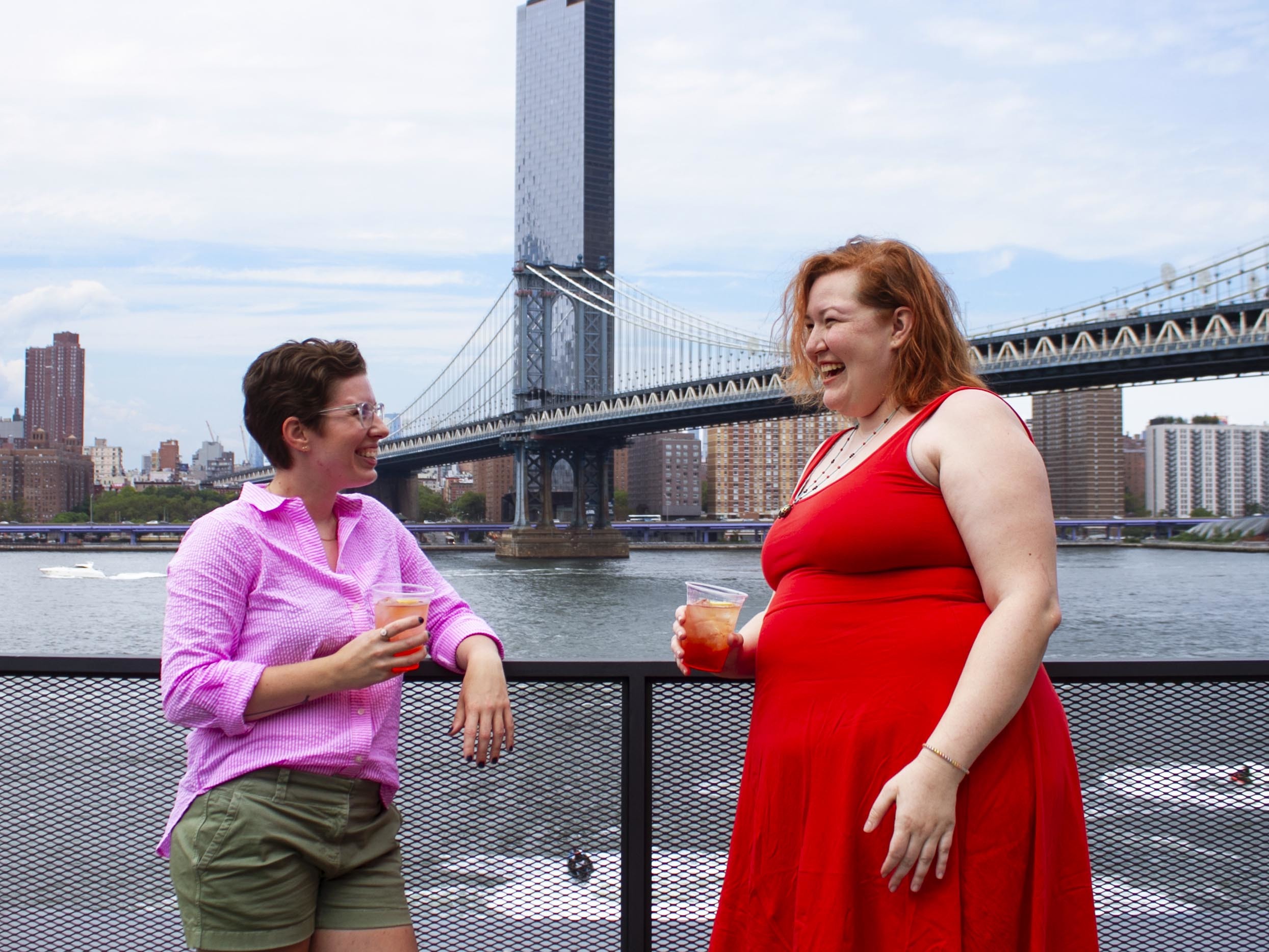 Photograph: Kristian Larrota


Chemistry
Courtney: "There wasn't any romantic chemistry, but we had a lot to talk about because we both work in theater. I don't think there was much digging for personal life stories, but we had a lot to talk about in terms of the theater world."
Maggie: "I don't think there was romantic chemistry, but we both work in theater, so there was plenty to talk about. The conversation flowed fully. I could see us actually being friends, and not just in the way people say after a date. We already have many friends in common."
Awkward Moment
Courtney: "When we left, neither of us knew what to do. It's hard to know what to do in terms of hand shakes or fist bumps. We just mimed a hug and left."
Maggie: "I feel like toward the end I was starting to get a little socially overwhelmed because I haven't left my apartment in five months. I kind of ran out of topics. I think just because I'm out of practice, I don't have that smoothness. That's definitely going to be a challenge as I get back into dating and even just hanging out with friends."

Photograph: Kristian Larrota


Dystopia Dating Vibes
Courtney: "It felt weirder in my head before I got there. But once we were there, it was a nice time and there were a lot of people around. The place was really busy and thriving. But it was the farthest I've traveled from my apartment since all of this happened."
Maggie: "Because I'm not inviting anyone over right away, it kind of takes the pressure of everything being perfect. [This year] has made me a lot more open-minded, but the pandemic can definitely kill the romantic part of dating. Also, I'm more focused on skills that could help us survive an apocalypse now. How strong they are, etc."
Afterward
Courtney: "We shared Instagrams. I do think we'll stay in touch just because we're both in the same industry. I wouldn't mind hanging out again but I don't think it would be a date. She's got a cat, and I'm highly allergic to cats, so that's a problem."
Maggie: "We exchanged Instagrams, and we've both messaged once. I'm willing to let myself be surprised by things, and I'd be willing to see what happens. But right now, I don't think there's a romantic prospect. But we live close, so it could happen again."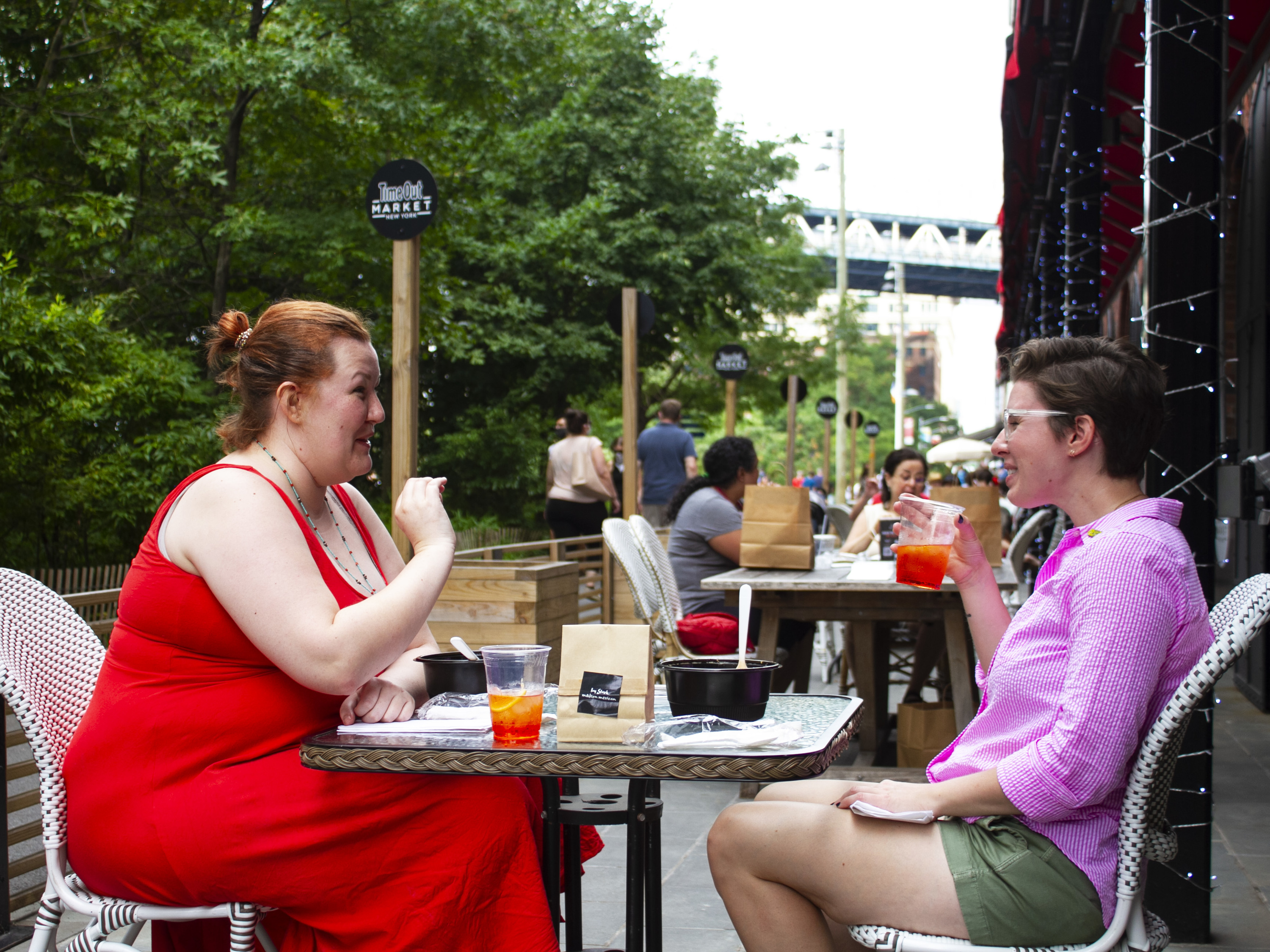 Photograph: Kristian Larrota
Verdict [On a scale of five hearts]
Courtney: ♥♥♥ "It was lovely time, a great afternoon with someone I had plenty to talk about on a beautiful patio. The chemistry just wasn't there."
Maggie: ♥♥♥♥ "Oh, it was great. We had so much in common, we had really easy conversation. I'm just not sure if I want to date her, but I would happily be friends."
Our daters went to Time Out Market New York (55 Water St, DUMBO)
THE DATE SPOT
Courtney: "I got the buffalo mac and cheese from Jacob's Pickles. It was delicious, but I got a ton! I brought home leftovers, and now I'm on my third meal. It's a great date spot, I'd highly recommend it. I'll probably go back. I might steal it as a go-to date spot."
Maggie: "The market was super cute! I'd never been there before, but it was beautiful. The views were gorgeous. We both had an aperol spritz on the roof, and it felt like we were in a regular New York City summer. That was really nice, also."
RECOMMENDED: See more Undateables
Want to be set up on a free blind date? Email undateable@timeout.com.