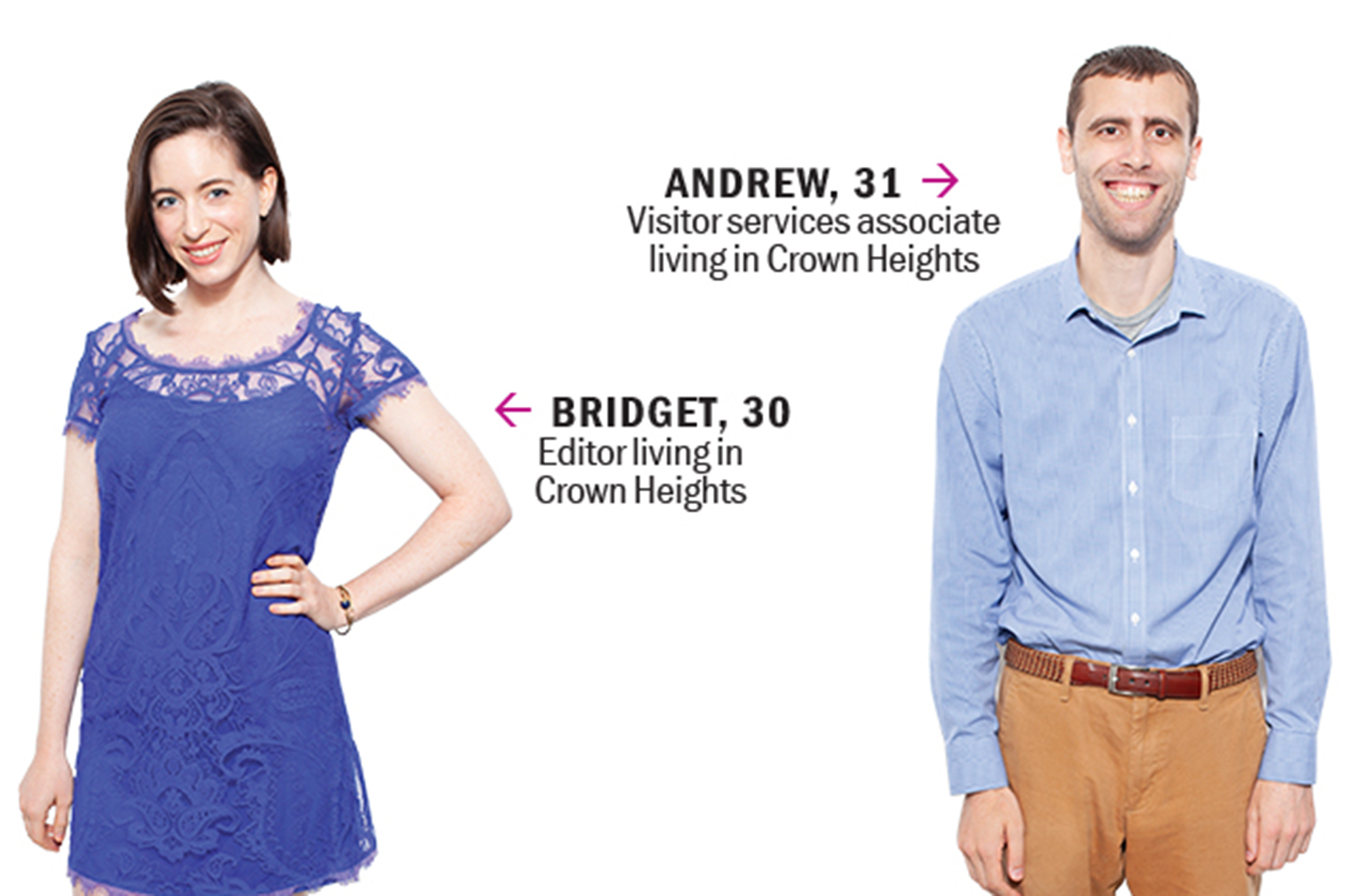 Why they're single:
Bridget: She's still looking for magic.
Andrew: He can't seem to make anything last.
Ideal date:
Bridget: Going out to a roller disco, followed by dinner at a Chinese hot pot restaurant
Andrew: A baseball game, followed by a night out dancing
THE DATE
First impression
Bridget: "He stood out because he was a bit more dressed up than the rest of the crowd. He had a lot of energy. It seemed like he came prepared with a list of questions."
Andrew: "I got there half an hour early because I don't trust the subways. They sat me at a corner table, and she was there at 7:02pm. She was cute but not really my type."
Chemistry
Bridget: "The conversation was surface level. When you're on a first date, you're hoping to find a topic that opens the door to a deeper conversation, and we didn't find that door."
Andrew: "She was a little too businesslike for me. For example, when I told her I like going out dancing, she didn't seem that impressed and didn't ask any follow-up questions."
Awkward Moment
Bridget: "When we left the restaurant and walked to the subway, the conversation slowed down for a couple of blocks, so we just kind of walked in silence for a little bit."
Andrew: "Before leaving, we played some pinball and Ping-Pong, which they had there. It wasn't very fun, though, because she never really reacted to anything I was doing."
Afterward
Bridget: "I was going to see my sister, so I took a different train. We just said goodbye. No hug, no kiss, no number exchange. He said he had a nice time, and I was like, yeah."
Andrew: "I walked her to the subway, shook her hand and said, 'It was nice to meet you.' Then I walked to my train. I like to do something nice like that at the end of dates."
Verdict
Bridget: ♥♥ "He's a nice guy, but we're not really a match. I'm looking for explosions and sparkles, and that magic just wasn't there. There were no romantic vibes."
Andrew: ♥♥ "It was a solid interaction, but a blind date is something I wouldn't do again. But it was a really good opportunity for me to go out of my comfort zone."
Our daters went to Treadwell Park (1125 First Ave, UES, treadwellpark.com)
RECOMMENDED: See more Undateables
Want to be set up on a free blind date? Email undateable@timeout.com.