Heads up! We're working hard to be accurate – but these are unusual times, so please always check before heading out.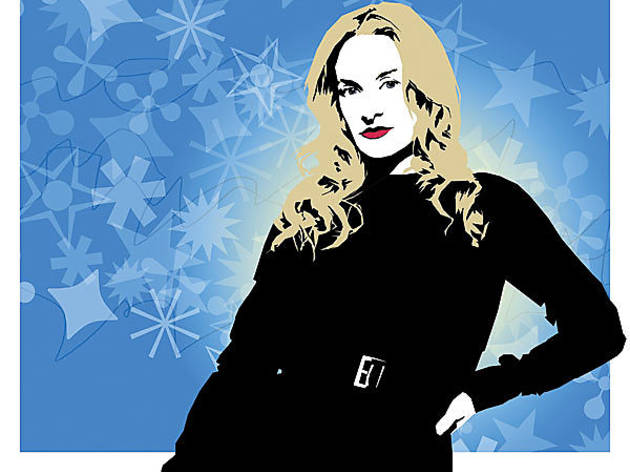 The Hot Seat: Anne Slowey
Models be damned: This Elle bigwig is ready for her close-up.
These days it seems you're not a proper fashion magazine unless you've been part of a reality show. Project Runway made former Elle fashion director Nina Garcia a household name, and this fall Elle again steps up to the plate, sending fashion-news director Anne Slowey ("in her forties") to knock the one-liners out of the park in Stylista. The show pits 11 eager backstabbers against one another in the hopes of winning a position as Slowey's assistant—along with a year's rent. While the clips promise some classic fashion-editor sneers, Slowey seems well-grounded for someone who has to totter around in heels so often. "I love a beautiful shoe, a beautiful bag," she tells us from vacation in Hawaii, "but I'm not depending on fashion to raise my self-esteem—that kind of freaks me out a little bit."
RECOMMENDED: Full list of Hot Seat interviews
Time Out New York: So you're in Hawaii right now—is that a euphemism for detox?
Anne Slowey: No, no: This is a retox vacation. I'll be detoxing next week.
TONY: Is that in preparation for Fashion Week? You know, sharpening your teeth and strapping on the shoes.
Anne Slowey: [Laughs] No sharpening of the teeth, just a normal vacation—getting away from everyone. Although, I am in a house full of fashion people.
TONY: Speaking of, when did Stylista wrap?
Anne Slowey: We shot it in 28 days in April. It'd drive ya to drink! I've never really had a huge chunk of time out of the office, so it was kind of like going to TV camp. It was a full-on production, like hair and makeup.
TONY: Well, you are the star.
Anne Slowey: I wasn't aware of that. Really. You have no perception of how it's all going to come together and get edited. When you see it for the first time, it's like, Holy shit!
TONY: So you normally don't wake up and throw on seven-inch YSL heels?
Anne Slowey: Well, yeah, during Fashion Week, or if I have an event—I keep a stash at the office.
TONY: Everyone has seen The Devil Wears Prada: Why would anyone even want to be a fashion assistant?
Anne Slowey: I haven't seen it. I tried to watch it but my mother was like, "I don't understand this, turn it off."
TONY: Has your mom seen any of Stylista?
Anne Slowey: No. I showed her the promo and she looked a little bewildered, to be quite honest. She likes sports on TV, and I don't think she's ever watched a reality show in her life. She said, "Well, you look nice."
TONY: Seems you like to keep it in the family: Your niece is on the show and she's more intimidating than you.
Anne Slowey: Yeah, she scared the hell out of me! She's a Virgo so she definitely has that bitchy side, but it's certainly not who she is. She's a nine-year-old kid, and she's pretty brainy.
TONY: Tyra Banks is one of the executive producers; did she give you any tips on how to make people cry?
Anne Slowey: No, I'm drawing upon my own personal experiences with people that I've been exposed to over the years. Including my own wacky perception of the Andy Kaufman--esque aspect of working in this business.
TONY: Like: Why are fashion editors so cranky when they get all those expensive freebies? Is it too much caffeine or starvation?
Anne Slowey: I think nobody who's spoiled ever feels good about it. At the risk of sounding like an astrological lunatic, I have, like, five houses in Virgo or something, which makes me a bit of a neat freak. Any extra in my life definitely causes me a great deal of spatial anxiety. It's like, What am I going to do with this?
TONY: So is your desk really as clean as the one on the show—just a few splayed copies of Elle?
Anne Slowey: My desk looks like a cartoon playpen—there's an alien blow-up doll, and my assistant brought me an ax and a piece of wood from a shoot. There's a great deal of irony. It's totally a smirkable place to hang out.
TONY: You make your office sound like a slumber party.
Anne Slowey: Yeah, it is like a slumber party. There's not really anyone I don't get along with—I mean, I'm on vacation with people from other magazines now.
TONY: You've certainly got to have a sense of humor to survive in this business.
Anne Slowey: Most smart people do—and they don't take themselves too seriously. They're not so superficial. I don't forget for a minute how lucky I am—and that puts me in a good mood.
Stylista premieres Oct 22 at 9pm on the CW.
You might also like
See more Hot Seat
See more in Film