Heads up! We're working hard to be accurate – but these are unusual times, so please always check before heading out.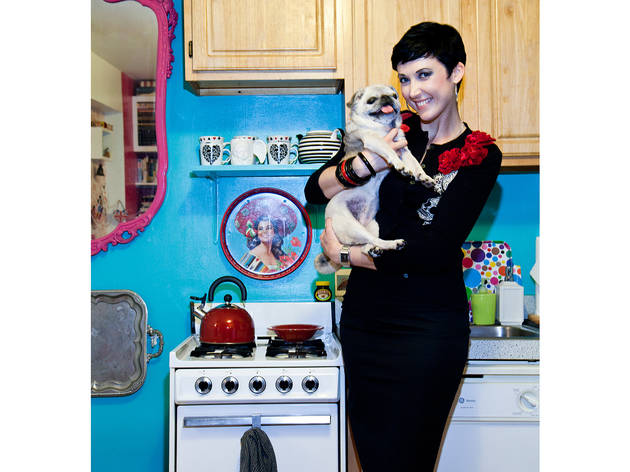 1/21
Photograph: Beth Levendis
Nearly three years ago, South Africa native Amanda Barlow had to quickly move from a one-bedroom Astoria pad into her current 350-square-foot rental, which she shares with her pug, Moli. "I was in a transitional, upside-down period in my life," explains Barlow, who serves as a marketing director for the U.S. Council for International Business (uscib.org) and is an adjunct professor at the Fashion Institute of Technology (fitnyc.edu). To combat what she describes as "a standard, empty NYC walk-up—very bland and boring," Barlow hired friend and interior designer Jeanie Engelbach (apartmentjeanie.com) to make the space reflect her favorite juxtaposing themes: retro pinup glamour, edgy skulls and old British artifacts. "[Engelbach] takes what you have and makes it work, adding touches and modifications," notes Barlow.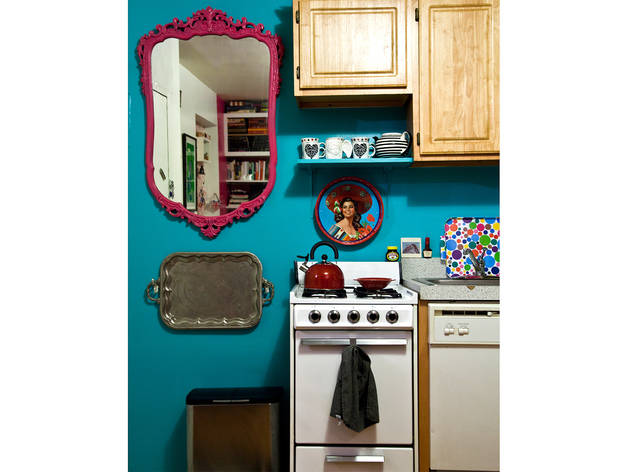 2/21
Photograph: Beth Levendis
Each area of the apartment is painted a different color to make it feel distinct; the kitchen is done in Benjamin Moore (benjaminmoore.com) Mayan Green. "In Mexican art and decor, it's common to combine hot pink and green," explains Barlow, who spray-painted an ornate mirror—which was burgundy when she snagged it at a stoop sale—magenta to pop against the teal walls. The looking glass hangs above a tray from New Jersey eBay (ebay.com) seller Ship Bottom Antiques. "I am definitely into tea," she says, noting the red teakettle from Surprise! Surprise! (91 Third Ave between 12th and 13th Sts; 212-777-0990, surprisesurprise.com) and the striped Whittard kettle (whittard.com) on the shelf. "It's very English. I grew up on it—I had it in a baby's bottle."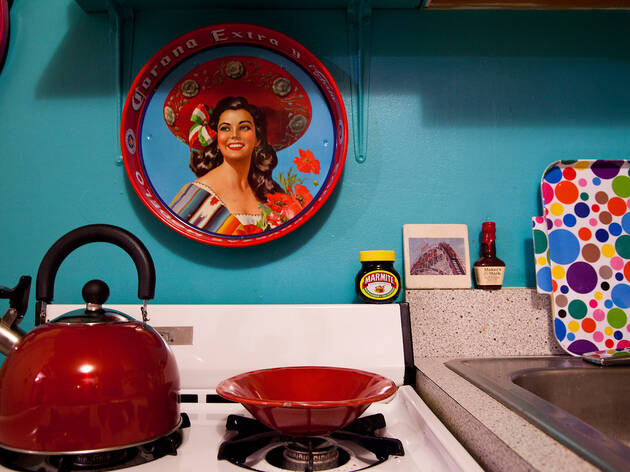 3/21
Photograph: Beth Levendis
"She is called La Casona, which means she's a welcoming woman of the house," explains Barlow of this hanging tray from Fuego 718 (249 Grand St between Driggs Ave and Roebling St, Williamsburg, Brooklyn; 718-302-2913, fuego718.com) featuring Mexican folk art. "She always looks happy, smiling and entertaining." The colorful polka-dot tray from now-closed store Mxyplyzyk serves as Moli's place mat. "Her feeding stand and bowls sit on top of it when she eats so I can easily clean up her mess," explains Barlow. "She is a bit of a messy eater."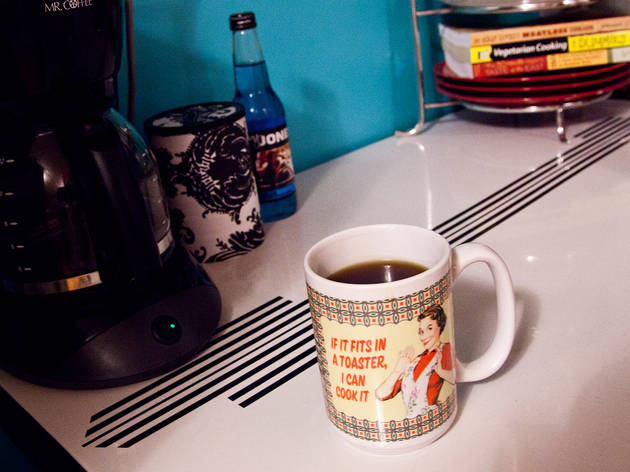 4/21
Photograph: Beth Levendis
A cake stand that was a gift from Barlow's brother rests atop a 1940s Art Deco dining table, scored at the defunct Chelsea Antique & Collectible Flea Market. "In NYC apartments, you have to be creative with storage, so I stack my plates on it," she explains. Keeping kitchenware on display is a theme throughout her pad; cups, glasses and trays are all incorporated into the decor. One exception is the Ephemera mug from Broadway Panhandler (65 E 8th St between Broadway and Mercer St; 212-966-3434, broadwaypanhandler.com), which was out on the table for coffee consumption and is normally tucked away.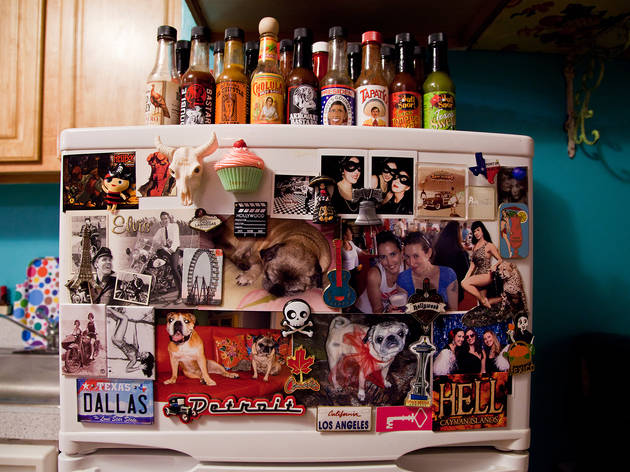 5/21
Photograph: Beth Levendis
"I travel extensively for work, and I pick up hot sauces and magnets everywhere I go," says Barlow. "I love hot sauce—it's delicious, and it's different everywhere. Magnets show where I've been." Some of the places she's visited, represented on and above the fridge, include Mexico, Grand Cayman Island, Detroit, Dallas, Los Angeles, Philadelphia, San Diego, Paris and Milwaukee.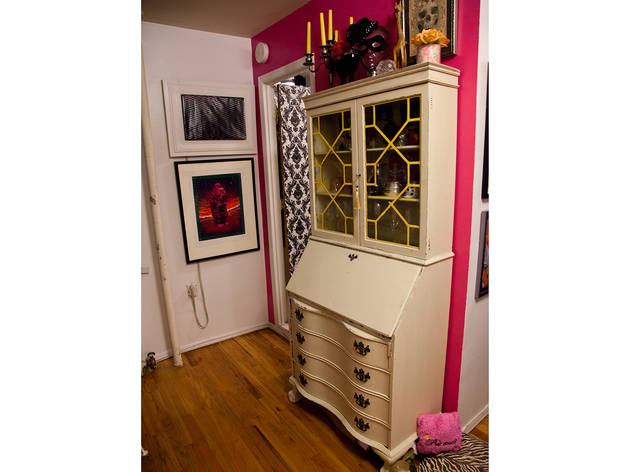 6/21
Photograph: Beth Levendis
Barlow chose to coat the entryway in Benjamin Moore Peony paint. This 1950s secretary hutch from the Chelsea Antique & Collectible Flea Market doubles as Barlow's desk and as storage for hammers, screws, cutlery and cocktail glasses. "I use it to write thank-you notes," she says. "It's always nice to get something in the mail that's not a catalog or bills."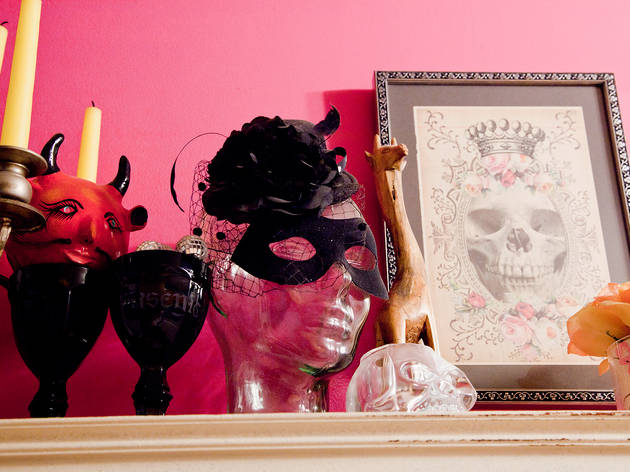 7/21
Photograph: Beth Levendis
A collection of macabre accessories, including a candelabra purchased from eBay seller Ship Bottom Antiques, a pair of ceramic Halloween chalices from Urban Outfitters (locations throughout the city; visit urbanoutfitters.com), a rose skull print from Providence artist Dollface Design (dollfacedesign.etsy.com), and a Pier 1 Imports glass head (locations throughout the city; visit pier1.com) sporting a mask from Ricky's NYC (locations throughout the city; visit rickysnyc.com) and a Hot Topic fascinator (90-15 Queens Blvd between 57th and 59th Aves, Elmhurst, Queens; 718-760-3585, hottopic.com), rests atop the hutch. Barlow says her fascination with the Day of the Dead stems from "the bright colors used in the imagery and the Mexican history of celebrating life after death."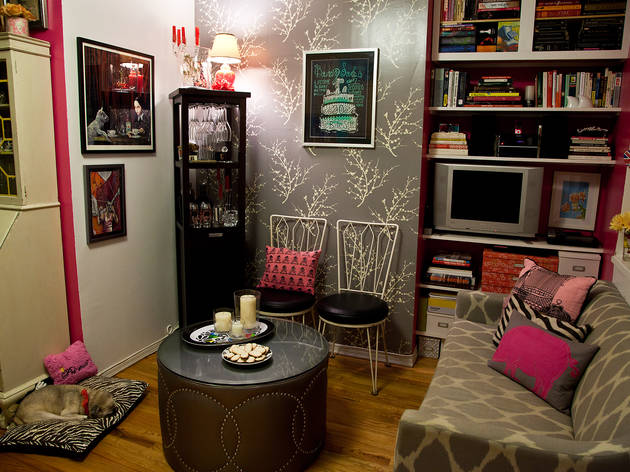 8/21
Photograph: Beth Levendis
In lieu of paint, Barlow put up cherry-blossom-patterned temper paper from Print Icon (7 W 18th St between Fifth and Sixth Aves; 212-255-4489, printicon.com) to demarcate the living room. "When I leave, I can just peel it off," she says. "It's perfect for a rental. I put it up myself, too." A trio of animal-themed pillows from CB2(451 Broadway at Grand St, 212-219-1454 • 979 Third Ave between 58th and 59th Sts, 212-355-7974 • cb2.com), Fab.com and One Kings Lane (onekingslane.com) punch up a muted West Elm couch (1870 Broadway between 61st and 62nd Sts, 212-247-8077 • 112 W 18th St between Sixth and Seventh Aves, 212-929-4464 • 75 Front St at Main St, Dumbo, Brooklyn; 718-875-7757 • westelm.com). Vintage ice-cream parlor chairs from Site(32-90 36th St at 34th Ave, Astoria, Queens; 718-626-6030, sitenyc.com) provide additional seating around the circular coffee table, scored on Amazon's flash sale site My Habit (myhabit.com). "I love having my friends over to sip champagne," says Barlow, who purchased the Crate & Barrel (611 Broadway at Houston St, 212-780-0004 • 650 Madison Ave at 60th St, 212-308-0011 • crateandbarrel.com) wine tower for such occasions. "I've always been enamored with the 1950s and '60s cocktail culture; this really embodies [that era] and makes entertaining easy."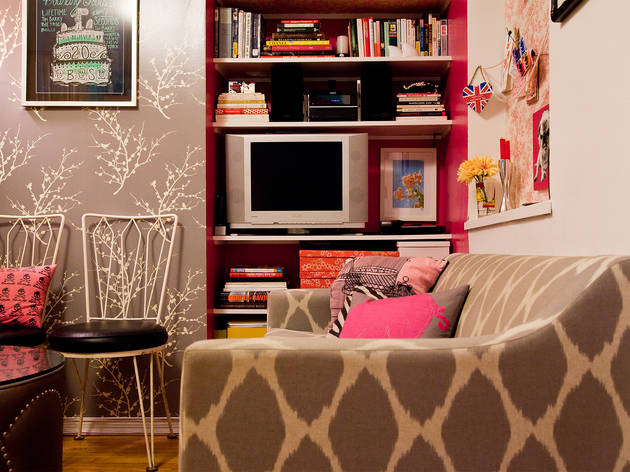 9/21
Photograph: Beth Levendis
This bookshelf is actually a kitchen cabinet that Barlow's carpenter, Dominic Kelly (646-399-9753, mirtna1916@gmail.com), deconstructed to create the illusion of built-in shelves.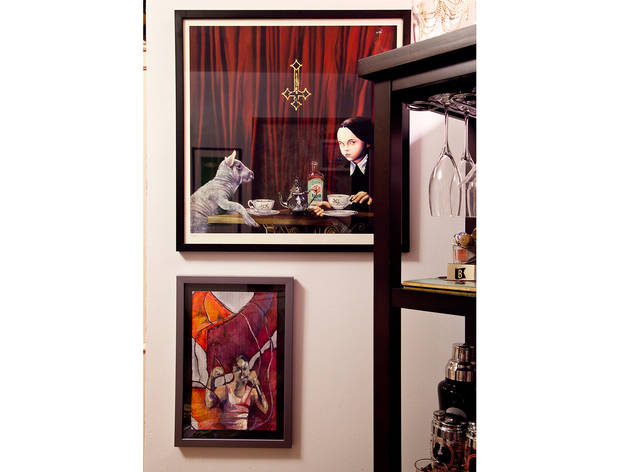 10/21
Photograph: Beth Levendis
Barlow won this David Stoupakis (davidstoupakis.com) print in an auction that benefited Waggytail Rescue (waggytailrescue.org), the animal rescue where she adopted Moli. "I am obviously into tea, and then it has a dark side," she muses. "I don't think the artist's intention was [to create] Wednesday Addams, but it definitely comes across that way." Her friend, local artist Laura Craft (lauradcraft.blogspot.com), made the painting below it. "It's of a girl and gives the viewer a look into her insides and how she views herself," notes Barlow. "The boxing male figure is a little bloody from a fight and tells us that she is in a constant battle with herself about who she truly is and what society expects of her."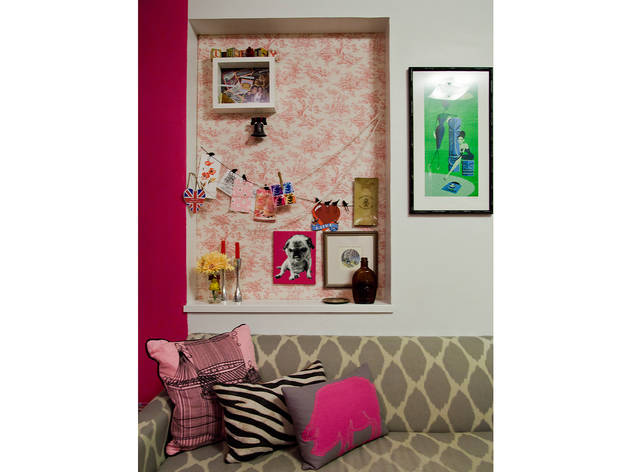 11/21
Photograph: Beth Levendis
Barlow closed up a breakfast nook between her bedroom and living room with a piece of wood covered in toile twill from Zarin Fabrics (314 Grand St at Allen St; 212-925-6112, zarinfabrics.com). She then transformed the makeshift wall into a memento board draped with strings of faux pearls. "I'm obsessed with pearls," she gushes. "I think they're gorgeous and we should wear them at all times." Old birthday cards hang from Z Gallerie (zgallerie.com) bird-shaped paper clips and are flanked by a skull-and-crossbones dish from John Derian (6 E 2nd St between Bowery and Second Ave; 212-677-3917, johnderian.com) and a Union Jack Royal Wedding tchotchke that was a gift from her English aunt.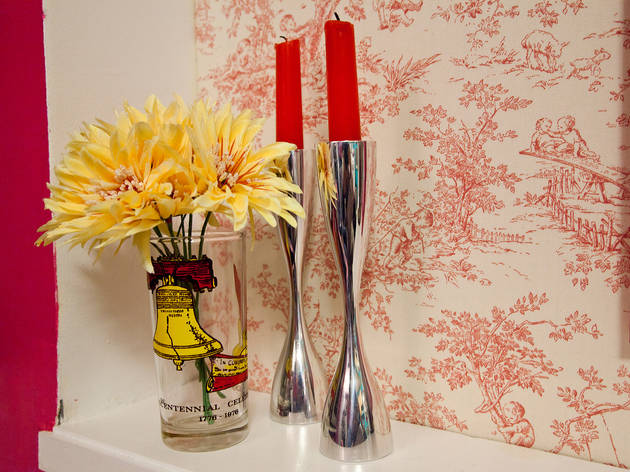 12/21
Photograph: Beth Levendis
Fake flowers from the shuttered East Side 99 Cent Store fill a Liberty Bell bicentennial glass discovered at the Brooklyn Flea (locations throughout the city; visit brooklynflea.com). The evergreen arrangement sits beside a pair of Nambe candlesticks from Bed Bath & Beyond (locations throughout the city; visit bedbathandbeyond.com).
13/21
Photograph: Beth Levendis
Local artist twofewbullets (toofewbullets13@gmail.com) immortalized Moli by spray-painting this custom picture.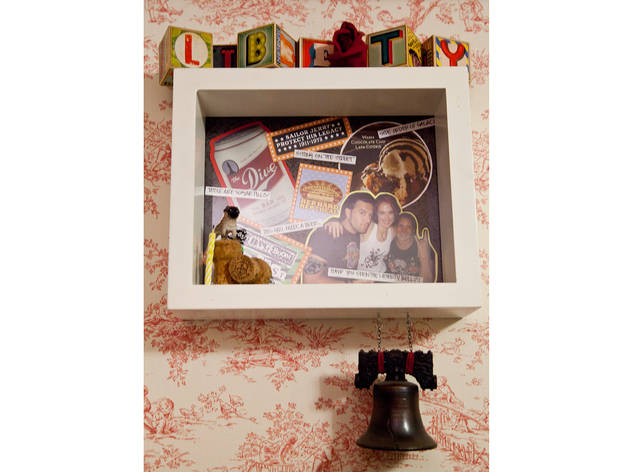 14/21
Photograph: Beth Levendis
"My nickname is Liberty Bell, and people love to buy them for me," says Barlow, referring to a miniature version, purchased at a Friends Seminary block sale (222 E 16th St between Second and Third Aves; 212-979-5030, friendsseminary.org), that dangles from a shadow box filled with more memorabilia and vacation photos. "I'm proud to be an American." To wit, she spells out her patriotic moniker with blocks from Alphabets (115 Ave A between St. Marks Pl and E 7th St • 47 Greenwich Ave between Charles and Perry Sts • 800-419-3989, alphabetsnyc.com). 
15/21
Photograph: Beth Levendis
By incorporating bold patterns, such as the damask bedspread from e-tailer Sin in Linen (sininlinen.com) and a cherry-print, oilcloth-covered headboard custom-made by Engelbach, Barlow prevents her largely black bedroom from appearing too stark. "Black is good for sleeping," she explains of her decision to coat her bedroom in Benjamin Moore Black Satin. "It also recesses the walls and opens up the room." Her precious stone of choice makes another appearance on a CB2 pillow featuring a woman holding up a multistrand pearl necklace. A glittering chandelier that once served as a window display in the Sony Store (Engelbach, a former employee, purchased it for $20) illuminates the dark space.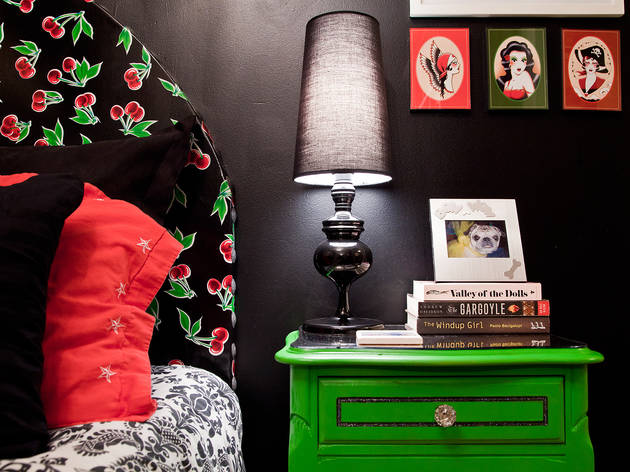 16/21
Photograph: Beth Levendis
Engelbach also customized this end table, originally discovered by Barlow at an Astoria stoop sale. "It was very shabby chic," she recalls. "I didn't want [the room] to be Christmasy by going green, but I wanted more color in here, so I went with a neon." In addition to refinishing the table with spray paint, Engelbach added a resin cover, trimmed it with glitter and replaced the original knob with one from Anthropologie. Barlow tops her nightstand with a lamp from Fab.com and a picture frame that was a gift from Waggytail Rescue. A trio of framed cards from a fashion show by one of Barlow's favorite designers, Mode Merr (modemerr.com), finishes off the nook.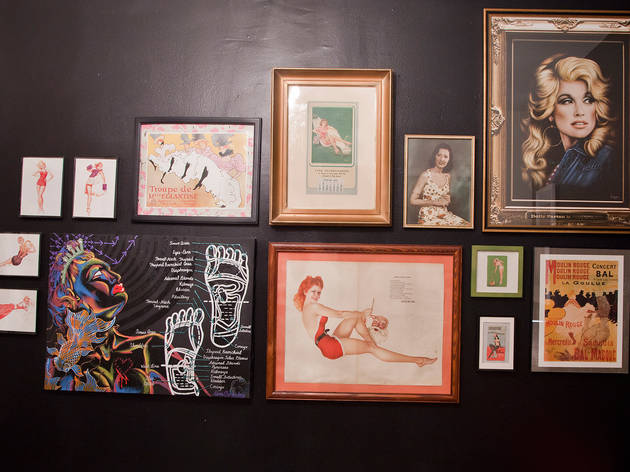 17/21
Photograph: Beth Levendis
"This is the room of women in art," jokes Barlow of her pinup collection. "I think they're very beautiful." The gallery includes Alberto Vargas pinup art cards from Papyrus (locations throughout the city; visit papyrusonline.com); Henri de Toulouse-Lautrec prints from the Musée d'Orsay (musee-orsay.fr/en) in Paris; a snapshot of Barlow's model mother, Avis Barlow; and a print of a Kii Arens (lalalandposters.com) velvet painting depicting Dolly Parton, purchased on Fab.com. "When I was a child growing up in South Africa, I would watch [Parton's] talk show and thought she was the most fabulous woman ever," Barlow reminisces.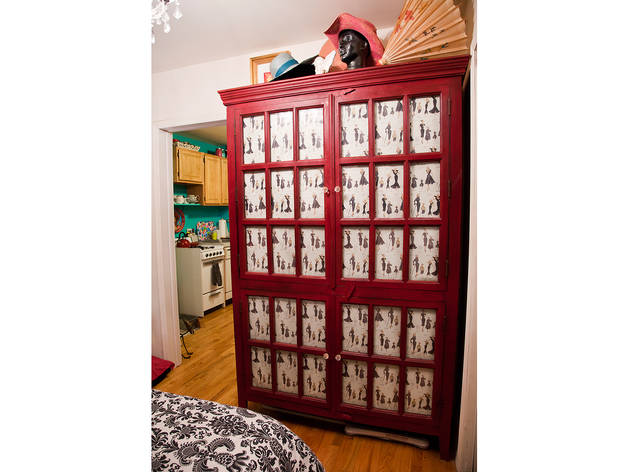 18/21
Photograph: Beth Levendis
Barlow conceals the contents of her Crate & Barrel armoire by covering its glass panes in 1940s dress-pattern–inspired gift wrap from Paper Presentation (23 W 18th St between Fifth and Sixth Aves; 212-463-7035, paperpresentation.com). She replaced the knobs with sleeker ones from Anthropologie. "The originals were rustic and I wanted it to be sophisticated and clean," she explains.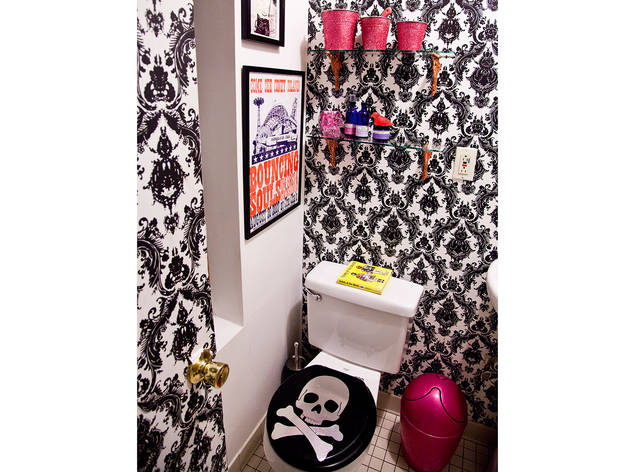 19/21
Photograph: Beth Levendis
"This is my rock & roll memorabilia room," says Barlow of her bathroom. She lined the walls with damask, vinyl temper wallpaper from Print Icon and added pink accents, such as a glass skull from Z Gallerie, a garbage can from Surprise! Surprise! and storage pails from Saifee Hardware (114 First Ave at 7th St; 212-979-6396, saifeehardware.com), which Engelbach covered in glue and Martha Stewart glitter purchased at Michaels (locations throughout the city; visit michaels.com). The skull-emblazoned toilet-seat cover is from Homebody Boutique (449 Seventh Ave between 15th and 16th Sts, Park Slope, Brooklyn; 718-369-8980, homebodyboutique.com).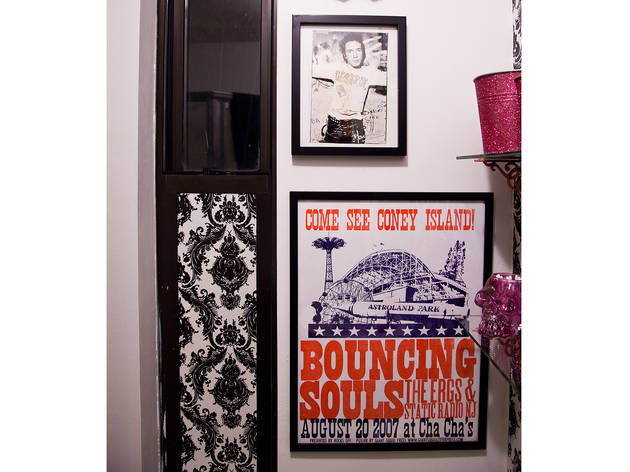 20/21
Photograph: Beth Levendis
Unlike the rest of the girly apartment, the bathroom showcases more masculine elements and some pictures of guys. Local artist Ethan Minsker, who cofounded the Antagonist Movement (antagovision.com), created the gun sculpture for Barlow. Famous rock photographer Jean-Baptiste Mondino (jeanbaptistemondino.com) took the photo of the Sex Pistols' Johnny Rotten, the lead singer of one of Barlow's favorite punk bands. She snagged the vintage poster from the Bouncing Souls' last show at Cha Cha's of Coney Island before the restaurant closed.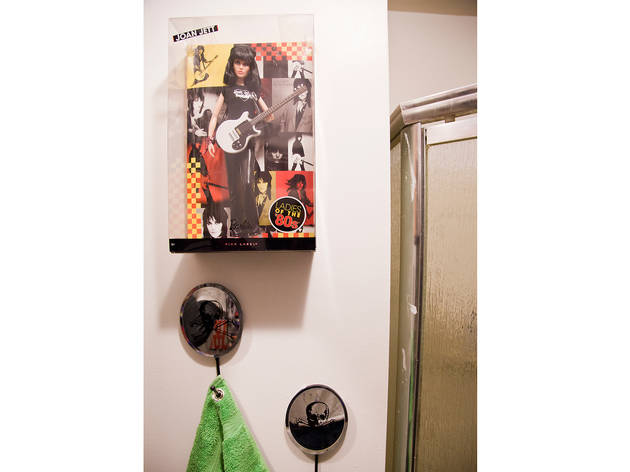 21/21
Photograph: Beth Levendis
Barlow's college friends from FIT bought her this Joan Jett Barbie for her 30th birthday. "I love Joan Jett—her music is classic and she is always such an awesome, rockin' woman," enthuses Barlow. The skull-emblazoned towel holders are from Urban Outfitters.
Apartment tour: 1BR in the East Village
Marketing director Amanda Barlow seamlessly blends pinup culture with Día de los Muertos references to create an NYC apartment reflective of her personal style.
Jeanie Engelbach
. Barlow shops at
home-decor stores
such as
West Elm
,
Crate & Barrel
and
Anthropologie
to create her vibrant abode, influenced by pinups and Mexico's Day of the Dead.
Love the look? Get it here!
John Derian
6 E 2nd St between Bowery and Second Ave (212-677-3917, johnderian.com)
"I love the vintage-inspired platters and dishes," says Barlow. "I try to buy locally first because I believe in small businesses and supporting domestic economy."
Lancelotti Housewares
66 Ave A at E 5th St (212-475-6851)
"It's a great interiors store for dishware, dinnerware and hostess gifts," notes Barlow. "It's my first stop [when shopping] for anybody."
Love Shine
543 E 6th St at Ave B (212-387-0935, loveshinenyc.com)
"It's Mexican!" she exclaims. "You can buy oilcloth by the roll and order custom-made pieces. I love going in there because it's all bright and colorful."
Trash and Vaudeville
4 St. Marks Pl between Second and Third Aves (212-982-3590, trashandvaudeville.com)
"It has an interior section that started carrying Sin in Linen, which I am really excited about," notes Barlow. "Now I can buy it there instead of online."