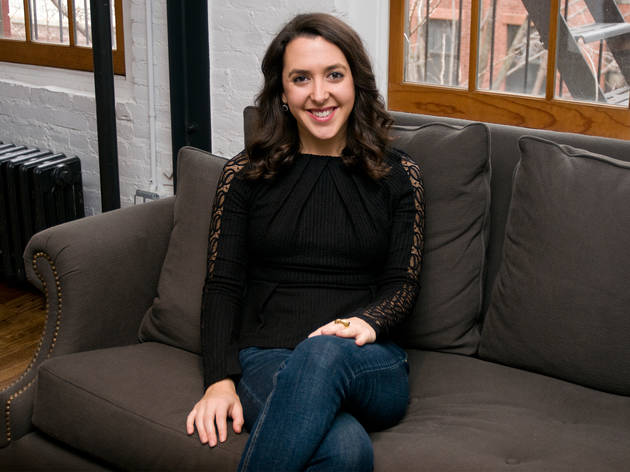 1/20
Photograph: Alex Strada
When Alaina Gurwitz purchased her co-op in February 2012, the place had already gone through a major transformation—it was originally two separate studios that were merged—but she spent an additional six months gut-renovating the 700-square-foot space with the help of her brother and their joint real-estate company, Good Property (goodpropertycompany.com). Together, they built a full kitchen in place of an unnecessary second bathroom and created an overall airier abode. Gurwitz, the founder of women's social club Adhara (adharany.com), moved in last August, and enjoys keeping a warm, inviting dwelling for entertaining friends and family. "I'm a [perpetual] tourist, so having a home is important to me," she says.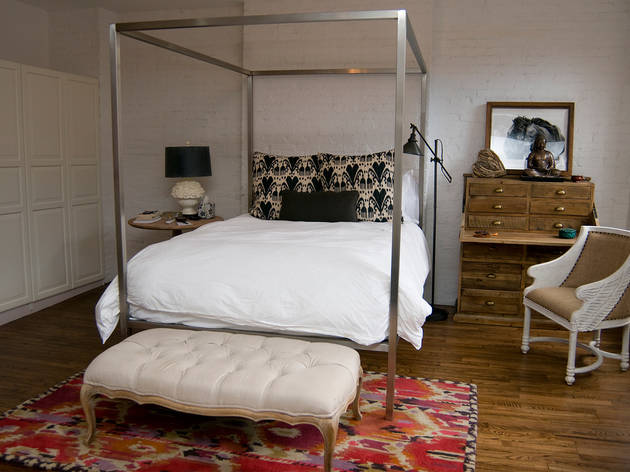 2/20
Photograph: Alex Strada
A wall of windows floods the bedroom with lots of natural light, illuminating Gurwitz's Room & Board (105 Wooster St between Prince and Spring Sts; 212-334-4343, roomandboard.com) stainless-steel canopy bed topped with ikat pillows from Pottery Barn (100–104 Seventh Ave at 16th St, 646-336-7160 • 117 E 59th St between Park and Lexington Aves, 917-369-0050 • 1965 Broadway between 66th and 67th Sts, 212-579-8477 • potterybarn.com) and clean white bedding from Restoration Hardware (935 Broadway at 22nd St; 212-260-9479, restorationhardware.com). For a pop of color, Gurwitz added a brightly patterned rug from Anthropologie (locations throughout the city; visit anthropologie.com). "I'm a big online shopper and I do a lot of research before I buy," she says, noting the tufted bench decorating the end of her bed from one of her favorite e-tailers, Wisteria (wisteria.com).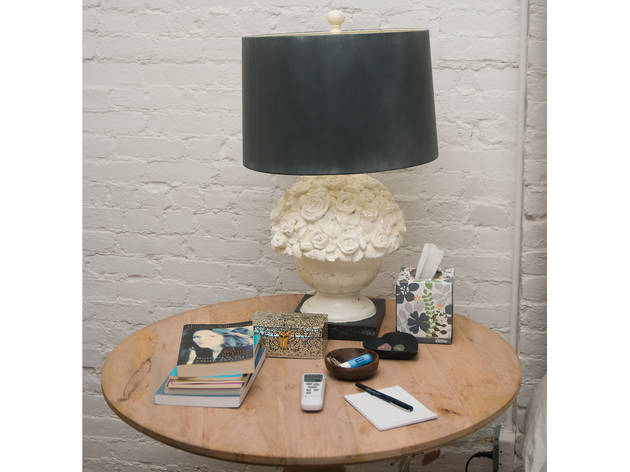 3/20
Photograph: Alex Strada
"I love having a really large table next to my bed," says Gurwitz, who opts for a circular style from West Elm (1870 Broadway at 62nd St, 212-247-8077 • 112 W 18th St between Sixth and Seventh Aves, 212-929-4464 • 75 Front St at Main St, Dumbo, Brooklyn; 718-875-7757 • westelm.com) in lieu of a traditional nightstand. "I'm a big reader, and there are often 19 books hanging out here." Indeed, a stack of art tomes rest beside a large floral ceramic lamp from a Westhampton antiques shop and a mother-of-pearl inlay box gifted to her by a friend. Other personal trinkets include a coconut-shell bowl from a friend who lives in Hawaii and a heart-shaped version purchased from Chicago furnishings store Jayson Home (jaysonhome.com).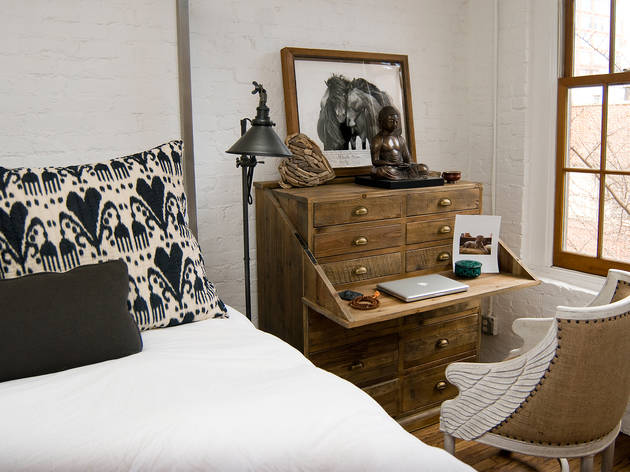 4/20
Photograph: Alex Strada
"I like to consider this my altar, made up of all the things I love," says Gurwitz of the items adorning her desk from Crate & Barrel (611 Broadway at Houston St, 212-780-0004 • 650 Madison Ave at 60th St, 212-308-0011 • crateandbarrel.com). The assortment includes Buddhist mala prayer beads from a retreat in Massachusetts and an elephant paperweight purchased on a family trip to India. A photo of her brother's late dog and a green dish from her grandmother add sentiment to the display. A whimsical angel-wing desk chair from High Fashion Home (highfashionhome.com) completes the setup.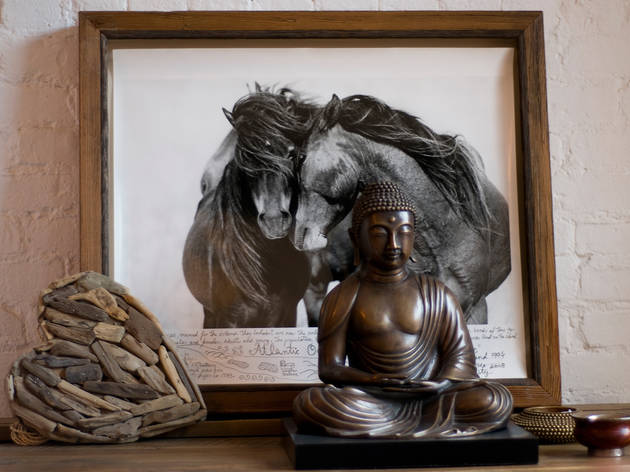 5/20
Photograph: Alex Strada
"Finding a Buddha is like finding a boyfriend," jokes Gurwitz, who incorporates the spiritual figure throughout her apartment. "You just know it when you find [the right one]." She discovered this particular version at Jacques Carcanagues Gallery (21 Greene St between Canal and Grand Sts; 212-925-8110, jacquescarcanagues.com), and flanks it with a bark heart from San Francisco. Gurwitz had been eyeing the signed horse print by New York artist Roberto Dutesco (dutescoart.com) before her dad gave it to her as a 25th-birthday gift.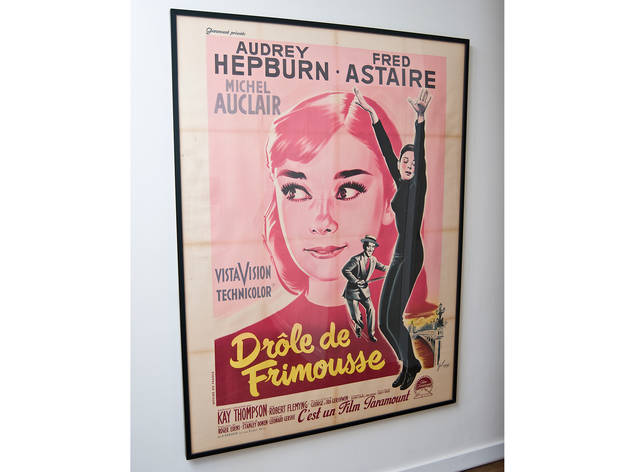 6/20
Photograph: Alex Strada
Gurwitz splurged on this vintage Audrey Hepburn movie poster from Chisholm Larsson Gallery (145 Eighth Ave between 17th and 18th Sts; 212-741-1703, chisholm-poster.com) when she was still a student at NYU. "Audrey is one of my faves," she says. "The color scheme is what drew me [in]. I love this hot pink."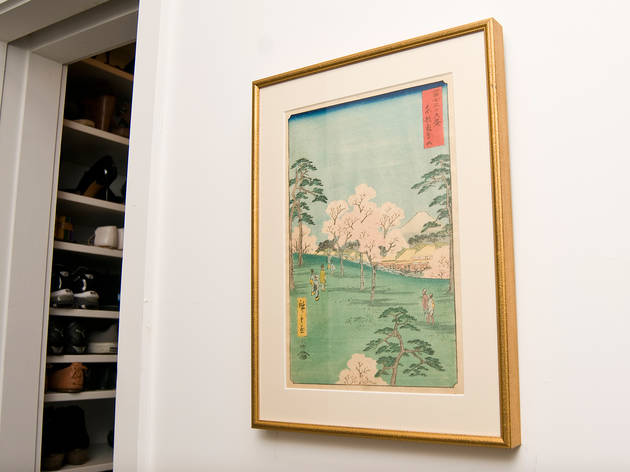 7/20
Photograph: Alex Strada
This Japanese wood-block print by artist Utagawa Hiroshige was a gift from Gurwitz's brother for her Columbia University graduate-school commencement. It combines her love of art with her nostalgia for living in Tokyo, where she was born.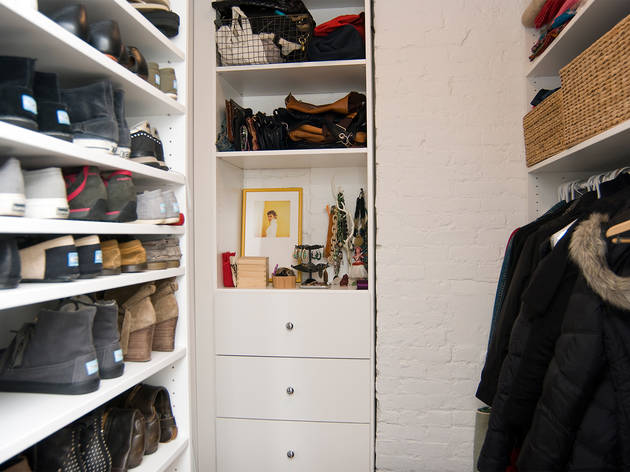 8/20
Photograph: Alex Strada
Gurwitz worked with custom storage company transFORM (212-679-9500, transformhome.com) to turn this closet space, which didn't have a door, into an enclosed walk-in wardrobe for all of her shoes and clothing.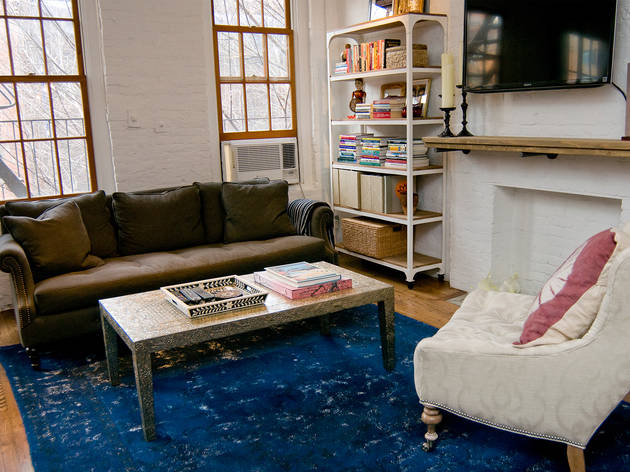 9/20
Photograph: Alex Strada
"I've never been too feminine," notes Gurwitz of her decorating style. "You can clearly see a woman lives here but it's not overt." She offset a cotton-crepe Jayson Home sofa with an ornamental tin coffee table from ABC Carpet & Home (888 Broadway at 19th St; 212-473-3000, abchome.com) and a cobalt West Elm rug. For cozy nights spent curled up on the couch, Gurwitz added a striped throw from Treasure & Bond (350 West Broadway between Broome and Grand Sts; 646-669-9049, treasureandbond.com).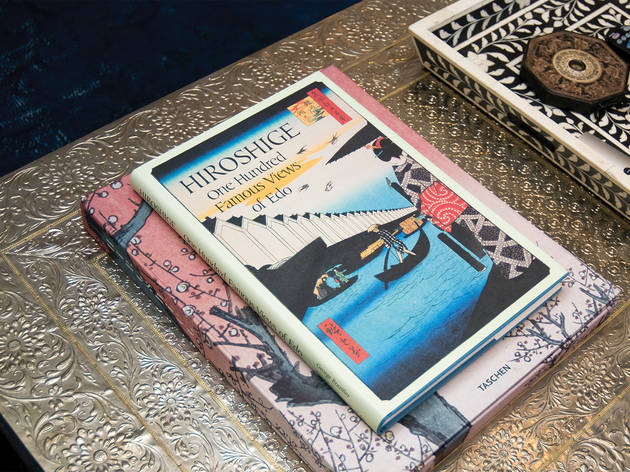 10/20
Photograph: Alex Strada
"I'm attracted to things that are somewhat bohemian," admits Gurwitz, who adorns her Middle Eastern–inspired tin coffee table with a decorative serving tray from Wisteria and a feng shui dial her parents brought back from Vietnam. Visitors often leaf through the Japanese-art coffee-table books she picked up at the Strand Book Store (828 Broadway at 12th St; 212-473-1452, strandbooks.com) and the Brooklyn Museum (200 Eastern Pkwy between Flatbush and Washington Aves, Prospect Heights, Brooklyn; 718-638-5000, brooklynmuseum.org).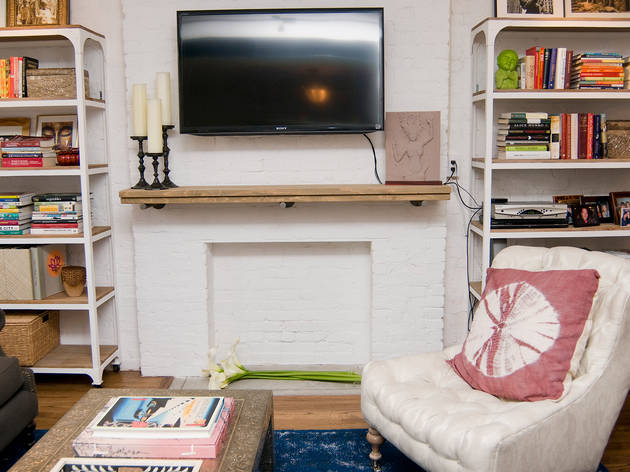 11/20
Photograph: Alex Strada
Staying true to her clean and simple aesthetic, Gurwitz adorns the mantle of her closed-up fireplace with a pair of candlesticks from a defunct Flatiron District store and a decorative tile she picked up in Vietnam. The white lilies strewn across the hearth were acquired from Good Property's offices, and act as temporary decor.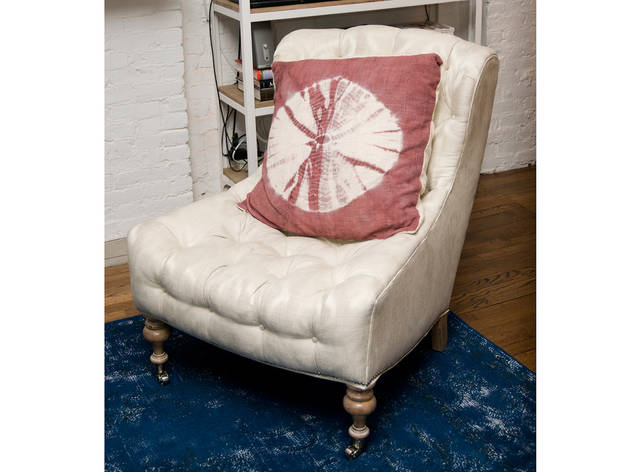 12/20
Photograph: Alex Strada
A Jayson Home tie-dye pillow provides a youthful contrast to a classic tufted reading chair from ABC Carpet & Home.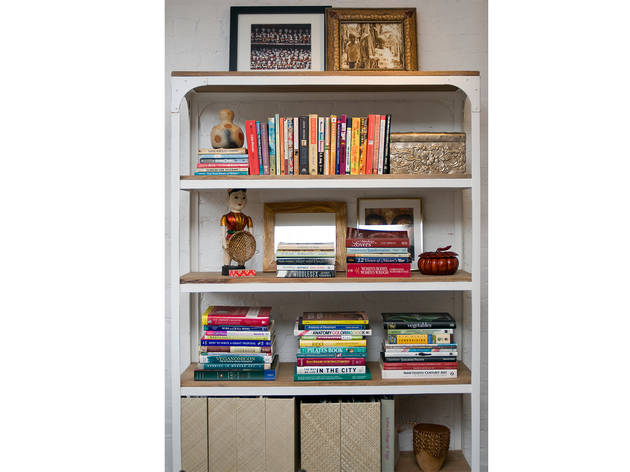 13/20
Photograph: Alex Strada
Photographs from her parents' travels to Asia commingle with neatly stacked art books and travel guides on this industrial West Elm bookshelf. One of the pictures, depicting a group of children, was taken when Gurwitz lived in Uganda for three months while in social-work school. "It's a reminder for me of what else is out there," she says. "It's easy to forget that, living in a nice place."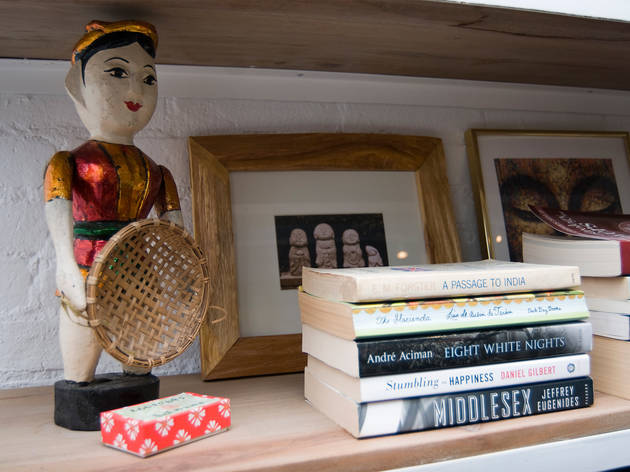 14/20
Photograph: Alex Strada
Gurwitz showcases snapshots that her mother took on a trip to Thailand, alongside a Cambodian water puppet that she brought back for Gurwitz as a souvenir from her Eastern travels.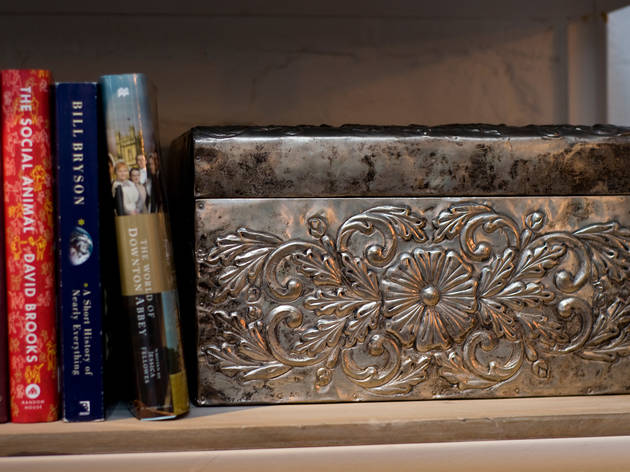 15/20
Photograph: Alex Strada
"Sometimes you just like stuff your parents have and you take it," confesses Gurwitz, who nabbed this hammered-silver box from her folks' house.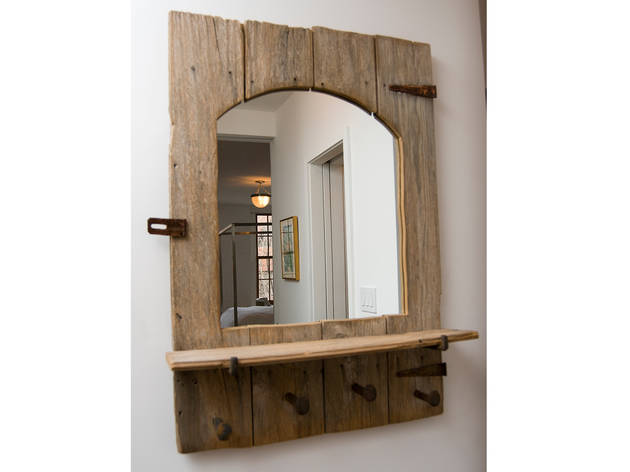 16/20
Photograph: Alex Strada
Gurwitz received this mirror fashioned from an old barn door as a birthday gift from her parents, who discovered it in an antiques store in Woodstock, New York. It now hangs in the entryway of her studio.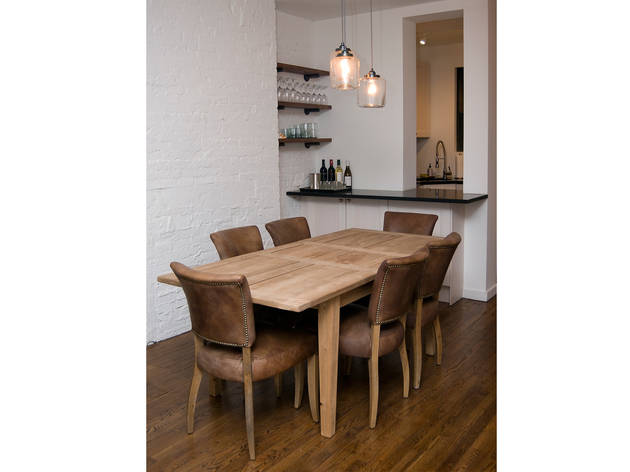 17/20
Photograph: Alex Strada
"People sit at the table for five hours and don't get up, so I wanted them to be comfortable," says Gurwitz of the Restoration Hardware padded chairs surrounding her dining-room table, which is also from the design chain. The eating area is lit by a glass-jar pendant chandelier from West Elm.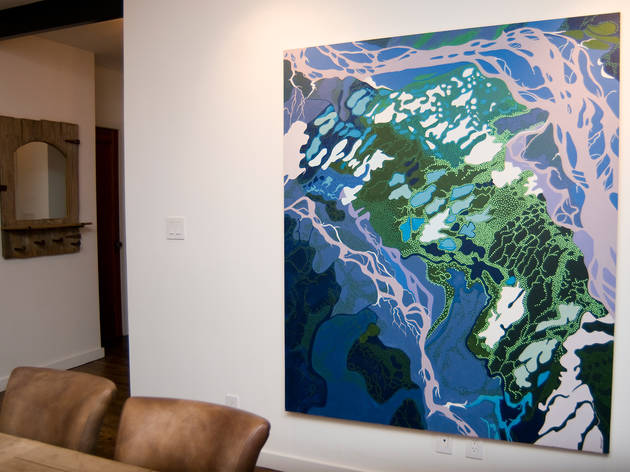 18/20
Photograph: Alex Strada
This vibrant painting serves as the centerpiece of the dining area and was created by Gurwitz's mother, Merrill Steiger (steigerart.com), an artist whose pieces are inspired by science and travel.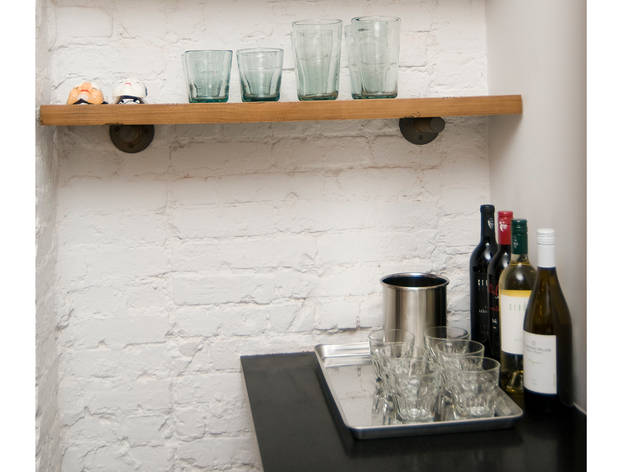 19/20
Photograph: Alex Strada
As someone who loves to host friends for dinner parties, Gurwitz always has a few bottles of wine on hand. This wooden West Elm shelf is perpetually stocked with Crate & Barrel stemware for entertaining. The four Japanese masks are mementos from her days living in Tokyo.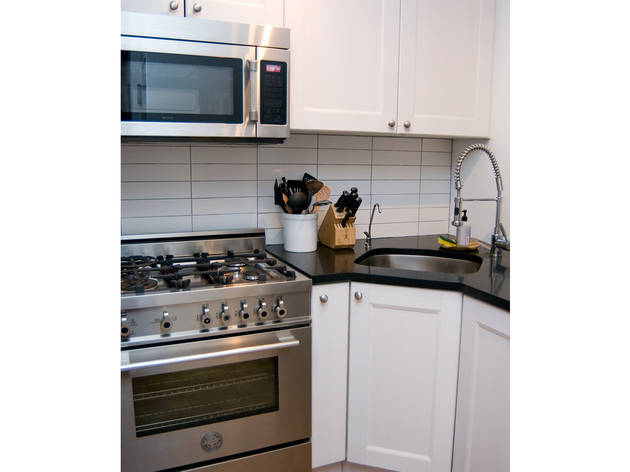 20/20
Photograph: Alex Strada
"I like the British aesthetic: white cabinets and black countertops," says Gurwitz of her kitchen, which she renovated by installing cabinets from Ikea (1 Beard St between Dwight and Otsego Sts, Red Hook, Brooklyn; 718-246-4532, ikea.com) and West Elm shelving. "It's clean but homey."
Apartment tour: 1BR in the West Village
Alaina Gurwitz, managing director of real-estate firm Good Property, lets us peek at her sun-soaked pad, accented with mementos from world travels and spiritual trinkets that keep her calm and grounded.
With the help of her real-estate firm Good Property, Alaina Gurwitz renovated her spacious West Village co-op by installing Ikea cabinets and West Elm shelves in her newly formed full kitchen. She accents furniture from ABC Carpet & Home, Crate & Barrel and Room & Board with her mother's photography and mementos collected on her travels.
Love the look? Get it here!
Boca Grande 54 Greene St between Broome and Grand Sts (212-226-8766, bocagrandefurnishings.com)
Gurwitz browses this boutique—which sources furniture and decor from India, Asia and the Middle East—for antique and custom-wood finds. "My all-time favorites are the hammered pieces, as well as the tables that are made from old doors," she says.

Leo Design 543 Hudson St between Charles and Perry Sts (212-929-8466, leodesignnyc.com)
"It's a great place for cuff links, boxes, desk accessories and home decor, such as lighting, vases and vintage mirrors," enthuses Gurwitz, who loves to buy accent pieces and presents for friends at this eclectic gift shop.

Michele Varian 27 Howard St at Crosby St (212-226-1076, michelevarian.com)
"[Owner Michele Varian] curates an incredibly large selection of items that are high-design yet have a sense of whimsy and humor," remarks Gurwitz, who scouts for unusual decorative objects at this high-end home store. "It's the kind of place where I could buy the whole store and still come back for more."