Heads up! We're working hard to be accurate – but these are unusual times, so please always check before heading out.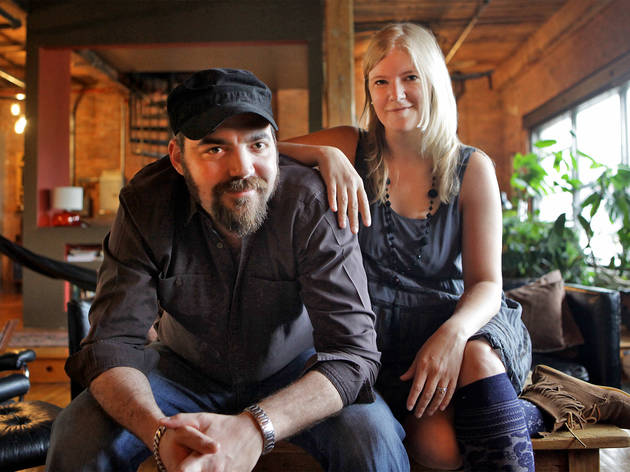 1/27
Drawing design inspiration from their shared love of the stage, Sue Kessler, executive director of experimental theater the Bushwick Starr (thebushwickstarr.org), and her lighting-designer husband, Jared Klein, use props and set pieces to accent their spacious brick-walled abode. The couple, who met as undergrads at Skidmore College, moved into the 1,600-square-foot rental—a former perfume factory—in December 2008. "We got lucky: The guy before us was an architect," notes Kessler of the sunlit open space. "It has all the elements that a girl growing up in Ohio would picture of a New York City loft."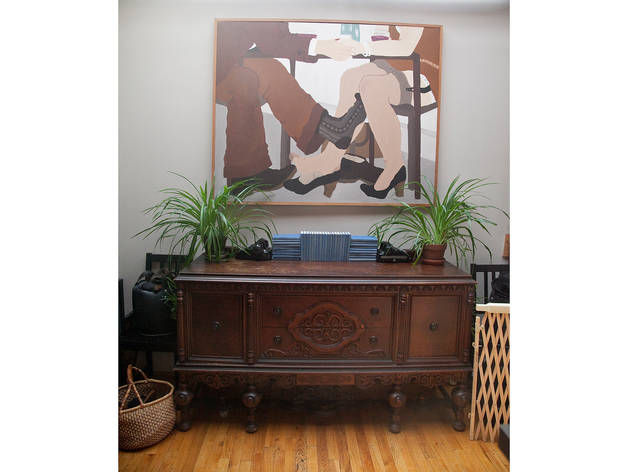 2/27
Photograph: Melissa Sinclair
A picture of a couple painted by Klein's parents' friend in the 1970s greets guests as they enter the loft. Kessler acquired the carved credenza from a pal who moved to North Carolina, and topped it with a set of Shakespeare tomes from an estate sale in New Jersey. Old-fashioned telephones that were once play props serve as bookends and are flanked by plants from Klein's grandfather.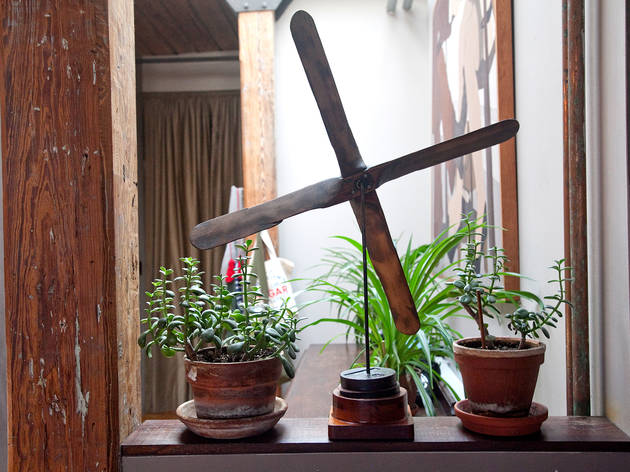 3/27
Photograph: Melissa Sinclair
The abundance of natural light is a boon for Klein's collection of third-generation greenery, handed down from his grandfather and displayed on a ledge in the entryway. "They are older than we are," says Kessler, who admits Klein is the one with the green thumb and that she "used to be afraid of [the shrubs]." Adding to the countrified vibe, Kessler displays a swamp-boat propeller from Mercantile Gallery Antiques (1055 Fulton St at Irving Pl, Clinton Hill, Brooklyn; 718-789-8729, mercantilegallery.com) between the plants.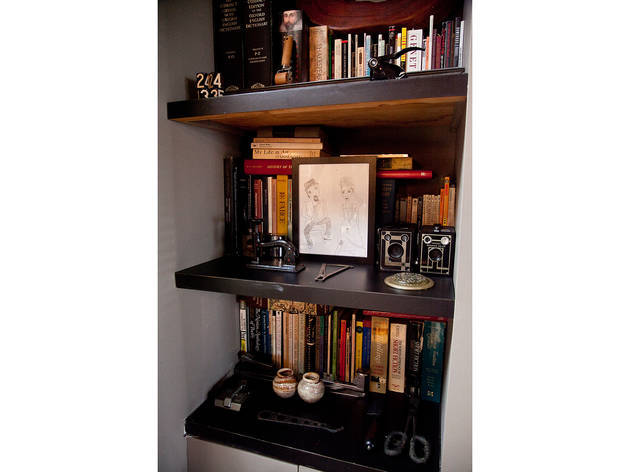 4/27
Photograph: Melissa Sinclair
Assorted tomes from favorite bookstore St. Mark's Bookshop (31 Third Ave between at 9th St; 212-260-7853, stmarksbookshop.com) are surrounded by miscellaneous tools, vintage cameras and other objects collected from antique shops in Kessler's hometown of Cleveland. Klein's artistic sister drew a picture of the couple modeled after a photo featured on their wedding save-the-date, which serves as the centerpiece for the built-in bookshelf near the foyer.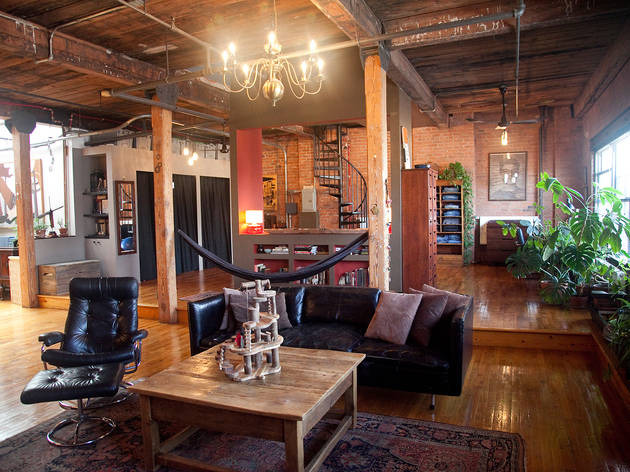 5/27
Photograph: Melissa Sinclair
Twelve-foot-high wood-beamed ceilings and glossy hardwood floors give the living room a rustic ambience. The furniture is arranged facing away from the bedroom area to help create a sense of separate space. "You come into the apartment and you can't really see the bed," boasts Kessler. A leather chair, ottoman and couch—all purchased at Las Venus (113 Stanton St between Essex and Ludlow Sts; 212-358-8000, lasvenus.com)—are accented by an antique Persian rug from Kessler's great-grandmother and a wooden coffee table from Klein's mother. Suede pillows from Klein's mom soften the tough look of the cowhide sofa, while a brass chandelier that was once a play prop illuminates the space.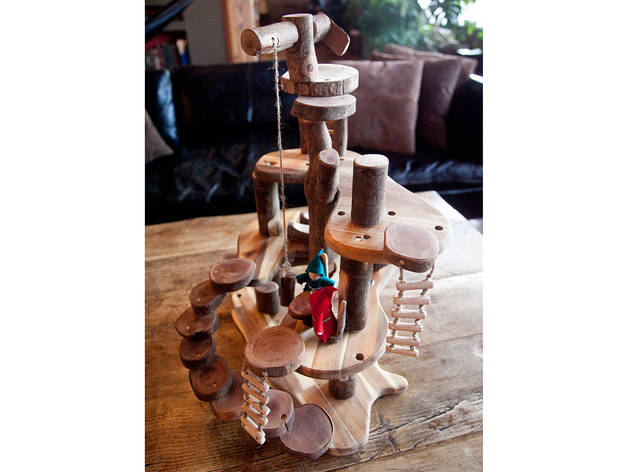 6/27
Photograph: Melissa Sinclair
This handmade wood tree house from Norman & Jules (158 Seventh Ave between 1st St and Garfield Pl, Park Slope, Brooklyn; 347-987-3323, normanandjules.com) serves dual purposes as daughter Willa's plaything and a coffee-table centerpiece.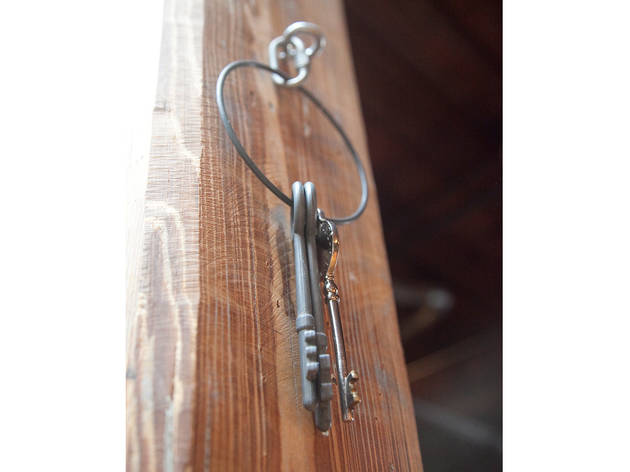 7/27
Photograph: Melissa Sinclair
"We really like to surround ourselves with simple objects but display them in an unexpected and creative way," says Kessler, who exhibits skeleton keys on a ring, purchased as a set at the Brooklyn Flea (176 Lafayette Ave between Clermont and Vanderbilt Aves, Fort Greene, Brooklyn; Sat 10am–5pm • 90 Kent St at North 7th St, Williamsburg, Brooklyn; Sun 10am–5pm • brooklynflea.com) on one of the living-room beams.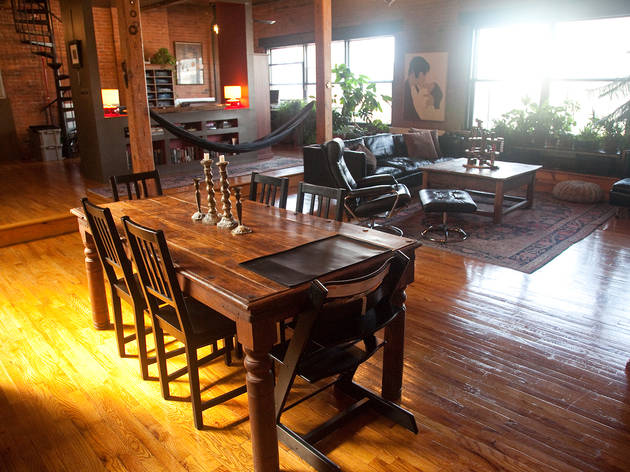 8/27
Photograph: Melissa Sinclair
When Kessler's friend moved to Los Angeles, she gave her this sturdy Moroccan farm table that she couldn't transport. It's now topped with brass candlestick holders that were play props and flanked by chairs from Ikea (1 Beard St at Otsego St, Red Hook, Brooklyn; 718-246-4532, ikea.com) that blend well enough to make it look like a set.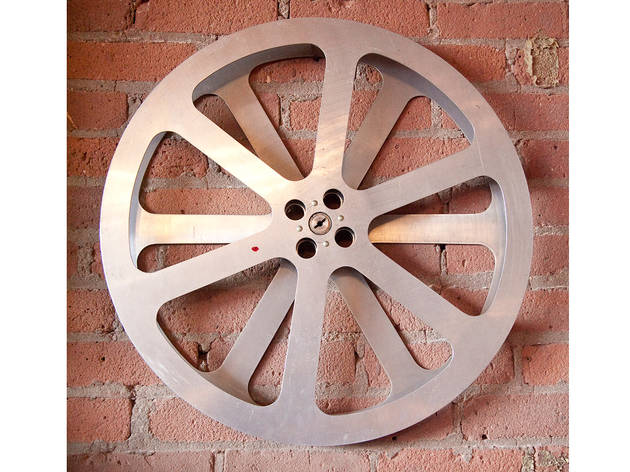 9/27
Photograph: Melissa Sinclair
As a nod to their love of the performing arts, the couple hung a pair of oversize film reels from Green Village on their living-room wall.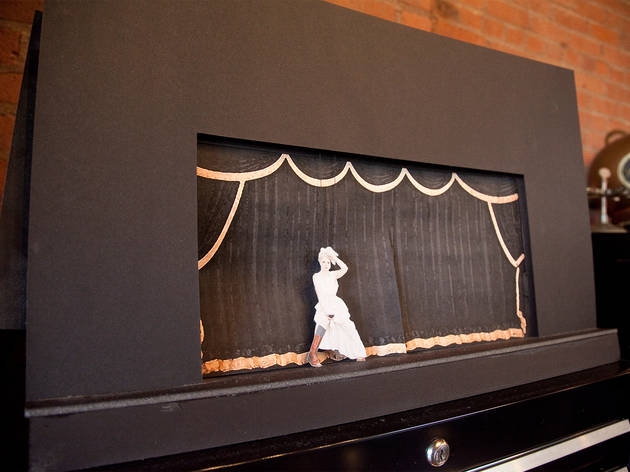 10/27
Photograph: Melissa Sinclair
Kessler and Klein tied the knot at the Galapagos Art Space (16 Main St at Water St, Dumbo, Brooklyn; 718-222-8500, galapagosartspace.com) and invited their creative friends to contribute to the day. A pal created this toy theater set and performed a puppet show at the reception using edited audio from the couple's wedding-planning conversations, which they taped over the course of a year. The piece is now displayed on top of a tool chest from Lowe's (locations throughout the city; visit lowes.com) in the living room.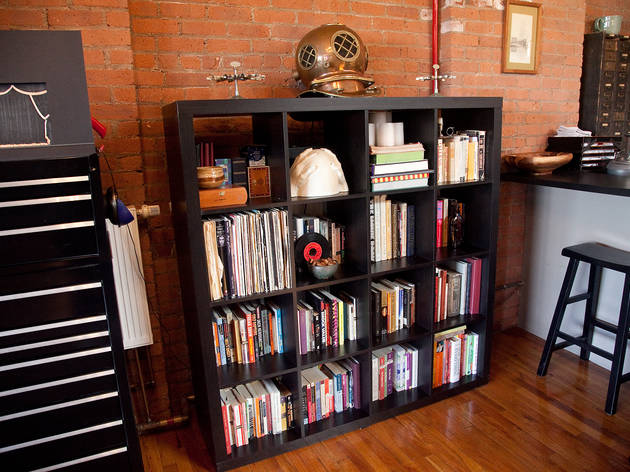 11/27
Photograph: Melissa Sinclair
Kessler loves estate-sale shopping but admits she's been doing less of it now that she has a baby. She picked up this antique metal deep-sea diving mask—flanked by old-fashioned stamp holders that were props from a show—at one in the city. It's prominently displayed on a bookshelf from Ikea near the kitchen.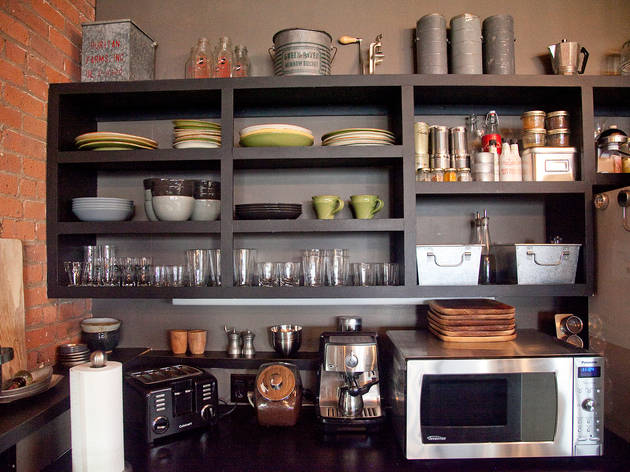 12/27
Photograph: Melissa Sinclair
The kitchen shelves are lined with Ikea dishware, antique housewares and old milk jugs inherited from family, and canned food showcased out in the open. "Our friends think that we're crazy for taking the labels off the cans, but it's beautiful to see the food as much as possible," says Kessler.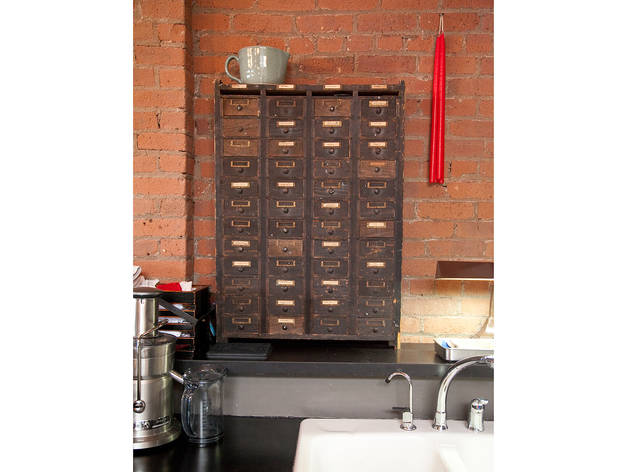 13/27
Photograph: Melissa Sinclair
Function is important to Kessler, who looks for decorative pieces that double as storage. One example is this Green Village find: a vintage hardware cabinet, which she tops with a ceramic baking pourer from a pottery shop in Cornwall, Connecticut. Long Swedish candles purchased at Cleveland gallery Koehn Sculptors (koehnsculptors.com) dangle beside it.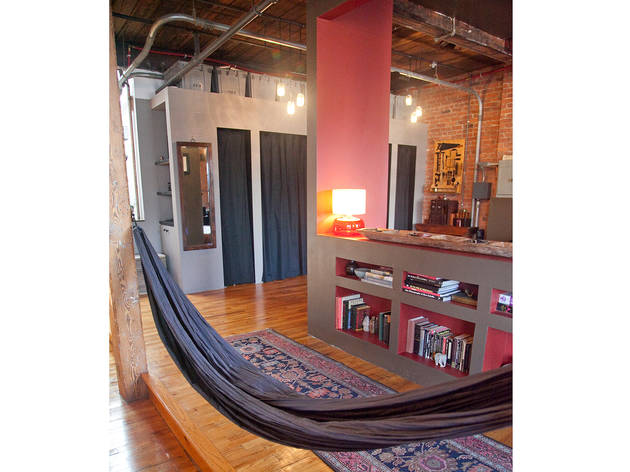 14/27
Photograph: Melissa Sinclair
Klein hung this nylon hammock from Cape Cod's Northern Lights Hammocks (northernlightshammocks.com) to create an additional lounging option. "He literally brings [hammocks] with him wherever he goes," jokes Kessler. The Persian runner is a hand-me-down from Kessler's great-grandmother.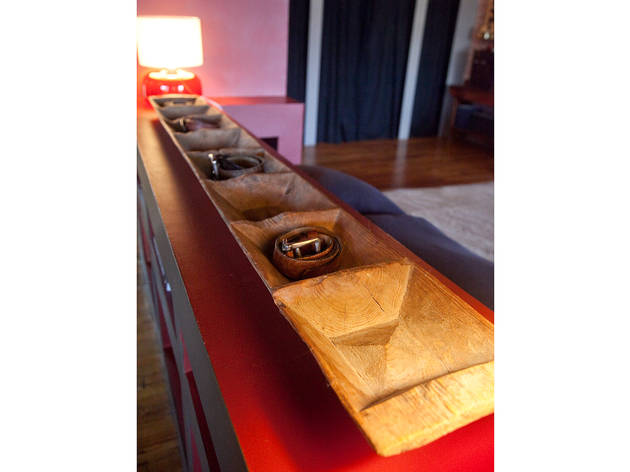 15/27
Photograph: Melissa Sinclair
Proof of her boundless creativity when it comes to storage, Kessler uses a bread-baking mold from ABC Carpet & Home (888 Broadway at 19th St; 212-473-3000, abchome.com) as a place to hold coiled belts. It rests on a ledge above her bed, doubling as decor.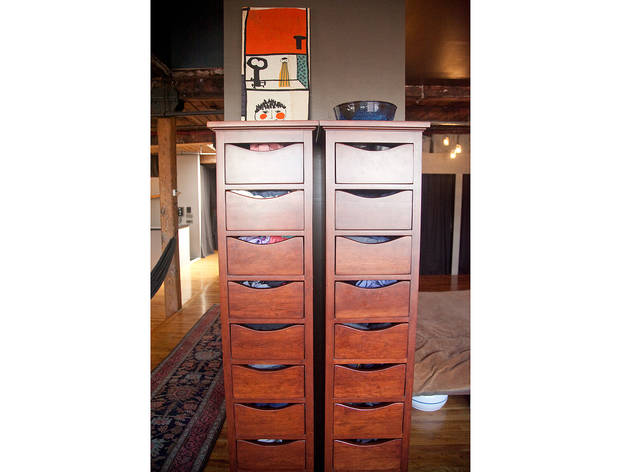 16/27
Photograph: Melissa Sinclair
Kessler spotted these lingerie chests at a New Jersey estate sale and uses them to store clothing. She tops them with a silkscreen from Marimekko (200 Fifth Ave at 23rd St; 212-843-9121, marimekko.com) from her childhood home, and pottery handmade by her great-grandmother and Regis Brodie (rcbrodie.com), an art and ceramics professor at Skidmore College.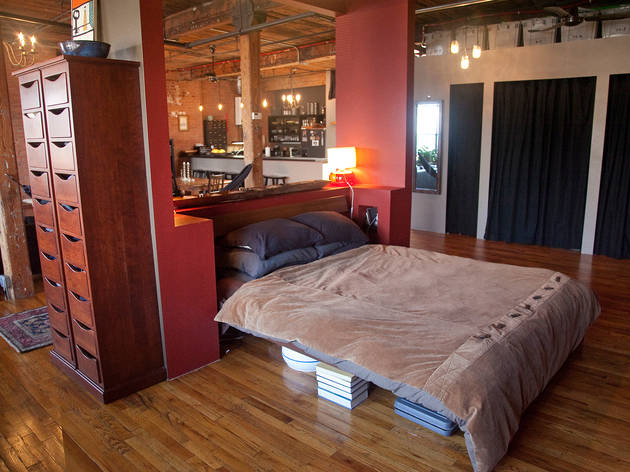 17/27
Photograph: Melissa Sinclair
"It definitely feels like there are separate areas," says Kessler, who used a mix of Valspar (valsparpaint.com) Quite Red and Olympic (olympic.com) Warm Mahogany paints on the walls surrounding their low Ikea bed to help create a more defined space. A pair of red lamps, also from the Swedish chain, dot either side of the headboard-cum-built-in-bookcase, which was custom-made by the previous renter.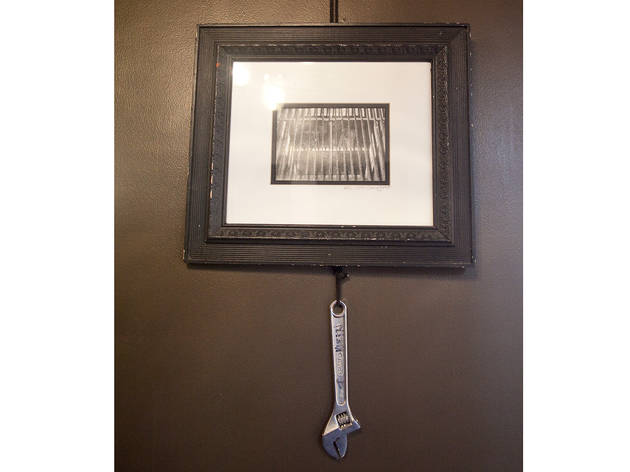 18/27
Photograph: Melissa Sinclair
A wrench keeps this gifted black-and-white photograph, featuring a storefront basement seen through a metal street gate, in place on the wall beside the couple's bed. "For a while, my husband was obsessed with counterweighting everything so things could move or adjust," says Kessler. "He even had a plan to build a counterweighted coffee table—not practical."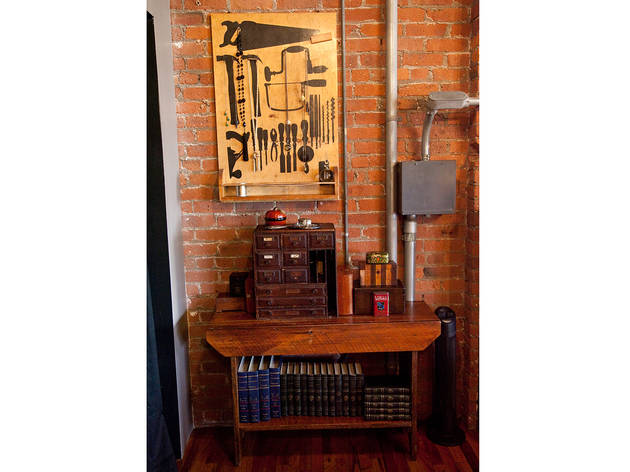 19/27
Photograph: Melissa Sinclair
"We spent lots of years learning to be resourceful," says Kessler, whose stage-design savvy helps her think about how to transform unlikely objects into functional pieces. One example is this tool organizer that she found discarded on the street and turned into a jewelry rack. Boxes collected from various flea markets through the years top the drop-leaf table and vintage desk organizer—both New Jersey estate-sale finds.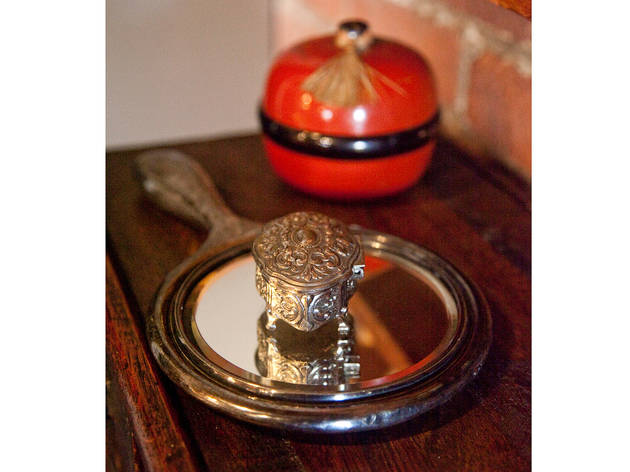 20/27
Photograph: Melissa Sinclair
Kessler scours local flea markets monthly, discovering collectibles for her loft such as this brass trinket box and hand mirror, both from the Antiques Garage (112 W 25th St between Sixth and Seventh Aves; 212-243-5343, hellskitchenfleamarket.com), and unusual domed box from the Brooklyn Flea.
21/27
Photograph: Melissa Sinclair
"I've been collecting boxes since I was in high school," explains Kessler, who uses them to store jewelry and other personal items. She kept several of her favorite aromatic containers from the cigar shop she worked at in college. The rest were picked up at flea markets and vintage shops, including the antique floral tin, once used for a lady's pipe and tobacco.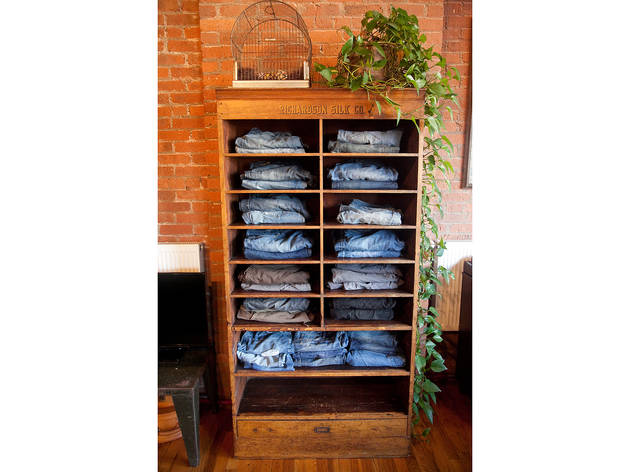 22/27
Photograph: Melissa Sinclair
"We embrace the openness," admits Kessler, who uses a vintage silk-fabric cabinet from Klein's family as a creative and aesthetically pleasing way to store his jeans. An empty birdcage—yet another former set prop—and a vine from Klein's grandfather decorate the repurposed piece.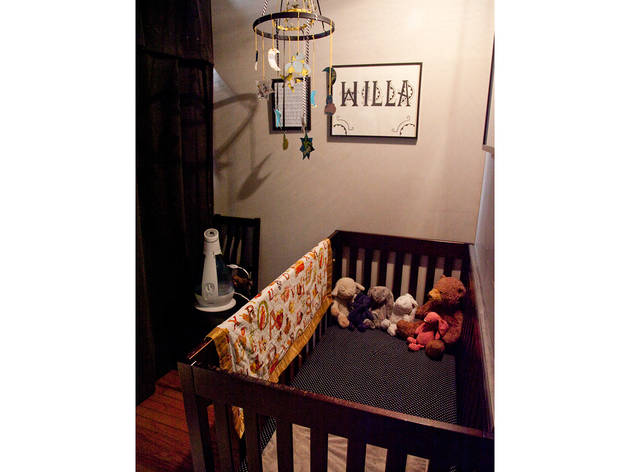 23/27
Photograph: Melissa Sinclair
When daughter Willa arrived 17 months ago, Kessler and Klein created a makeshift nursery in the foyer by hanging a repurposed theater curtain from Purl (459 Broome St between Greene and Mercer Sts; 212-420-8796, purlsoho.com) for privacy. "It's the only place where she can't hear us when she's sleeping," explains Kessler. The infant's Babyletto crib (babyletto.com) is adorned with a one-of-a-kind handmade blanket from now-closed store Honey & Hazel Kids and several stuffed animals from Greenlight Bookstore (686 Fulton St at South Portland Ave, Fort Greene, Brooklyn; 718-246-0200, greenlightbooks.com). A name drawing made by Klein's sister and a mobile of Dr. Seuss book cutouts built by Kessler's friends at her baby shower add personal touches to the space.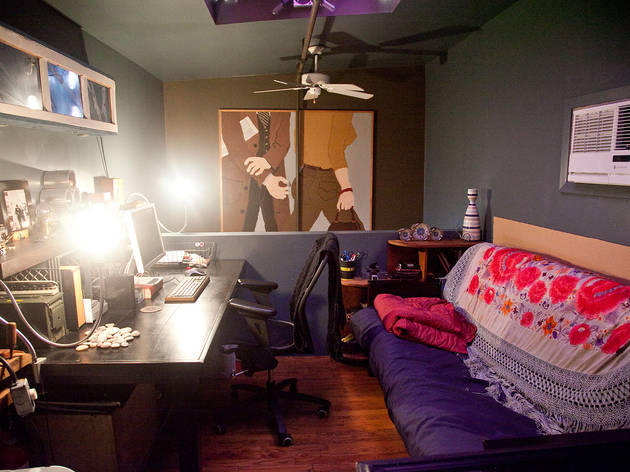 24/27
Photograph: Melissa Sinclair
When Kessler wants to escape and do work, she retreats to this cozy upstairs nook, accessed by a narrow spiral staircase in the bedroom. "This is my hideaway," she says of the space, which overlooks the living room. To give the area a comfortable office feel, Kessler converted an Ikea dining-room table into a desk and topped a futon purchased online with a floral piano shawl handed down from her dad's side of the family. A painting of a man pinching a lady's behind, also by Klein's family friend, lends a touch of whimsy.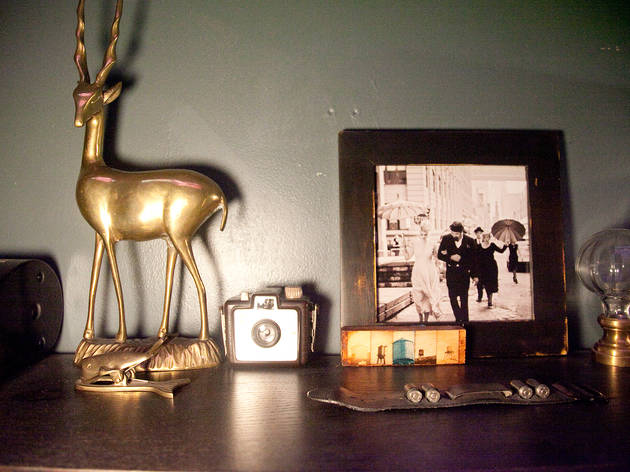 25/27
Photograph: Melissa Sinclair
Every corner of the apartment is accented with family heirlooms and personal items, including the upstairs office. A brass antelope that belonged to Klein's grandfather and a black-and-white photo from the couple's 2010 nuptials dominate the desk. Miscellany, including a tiny whale sculpture from the Provincetown Antique Market (marketantique.com), an old-fashioned camera from Horseman Antiques, a water-tower cube from Cog & Pearl (190 Fifth Ave at Sackett St, Park Slope, Brooklyn; 718-623-8200, cogandpearl.com) and a DIY battery-operated lamp from the MoMA Design Store (11 W 53rd St between Fifth and Sixth Aves, 212-708-9700 • 81 Spring St between Broadway and Crosby St, 646-613-1367 • moma.org), showcase the pair's eclectic taste.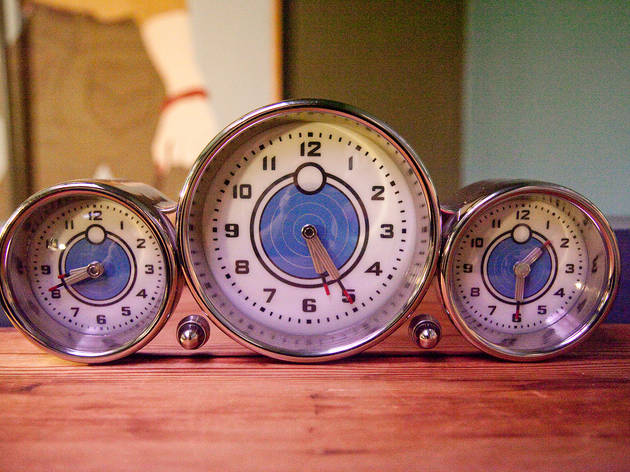 26/27
Photograph: Melissa Sinclair
Kessler loves to scout for interesting decorative objects when she goes home to visit family in Ohio. She picked up this airport clock, which tells the time in three different zones, at Cleveland Auction Company (cleveauction.com). "Like most things in our apartment, it makes you think of simpler times—no pun intended," she reflects. "There's something peaceful about an analog clock that doesn't light up or beep. The design also speaks to how stylish and glamorous airport travel once was."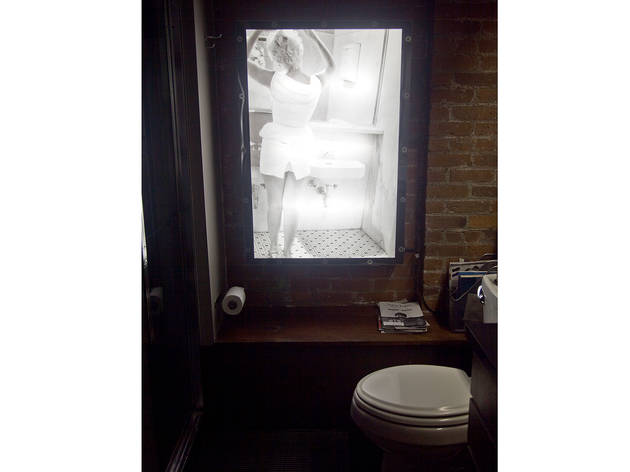 27/27
Photograph: Melissa Sinclair
Klein, who wired all of the lighting in the loft, built this bathroom light box for Kessler's birthday, using fluorescent tubing and a photograph of Marilyn Monroe. "I had a vision of this," gushes Kessler. "I love Marilyn Monroe—I'm obsessed with her."
Apartment tour: Loft in Bedford-Stuyvesant, Brooklyn
The Bushwick Starr executive director Sue Kessler and her husband, Jared Klein, tap their theater background to make the most of their wide-open space.
The Bushwick Starr executive director Sue Kessler and her husband, lighting designer Jared Klein, have come up with creative ways to repurpose props, family heirlooms and estate-sale finds into decorative storage for their spacious loft. The couple regularly scours NYC flea markets such as the Brooklyn Flea and Antiques Garage for vintage items, although they occasionally incorporate new pieces from Ikea, Target and Marimekko into their decor.
Love the look? Get it here!
Green Village 276 Starr St between St. Nicholas and Wyckoff Aves, Bushwick, Brooklyn (718-456-8844, gogreenvillage.com)
"You have to dig—sometimes literally climb over a stack of furniture to get to something—and haggle for your price, but that's all part of the charm of shopping [here]," notes Kessler of this well-priced thrift shop.

Horseman Antiques 351 Atlantic Ave at Hoyt St, Boerum Hill, Brooklyn (718-596-1048, horsemanantiques.net)
"It has beautiful pieces from every era, plus some unique twists on items that have been repurposed," describes Kessler of this veritable antiques mecca.

Onderdonk Flea Market 1820 Flushing Ave between Onderdonk and Seneca Aves, Ridgewood, Queens (718-456-1776)
This seasonal outdoor bazaar claims the landmark Vander Ende–Onderdonk House—the oldest Dutch Colonial stone house in New York City—as a backdrop, and offers an array of books, art, clothing, jewelry, food and crafts. "It's a great place to shop for unique gifts, and the atmosphere is worth the trip alone," enthuses Kessler. "Being there is like taking a step back in time—there are chickens."