Heads up! We're working hard to be accurate – but these are unusual times, so please always check before heading out.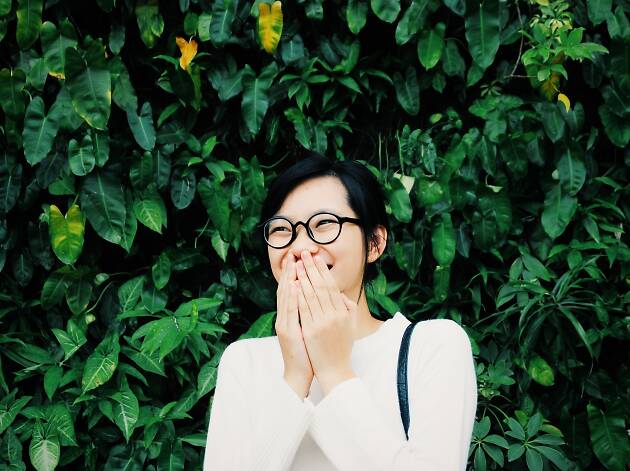 Six affordable eyewear sites to score awesome glasses
These online purveyors peddling frames for a fraction of their normal cost will make you want to nab new specs
EyeBuyDirect (eyebuydirect.com)
About the site: Founded by Roy Hessel, this entirely in-house operation is all about offering consumers the most affordable and durable product. While there aren't any physical stores for you to visit and try EyeBuyDirect's sleek and modern styles, the brand has made the act of purchasing glasses online extremely easy and thanks to its extremely user-friendly interface, it's a decision you can feel good about.
How it works: The site wants you to help you find a pair of frames you truly love. For folks who have no idea where to start, take EyeBuyDirect's fit and style quiz that will guide you through the process of finding the best specs for your persona. Don't have time to go through a questionnaire? Under the site's Tips & Guides tab, you'll find straight-to-the-point, how-to videos for explaining everything from how to read a prescription to finding the right frame for your face. Shoppers who already have a certain style in mind can search by color or frame style, and then virtually try them on (in 3D, no less) by uploading your photo.
Best suited for: The future 30 under 30 crew who take choosing the right frames as seriously as a business deal.

Price: Certain styles start as low as $6 and can go up to $70
Liingo (liingoeyewear.com)
About the site: Men and women who want to score trendy but classy frames are in good hands using this service. There are numerous methods you can try to find the style that works best for you. The rest is as easy and sending Lingo your prescription, sending your order through to the opticians and waiting for you shipment to arrive in less than 10 days.
How it works: This service offers a range of helpful perks from virtual try-on technology to a "Find My Fit" service. Best of all, you can avoid a trip to the eye doctor and take the site's incredibly accurate vision exam. You can even order a free in-home try-on option to ensure you're 100 percent satisfied with your choice.
Best suited for: The demure minimalist

Price: Frames start at $79 and go up to $129
BonLook (bonlook.com)
About the site: Montreal pals Sophie Boulanger and Melanie Daigle pooled their knowledge (Boulanger worked in marketing at L'Oréal and Christian Dior Couture in Paris; Daigle in business productivity and investments) to launch BonLook in June 2010. Their streamlined site sells a plethora of styles of European-inspired acetate prescription specs and sunglasses for men and women with new designs released monthly. BonLook isn't just a style-minded company—it's also socially responsible: One percent of sales benefits Helen Keller International's ChildSight program (hki.org), which provides vision screenings and glasses to economically disadvantaged kids in New York. The company also minimizes its carbon footprint by using green shipping via UPS's carbon-neutral program.
How it works: Search the site by frame shape, color and size, then test-drive your selection using BonLook's Virtual Try On application: Click try on a product page, then upload a headshot or take one with your webcam, and the glasses will hover over your eyes. Be prepared to enter your prescription information during checkout (you can also e-mail or fax it over if you can't decipher your doc's handwriting). Shipping is free on orders more than $99, otherwise it's $8. If you're not happy with your purchase, you can return it within 30 days for a full refund.
Best suited for: The hip, arty crowd—many of the geek-chic frames wouldn't look out of place on the set of Mad Men.
Price: Glasses $99, sunglasses $119 (ultra-thin lenses, typically required for stronger prescriptions, $30 extra)
Eyebobs (eyebobs.com)
About the site: A quest for high-quality, stylish yet affordable reading glasses prompted former children's-wear retailer Julie Allinson to create Eyebobs in April 2001. The Minneapolis company sells more than 125 styles of quirky bifocals, reading glasses and sunglasses for men and women, releasing new designs every spring and fall. Frames constructed from sturdy Italian plastics help set Eyebobs specs apart from their drugstore counterparts, while flexible hinges allow them to stay put on your face.
How it works: Although the e-tailer doesn't offer any virtual or mail-order try-on options, you can find select styles at more than 25 stores throughout New York. Since all frames come with reading lenses, those seeking stronger prescriptions will need to take their purchase to an optician. Eyebobs offers other ways to soup up your specs through its accessories page, featuring leather neck chains, colorful carrying cases and cleaning kits. Returns are accepted within 30 days and shipping is $7–$9.
Best suited for: The sassy over-40 set looking for cheeky readers, from pastel square frames to comical cat-eyes
Price: Reading glasses, bifocals and sun-readers $75 each (with bamboo accents $85–$110); sunglasses sans magnification $99 (with bamboo accents $110)
Eyefly (eyefly.com)
About the site: Based in New York's Fashion District, Eyefly was created in June 2011 as a collaboration between online discount designer retailer Bluefly (bluefly.com) and A+D Labs, an eyewear manufacturer. The site carries styles of sleek glasses and types of mostly aviator and square-framed sunnies, each named after a well-known road (Mulholland Drive, Bourbon Street) or urban area (the Haight, Union Square).
How it works: In addition to refining your search by color, frame width and material (metal or plastic), Eyefly organizes its stock by style: contemporary, classic or cateye. Since the e-tailer caters to style mavens, you have the option of ordering prescription-free pairs with the same antireflective, antiscratch lenses that bona fide four-eyes get. Shipping and returns are free, but we especially love that you can arrange to have Eyefly contact your doctor directly for your information, rather than try to decipher your prescription at checkout.
Best suited for: Polished academics seeking subtly stylish flair to complement their looks
Price: Prescription glasses and sunglasses $99 (high-index lenses $30 extra)
Tortoise & Blonde (tortoiseandblonde.com)
About the site: Father-son duo Evan and Dr. Stephen Weisfeld founded this New Jersey e-commerce site in May 2011, combining Evan's business background (he has a B.A. in supply-chain and information systems from Penn State) with Steven's 30-plus years as an optometrist. Tortoise & Blonde releases two vintage-inspired lines each year, totaling around 25 scratch-resistant, antireflective prescription glasses and sunglasses for both sexes. In addition to a shared love for eyewear, the Weisfelds are also big indie-music supporters, donating frames and eye exams to up-and-coming musicians, sponsoring buses to SXSW and featuring bands on their website.
How it works: All of Tortoise & Blonde's styles are available in several hues as both specs and sunnies. Filter selections include by gender, color and texture (matte or shiny). Shipping is free for orders above $97—the cost of most glasses on the site—and returns are free within 30 days.
Best suited for: Stylish twenty- and thirtysomethings going for a chic, retro look
Price: Glasses $77–$177, sunglasses $77–$207
Warby Parker (warbyparker.com)
About the site: Named after two Jack Kerouac characters, Warby Parker was created in February 2010 by Neil Blumenthal, Andrew Hunt, Jeffrey Raider and David Gilboa—four business school buddies fed up with artificially overpriced eyewear and the handful of large companies profiting from it. The site sells classic-meets-modern styles for men and women, made with polycarbonate lenses. Seasonal collections are released each year, along with a sprinkling of limited-edition designer collaborations (past partnerships include Suno, Steven Alan and the Standard Hotels). For every pair sold, Warby Parker donates a new pair to VisionSpring (visionspring.org), a nonprofit that trains low-income women to sell affordable glasses in their communities.
How it works: Sort frames by color, shape and width, then test selections out using the site's virtual tool. You can also get five styles sent to your home for five days. Shipping is complimentary and you have 30 days to return your glasses, no questions asked. Should you accidentally scratch your lenses within a year, Warby Parker will replace them for free.
Price: Eyeglasses and nonprescription sunglasses $95 (high-index lenses on glasses $30 extra), prescription sunglasses $150

Best suited for: Art-director types and the nerdy yet adventurous