Check out these awesome photos from the Rock n' Shop flea market
Behold Brooklyn's new badass flea for music junkies (and everyone else, too) Rock n' Shop in Bushwick!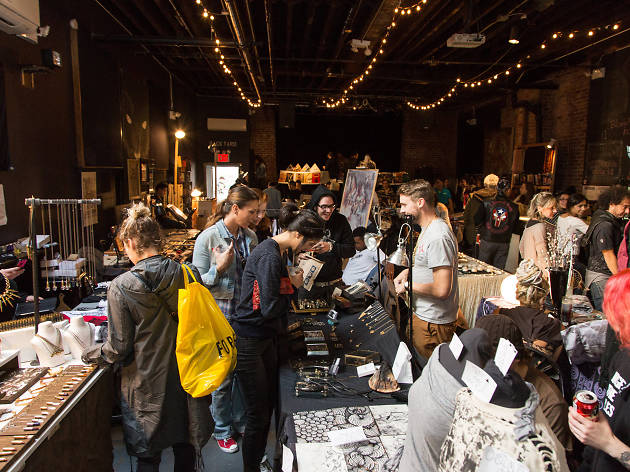 Bushwick, Brooklyn lost the Brooklyn Night Bazaar to Riis Beach and Shwick folded earlier this year, but thanks to members of local rock band the Bushwick Hotel, the flea market scene in what realtors like to call East Williamsburg will not be crushed. If your Sunday fun day includes listening to live music, throwing back some of the best beer in NYC (yes, there's bar service), munching on delicious grub and shopping for unique goods, consider the Rock n' Shop (located inside music haunt the Paper Box) your new stomping ground. Bonus: The band shuttles fleagoers to the market from Bedford Avenue every hour in the group's RV, so you can show up like a true rock star. (Bring your own groupies).

RECOMMENDED: Read more on the Brooklyn Flea Market


Why you need to check out Rock n' Shop
The goods: The venue is divided into multiple areas: There's the lounge, which transformed into a bookshop where you can flick through vintage magazines and literary treasures from McMillen & Boyce, the large ballroom (with a full-service bar), which boasts about 40 vendors, including jewelry by Brooklyn Smithy ($18 to $150), Cmartymar hats ($45) for dudes and Hallie Kruger apparel and screenprints (starting at $25). Plus, there's a spot where you can get ink from Magic Cobra Tattoo Society's Ulyss Blair for only $50! So Brooklyn.

The eats: If you won't cross the bridge for the loot and tattoos, you might hop over for the food. Head to the outdoor graffiti garden (it has tons of cool graffiti, dig?) to refuel and gorge on grub from local eateries. Sure, it's no Smorgasburg, but you'll plotz over Mexican eats from Santo Burrito, a cheesy slice of za by Traze and droolworthy patties from Lex Taylor's Burger Shop. And if you need a caffeine fix, grab some java from City of Saints. FYI: There's a free pancake breakfast and bagels courtesy Bagelsmith starting at 9am every Sunday.

The entertainment: Featuring up to seven live shows, the creators curated a kick-ass lineup of bands to play while you shop—no ticket required. Past performers include the Bushwick Hotel, of course. But get excited for the acts on deck for the CMJ Hangover (October 18) like Elliot & The Ghost. And check out all-female cover band the Rocket Queens playing tunes by Guns N' Roses, and Rockaway Bitch, which will belt out the sounds of the Ramones after Halloween. Hey ho, let's go!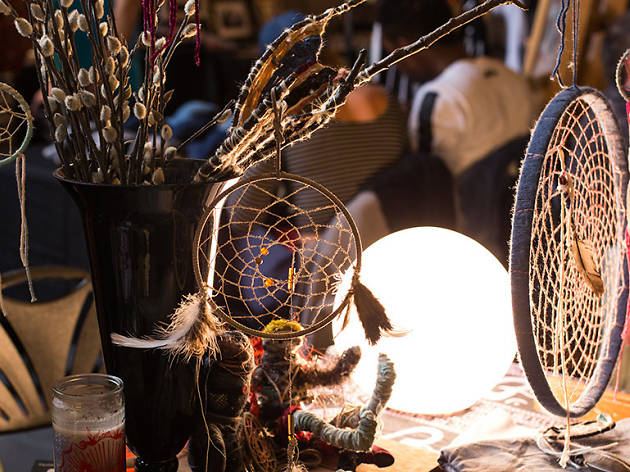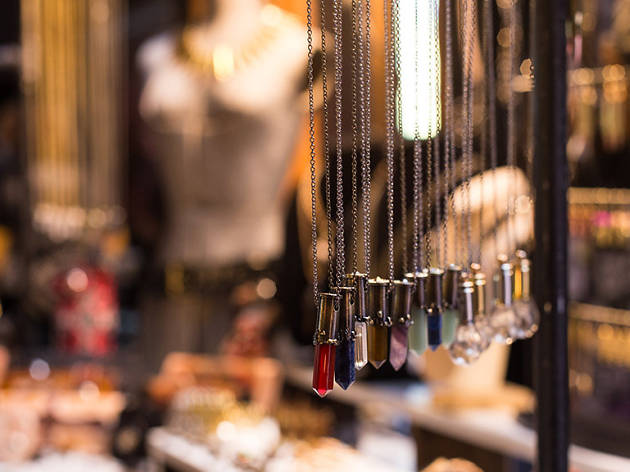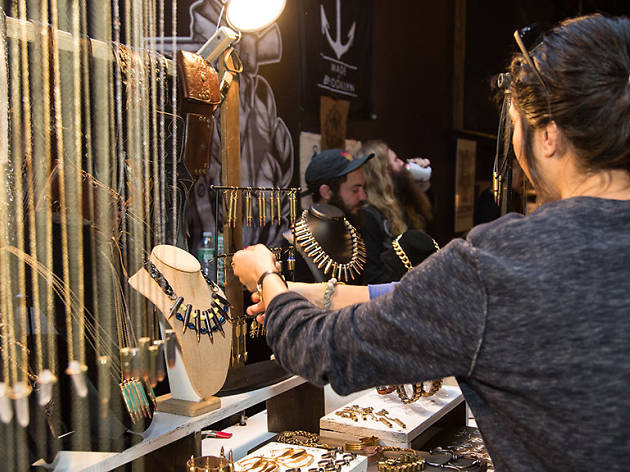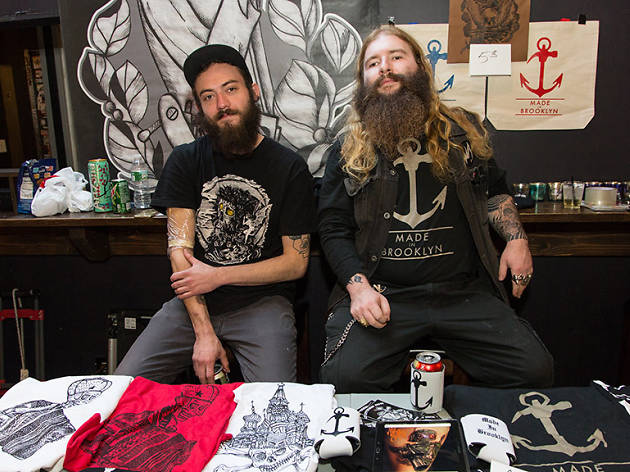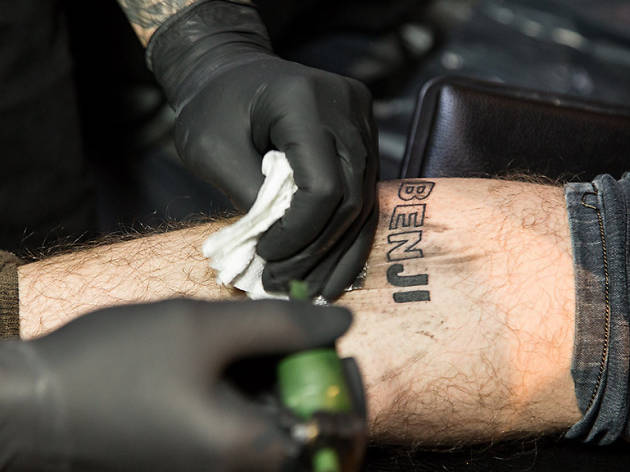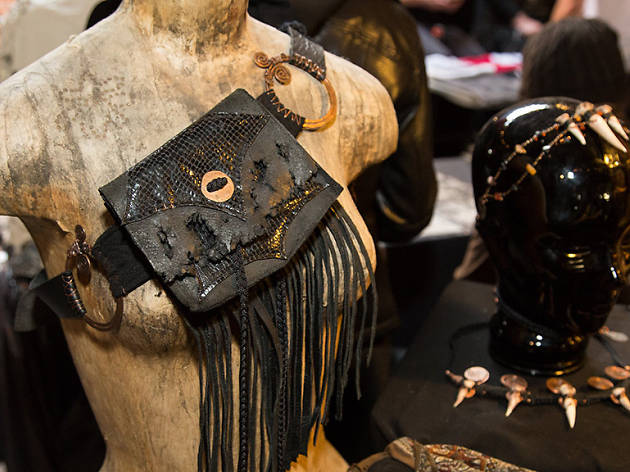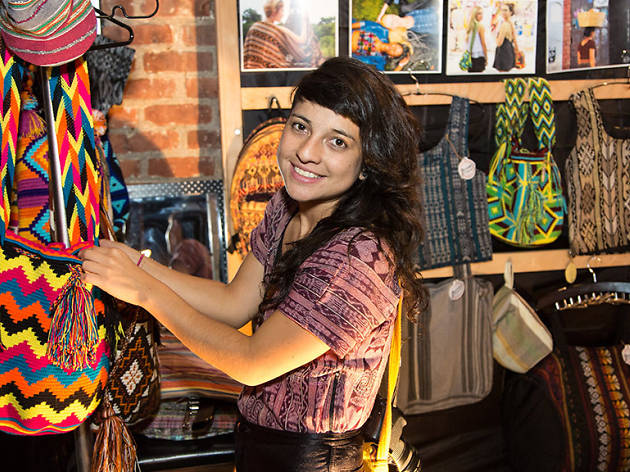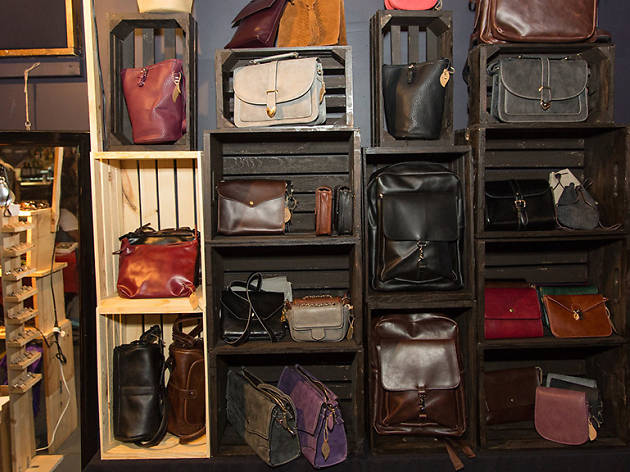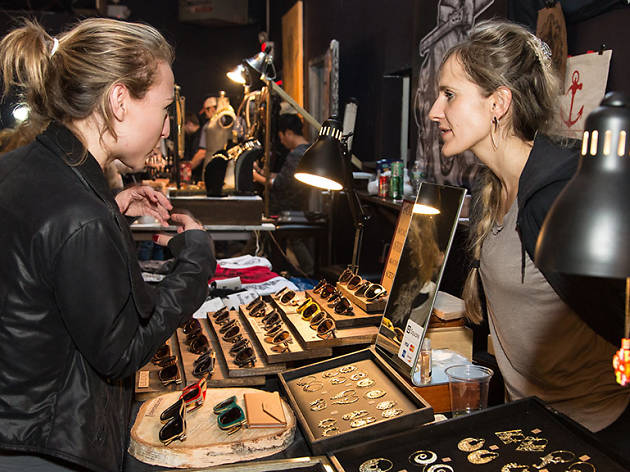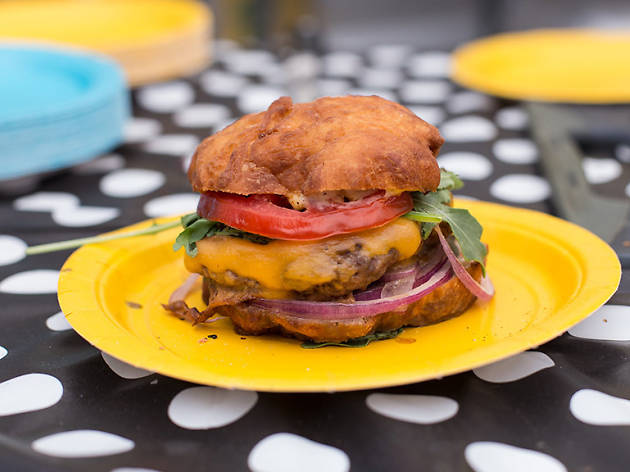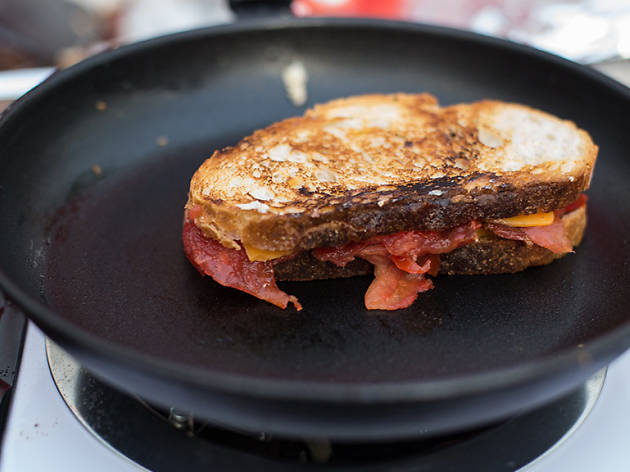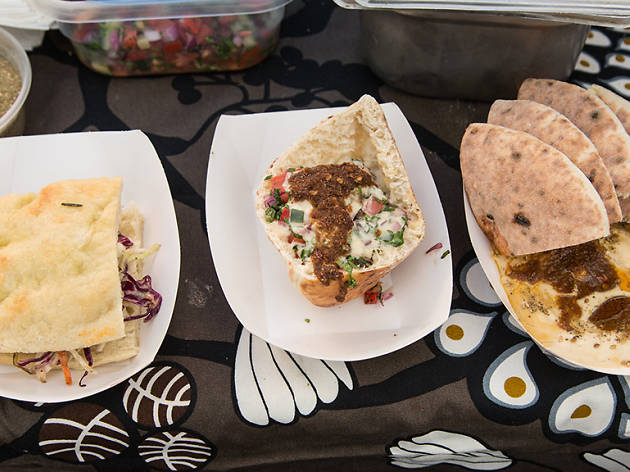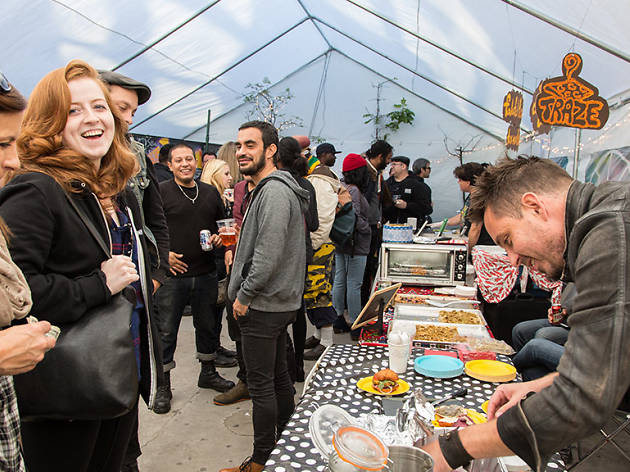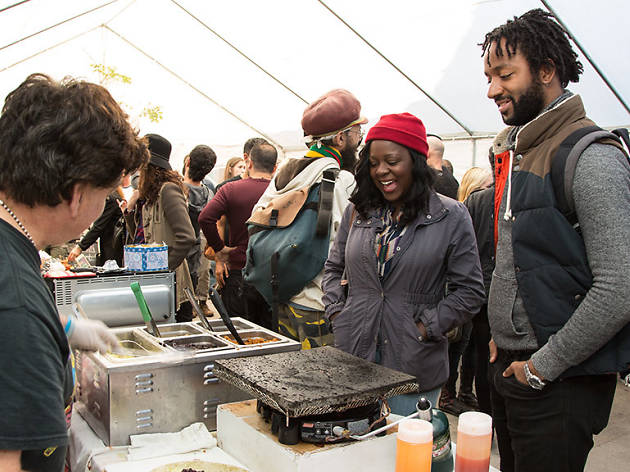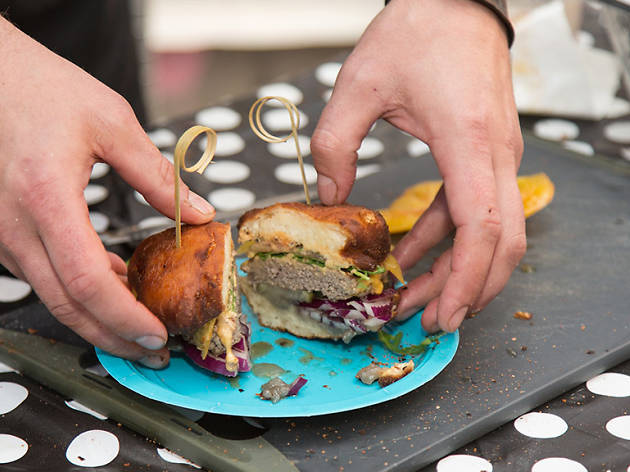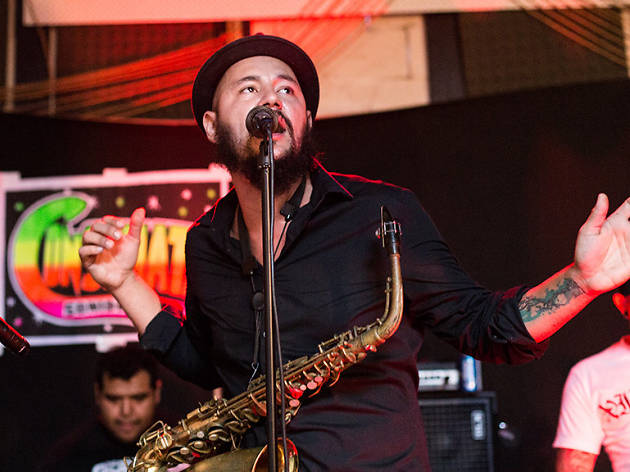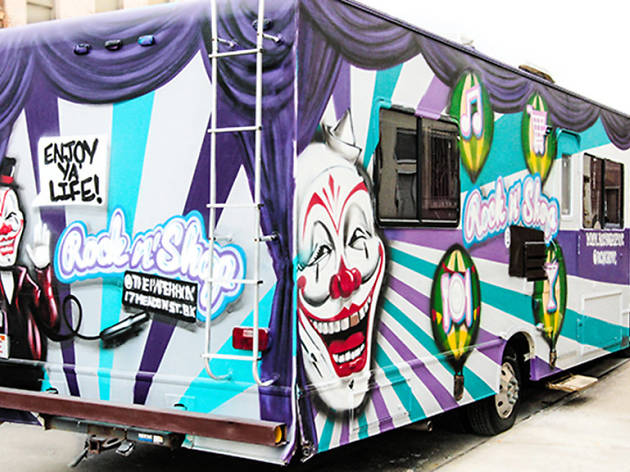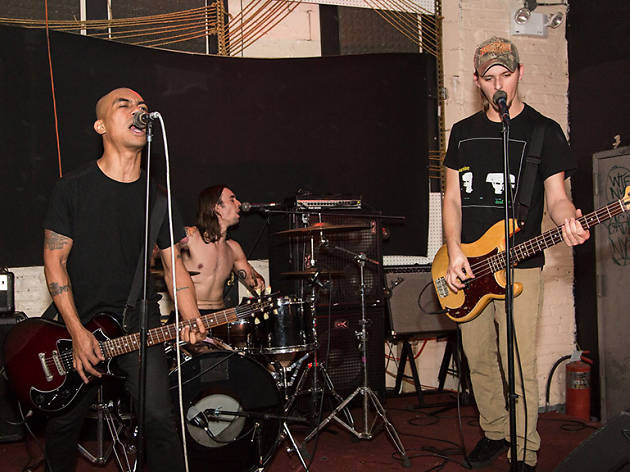 Attend the flea!
Thanks to members of local rock band the Bushwick Hotel, there's a new kick-ass flea market in Bushwick. The indoor bonanza—held inside the Paper Box—features live local music, craft goods (handmade jewelry by Brooklyn Smith, vinyl, rock apparel by Natalia Cortes and more), delicious grub (Santo Burrito, Traze pizza, City of Saints coffee) and a designated spot to get a real tattoo by Ulyss from Magic Cobra Tattoo and haircut or a beard trim. Only in Brooklyn, right?
Read more