Heads up! We're working hard to be accurate – but these are unusual times, so please always check before heading out.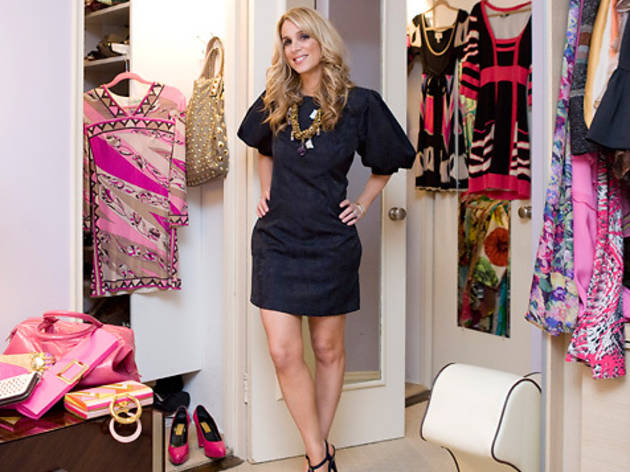 1/21
Photograph: Imogen Brown
"I don't own a pair of jeans or have any pants," declares Alison Brod, who runs her eponymous fashion and beauty PR firm (alisonbrodpr.com). Indeed, all three of her bedroom closets---one reserved for pinks and sorbets, another devoted to darker and primary colors, and the third, more edited one for formal garments---are filled to the brim with dresses. During the holiday season, that surplus of frocks probably serves her well: Brod estimates that she attends about three parties a night every December. "I'm dressed every single day because I have meetings all day long," she explains.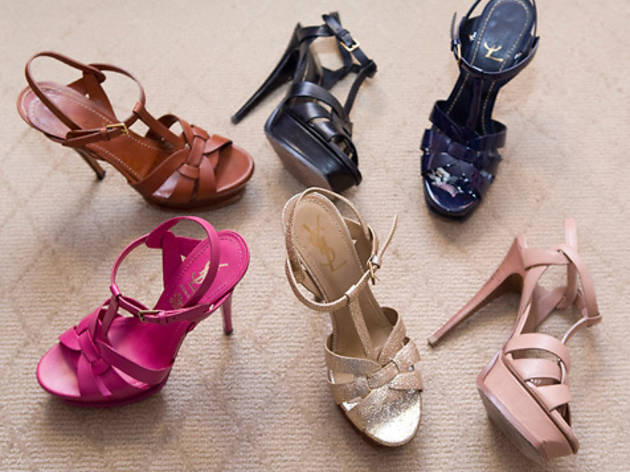 2/21
Photograph: Imogen Brown
These Yves Saint Laurent Tribute sandals are Brod's go-to heels. "I walk around the city and everybody thinks that I'm performing this act of balance, but the big secret is they are incredibly comfortable," admits Brod, who owns the shoe in six different colors. "Now everybody wears tights with sandals, so they take me through cold weather. I don't wear anything else anymore."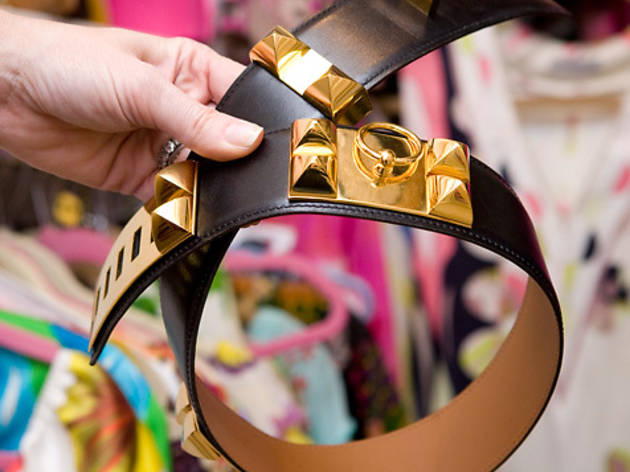 3/21
Photograph: Imogen Brown
"I just started getting into belts because I mostly wear dresses," notes Brod, who recently purchased this rare Hrmes Collier de Chien belt. "Everybody wears the Hrmes cuff bracelet and I refuse to because they are ubiquitous, especially on the Upper East Side. But this belt you cannot find anywhere; I heard it's the new Birkin bag because nobody can get it." She ended up finding hers in a larger size and had it taken in and fitted three times.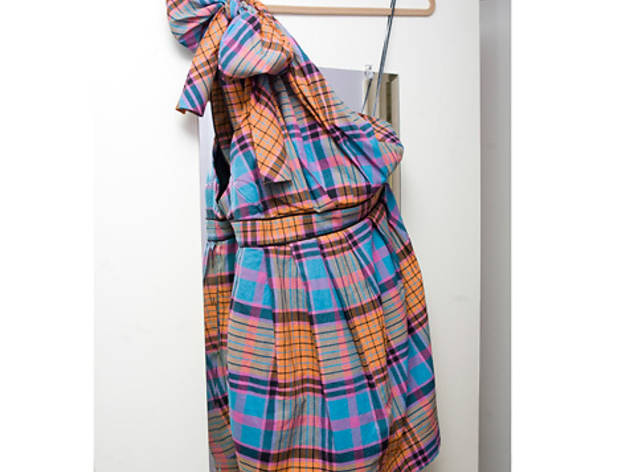 4/21
Photograph: Imogen Brown
"One of the things I really look for is dresses that you can wear all year round," says Brod, and this plaid Thread Social frock fits the bill. "I can wear this with navy tights and navy shoes in the winter as a party dress or I can wear it with sandals in the summer."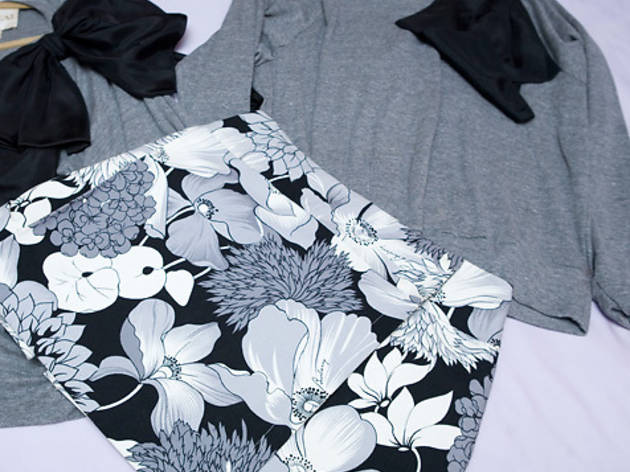 5/21
Photograph: Imogen Brown
Brod loved this Thread Social sweater so much, she bought it in two different sizes. "I wanted a small one to tuck in and make a little cuter and another bigger one to wear in a more casual way," she explains. They are among the few tops that have a home in her bedroom closets. "Most of my sweaters I put in another closet; it's a messy sweater closet."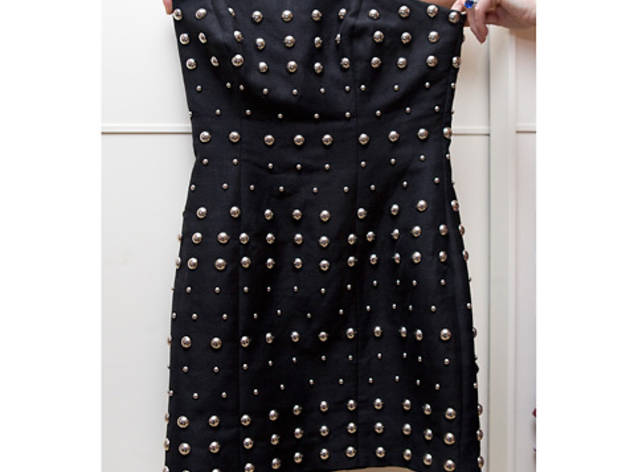 6/21
Photograph: Imogen Brown
"Most of the stuff [in my closet] is from my clients," admits Brod. That includes this studded Jill Stuart minidress with a peplum detail on the back. "Feel how heavy it is—I love that hard weight. It feels like you're really getting your money's worth."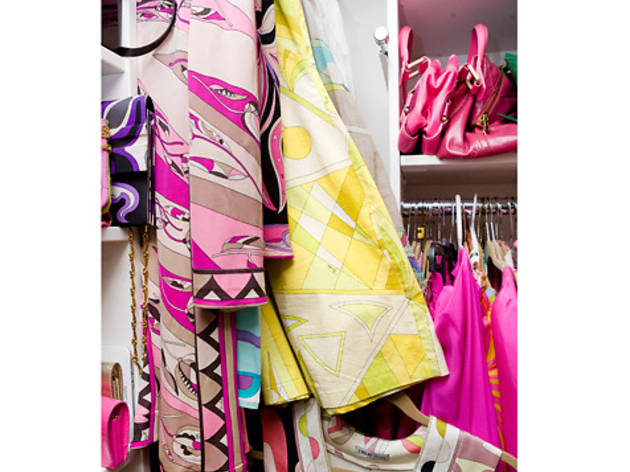 7/21
Photograph: Imogen Brown
"I collect vintage Emilio Pucci," says Brod. This particular closet is stocked with the Italian designer's kaleidoscopic prints, as well as other preloved threads. "I used to wear vintage because I didn't want to walk in and have everyone else in my office wearing the same thing as me," she explains.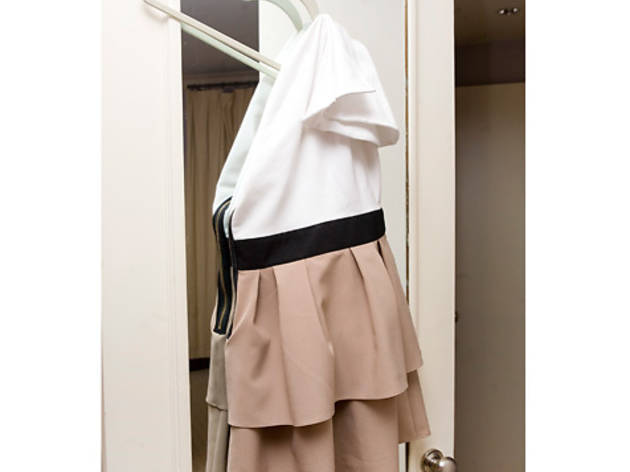 8/21
Photograph: Imogen Brown
"This could be 'holiday' any time of the year," says Brod of this color-blocked one-shoulder dress by her client Jay Godfrey. "It could be December in New York with black tights or it could be Palm Beach; the jersey on top makes it a little bit more casual." As she does with most items in her wardrobe, Brod altered the original garment by making the shoulder detail less exaggerated and shortening the hemline.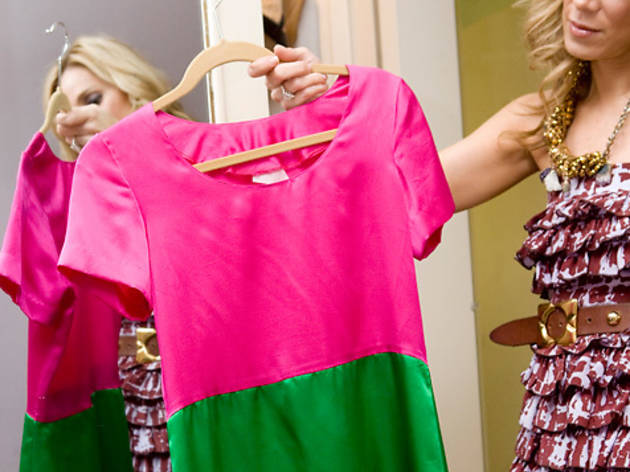 9/21
Photograph: Imogen Brown
"This was a vintage floor-length ball gown and I made it mini," says Brod. "My wardrobe used to be very mod—a lot of color-blocking, very tailored and simple, bold styles. Now you'll see more softer lines, but it used to be very '60s."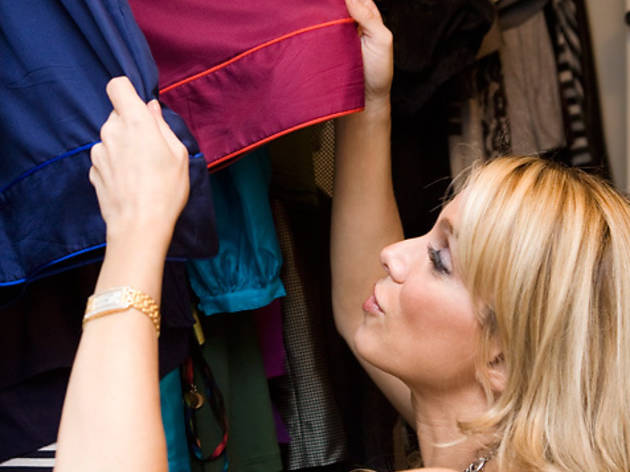 10/21
Photograph: Imogen Brown
"I get things in multiples. If I like it, I buy it in three colors," says Brod, referring to a set of five one-shoulder dresses from her client Hunter Dixon. "I don't want to have to worry and overthink things. I have two kids, I represent 100 brands...this makes it as easy as possible."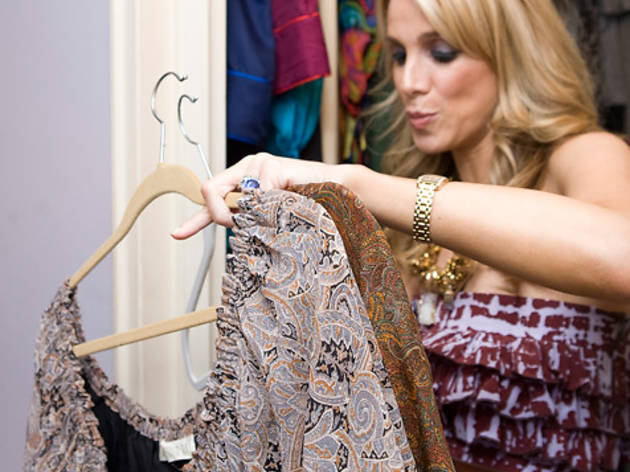 11/21
Photograph: Imogen Brown
When Brod travels to India and Vietnam, she often brings a favorite garment—such as this silk tunic from her client Sir Alistair Rai—to have it duplicated using different fabrics. "It's cheap and they'll do it in 24 hours," notes Brod. "I don't want to look like everyone else, so that's why sometimes I make things."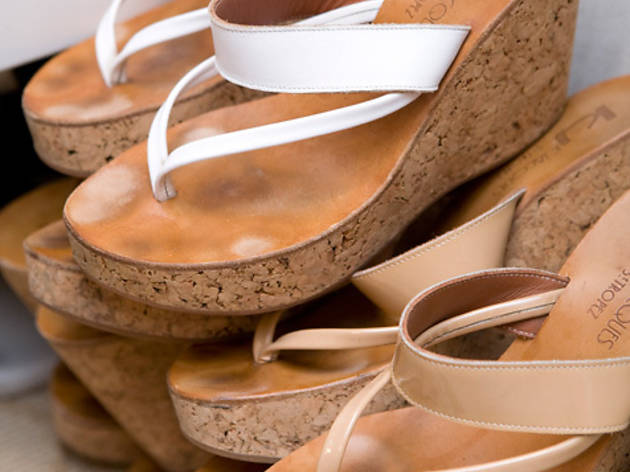 12/21
Photograph: Imogen Brown
Multiplicity strikes again with this neatly stacked pile of K. Jacques (kjacques.fr) cork wedges. "They are sold at Bergdorf, but I also get them from the website," explains Brod. "You can customize the strips, so whatever color—black, purple, white. I'll travel with these a lot; they're awesome."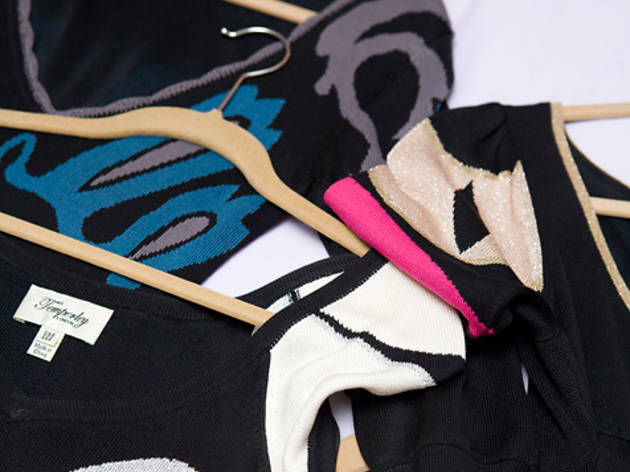 13/21
Photograph: Imogen Brown
"I love Temperley knits," enthuses Brod. "Sometimes I like a pattern so much, I buy more than one style." Such is the case with these Temperley London Intarsia print wool dresses, which she has eight of.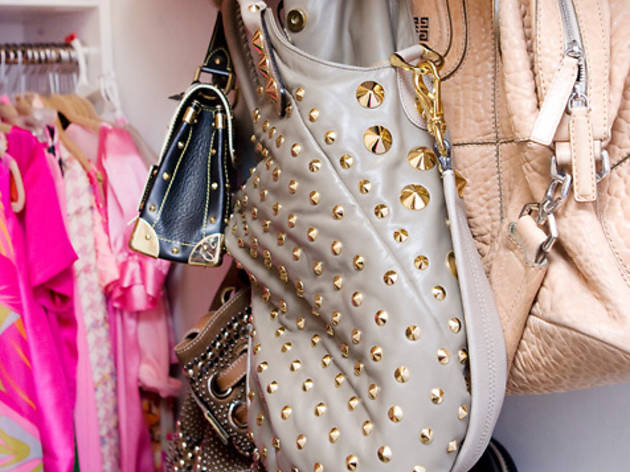 14/21
Photograph: Imogen Brown
"As you can see, I love anything with studs," says Brod. Many of these hardware-heavy bags come from her latest client, Be & D.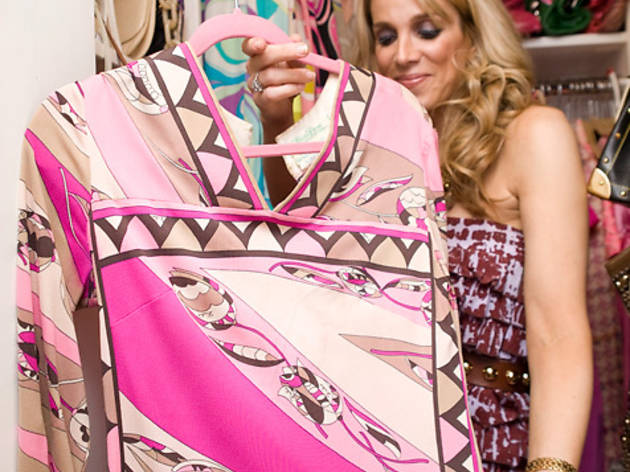 15/21
Photograph: Imogen Brown
Brod scored this pink Pucci dress on eBay.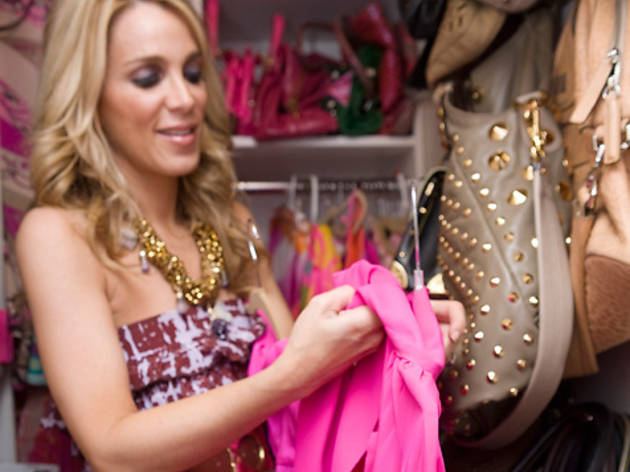 16/21
Photograph: Imogen Brown
Brod holds up a Hunter Dixon blouse in her signature shocking pink. "Years ago, [bright pink] was a point of difference. It was a women's company and tapped into the idea of creating a niche," she explains of the hue that's become her trademark. "Then, it just sort of became a thing. I don't wear pink every day, but when I do, the pink I choose is so bright. Not too many people walk around in those shades of fuchsia."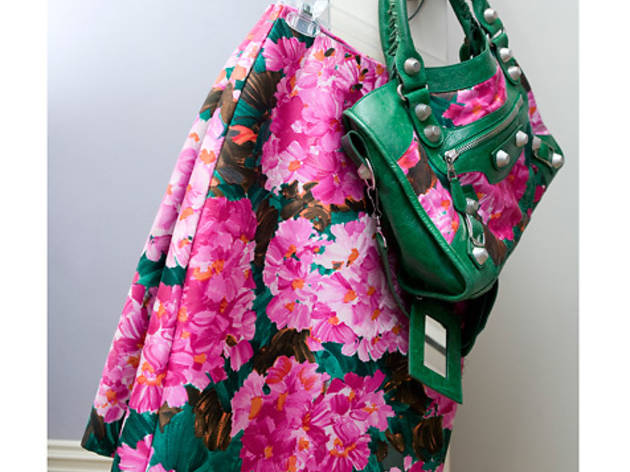 17/21
Photograph: Imogen Brown
This floral skirt and matching bag are both by Balenciaga. "I got them separately, but I knew that the goal was to eventually match them," says Brod.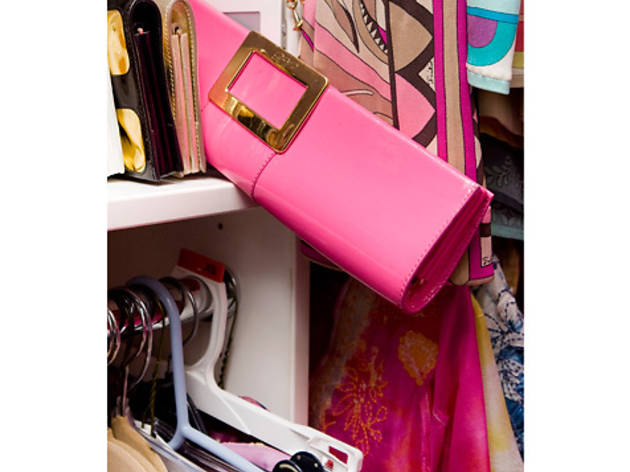 18/21
Photograph: Imogen Brown
One of Brod's many Roger Vivier clutches pokes out from her more vibrant closet.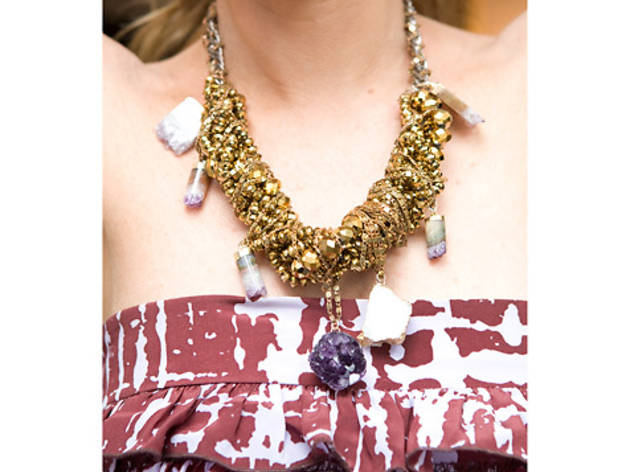 19/21
Photograph: Imogen Brown
"I just started wearing fashion jewelry for the first time since college," says Brod, who is wearing a chunky necklace from Dannijo, another one of her clients.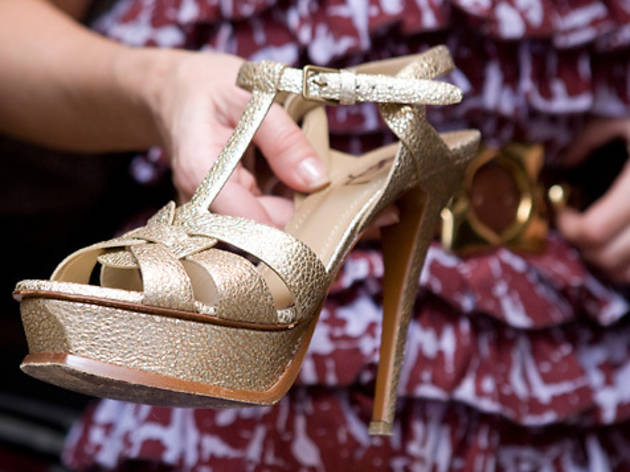 20/21
Photograph: Imogen Brown
Brod holds up one of her beloved YSL Tribute heels. "I was married for 12 years before my husband knew how short I was," she jokes. "I was pregnant, so I wore flats for the first time. I always wear heels."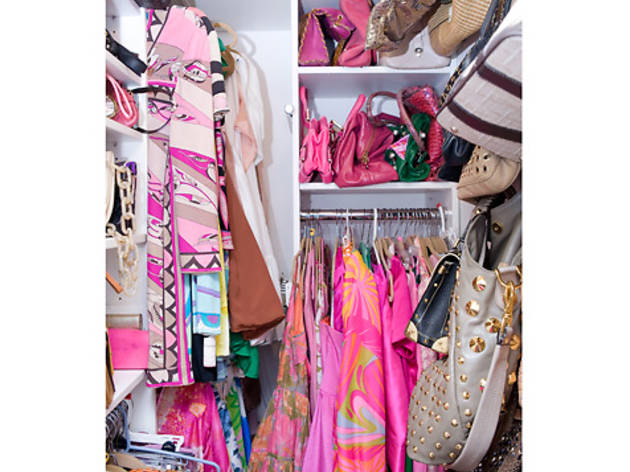 21/21
Photograph: Imogen Brown
Brod keeps her closet organized with flocked Slimline hangers from Bed Bath & Beyond. "These hangers will save your life," she gushes. "I used to have heavy wooden hangers because I thought they were beautiful but with these, you can fit 16 times more in your closet. They are so thin and they're felt, so nothing ever slides off."
Closet Case: Alison Brod
The PR maven lets us peek inside her envy-inducing, frock-filled wardrobe.
Her favorite NYC stores
Kirna Zabte 96 Greene St between Prince and Spring Sts (212-941-9656, kirnazabete.com)
"They are cool women," says Brod of Beth Buccini and Sarah Easley, owners of this stylish boutique. "They opened and showcased new designers long before there were multibrand boutiques in the city or online."
Ricky's NYC various locations throughout the city; visit rickysnyc.com
"I get all of my beauty products for free, but I love seeing what fashion and beauty solutions they have," says Brod.
American Apparel various locations throughout the city; visit americanapparel.net
Brod hits up this hipster chain "to stock up on scoop-neck casual basic tops."
B+J Fabrics 525 Seventh Ave at W 38th St, second floor (212-354-8150, bandjfabrics.com)
Brod frequents this family-owned Garment District staple to buy fabric for the dresses she has custom made.
You might also like
100 party dresses each under $100
See more Closet Case
See more in Shopping & Style