Heads up! We're working hard to be accurate – but these are unusual times, so please always check before heading out.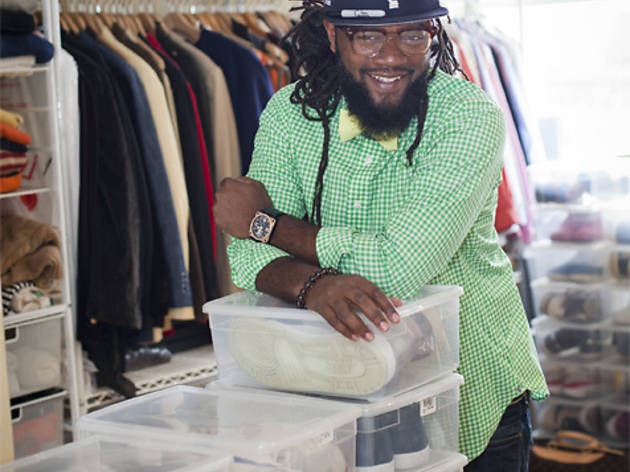 1/27
Photograph: David Rosenzweig
If we could only use one word to describe Coltrane Curtis's style, it would be consistent. The 35-year-old founder and creative director of marketing company Team Epiphany (teamepiphany.com) sticks to what he likes by buying multiples from a handful of favored brands and NYC stores. In his Tribeca abode, a whole room is devoted to his wardrobe, which contains mostly Ralph Lauren blazers, preppy button-ups and bow ties; Earnest Sewn jeans; New Era caps; and funky vintage glasses from Fabulous Fanny's(335 E 9th St between First and Second Aves; 212-533-0637, fabulousfannys.com). But sneakers undoubtedly steal the show: Curtis has about 400 pairs stacked floor-to-ceiling in clear shoeboxes (with an additional 800 pairs in storage).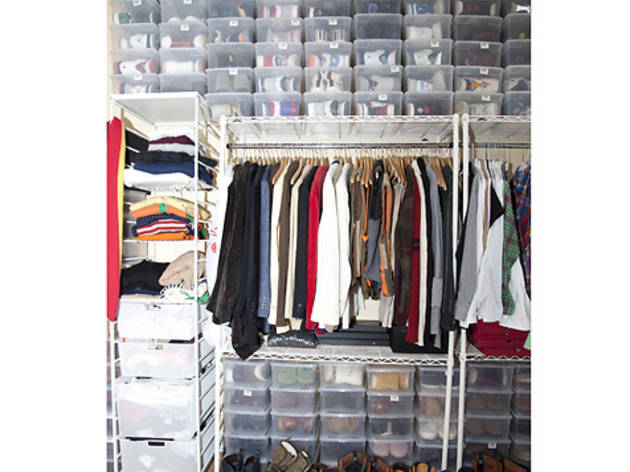 2/27
Photograph: David Rosenzweig
Growing up in Bedford-Stuyvesant, Brooklyn, Curtis wasn't bought many pairs of sneakers by his conservative dad. "I was the guy in penny loafers, wingtips and oxfords," he recalls. "That changed in high school when I started playing basketball and just fell in love with sneakers—I used to clean them with a toothbrush."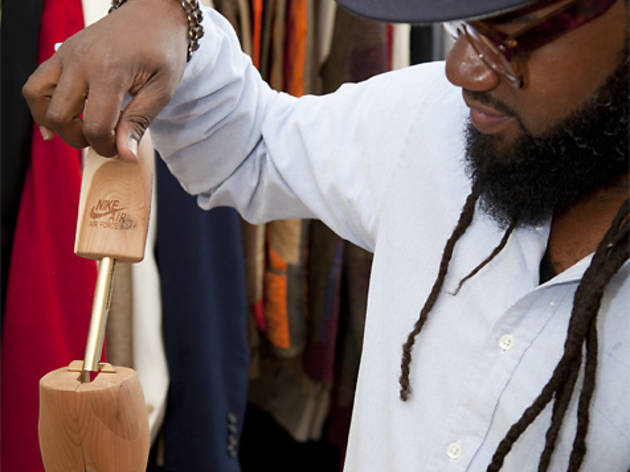 3/27
Photograph: David Rosenzweig
Curtis used to stack his kicks in their original sneaker boxes but found that after a long period of time, the cartons got crushed. So he switched over to sturdier plastic holders from the Container Store (locations throughout the city; visit containerstore.com). He keeps shoe trees inside the sneakers so they don't lose their form.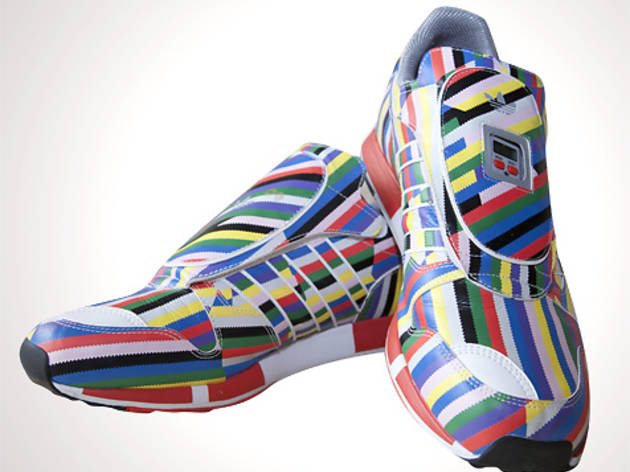 4/27
Photograph: David Rosenzweig
"If you want to walk around the city and be low key, then you don't want these on your feet," advises Curtis, referring to a pair of rainbow-striped Adidas shoes with a micro pacer feature. "People always stop me to take my picture," he admits. "I've been shot for two street-style blogs, William Yan (williamyan.com) and Portraits of New York (portraitsofnewyork.com). I haven't been caught by the Sartorialist (thesartorialist.blogspot.com) yet, but I don't know if I want him to shoot me, because then everyone else will have my stuff."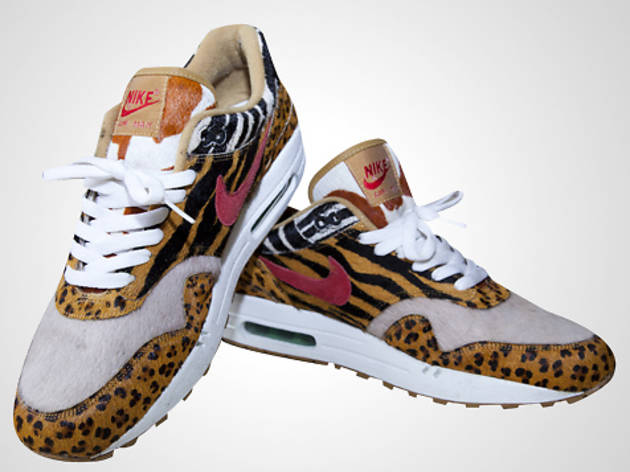 5/27
Photograph: David Rosenzweig
"These shoes are not for the faint of heart," says Curtis, pointing out a pair of pony-hair mixed-animal-print Nike kicks. "I wear them as if they were white [and therefore neutral]. They're pretty obnoxious, and what I call a high level of difficulty [to pull off]."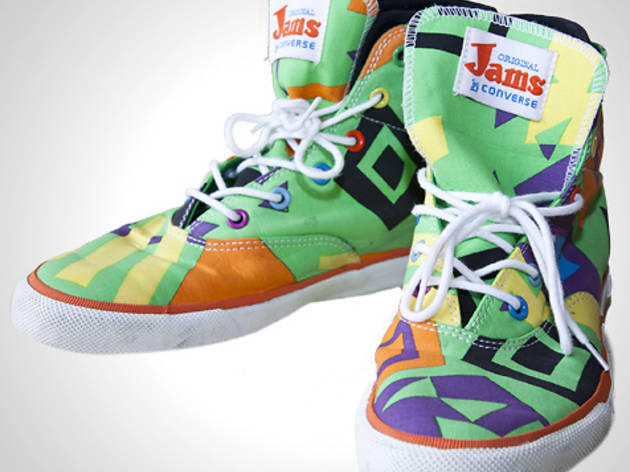 6/27
Photograph: David Rosenzweig
Curtis describes these Jams by Converse reissued retro kicks as fun, beachy and hip-hop. "They're from back in the day when your shorts were long," he muses.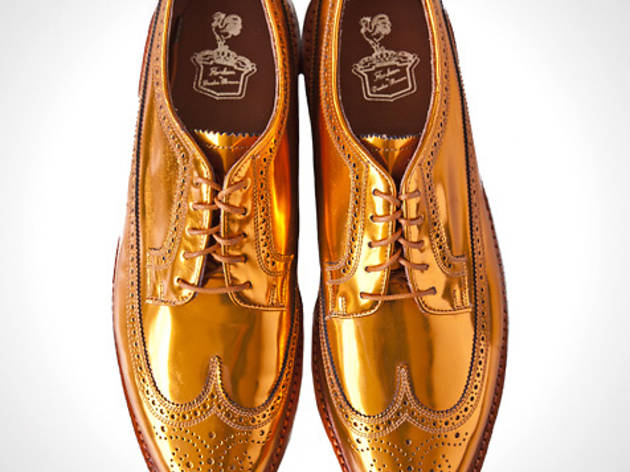 7/27
Photograph: David Rosenzweig
"My wife hates these," Curtis admits with a chuckle, describing a brand-new pair of metallic burnt-orange Duckie Brown oxfords. "She's still trying to figure out how I'm going to wear them and look cool. I think they would look great with a tuxedo."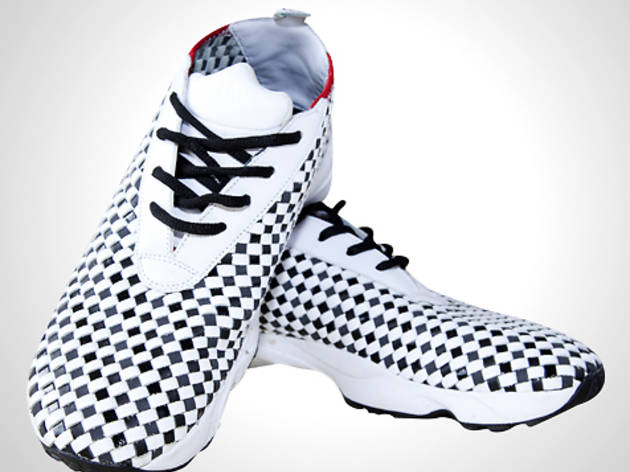 8/27
Photograph: David Rosenzweig
"I don't think I've ever really tied a pair of sneakers," says Curtis, who treats his kicks like slippers. He considers this woven Nike style to be his most comfortable pair. "They're not a sexy pair of shoes, but they feel like marshmallows," he enthuses. "The inner sole has dents that massage your feet."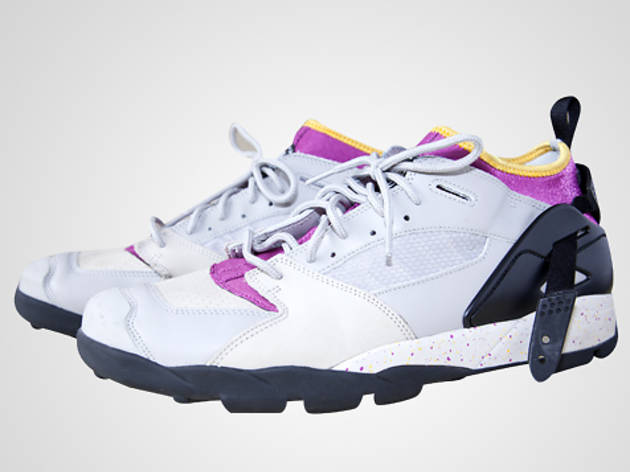 9/27
Photograph: David Rosenzweig
Though sneakers are traditionally used for athletic purposes, Curtis prefers fashion over function. "When I actually go to the gym, you'll see me running in a weird retro pair of shoes," he jokes. Though if he were to break a sweat, he'd do it in this dead-stock Nike pair, which has neoprene socks built in to support your feet.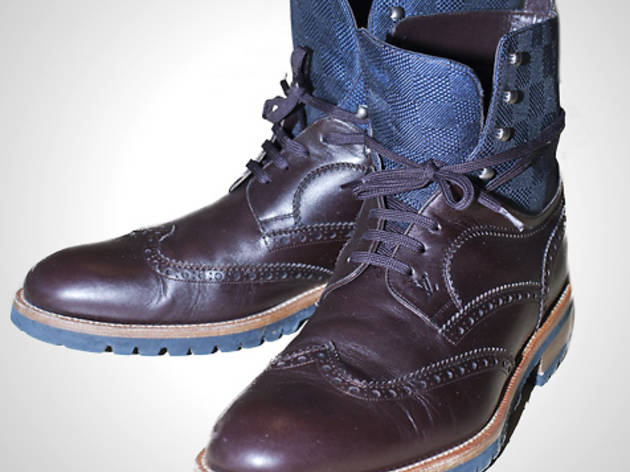 10/27
Photograph: David Rosenzweig
"If I have a business meeting or date with my wife, or need to impress somebody, I make sure my shoes say Louis Vuitton," says Curtis. These handsome LV boots are his go-to show-off shoes.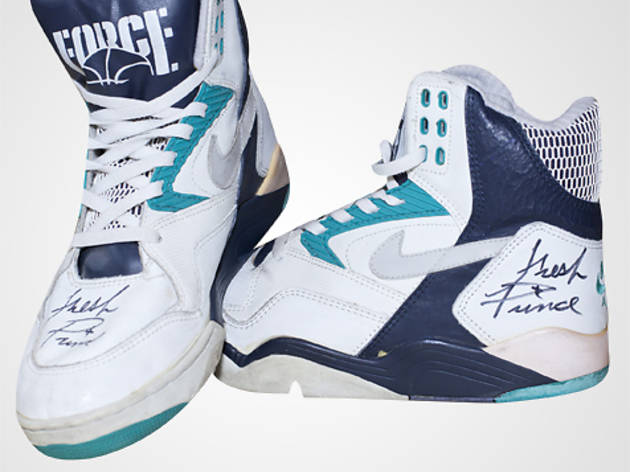 11/27
Photograph: David Rosenzweig
Curtis says he needs insurance on these dead-stock Nike sneakers autographed by Will Smith. "I met him when I was a kid and he seemed a lot like [his character] on The Fresh Prince of Bel-Air," he remembers. "I was more of a Jazzy Jeff fan, though."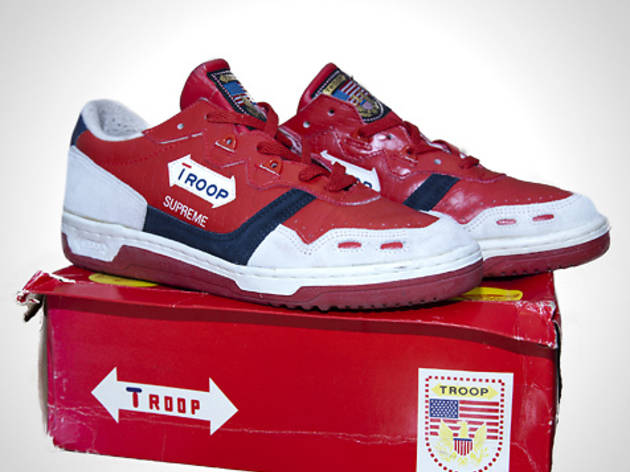 12/27
Photograph: David Rosenzweig
"Before skate shoes were in, this is what they looked like back in the early 1990s," Curtis notes of this "OG" Troop pair.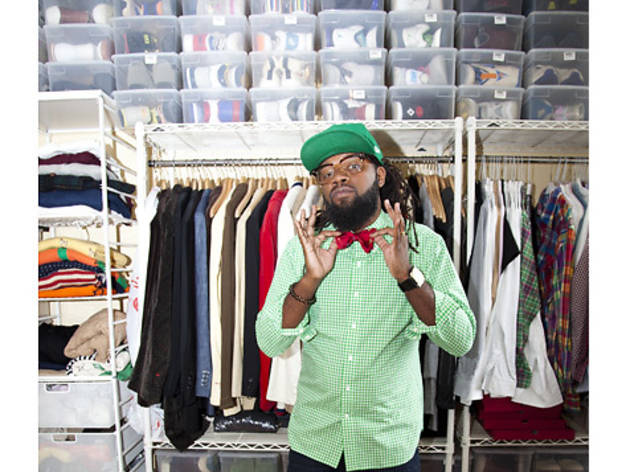 13/27
Photograph: David Rosenzweig
Curtis describes his style as "street-corner schoolboy" and "street fashion meets business attire." He wears a bow tie every day—and owns about 100—as a nod to his father, who also regularly dons neckwear. Curtis is also known to play with traditional ideas about pairings, and it's not uncommon to find him meshing a tuxedo shirt with sweatpants, sneakers and a bow tie.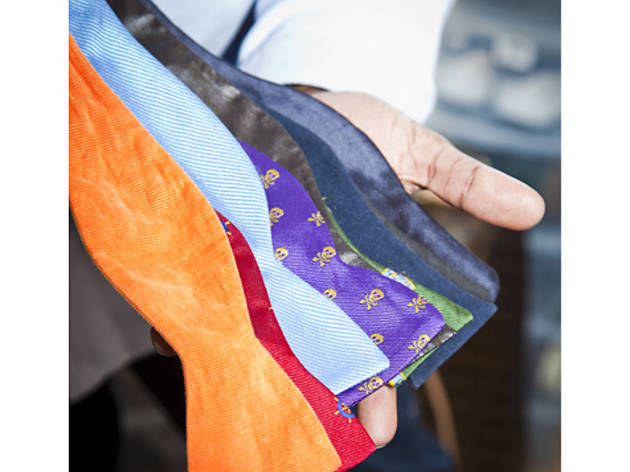 14/27
Photograph: David Rosenzweig
This fall, Curtis and his best friend Jarrett Cobbs will debut a new bow tie company called Decided Advantage. "We want to provide consumers with a cost-effective opportunity to buy bow ties," he explains. "You'll often find cheap printed ones, but not [inexpensive] solid styles, so we want to sell solids for $20 to $25 a pop." The orange style will be part of the new collection.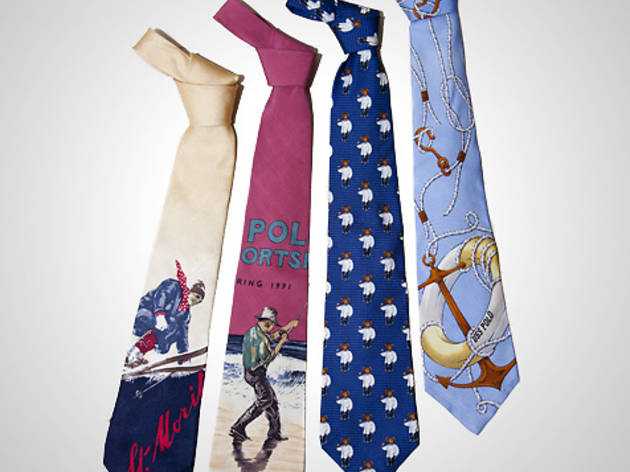 15/27
Photograph: David Rosenzweig
Ninety percent of Curtis' wardrobe is from Ralph Lauren, including these dapper ties. He refers to himself as a 'Lo head, an abbreviation for Polo head.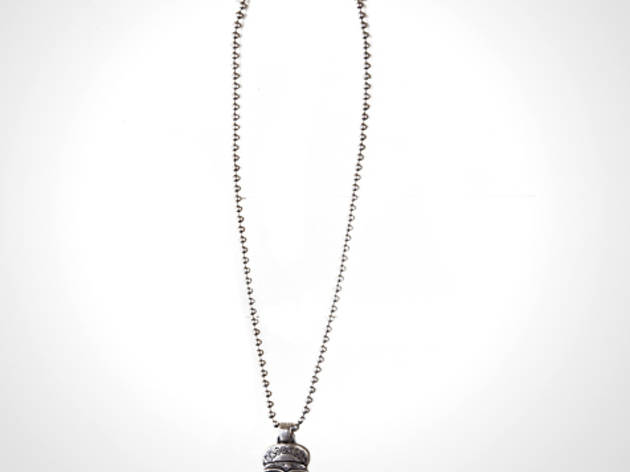 16/27
Photograph: David Rosenzweig
Though Curtis doesn't wear much jewelry ("I'm a basic guy; I smell like my deodorant," he says), we found this Nous Sommes (noussommes.fr) necklace featuring Spike Lee wearing a brooklyn hat draped over the nozzle of his steamer. It was a gift from a friend because he's a big Spike Lee fan.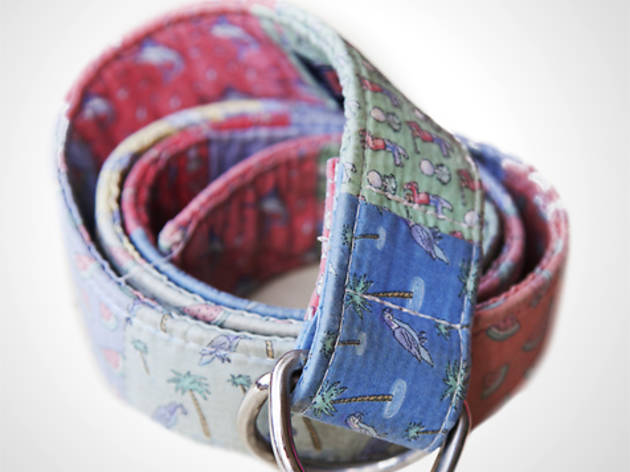 17/27
Photograph: David Rosenzweig
Curtis ties many of his looks together with this ultra-preppy, well-worn Vineyard Vines belt, "my summer jam."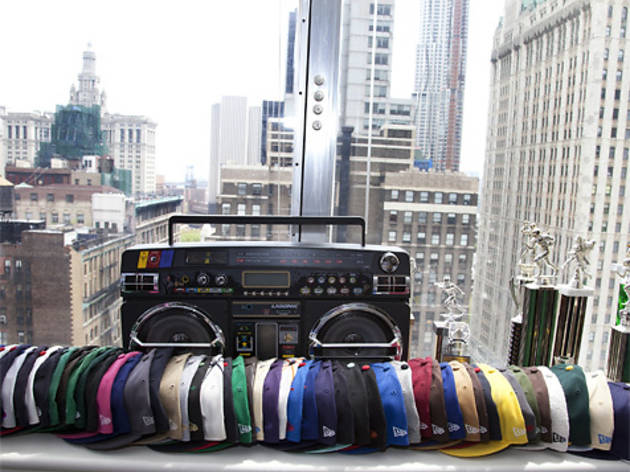 18/27
Photograph: David Rosenzweig
"I've always worn baseball caps so nobody really knows I'm balding," he jokes of his New Era hat collection. "As soon as it gets a sweat ring, I have to throw it out."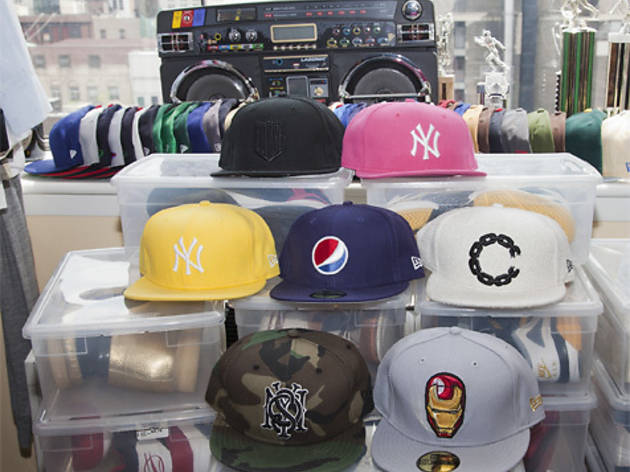 19/27
Photograph: David Rosenzweig
Each of these New Era hats is from a different collaboration: The pink Yankees hat was created for breast cancer awareness, the camouflage style is by New York brand Orchard Street (orchardstreet.com), the white knitted style is by Crooks & Castles (crooksncastles.com) and the gray cap is an Iron Man collectible.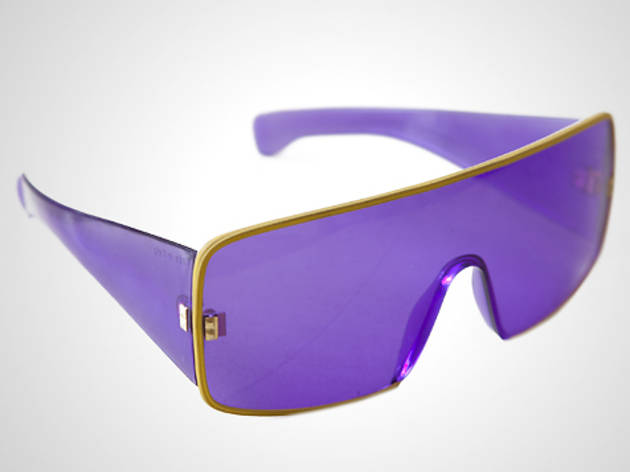 20/27
Photograph: David Rosenzweig
Curtis owns about 600 pairs of sunglasses—98 percent of which were purchased at vintage eyewear shop Fabulous Fanny's. "I have the illest, toe-to-toe, pound-for-pound collection," he declares. "Guys can't do too much [with accessories], and if you're going to wear them, own that category." While he considers these purple shades to be too "spaceship" to rock anymore, they are a standout in his dead-stock collection.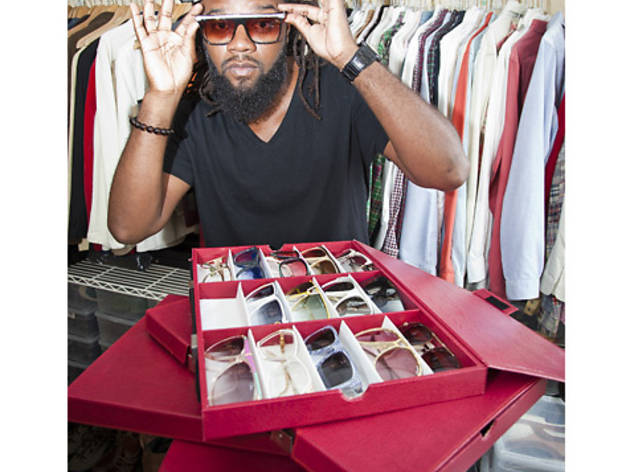 21/27
Photograph: David Rosenzweig
"These are my favorites," he says of this bedazzled pair from Fabulous Fanny's. "When I wear them, I channel my [inner imagined] Jewish grandmother. They're fabulous." He also purchases the storage containers at Fabulous Fanny's.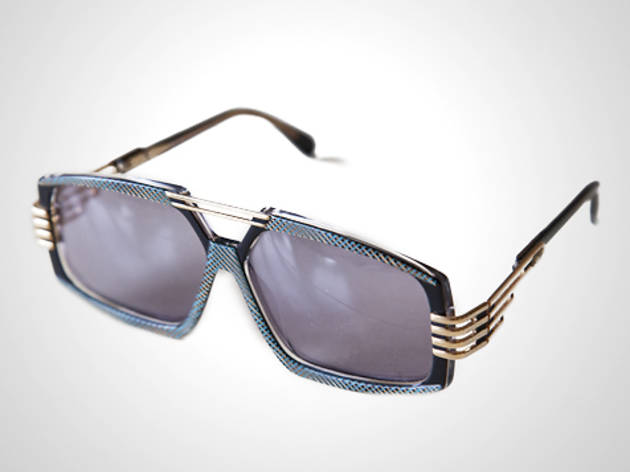 22/27
Photograph: David Rosenzweig
"This is another gaudy, fun pair," he says, toying with a pair of dead-stock Cazal shades. "They're generally known for [being associated] with old-school Run-D.M.C."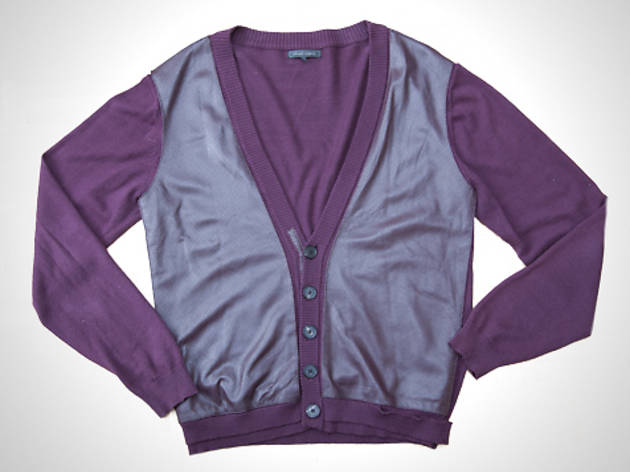 23/27
Photograph: David Rosenzweig
Local brand Public School (publicschoolnyc.com) designed this cardigan. "I wear the hell out of it," says Curtis. "It's good quality with simple perforated leather and great buttons, trimming and ribbing."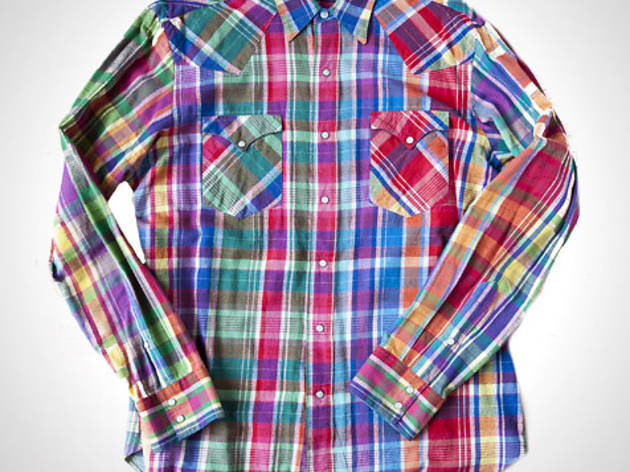 24/27
Photograph: David Rosenzweig
"For some people, this classic plaid western shirt could be like wearing throw up [because it's a color explosion]," he says of this Polo Ralph Lauren button-up shirt. "But for me, it's a basic."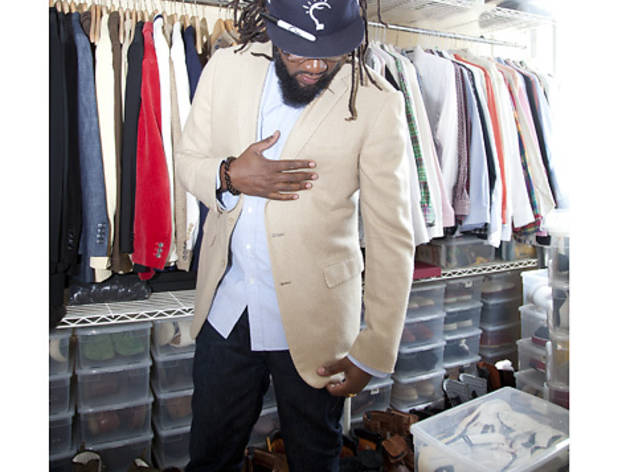 25/27
Photograph: David Rosenzweig
"This is the real shit," Curtis says of this Ralph Lauren Purple Label blazer, which he owns in three colors. "It retails for like $6,000. Plus, it's a handmade 100 percent silk-and-cashmere blend—it feels like a baby's butt. And it fits perfectly. Us brothers got big butts and legs, so you have to wrap the jacket around."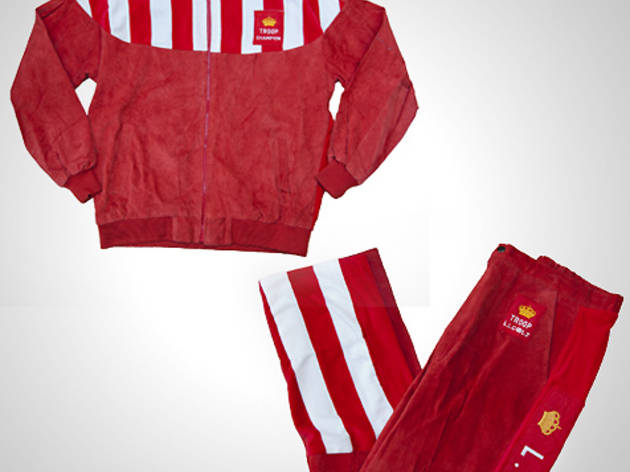 26/27
Photograph: David Rosenzweig
We dug deep into his closet to find this suede red Troop track suit that says LL COOL J down the leg, which he describes as "'80s-drug-dealer-inspired." It represents the days he wore head-to-toe streetwear.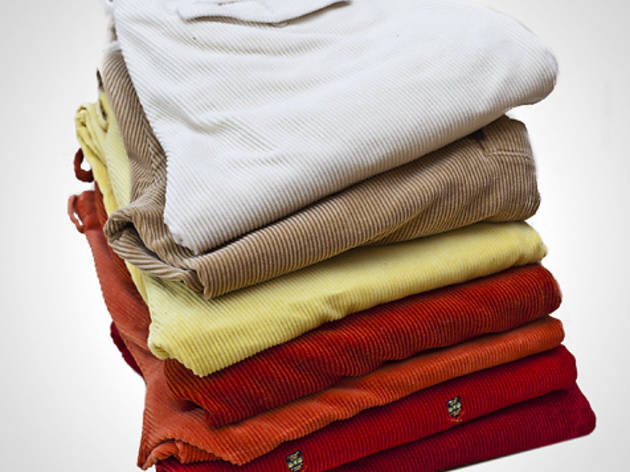 27/27
Photograph: David Rosenzweig
His Pantone color wheel of corduroy pants are all by Polo Ralph Lauren.
Closet case: Coltrane Curtis
We invaded this sneakerhead's impressive shoe collection to discover hundreds of statement-making kicks.
His favorite NYC stores
Century 21 22 Cortlandt St between Broadway and Church St (212-227-9092, c21stores.com)
"It's where I go for basics, socks and underwear," says Curtis of the nearby Tribeca location of this discount chain. "You can buy Polo and it doesn't have to cost you Polo numbers."
Earnest Sewn 90 Orchard St at Broome St (212-979-5120) • 821 Washington St between Gansevoort and Little W 12th Sts (212-242-3414) • earnestsewn.com
"It sells classic Americana threads and great denim," says Curtis of this jeans haven from which he owns about 30 pairs. "I pay about $200 for jeans there, and the construction is great—they're durable."
Fabulous Fanny's 335 E 9th St between First and Second Aves (212-533-0637, fabulousfannys.com)
"You can go in there for an hour and want to stay for five because there are so many products and each one has a different story [behind it]," says Curtis.
Flight Club 812 Broadway between 11th and 12th Sts • 254 Greene St between Waverly Pl and 8th St * flightclubny.com
This pair of consignment sneaker stores is where Curtis buys and trades kicks from his massive collection.
Ralph Lauren 867 Madison Ave between 71st and 72nd Sts (212-606-2100, ralphlauren.com)
"My favorite Ralph Lauren store in the city is the mansion; it's the mecca of where all fly clothes live," notes Curtis. He buys all of his pricier pieces off-season when they're on sale (he's currently purchasing duds for next fall). "I'll get a $5,000 blazer for $1,000, and it doesn't go out of style."
You might also like
See more Closet case
See more in Shopping & Style