Heads up! We're working hard to be accurate – but these are unusual times, so please always check before heading out.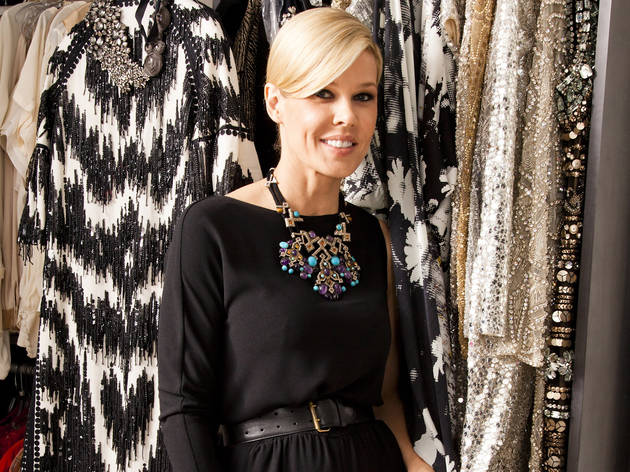 1/25
Photograph: David Rosenzweig
Mary Alice Stephenson wears multiple hats: She's made a name for herself working as a stylist, fashion commentator on networks including CNN and E!, spokesperson for brands such as Sally Hansen and Rembrandt, contributor to Harper's Bazaar, and national fashion ambassador for Make-a-Wish Foundation (wish.org). But above all, she serves as single mom to a kindergartner. "I never wanted my home to be too precious for my son, but I did need my own space for my clothes and my jewelry collection," says Stephenson, explaining why she devoted the entire top floor of her Cobble Hill brownstone to her pair of closets. "It's like my work office."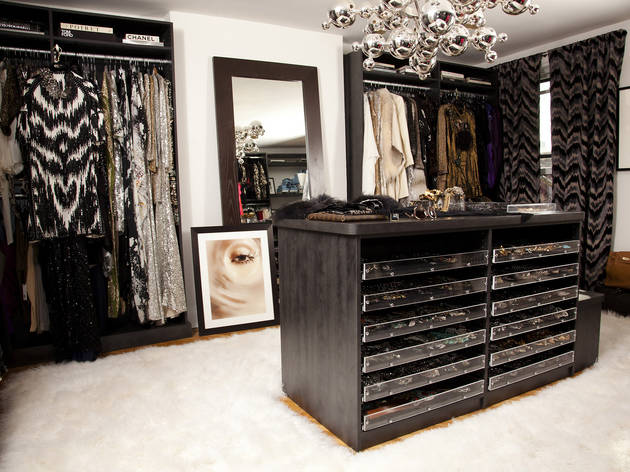 2/25
Photograph: David Rosenzweig
The tricked-out closets were provided by custom wardrobe company Closet Factory (closetfactory.com) and were put into Stephenson's rental last fall. The space, which was previously a spare bedroom, took just a month to design and install, and was done with her busy schedule in mind. "Being able to see everything is so important to my life," she notes. Since Stephenson doesn't own her brownstone, Closet Factory created the walk-in wardrobe so that it's not permanently attached to the walls and will be able to transport smoothly to her next pad.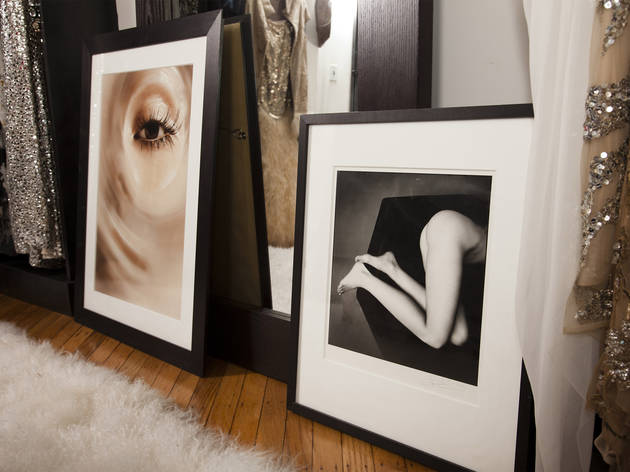 3/25
Photograph: David Rosenzweig
Framed images from fashion photographers Patrick Demarchelier (demarchelier.net) and Don Flood (donfloodphoto.com)---both were gifts from the shutterbugs themselves---lean against the wall. "I love [the Demarchelier] but now I hide it from my son---after he and his friends saw it, the kindergarten butt jokes started flying," explains Stephenson of the art's unusual placement. Designers, clients or fellow Brooklyn moms who come over often sit on the fuzzy Mongolian lamb carpet from ABC Carpet & Home (881 Broadway at 19th St; 212-473-3000, abchome.com), look at art books and get inspired. "I never wanted [my closet] to be a museum for my clothes," she notes. "You just get to be a girl when you're up here."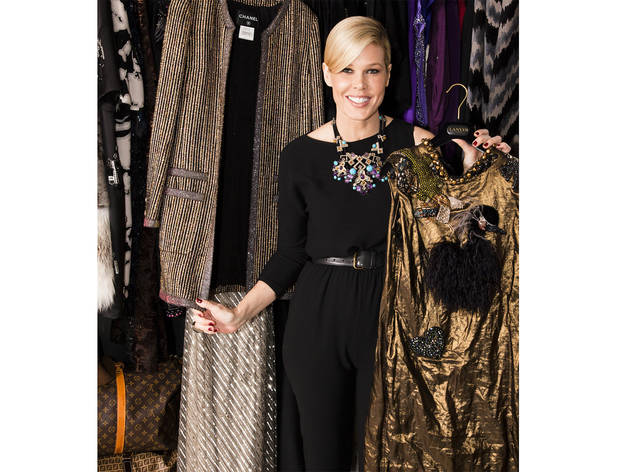 4/25
Photograph: David Rosenzweig
A Chanel jacket and a Lanvin dress, worn to Women's Wear Daily's 100th-anniversary gala, hang on metal rods that pull out from the closet and help streamline Stephenson's busy schedule. "In the morning, I have to feed my son, get him to school and be somewhere early, so it really helps to have an outfit ready the night before," she notes. Extra-high hanging rods for her long-legged clothing also make finding garments a cinch.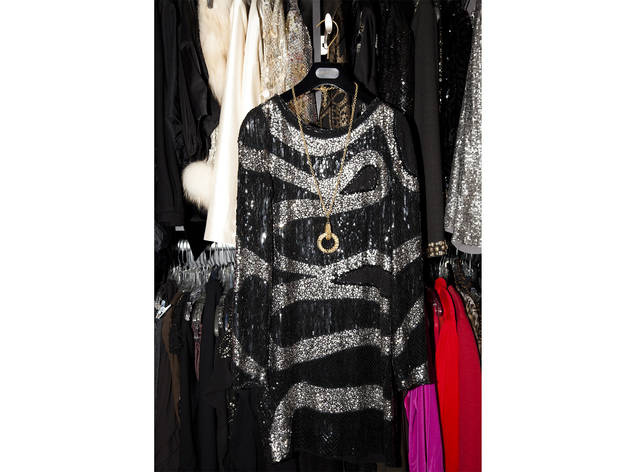 5/25
Photograph: David Rosenzweig
This sequined Balmain dress has yet to be worn. "My assistants always want to help me clean out my closet because they get a lot of goodies," she says. "I just gave one of them a Miu Miu bag, and he cried."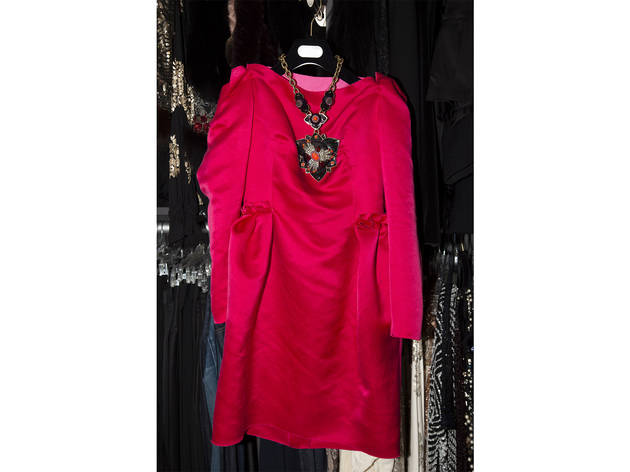 6/25
Photograph: David Rosenzweig
Another Lanvin dress, worn to a Ralph Lauren event at Lincoln Center hosted by Oprah Winfrey, serves as a testament to Stephenson's love for designer Alber Albaz's feminine yet edgy creations. "For me it's, do I want a new TV or a couch or a great piece of art or a Lanvin dress?" she says laughing. "Usually, the dress wins."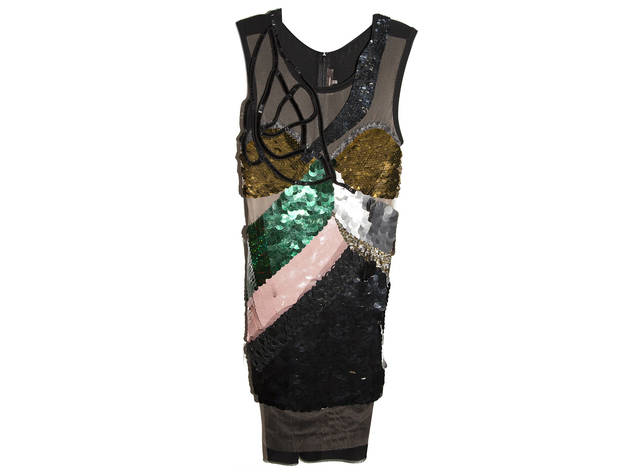 7/25
Photograph: David Rosenzweig
"I wear sequins morning, noon and night," declares Stephenson. This Vera Wang frock is a flashy example.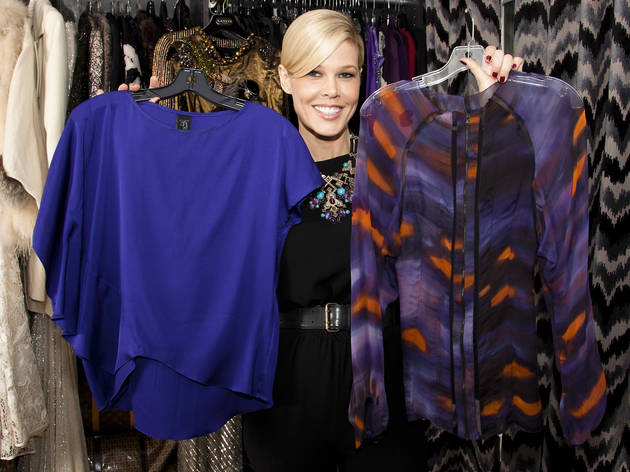 8/25
Photograph: David Rosenzweig
"I always try to be a yummy mummy," says Stephenson of her vibrant blouses from Zero + Maria Cornejo and Rachel Roy. "Although I do wear jeans and T-shirts in real life," she admits. "In Brooklyn, it's way more low-key, but when I go over that bridge, I'm usually dressed up."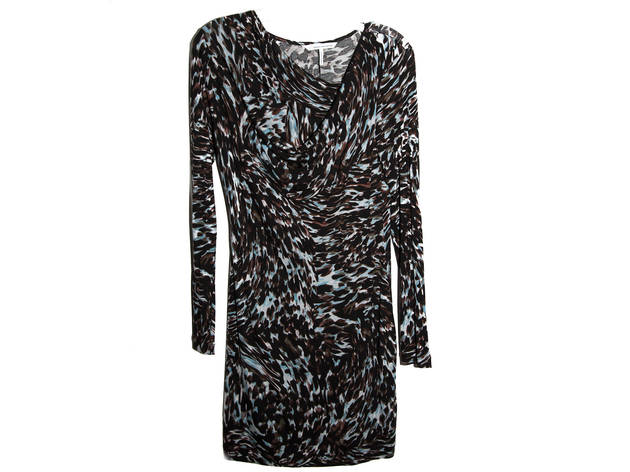 9/25
Photograph: David Rosenzweig
Although her closet is filled with high-end threads from Chanel, Vera Wang and Lanvin, Stephenson isn't averse to rocking more affordable pieces, such as this UK Style by French Connection dress from Sears (locations throughout the city; visit sears.com).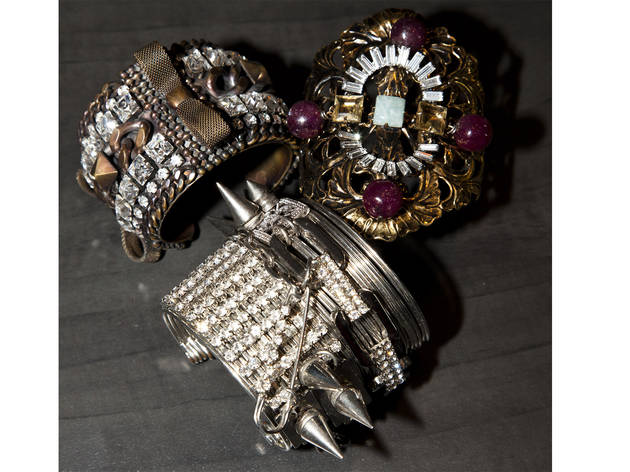 10/25
Photograph: David Rosenzweig
"My thing is really bold statement jewelry," asserts Stephenson of her cuffs from Fenton/Fallon (187 Chrystie St between Rivington and Stanton Sts; 212-477-1315, danalorenz.com), Iradj Moini (iradjmoini.com) and Glynneth B (glynnethb.com). "I'm not the kind of person who takes one piece off at the door---I usually put one more piece on."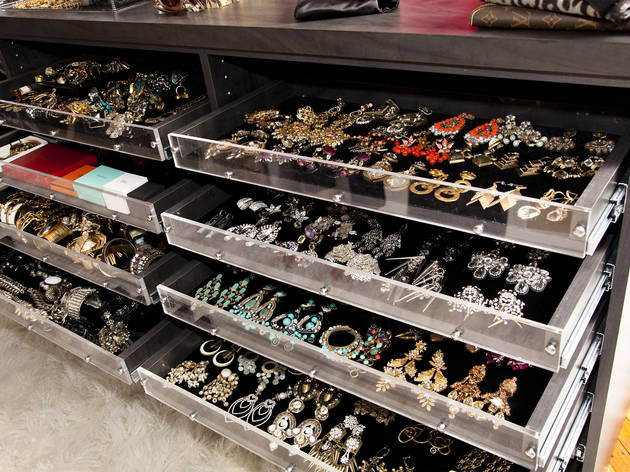 11/25
Photograph: David Rosenzweig
"Big girl, big earrings," jokes the six-foot-tall Stephenson. "I never wear small earrings." Indeed, there are no studs to be found in these velvet-lined drawers that pull out from a center island. There are baubles from some of her favorite designers, such as vintage Chanel, Lanvin, Ranjana Khan (ranjanakhan.com) and Lia Sophia (liasophia.com), which Stephenson says "has great jewelry at good prices."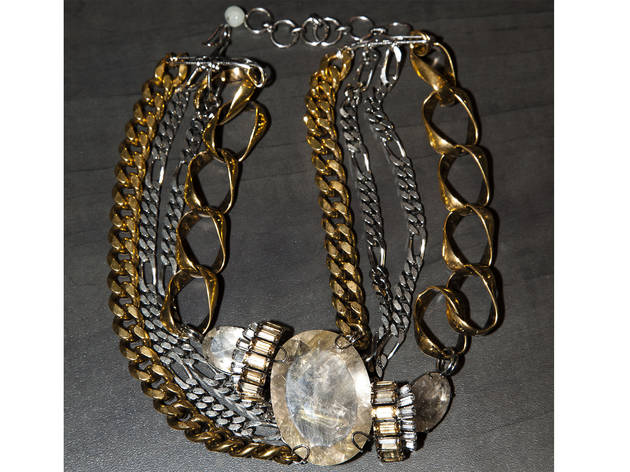 12/25
Photograph: David Rosenzweig
A necklace from New York designer Iradj Moini is one of Stephenson's go-to pieces.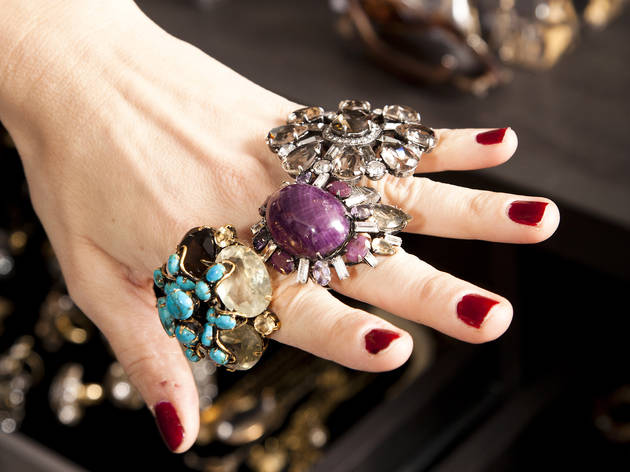 13/25
Photograph: David Rosenzweig
Rings from Kara Ross (kararossny.com), Kardashian Kollection and Erickson Beamon (ericksonbeamon.com) will fancy up even the most casual looks.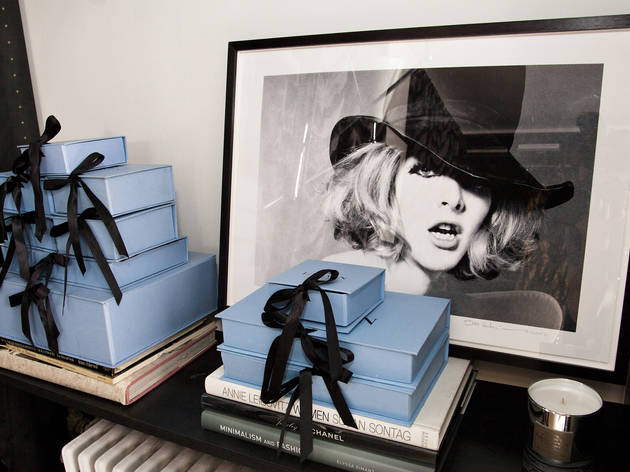 14/25
Photograph: David Rosenzweig
"These [Lanvin] boxes are actually empty," Stephenson admits of the jewelry packages stacked in front of a Sam Haskins print (haskins.com). "I need to see all of my pieces. What goes in boxes stays in boxes, so I just travel with these."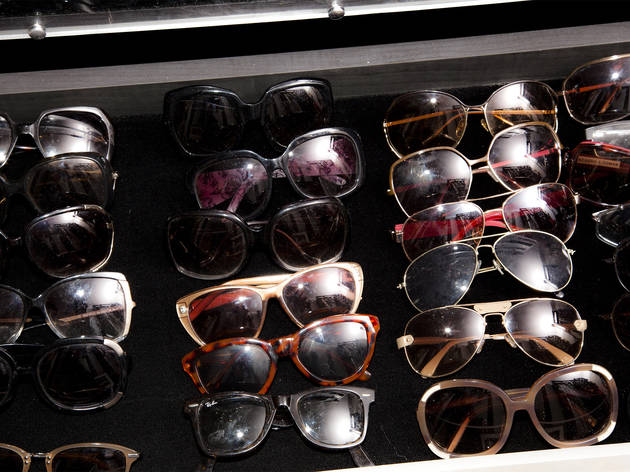 15/25
Photograph: David Rosenzweig
"Every girl needs sunglass options," advises Stephenson. "I have [pairs from] both Balenciaga and Kmart. As long as they have style, I don't care about the price."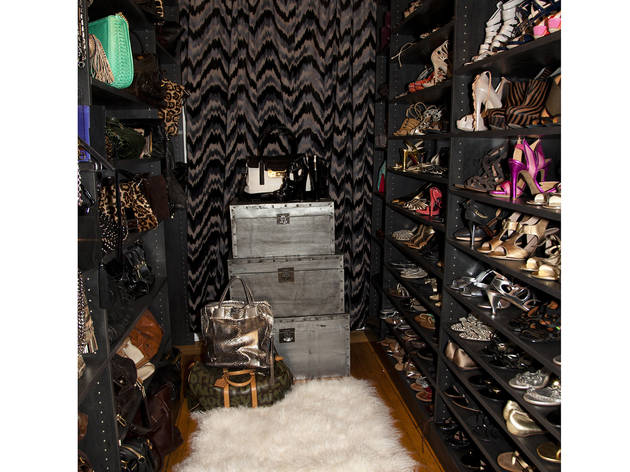 16/25
Photograph: David Rosenzweig
"You know how you have a library for books? I have a library for fashion," explains Stephenson. A separate closet next to the main one that's reserved solely for bags and shoes highlights that fact. Vintage steamer trunks from Seaport Flowers (309 Henry St between Atlantic Ave and State St, Brooklyn Heights; 718-858-6443, seaportflowers.com) are used to store "ribbons, belts and shoe bags."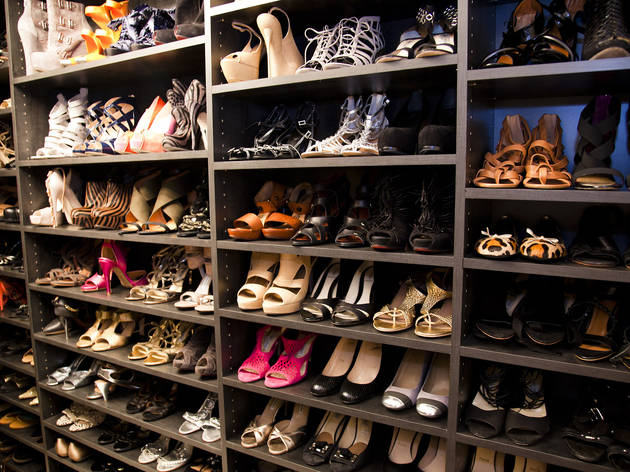 17/25
Photograph: David Rosenzweig
"My heels are high, so [Closet Factory] had to create more space [between shelves]," points out Stephenson, who estimates she has about 250 pairs of shoes with a four-to-six-inch heel height. "I have big feet. They're sexy, but they're big."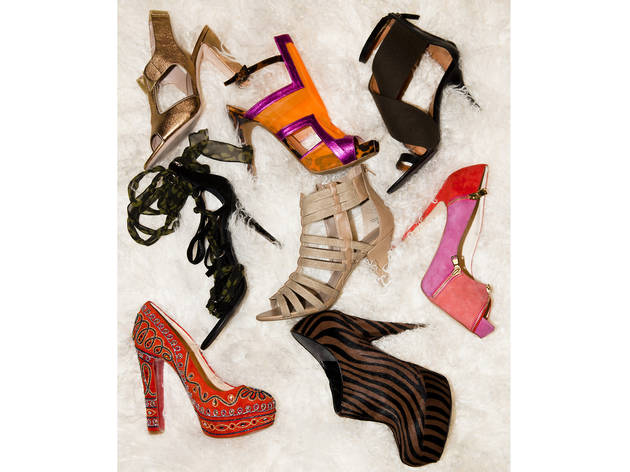 18/25
Photograph: David Rosenzweig
 Although Stephenson has many sky-high heels from brands such as Christian Louboutin, Alexander Wang and Aldo, which she cites as a go-to brand, she gets some stilettos cut down at Arty's Shoe Service (243 Eighth Ave between 22nd and 23rd Sts, 212-255-1451). "If you want to wear a stiletto but don't want the extreme height, you can take some height away and they'll still be sexy," she swears.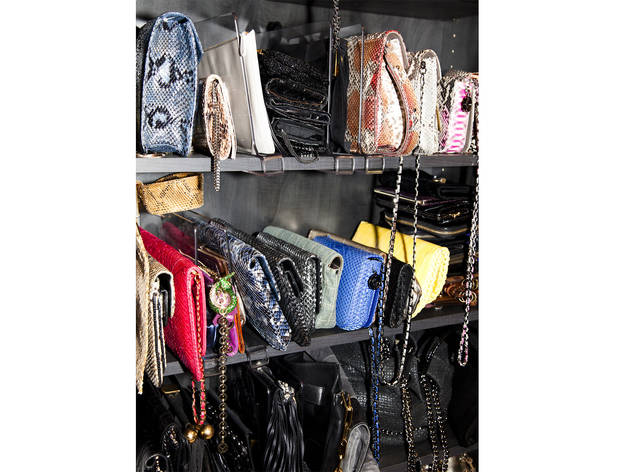 19/25
Photograph: David Rosenzweig
"I had a thing for snakeskin," explains Stephenson of her plethora of both real and faux bags, many of which are from local label Sang-A (sanga.com).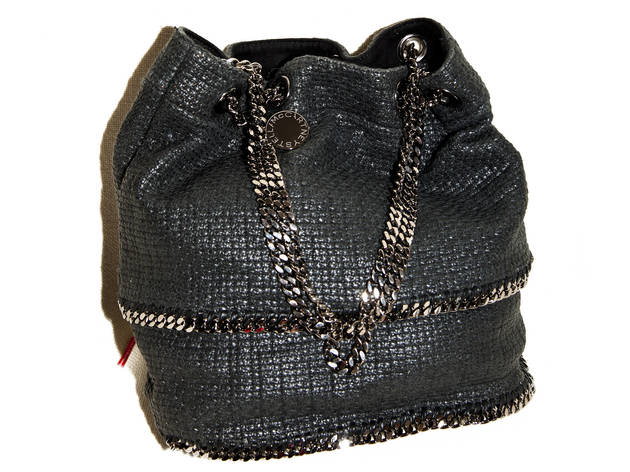 20/25
Photograph: David Rosenzweig
"This is a good mommy bag," notes Stephenson of her roomy Stella McCartney carryall. In it, she often packs "an EpiPen, Band-Aids, Kleenex, Benadryl, a bottle of water, snacks and a whole lot of Hot Wheels."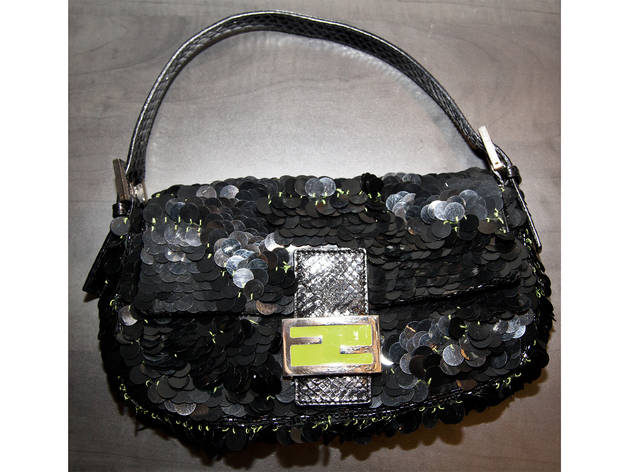 21/25
Photograph: David Rosenzweig
"I got this at my first Fendi sample sale," recalls Stephenson, who purchased the baguette while she was an assistant at Vogue. "They used to [sell] these bags for $50. Every editor that could never afford a Fendi bag in real life stood in line. We were young, starving and very fashionable. We wanted a Fendi bag, so we would just run and grab!"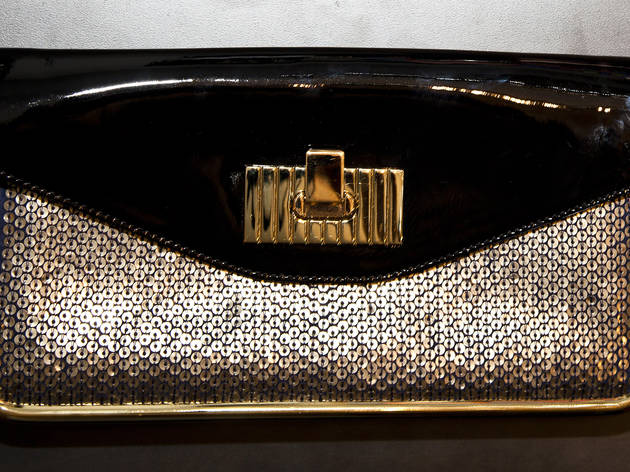 22/25
Photograph: David Rosenzweig
Stephenson calls this glitzy Celine clutch a "great nighttime bag."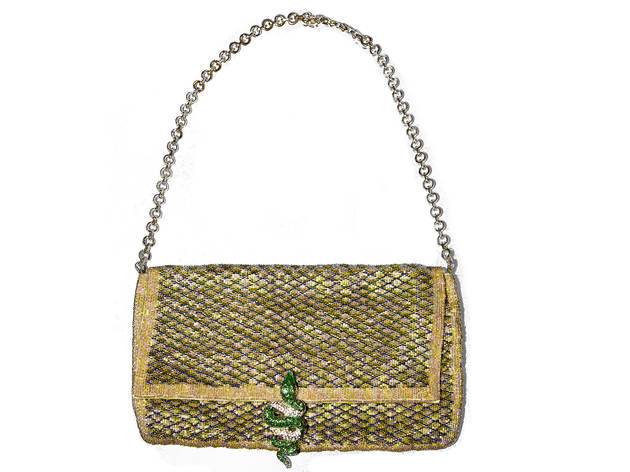 23/25
Photograph: David Rosenzweig
This Valentino clutch was a birthday present from Harper's Bazaar editor-in-chief Glenda Bailey. "She gave it to me in Paris when we were there for [Fashion Week]," remembers Stephenson. "She's a special person."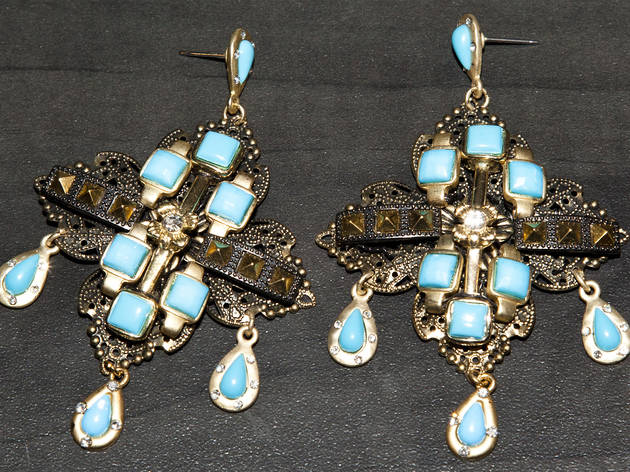 24/25
Photograph: David Rosenzweig
"I saw Rihanna wearing some amazing pieces, and they were by Glynneth B, so I reached out to her and ended up using lots of her jewelry for shoots, TV makeovers and red-carpet dressing," says Stephenson of her vibrant earrings from the designer. "I love to wear her stuff too."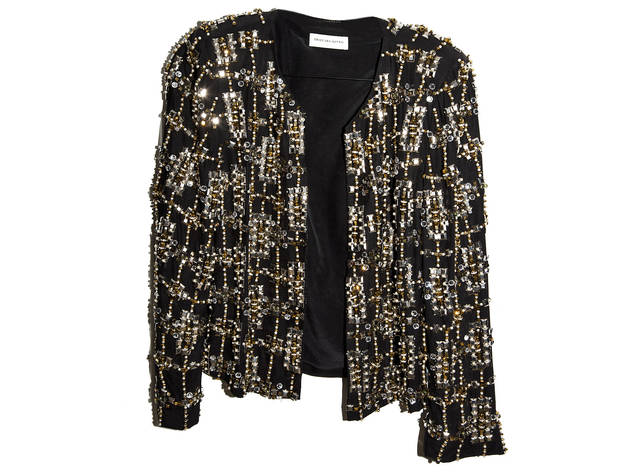 25/25
Photograph: David Rosenzweig
This Dries Van Noten jacket reminded Stephenson of Michael Jackson. "It was right after M.J. died," she says. "I saw it at Barneys, loved it, bought it and wore it in his honor with black capri pants and Louboutin ankle boots to a Marc Jacobs fashion show."
Closet case: Mary Alice Stephenson
The beauty and style expert shows off her newly renovated closets, which take up an entire floor in her Brooklyn brownstone.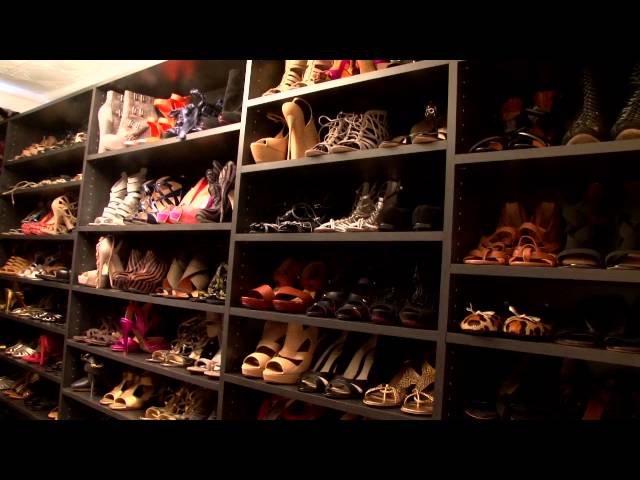 Her favorite NYC stores
Darr 369 Atlantic Ave between Bond and Hoyt Sts, Boerum Hill, Brooklyn (718-797-9733, shopdarr.com)
"I'm obsessed with Brooklyn furniture, and Darr is amazing for home goods," says Stephenson of this local decor shop.
New York Vintage 117 W 25th St between Sixth and Seventh Aves (212-647-1107, newyorkvintage.com)
"It's literally the best-curated archive of fashion in the world," enthuses Stephenson of this massive vintage showroom. "Whenever I pull for shoots there, I end up getting something for myself."
Zara locations throughout the city; visit zara.com
"I wear Zara all the time," notes Stephenson, who wore a one-shoulder jumpsuit from the Spanish chain on the day of this shoot. "It's great for every aspect of my life."
Zo 68 Washington St between Front and York Sts, Dumbo, Brooklyn (718-237-4002, shopzoeonline.com)
"It's got Proenza, Celine and DVF mixed in with inexpensive stock," says Stephenson of this designer-friendly store. "I shop there a lot because it's in Brooklyn and it's curated so well."
You might also like
See more Closet Case
More in Shopping & Style