Heads up! We're working hard to be accurate – but these are unusual times, so please always check before heading out.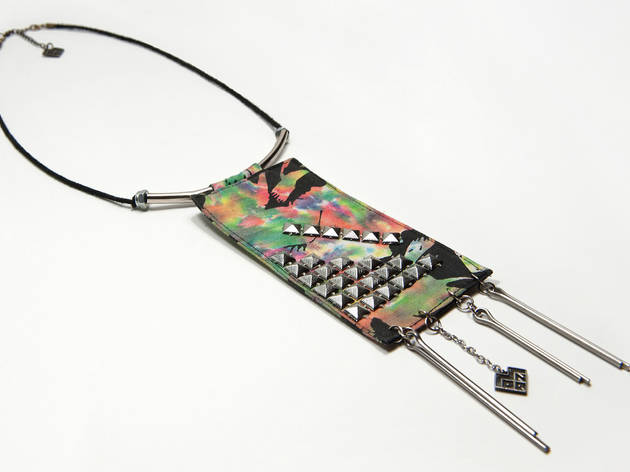 1/7
Likas necklace, $64 (normally $75), at thatsmona.com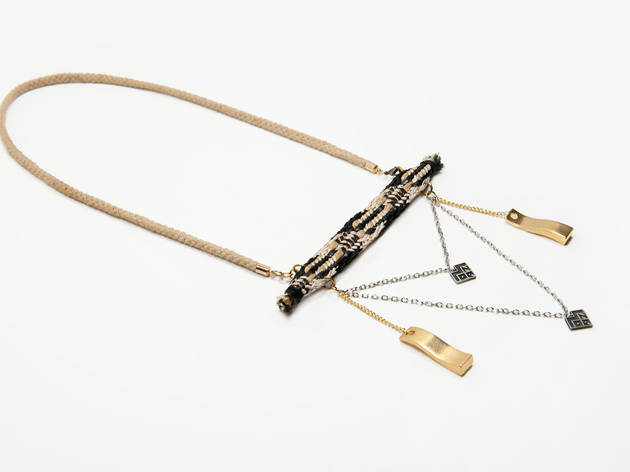 2/7
Baliwan necklace, $75, at Dalaga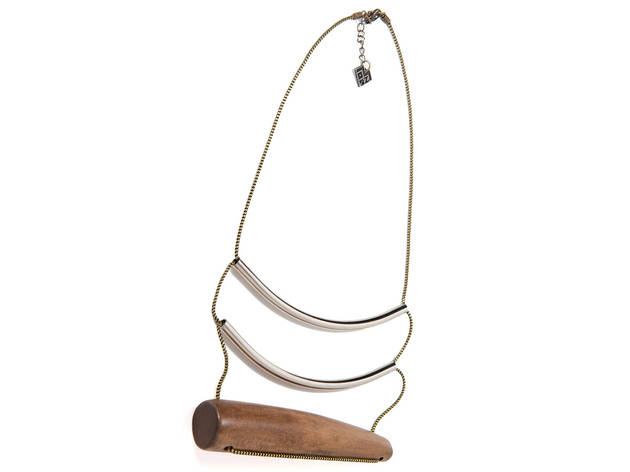 3/7
Inayon necklace, $95, at Dalaga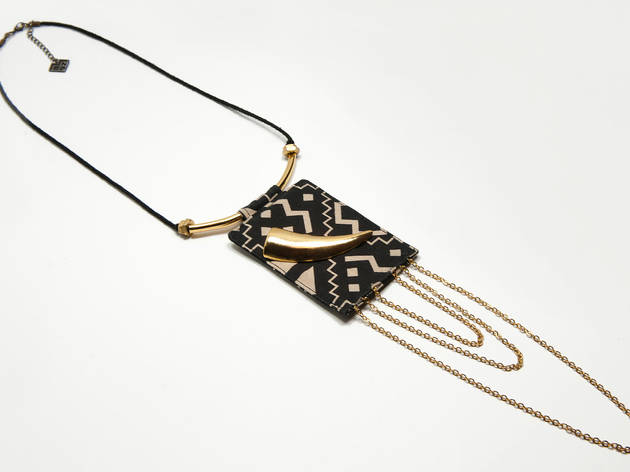 4/7
Tatak necklace, $85, at Miss Lily's Variety
5/7
Daga necklace, $64 (normally $75), at thatsmona.com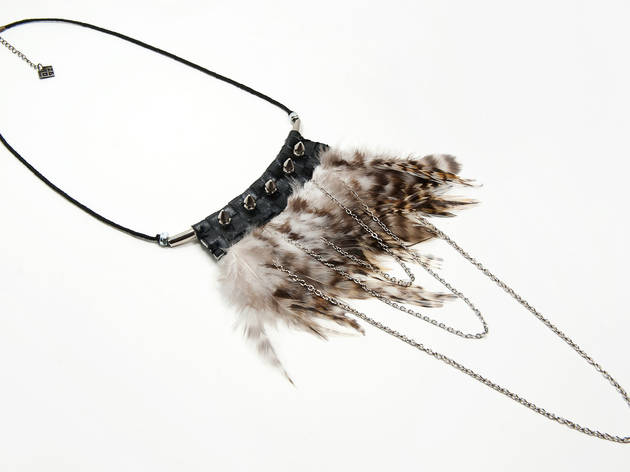 6/7
Ili necklace, $98 (normally $115), at thatsmona.com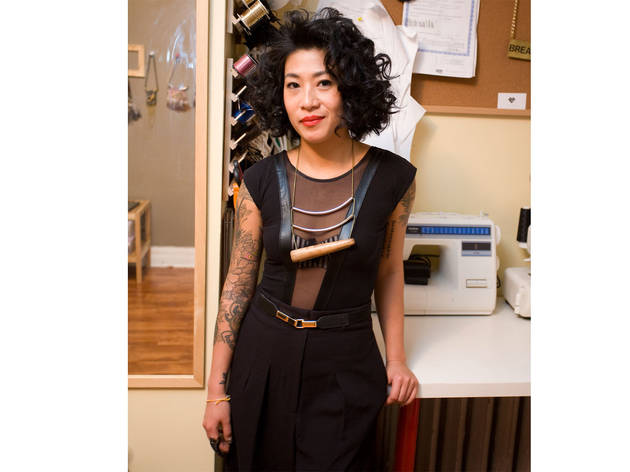 7/7
Photograph: Alex Strada
Designer Mona Baltazar
Designer spotlight: NYC jewelry designers
Adorn yourself with the intricate, artistic works from these four local bauble labels.
Mona Baltazar of That's Mona
Who she is:
A hairdresser at
Alibi Salon NYC
(67 Greene St between Broome and Spring Sts; 212-219-2806, alibinycsalon.com)
by day and a jewelry designer by night, Baltazar draws creative inspiration for her handmade tribal-style necklaces from her Filipino roots. "I've always been a creator of things," says the 33-year-old FIT graduate, who was born in the Philippines, grew up in California and currently works out of her apartment in Bushwick. Baltazar began crafting necklaces for herself in early 2011, and received so many compliments from salon clients and friends that she launched her own jewelry line that September.
About the line: "Every piece is very individual and has its own character," says Baltazar, who names each necklace with an Ilokano name from her native language, including una ("original") or daga ("earth"). Her chunky cultural-meets-industrial neckpieces ($65–$125) juxtapose natural elements such as feathers with man-made materials, including machine screws from Home Depot and funky beads from craft stores in the Garment District. She layers metal chains and incorporates contrasting shapes such as silver studs and spikes set against rectangular pieces of patterned cotton fabric, producing unexpected designs. "I wanted to test out my product and design to see how people reacted to them and how far this will go," explains Baltazar of her singular focus on necklaces, adding that she hopes to soon add earrings to the mix.
Where to buy:Dalaga(150 Franklin St between Greenpoint Ave and Kent St, Greenpoint, Brooklyn; 718-389-4049, dalaganyc.com) and Miss Lily's Variety(130 W Houston St at Sullivan St; 646-588-5375). Or use code "TONY" to receive 15 percent off all necklaces at thatsmona.com through February 16.
Who she is: Jewelry design was never where Barensfeld thought her career path would lead. "I hated it at first," admits the 31-year-old Rhode Island School of Design grad, who studied graphic design and architecture but "fell into" creating baubles. The launch of Barensfeld's eponymous line in November 2010 is round two for the Cincinnati native: Her first accessories label, Barens and Belle, was introduced in 2007 but was discontinued two years later when she started designing jewelry for Banana Republic. "I love the control I can have over it—it's something you can do as an artist and [still] be an individual," enthuses Barensfeld of having creative freedom over her own line, which she runs out of her Williamsburg loft. "It keeps my soul occupied," she adds. "It keeps my mind occupied."
About the line: A world traveler who has journeyed to Australia and lived in an ashram in the Bahamas, Barensfeld channels a bohemian spirit through her collection of nature-inspired women's bracelets ($80–$120), rings ($164–$210) and necklaces ($100–$1,600). "My hands always need to be busy," she says, referring to her labor-intensive knit pieces ($200–$800)—a mlange of chain and thread woven together to imitate plant-cell formations. An avid surfer, Barensfeld adores the ocean, a passion that is echoed in aquatic designs, including her colorful, delicate wrap bracelets ($75–$120), which are braided or knotted with ribbon, silk, leather, cord, chain or beads to mimic seaweed. Her pastel handwoven necklaces ($360–$750) integrate water pearls, seashells and semiprecious stones for a mermaidlike look. Next up: a collection that employs Barensfeld's love for gold, brass and copper metalwork.
Where to buy: Online at jessicabarensfeld.com. Use code "TONY" at checkout to receive 10 percent off all purchases through February 16.
Samantha Smikle of TNEMNRODA
(shoptnemnroda.com)
Who she is: The native New Yorker got her start in the fashion industry as a budding journalist, racking up internships at national publications such as Vibe, Interview and The Fader. After graduating in 2007 from Boston University with a degree in magazine journalism , Smikle found herself making grueling runs in and out of the Garment District as a production intern for designer Elise Overland. It was during this time that Smikle developed her newfound love for mixing the jewels and leather scraps she stumbled upon at work. She credits being laid off from her first job in fashion (office manager for a wholesale design firm) as the catalyst for taking her jewelry-making hobby to the next level. "That was a defining moment for the line," recalls Smikle. Her label of bold accessories, called TNEMNRODA (pronounced "nem-roh-dah"—adornment spelled in reverse), made its official debut in March 2011. She crafts each handmade piece from her in-home studio in the Bronx.
About the line: In creating her mixed-metal collection of rings, bracelets and eyewear ($70–$230), Smikle takes inspiration from sources as varied as ancient Egyptian jewelry, the Victorian era, her West Indian upbringing and her favorite artists. "I always have pictures of Cleopatra and the Egyptian pyramids on my inspiration board, and then I'll mix in a few gaudy influences such as Frida Kahlo or contemporary icons like Kelis," says Smikle. Her pieces incorporate brass, crushed vintage crystal sourced from her grandmother's chandelier collection and semiprecious stones. "I design from the standpoint of what I want to wear," notes Smikle. "If I don't like wearing it, I don't offer it."
Where to buy: Mention TONY for 20 percent off all TNEMNRODA items at Blake Scotland(62 Clinton St between Rivington and Stanton Sts, 212-387-8540) through March 8. Or use code "TONY" at shoptnemnroda.com to receive 20 percent off all purchases through March 9.
(shaylacox.com)
Who she is: Brooklyn designer Shayla Cox is no stranger to fashion: The Ohio-bred visual stylist majored in international merchandising at FIT, through with she studied abroad in Florence, Italy, and lived in London while interning with French Connection. After returning stateside to pursue a full-time position as an executive trainee at Ralph Lauren, Cox initiated a career in visual merchandising, working for designers such as Tracy Reese and Donna Karan. It wasn't until she stumbled upon the documentary Mama of Dada, about American artist and studio potter Beatrice Wood, that Cox got the itch to pursue design. "I was really inspired by her story," says Cox. "She didn't get her start until she was well into her forties." Shortly after seeing the film, Cox fell into an opportunity to assist at a ceramic studio on Long Island University's campus, giving her unlimited access to practice her new craft. "Instead of going out with my friends on Friday nights, I was going to the studio and stirring pots," admits Cox. Her eponymous collection debuted in February 2011.
About the line: Currently focusing solely on neckwear, Cox's line consists of carefully molded ceramic pieces strung on brass chains ($75–$295). "In the beginning, it was all about really bold statement pieces and essentially wearing a sculpture on your neck," notes Cox, who mixes elements such as white clay and porcelain to create her delicate breastplates. She cites her father's career as a major source of inspiration. "I'm really influenced by interior design and architecture," notes Cox. "My dad works for an architectural design firm, so ever since I can remember, that's been such a strong part of my life." Although Cox's line may soon expand to include earrings and bracelets, an even more exciting development is her forthcoming necklace collaboration with Donna Karan, which combines her traditional ceramic designs with braided fabric and will hit Urban Zen stores this March.
Where to buy: Online at shaylacox.com. Use code "TONY" at checkout to receive 15 percent off all purchases through March 2.
You might also like
See more Designer spotlight
See more in Shopping