Heads up! We're working hard to be accurate – but these are unusual times, so please always check before heading out.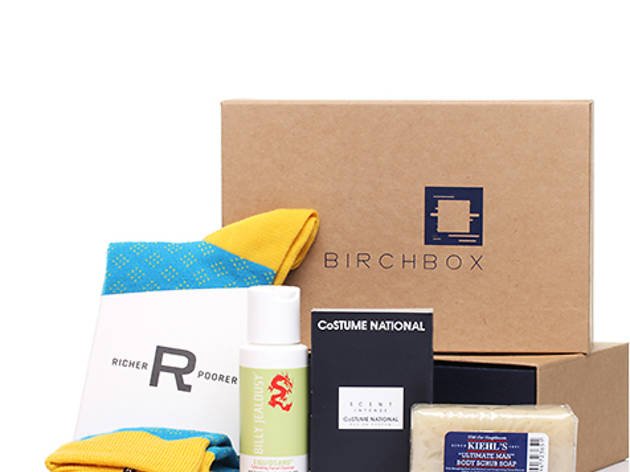 1/12
Birchbox Man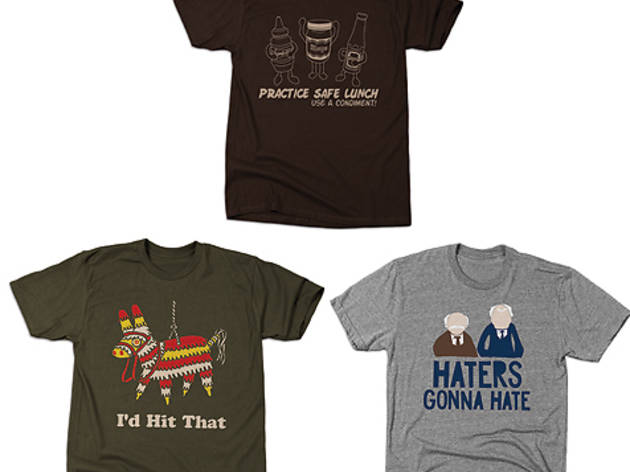 2/12
BustedTees graphic tees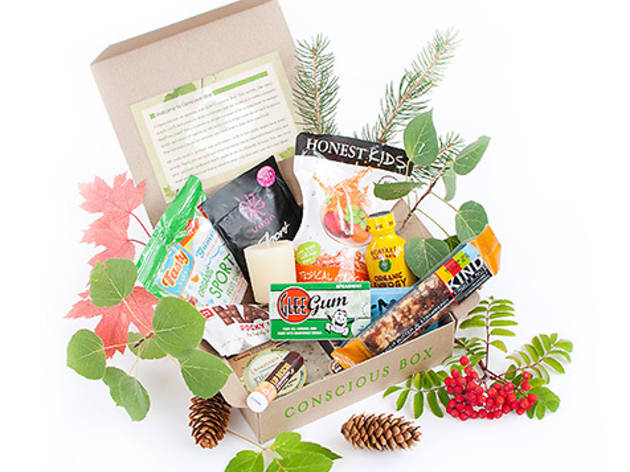 3/12
Conscious Box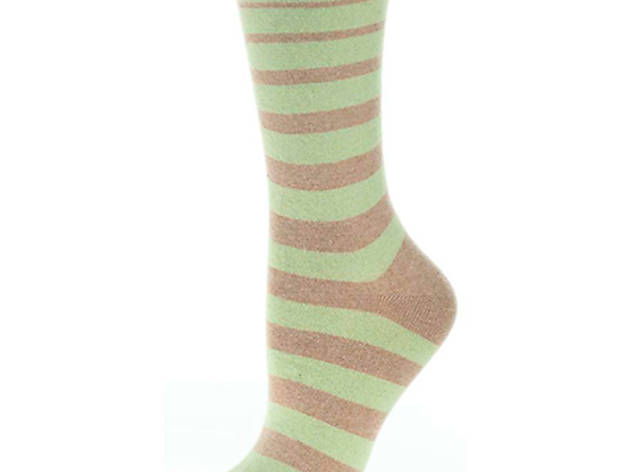 4/12
Lynnie striped cashmere socks from Discover Pique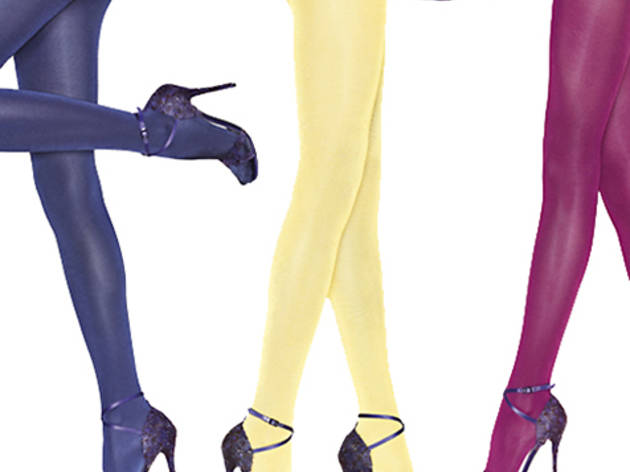 5/12
Nymphea iridescent colored tights from Discover Pique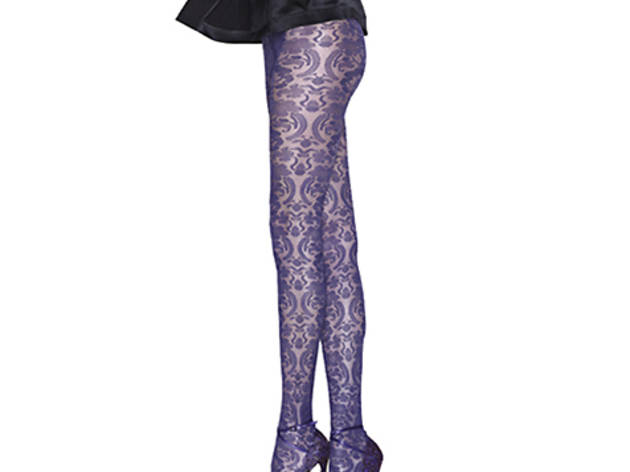 6/12
Ornamental Black baroque-print tights from Discover Pique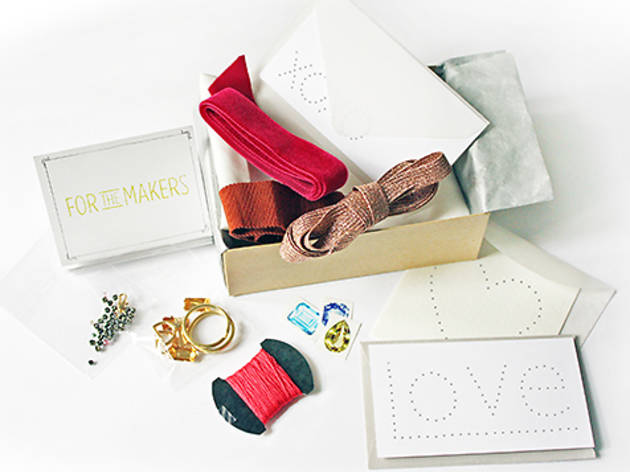 7/12
For the Makers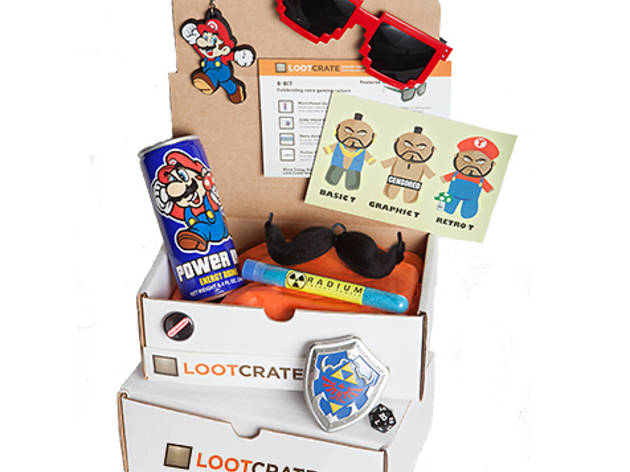 8/12
Loot Crate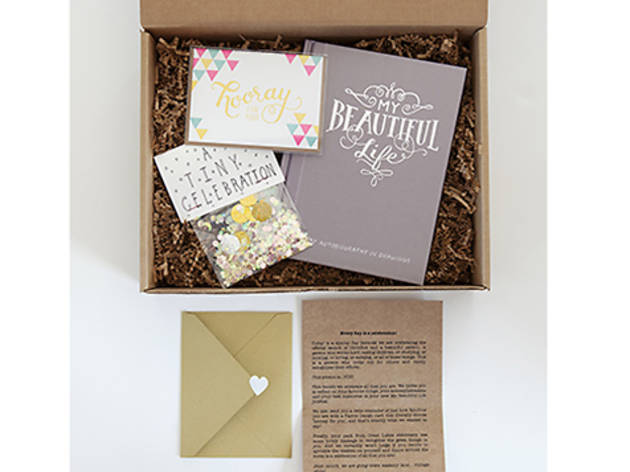 9/12
Olive Box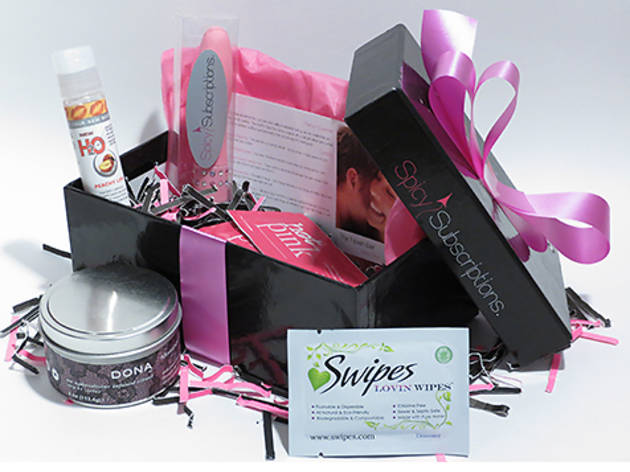 10/12
Spicy Subscriptions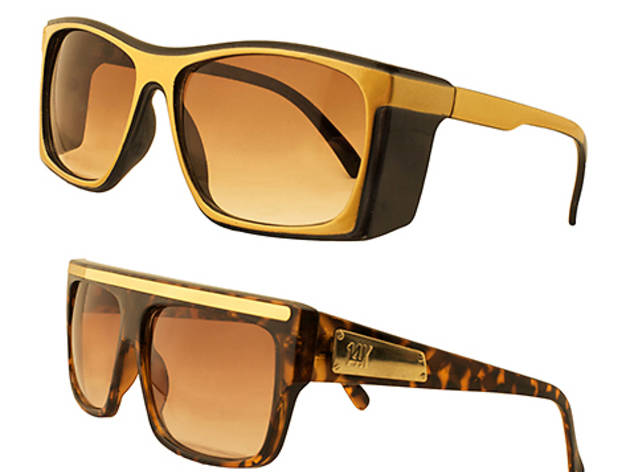 11/12
Stunner of the Month sunglasses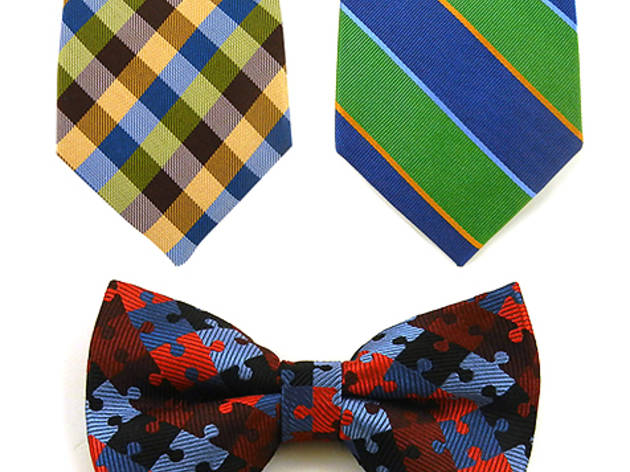 12/12
The Tie Bar striped tie, puzzle-print bowtie and checkered tie
Holiday gift guide 2012: Gift of the month club guide
Of-the-month clubs have long since evolved past jerky and beer. Our gift guide of modern monthly-delivery memberships offers cool new holiday gift ideas.
Of-the-month clubs are a popular holiday gift that keeps on giving. This gift guide features unique of-the-month clubs, including paper-goods–focused Olive Box and craft-driven For the Makers—they're the perfect special gifts for people on your Christmas list.
RECOMMENDED: Complete holiday gift guide
Birchbox Man (birchbox.com/men)
In 2010, Harvard Business School grads Hayley Barna and Katia Beauchamp founded beauty-sampling service Birchbox, which mails trial-sized products to your door for $10 per month. Following the company's runaway success, the duo applied its model to men's grooming with the April debut of Birchbox Man. The $20-per-month subscription is perfect for the image-conscious guy in your life, but even low-maintenance dudes will appreciate receiving three or four samples from brands such as Anthony for Men, Kiehl's and Billy Jealousy, along with lifestyle goodies (October boxes included Teroforma Whisky Stones and a knit tie from Brooklyn label the Knottery). An online shop allows recipients to purchase full-size versions of their favorite items and rack up points for each dollar spent on the site (100 points gets you $10 off a future order). Gift subscriptions are available in three- ($60), six- ($110) and 12-month ($195) increments, and include a welcome box filled with best-sellers.
WIN IT! Enter to win a one-year subscription (worth $240) at timeout.com/newyork/WinGifts
BustedTees Shirt of the Month (bustedtees.com/subscription)
Fans of this company's affordable, witty graphic tees will adore how easy it is to stock up on its unisex tops. The quirky clothing purveyor was started in 2004 by CollegeHumor (collegehumor.com) cofounders Josh Abramson and Ricky Van Veen. Within minutes of signing up for a three- ($50), six- ($90) or 12-month ($165) subscription, you'll receive an e-mail with a redemption code for any T-shirt on the site, plus free shipping (the process repeats on the first of every month for the duration of your membership). There are hundreds of options screen-printed with slogans crafted by New York City comedians, including Practice Safe Lunch, Use A Condiment and I'd Hit That written beneath a piñata. You can order other items along with your monthly shirt and the shipping will still be gratis.
WIN IT! Enter to win 3 three-month subscriptions (worth $50 each) at timeout.com/newyork/WinGifts
Conscious Box (consciousbox.com)
You don't have to be a diehard environmentalist to appreciate the ethical offerings from this year-old company. Longtime friends and founders Jameson Morris, Jesse Richardson and Bjorn Borstelmann place a heavy emphasis on independent, eco-friendly businesses—such as Goodlight paraffin-free candles, Geodeo natural deodorant and BumbleBar gluten-free snack bars—in the monthly deliveries (one month $20, three months $57, six months $112). Perhaps one of the more generous subscription services out there, Conscious Box packs 10 to 20 sample-size natural, fair trade, organic or sustainable items into each mailing, ranging from snacks and supplements to gardening goods and vegan beauty products. Even the packaging is eco-friendly: Deliveries come in a recycled cardboard box that's manufactured in a wind-powered facility and printed with vegetable-based ink. To help offset its carbon emissions, Conscious Box is also a member of 1% for the Planet (onepercentfortheplanet.org), an alliance of businesses that each contribute one percent of their sales to environmental groups around the world.
Discover Pique (discoverpique.com)
After spending a summer in Paris researching high-end hosiery with the intent to create her own line, NYC milliner Satya Twena instead started a monthly leg wear subscription that features lesser-known brands from around the world, including English label Pretty Polly, Italian line Emilio Cavallini and Scotland's Bebaroque. Launched in February, Discover Pique e-mails members three to five hosiery options in a virtual showroom every month. What you see (and get) depends on which of the two plans you sign up for: the Luxe option (three months $75, six $125, 12 months $250) entitles you to one pair of tights, socks or leggings, while the plus-size and tall-girl–friendly Deluxe version (three months $144, six months $240, 12 months $480) also offers thigh highs, stockings and garter belts, and allows you to select either two Luxe items or one Deluxe product. Although returns aren't accepted, snag-prone nylon-wearers will be happy to hear that you can stock up on favorite pairs in the online shop.
For the Makers (forthemakers.com)
The popularity of Etsy and Pinterest has made crafting mainstream-cool, and this year-old Dumbo company caters to those who have caught the DIY bug. Each month, you'll receive a themed box (September's topic was "academia") containing enough materials for four beginner-friendly projects, plus step-by-step instructions and where to find images online. The crafts feature notions that founders and jewelry designers Janet Crowther and Katie Covington source from the small wholesalers and suppliers they discovered while consulting for Kate Spade, Anthropologie and Marc Jacobs. Not only does each project take less than 30 minutes, but the end products are stuff you'd actually wear: October's delivery yielded a hematite fishtail-chain bracelet, a pair of hoop earrings strung with rutilated quartz and pyrite beads, a crystal-and-pearl-embellished hair comb and wood-block stamps for sprucing up glassine envelopes. We especially love how flexible the subscription is—you can sign up for any number of months up to a year for $29 per month—and shipping is always free.
WIN IT! Enter to win a three-month subscription (worth $87) at timeout.com/newyork/WinGifts
Loot Crate (lootcrate.com)
Perfect for the college student or Comic Con attendee in your life, this recently launched subscription service (three months $55, six months $106) delivers a box of six to eight gaming-related trial and full-size goodies—ranging from apparel and figurines to snacks and posters—to its geeky members each month. Los Angeles entrepreneurs Christopher Davis and Matthew Arevalo (who also run energy snack brand Gamer Food and digital strategy firm Relentus, respectively) debuted Loot Crate in August. The inaugural box included a travel-size bottle of Avengers cologne, packs of PWN and Jolt Energy gum, a mini Domo figurine, a $20 gift certificate for miniature-bust retailer Gentle Giant Ltd and Turkey Perky Jerky guarana-infused jerky, while subsequent mailings have incorporated military-style dog tags.
OliveBox (myolivebox.com)
Inspired by the thrill she'd get from receiving a handwritten letter or package in the mail, Grace Kang launched this monthly subscription service for paper goods in September. A former buyer for Bloomingdale's and Barneys New York, Kang uses her seasoned eye to scour the market for artisan stationery, artwork, books and home decor from indie brands such as Rifle Paper Co., Knot and Bow, and Saipua. Once a month, subscribers—who can sign up for one ($33), three ($99), six ($150) or twelve months ($295)—receive a themed box filled with three to four of her latest findings. October's mailing was about celebrating the individual, and included Chronicle Books's My Beautiful Life sketchbook journal, a Parrott Design Studio letterpress card featuring the phrase Hooray For You, a packet of hand-cut confetti from the Great Lakes Goods and a sticker declaring You Are Loved. Since Kang also owns NYC gift boutique Pink Olive (pinkolive.com), all of the featured items are also available for purchase on the store's website.
Spicy Subscriptions (spicysubscriptions.com)
Founders Aditya Singh and Bryden Ferrato, who both have backgrounds in the health care industry, launched this erotic-goods service out of their Times Square office in July, offering two levels of membership: the Premium package ($25 per month) gets you a toy, four to eight trial products and one full-size item each month, while the Deluxe option ($35 per month) entitles you to the same, plus a sexy accessory. Both choices are available for four months or one year and include special themed boxes containing a bonus full-size product (for Christmas, Halloween, Valentine's Day and during the summer). Spicy Subscriptions stocks its boxes with goods from more than 15 lesser-known brands, including Glyde vegan condoms and Evolved Novelties vibrators. The October delivery was stuffed with sample packets of System JO and Pink lubricants, a full-size Pocket Boyfriend mobile massager, Swipes biodegradable, cucumber-scented wipes and a full-size Dona soy massage candle. Use code "TIMEOUTNYC" to receive a 10 percent discount on four-month subscriptions and a 7 percent discount plus your first box free on annual subscriptions.
Stunner of the Month (stunnerofthemonth.com)
Everyone knows at least one hapless soul who's constantly breaking or losing their sunglasses; this monthly subscription service was practically made for them. For just $9 per month (shipping included), members get a mystery pair of funky, non-branded shades made from metal, plastic or, occasionally, wood. Founded in 2009 by friends Todd Smith, Alex Drossler, Ari Heavner and Ryan Drake-Lee, the California company is named after the slang term Bay Area rappers use to describe oversized eyewear. Depending on how frequently your recipient cycles through sunnies, you can enroll the giftee for a three- ($27), six- ($45) or 12-month ($90) subscription and specify that the spectacles be designed for males, females or unisex (although that's where your quality control ends—50 different styles are mailed out in any given month). If you're not satisfied with a particular pair, Stunner of the Month will send you a replacement for free.
The Tie Bar Tie of the Month Club (thetiebar.com)
Husband-and-wife team Greg and Gina Shugar give a staple gift a much-needed upgrade with their Chicago company's monthly tie subscription. The former lawyers launched the service with their neckwear e-commerce business in 2004, delivering one ($199, extra length $259) or two ($369, extra length $489) of their house-line ties each month for a year. If you know your recipient's fashion sense to a tee, you can specify that he receive styles in one of three categories: traditional (lots of stripes, plaids and solids), trendy (skinny cuts in wool and cotton) or a happy medium called "trenditional." You can also sign up for the Best of the Tie Bar, a grab bag of the site's most popular items. For truly dapper dudes, there's even a bowtie-of-the-month option, offering pretied or unraveled versions of the accessory for the same price.
WIN IT! Enter to win a one-year regular membership (worth $199) at timeout.com/newyork/WinGifts