Heads up! We're working hard to be accurate – but these are unusual times, so please always check before heading out.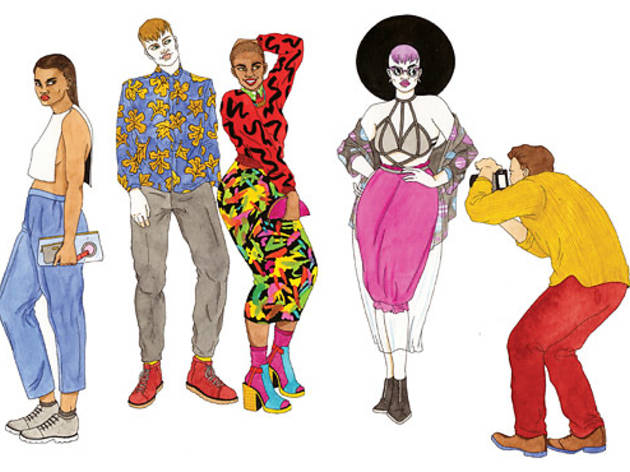 How to make a splash at New York Fashion Week
Who needs a ticket to the runway shows? The real catwalk is on the street—here's how to get noticed.
As New York Fashion Week descends on the city, so will a sea of posh editors, bloggers, stylists and models. The good news: Even if you're not one of the aforementioned, you can still experience the thrill of posing in front of a street-style photog's lens. Shutterbugs abound before and after shows at Lincoln Center and Milk Studios and often hang outside Fashion Week haunts like Chelsea Market and the Dream Downtown hotel. Think your style is worthy of being documented? Study these pointers and get ready for your close-up.


RECOMMENDED: See the full guide to New York Fashion Week
Exude confidence
"Whether your style is minimal or maximal, colorful or monochromatic, rustic or urbane, if I think it'll photograph well, I'm going to approach you. And if I do, don't be afraid to peacock the heck out of that outfit! For me, confidence is probably the biggest determining factor for what makes an interesting street-style photograph."
—Francisco Marin, fashion photographer (franciscomarinphotography.com)

Wear a bold shoe
"A statement shoe is an eye-catching trend everyone can partake in. Consider biker boots with cutouts or menswear-inspired loafers."
—Wayman Bannerman and Micah McDonald, stylist duo (waymanandmicah.com)

Don't overdo it
"It's Fashion Week, not a costume party. As [GQ senior digital editor] John Jannuzzi and [men's fashion blogger] Mister Mort would say, don't be a season pusher; save your fur for the next polar vortex, and instead incorporate summer staples with your latest fall favorites."
—Cannon Tekstar Hodge, director of social media at Spring (shopspring.com)

Own the sidewalk
"Cape your coat over your shoulders, and shield your face with your sunnies; hold your head up high as you briskly walk through the plaza of Lincoln Center. That I'm too cool incognito vibe always tricks photographers into thinking you're actually someone worthy of snapping."
—Kéla Walker, TV host and blogger (kelaskloset.com)

Be yourself
"If quirky and whimsical isn't in your personality, bright, statement pieces might seem forced even to those who don't know you. If The Preppy Handbook defines your life, appropriating a hip-hop look for irony might not be a great idea."
—Phil Oh, photographer (streetpeeper.com)

Have fun with your look
"Don't be afraid to step outside the box. Fashion Week is the best when people are creative and wear things that are daring and bold. Wear red or any other color you don't usually wear to help you stand out!"
—Rachel-Marie Iwanyszyn, blogger (jaglever.com)