New York Fashion Week 2018 guide
Feel like a fashion insider with our guide on how to enjoy the perks of fashion week 2018—NYC is bursting with style
Get camera-ready for Fashion Week 2018. NYC will be filled with a stampede of posh editors, bloggers, stylists and shutterbugs. (They will be invading your favorite coffee shops and cafes. You've been warned). Tickets to some of the major runway shows aren't available to the general public, but newsflash: you don't have to be part of the elite fashion world to feel like an insider. Maybe you don't have a front-row seat to the shows or a spot reserved next to Anna Wintour, but don't fret—we've got you covered. From free New York Fashion Week events you can actually attend to major exhibitions like Refinery29's 29Rooms, we'll make sure to keep you in the loop. Make sure to book an appointment at one of the best hair salons NYC has to offer and hit the best places to go shopping to plan out your most stylish outfits for the week. You never know who might be taking your picture!
RECOMMENDED: Full guide for things to do in summer
When is New York Fashion Week 2018?
New York Fashion Week runs from Thursday, September 6 to Friday, September 14, 2018.
Where is New York Fashion Week 2018?
Fashion Week shows take place all over the city. In recent years, core presentations take place at Spring Studios (6 St Johns Ln) with some shows at Industria (various locations in the city).
How do I get tickets to New York Fashion Week 2018?
NYFW includes two types of shows: Industry and open-to-the-public shows. Unless you're a buyer or work in press, it is unlikely that you'll be able to snag a seat to the heavy hitters. However, you can nab tickets to the public shows here.
New York Fashion Week 2018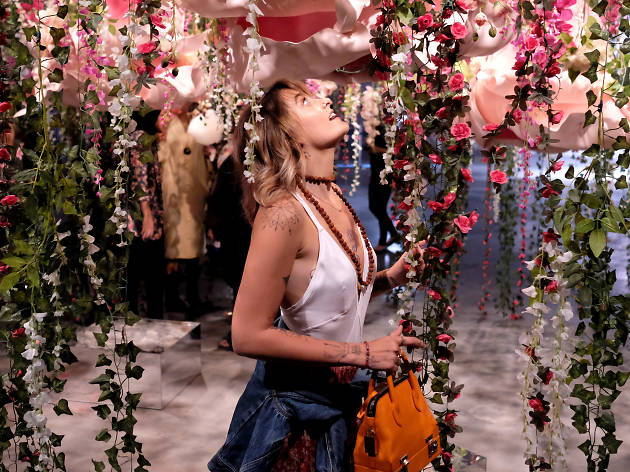 29Rooms guide
Get excited for the coolest event during Fashion Week 2018. NYC is the original host to 29Rooms—Refinery29's stellar and interactive exhibition featuring 29 rooms designed by retail brands, artists, celebrities and other creatives. Located inside an abandoned building somewhere in New York, the annual event will definitely be one of the most Instagrammed New York attractions of the year. For more information on this immersive funhouse, we've provided all the essential details including how to snag tickets below. When you visit, make sure to linger in the nabe and discover all the incredible things to do in Brooklyn as well.
Archive New York Fashion Week content