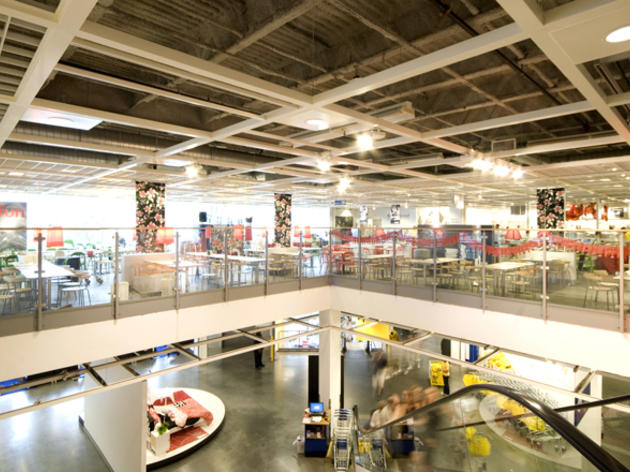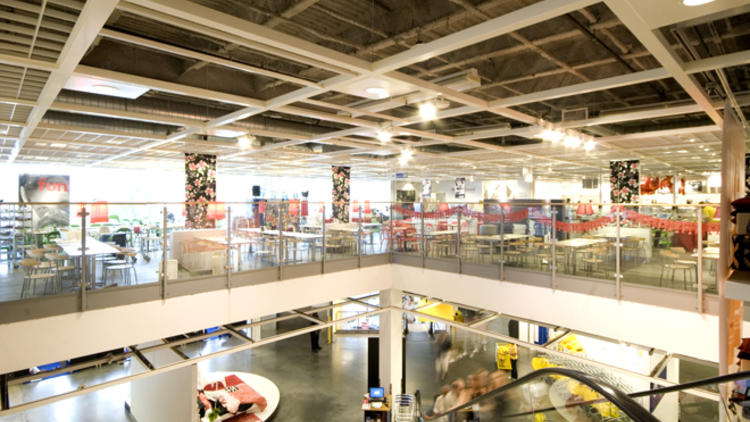 We don't need to tell you why moms and dads love Ikea. The Swedish purveyor of pleasingly cheap, unprecious style has the assemble-it-yourself set wrapped up. What we will say is: Head in for a look at the latest. The fresh Stuva storage system, a modular array of bookcases, drawer units, tallboys and toy boxes, features five door colors (including a springy celadon). We're also keen on the recently released Blames high chair—an insta-classic in black with a bright-white tray.
Venue name:
Ikea Brooklyn
Contact:
Address:
1 Beard St
Brooklyn


Cross street:
at Otsego St
Opening hours:
Daily 10am–9pm
Transport:
Subway: F, G to Smith–9th Sts
Do you own this business?
Average User Rating
2.5 / 5
Rating Breakdown
5 star:

0

4 star:

0

3 star:

1

2 star:

1

1 star:

0
Do NOT come here on a weekend, and if you do, get there at the crack of dawn. This place turns into a madhouse. That being said, it's still Ikea, and Ikea is great. I got quite a few pieces for my apartment here. Recommendation: come with friends and a van like I did because it's going to be impossible to find anyone on staff to help you.

Ladies and gentlemen, I present the Ikea conundrum: Do I brave the hellish long lines and labyrinth-like layout to get that cheap yet stylish lamp, a fake tree, mirror and sofa for less than a month's rent or do I stay home and sip hot tea while sitting on the cardboard boxes leftover from my recent move?
While this might be a bit over the top, I often find myself examining the cost/benefit of a trip to the balls-to-the-wall crazy instruction booklet drawings capitol of the world (or at least their Brooklyn outpost). Owning a car certainly helps; there's plenty of parking and you can wheel your pallet of particle board straight to your car. But sometimes all of the Swedish Meatballs (now available in chicken and veggie options) and Lingonberry Jam in the world is not enough to get your butt on any form of transportation and into the ready-to-assemble furniture mecca.
Yay Ikea!
Some of the cheapest, non-off-the-street furniture around
Boo Ikea!
The most noticeably cheap furniture, easily recognized as coming from Ikea

Yay Ikea!

Delicious and super cheap food court
Boo Ikea!
Mystery meat-meat balls and long lines at the cafeteria
Yay Ikea!

Clean, well lit, well organized store layout
Boo Ikea!

Too much store, too much store!!!

Yay Ikea!

Simple product lines and color choices
Boo Ikea!

Confusing product names that require sounds your throat doesn't normally make

Yay Ikea!

Great little chachkies for around the house
Boo Ikea!

More little chachkies to clutter your house

Yay Ikea!

Comfy beds at great prices
Boo Ikea!

Non-standard mattress/frame sizes (silly Sweden!)

Yay Ikea!

Great exercise walking the multi-acre store

Boo Ikea!

Get ready for foot cramps and blisters

Yay Ikea!

This worked for me in college so why ditch a good thing?
Boo Ikea!

This was great in college but I'm an adult now.
Yay Ikea!

I can save so much money while furnishing an entire apartment!
Boo Ikea!

I like being broke after spending tons of money on furniture!

Yay Ikea!

Can drop the kids at the play place
Boo Ikea!
I love my kids and never want to be apart. Ever!

Yay Ikea!
Assembling furniture is a fun, relationship building activity
Boo Ikea!
Ikea furniture is why I'm twice divorced!
You can go back and forth in your head like this for hours but at least once or twice a year you will find yourself pushing a cart (with wacky wheels that, both front and back, roll every which way) through isles of vaguely numbered cardboard boxes and waiting on line for over an hour. It is only inevitable that the wave of pro Ikea thoughts will splash over the side of your sailboat of home decor and lead you to the promised land.
Don't fight it. It will only hurt that much more.