Most stylish New Yorkers 2013: Andrew Clancey
The British stylist and store owner has an affinity for English designers, dapper dressing and his Boston terrier named Monkey.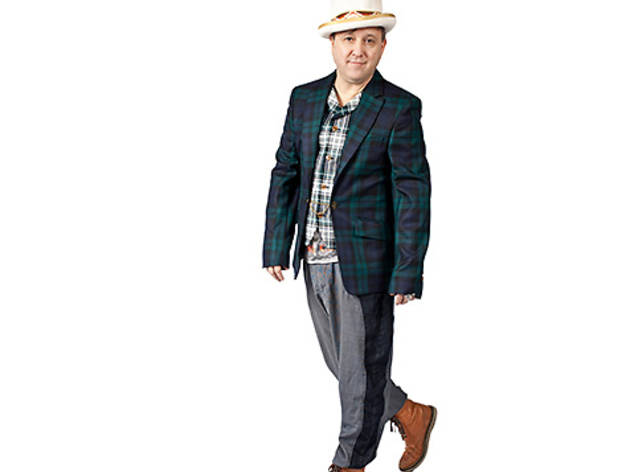 1/15
Photograph: Noffar Gat
The dapper stylist shows his love for Vivienne Westwood (viviennewestwood.co.uk) by donning an almost head-to-toe look by the quirky designer, including his plaid jacket and waistcoat and denim-and-cotton, harem-style pants.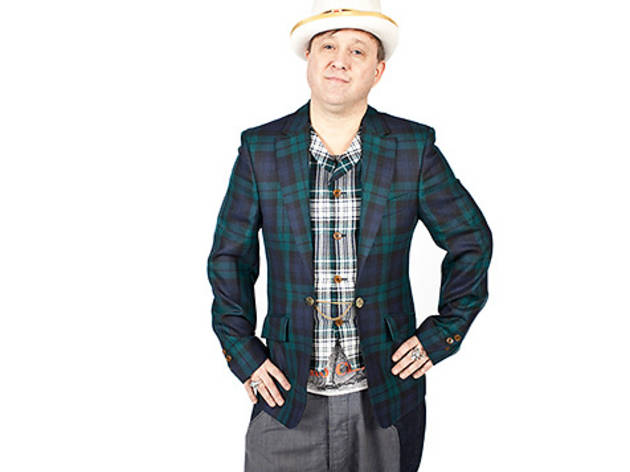 2/15
Photograph: Noffar Gat
"I like the shape and color of this hat," Clancey says of the A Child of the Jago (achildofthejago.com) design. "It's like a bowler hat with a twist." He wears a graphic tee by the same brand under his jacket.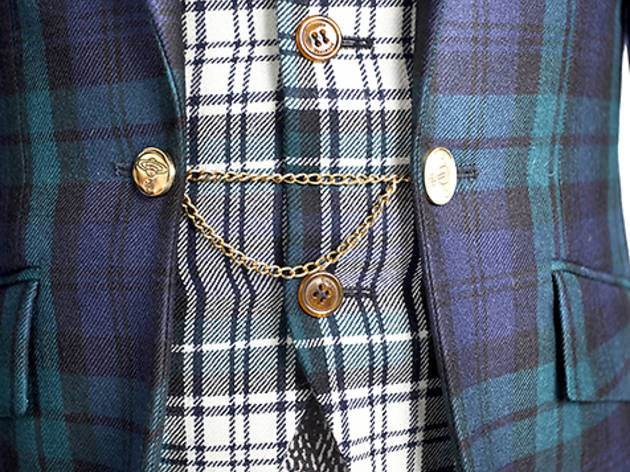 3/15
Photograph: Noffar Gat
"I always look for unusual fabrics and cuts, nothing simple. It has to have a twist," says Clancey, referring to the details on his Vivienne Westwood jacket.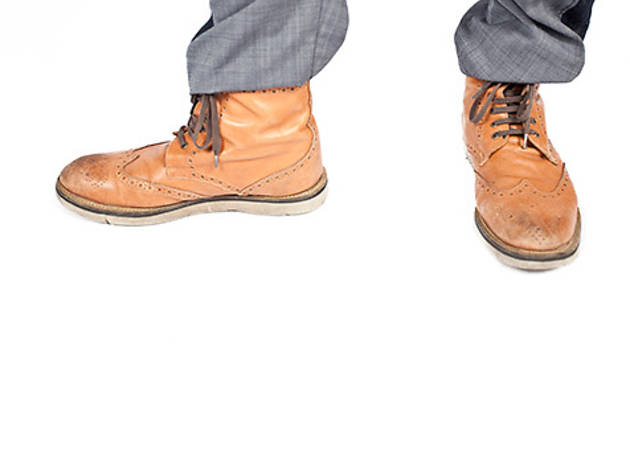 4/15
Photograph: Noffar Gat
"New York winters are harsh on footwear, so I prefer the slightly worn look with my day-to-day clothes," says Clancey. He splurged on these Church's shoes (church-footwear.com) at the brand's London flagship store.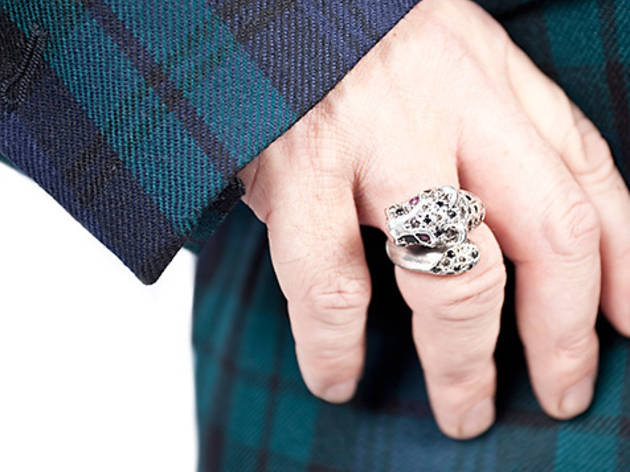 5/15
Photograph: Noffar Gat
"I bought this silver-and-ruby panther ring in Bangkok 15 years ago and it's never left my hand; in fact, I can't get it off now," admits Clancey. "It still looks the same as the day I bought it."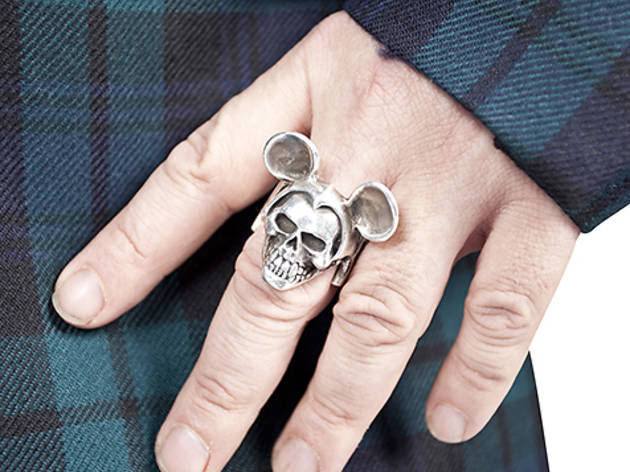 6/15
Photograph: Noffar Gat
Clancey bought this Mickey Mouse skull ring from the Great Frog. "I'm going to Disney World soon; let's see how that works out," he jokes.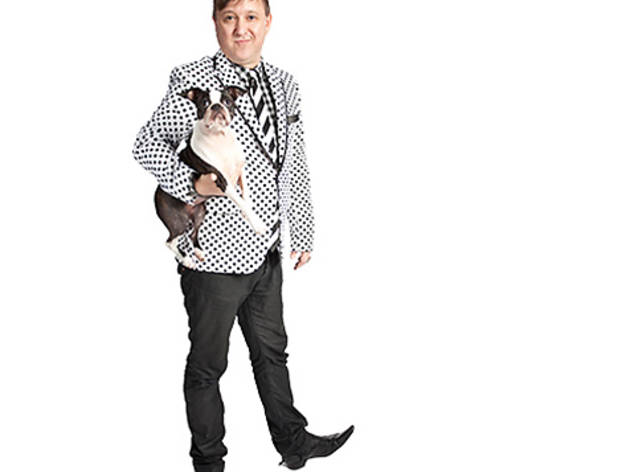 7/15
Photograph: Noffar Gat
The British designer incorporates his love of all things dandy into his everyday ensembles. Here he sports a polka-dot blazer by J. Cheikh (jcheikh.com), a new NYC brand available at Any Old Iron. "They have cool tailoring at a good price," says Clancey.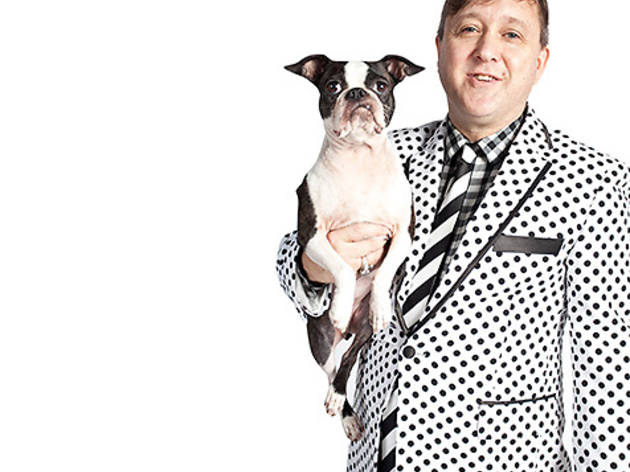 8/15
Photograph: Noffar Gat
"The dog is Monkey and she's part of the fixtures and fittings [at Any Old Iron]," Clancey says of his Boston terrier. "If I'm here, she is. She has her own set of visitors, none of whom know my name! In the summer, she sits in the sun and is the most photographed thing in the Lower East Side after Katz's Deli. She once ran away to Chinatown for five days. I'm still waiting for the Hangover-style photos to appear."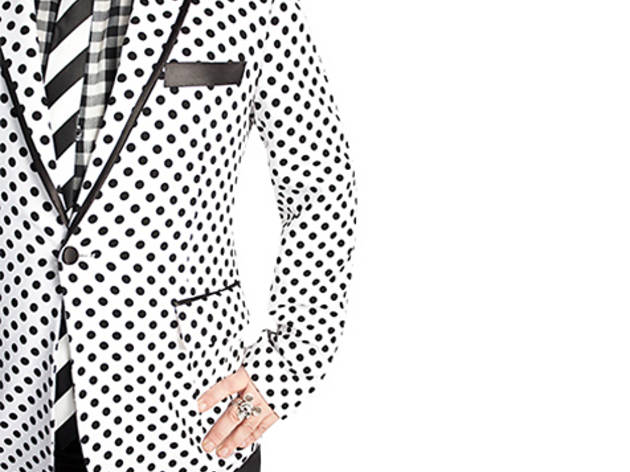 9/15
Photograph: Noffar Gat
"I like mixing prints and patterns," enthuses Clancey. "I always start with what I think in my head is the worst combination, and it's normally that one that works." He effortlessly pairs a striped tie purchased on a trip to Thailand with a gingham Topman shirt (478 Broadway between Broome and Grand Sts; 212-966-9555, topman.com).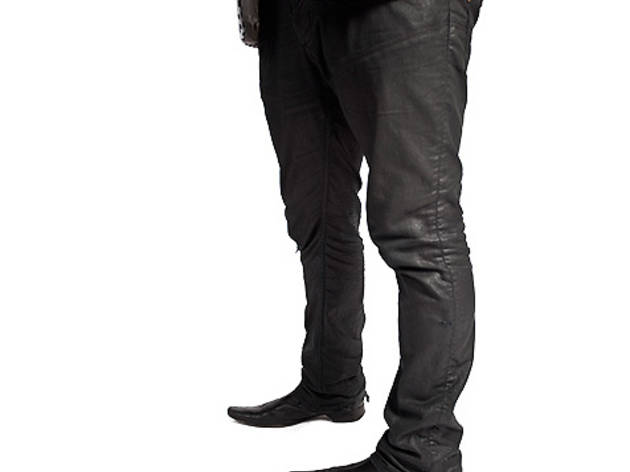 10/15
Photograph: Noffar Gat
"I like jeans that have a wax-treated finish so they appear to be leather, but they're not," says Clancey. He pairs this Helmut Lang (helmutlang.com) pair, purchased in London at Harvey Nichols (harveynichols.com), with a pair of sleek Jeffrey-West (jeffery-west.us) shoes.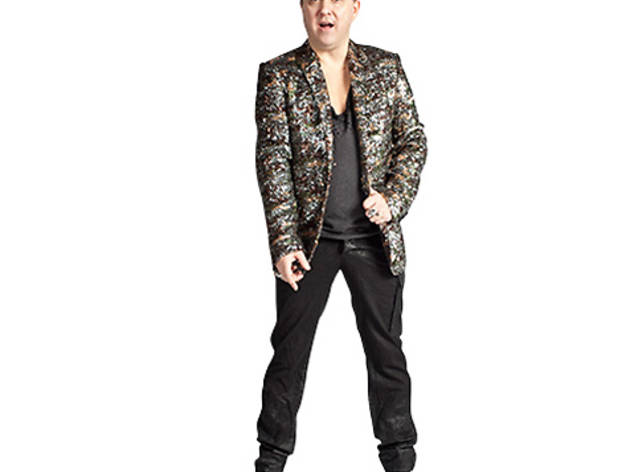 11/15
Photograph: Noffar Gat
"This is my 'I'm closing the store for the night and off on the town to cause some trouble' look," explains Clancey. He dazzles in an Unconditional (unconditional.uk.com) jacket from his store. "I love the fact [that] it's camouflage sequins, a total juxtaposition," he says. "Not sure I would last long in the army with this on."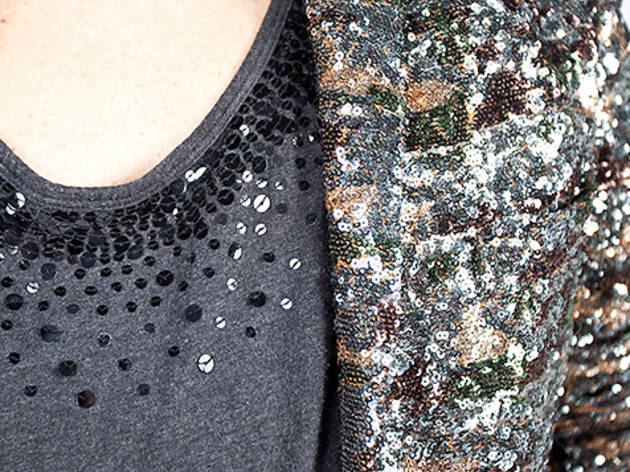 12/15
Photograph: Noffar Gat
Clancey doubles up on shimmer by layering an Unconditional tank top under his sparkling jacket. "Sequins for men should be compulsory," he says. "If I can get a bit of sequins into my outfit, I'll do it."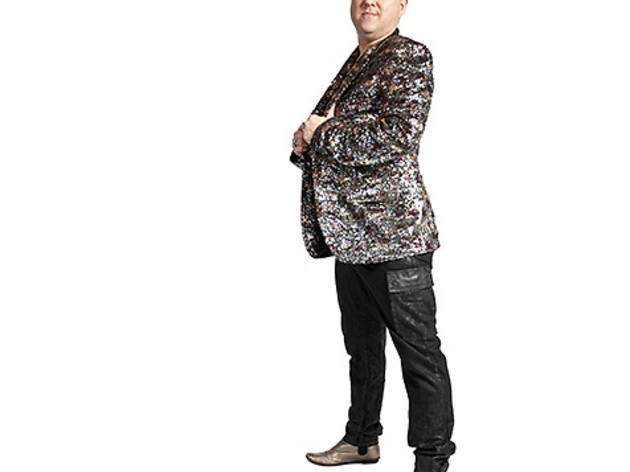 13/15
Photograph: Noffar Gat
A cargo pocket adds interest to Clancey's jet-black Bolongaro Trevor (bolongarotrevor.com) pants. They were a gift from the brand's designers, Stuart Trevor and Kait Bolongaro, who were the original owners and designers of AllSaints (us.allsaints.com).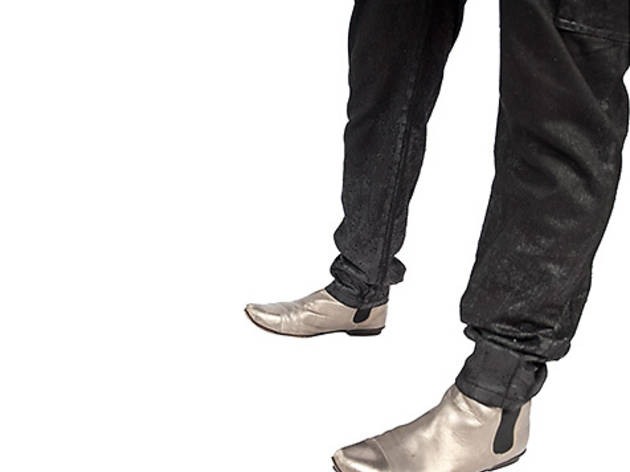 14/15
Photograph: Noffar Gat
A pair of B Store (bstorelondon.com) metallic gunmetal Chelsea boots that Clancey bought in London round out the ensemble. "I like the finish on these, and they're pretty hard to scuff up, which is a bonus," he notes.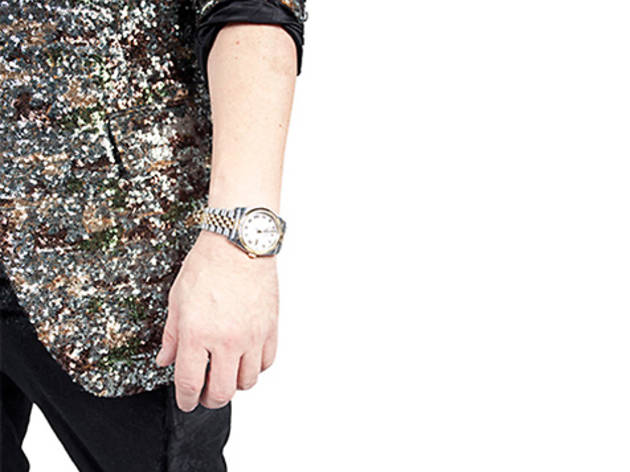 15/15
Photograph: Noffar Gat
"I used to wear a lot of fashion watches, but I like to keep it classic now that I'm just out of my teens," jokes Clancey. This statement Rolex (rolex.com) timepiece was a birthday gift from his father.
Any Old Iron
store owner Andrew Clancey proves he is one of the most stylish New Yorkers by modeling his unconventional ensembles. He's a master at mixing prints and favors sequins over subtle details. He turns to fashion designers such as Vivienne Westwood and local stores
Pilgrim
and
The Great Frog
to put together his creative outfits.
RECOMMENDED: Most stylish New Yorkers
Andrew Clancey
, " '60s child," Lower East Side; owner of
Any Old Iron
(149 Orchard St between Rivington and Stanton Sts; 212-254-4404, anyoldiron.net)
His personal style:
"A twisted, eccentric English gent."

His style inspirations:
"I've always been inspired by the music scene, be it mod, New Romantic or hip-hop, but punk influenced me the most."
About his store:
"We predominantly sell English [menswear] brands and are definitely more rock & roll than anything else. We stock about 25 different labels, including Vivienne Westwood, Unconditional, Sons of Heroes, Horace, Red Mutha and Mike Ruiz, as well as items designed by graduates from FIT and Parsons. We're also working on our own line."
Favorite stores:
"I love the
Great Frog's
(72 Orchard St between Broome and Grand Sts; 646-370-5727, thegreatfroglondon.com)
jewelry, and of course, they're British! I get comments whenever I wear their pieces.
Pilgrim
(70 Orchard St between Broome and Grand Sts, 212-463-7720)
, in my opinion, has the best curated vintage jewelry in the city, and their clothing line is sweet too. Spooky Boutique in the
Artists & Fleas market
(70 North 7th St between Kent and Wythe Aves, Williamsburg, Brooklyn; 347-307-5510, artistsandfleas.com)
has great vintage finds and the owner, Ricky Becker, really knows his stuff. I just love the anarchy of [clothing store] Search & Destroy
(25 St. Marks Pl between Second and Third Aves; 212-358-1120)
, but can only stand three minutes in there at a time. I keep going back, though!"

Style motto:
"Never buy clothes on-trend; buy pieces that are of a good quality that you love, and they'll always stand the test of time. I'm still wearing items I bought 20 years ago."
Favorite NYC designers:
"I like Michael Calloway's [men's and women's clothing] and his
(michaelcalloway.info)
use of different fabrics. I feel like he's somewhere in the middle of Issey Miyake and Vivienne Westwood, a nice place to be. Tobell von Cartier
(von-nyc.com)
makes corsets that are little works of art. They are very over-the-top—you definitely have to be confident to wear one. Deryck Todd
(derycktodd.com)
makes great baseball caps and bags. He's been featured in Vogue, which is a great accomplishment for a new designer."
His New York style icon:
"I love the kooky look of Diana Vreeland, Zandra Rhodes and Vivienne Westwood. My ultimate style icon is Iris Apfel; what an amazing woman, still turning it out until her last breath."
How his style has evolved:
"It's quieted down a lot since the days I used to do the door at a club in Leeds [in the U.K.] called Speedqueen. I'll still pull out those sequined jumpsuits, but not as often as I would like. New York needs some more places to dress up."
Favorite salon:
"I go to
Pimps & Pinups
(101 Stanton St at Ludlow St; 646-861-3766, pimpsandpinups.com)
and use hairdresser Paul Grice. Paul is from my neck of the woods, from the Downton Abbey area of Yorkshire, and used to shear sheep; now he's cutting hair in New York. How things change!"
Favorite spa:
"
Kiehl's Spa
(157 E 64th St at Lexington Ave; 917-432-2503, kiehls.com)
—there's only one in the world; it's a proper treat."
Follow Rachel LeWinter on Twitter:
@Rachel_LeWinter