Most stylish New Yorkers 2013: Bertrand Thomas
Caudalie cofounder Bertrand Thomas relies on interesting scarves and Parisian-boutique finds to create his très chic look.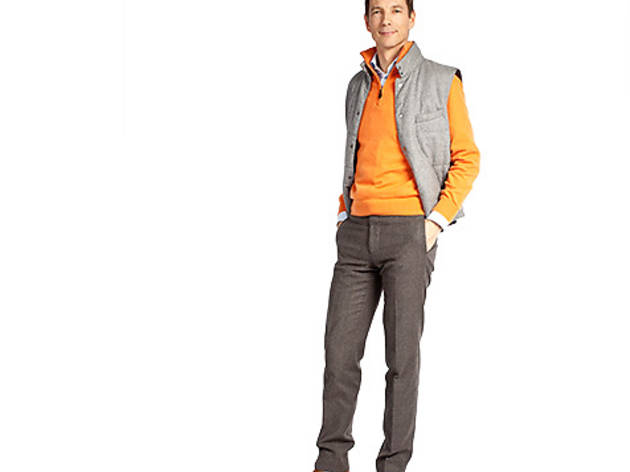 1/11
Photograph: Noffar Gat
"A friend of mine owns this little independent store near La Madelaine," says Thomas of Willman, the Parisian boutique where he purchased his button-up shirt and vest. "It's one of my best secrets." He adds a bright Hermès (691 Madison Ave at 62nd St, 212-751-3181 • 15 Broad St at Exchange Pl, 212-785-3030 • 690 Madison Ave at 62nd St, 212-308-3585 • hermes.com) sweater and wool pants from Bergdorf Goodman Men (745 Fifth Ave at 58th St; 212-753-7300, bergdorfgoodman.com) for a polished yet casual look. "I spend my life on planes, and this outfit is extremely comfortable for travel," he notes. "If I have an important meeting when I arrive, I can easily upgrade it with a jacket."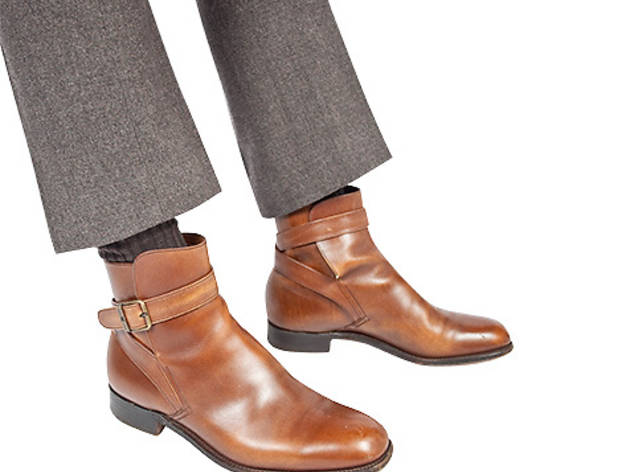 2/11
Photograph: Noffar Gat
Thomas considers these J.M. Weston buckle-adorned boots a staple for French guys. "Most [men] buy them in their twenties, but I was a little late—I waited until I was 30 before I bought my first pair," he admits.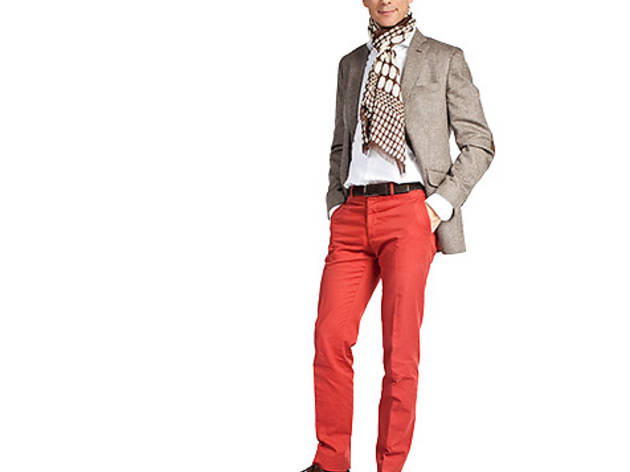 3/11
Photograph: Noffar Gat
"I always get compliments when I wear these pants," says Thomas of his bold Hermès trousers. "Although they are cotton, I wear them all year long. They are my best investment so far." He wears his prized pants with another jacket and shirt from Willman.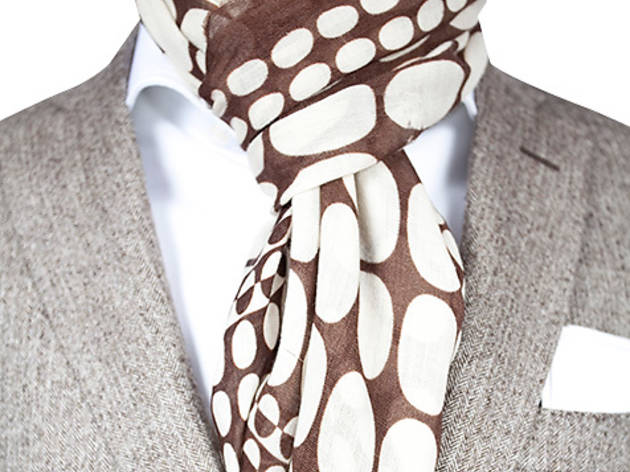 4/11
Photograph: Noffar Gat
Thomas favors the scarves from Parisian brand Victoire Homme (victoire-paris.com). "I love this one in particular because it adds modern style to a classic wool jacket," he says.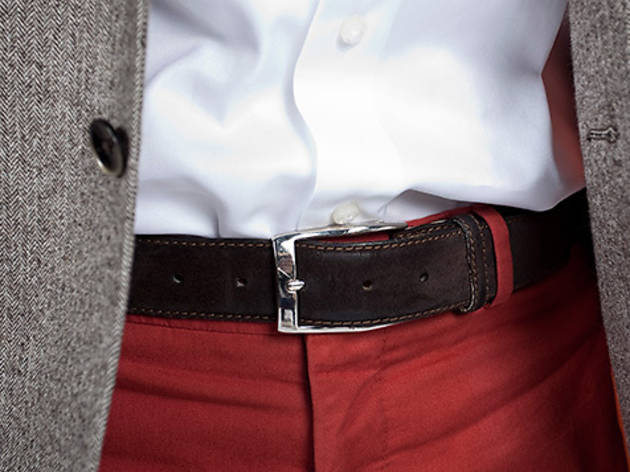 5/11
Photograph: Noffar Gat
"A belt is an important detail," insists Thomas of his Willman waist-cincher. "If it's the wrong color or fabric, your entire outfit looks bad. This one is a classic."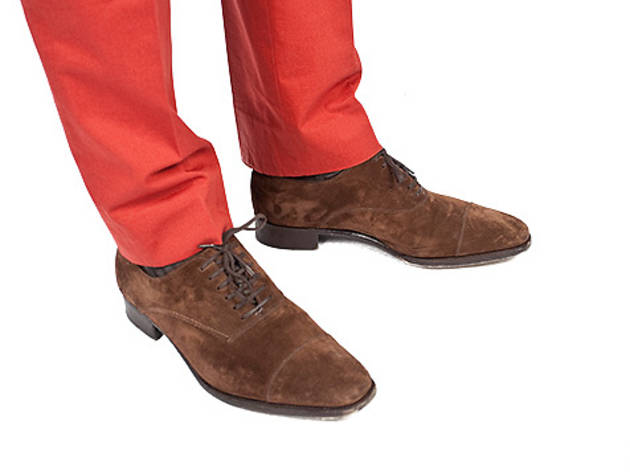 6/11
Photograph: Noffar Gat
Thomas often travels in these suede lace-ups from John Lobb (800 Madison Ave between 67th and 68th Sts; 212-888-9797, johnlobb.com), favoring them because they're "comfortable and chic."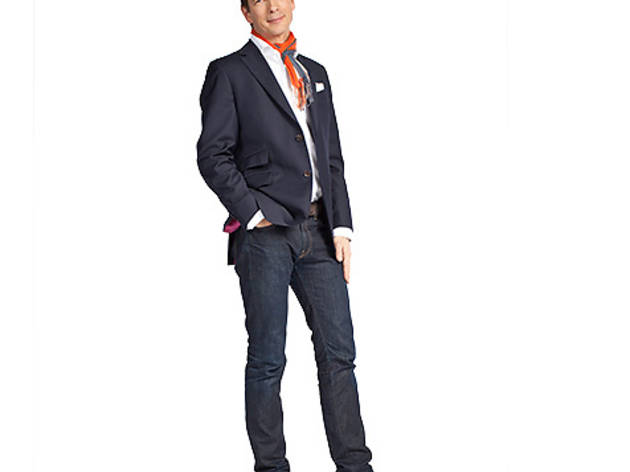 7/11
Photograph: Noffar Gat
"Jeans and a blazer equals a four-wheel-drive outfit for the New York meetings-and-cocktails marathon," says Thomas of his versatile, urban ensemble, featuring Rag & Bone jeans and a Willman button-up shirt.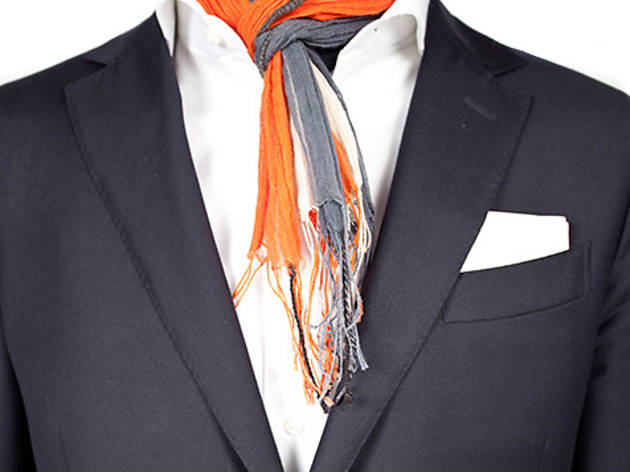 8/11
Photograph: Noffar Gat
This tricolor fringed scarf was a gift from Thomas's wife (and Caudalie cofounder), Mathilde. "She bought it for me in Amsterdam and I can't live without it," he says.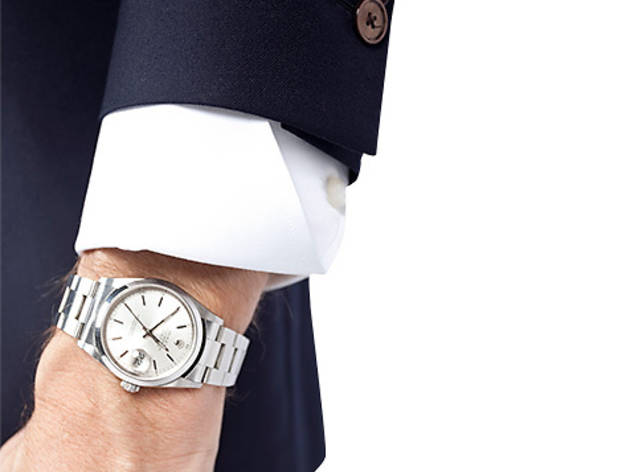 9/11
Photograph: Noffar Gat
Ever the thoughtful spouse, Mathilde also gifted Thomas this Rolex (rolex.com) Oyster Perpetual watch.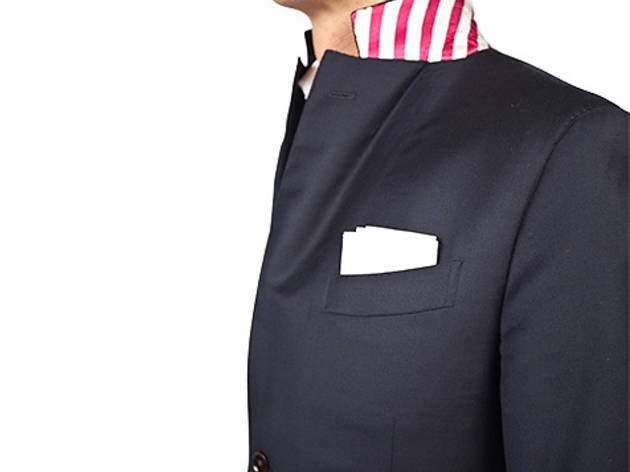 10/11
Photograph: Noffar Gat
"Every jacket should have a double personality," advises Thomas, who pops the collar on his Willman blazer to reveal a vibrant striped lining. "Go to a formal dinner at Daniel, and then open your collar when you arrive at the Boom Boom Room for your party." He added a handkerchief from Barneys New York to the pocket for a dash of pizzazz.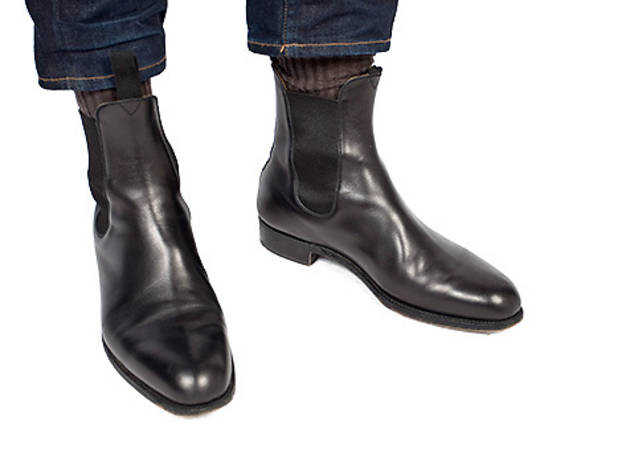 11/11
Photograph: Noffar Gat
Another pair of J.M. Weston boots provides a finishing touch.
Caudalie
cofounder and one of our most stylish New Yorkers Bertrand Thomas loves infusing color into his classic looks, often through men's accessories such as scarves and handkerchiefs. He shops at
Rag & Bone
,
John Varvatos
and
J.Crew
for his polished threads, and has a soft spot for J.M. Weston boots.
RECOMMENDED: Most stylish New Yorkers
Bertrand Thomas
, 42, Upper East Side; cofounder of
Caudalie
(315 Bleecker St at Grove St; 212-308-3552, us.caudalie.com)

His personal style:
"French casual chic."
His inspiration:
"Nothing in particular. I adapt my style to my agenda and I love to add colors to classic outfits, although it can be very risky. For example, I love red but very rarely wear it during a workday. You have Hermès red and Santa Claus red—they're both reds, but they're certainly not the same color!"
About his store:
"The Caudalie boutique exclusively sells Caudalie skin-care and cosmetic products. It's a unique beauty experience that tells the story of our brand through the design of the space, including video feed of the [company's] vineyard and images of our process. The Beauty Barrel Bar is the centerpiece of the store and it serves three purposes: One side is used to experience all of the products through testers, while the opposite side is where customers are seated and able to experience our [free] ten-minute Instant Beauty facial. The final purpose is to serve our organic herbal tea, grape juice and, for unique occasions, tastings of our family wine."
Favorite stores:
"The
J.Crew Liquor Store
(235 West Broadway at White St; 212-226-5476, jcrew.com)
has a unique New York vibe. I've purchased T-shirts, sweaters and, most recently, pajamas there. I like the quality of the handmade shoes at J.M. Weston
(600 Madison Ave between 57th and 58th Sts; 212-535-2100, jmweston.com).
The craftsmanship is impeccable and the style is timeless.
John Varvatos
(122 Spring St at Greene St, 212-965-0700 • 315 Bowery at Bleecker St, 212-358-0315 • johnvarvatos.com)
is my style supplier. The clothes are high-quality and very modern."
Favorite salons:
"
Warren Tricomi
(1 W 58th St between Fifth and Sixth Aves, second floor • 1117 Madison Ave between 83rd and 84th Sts • 212-262-8899, warrentricomi.com)
is the best salon in New York. It has a great ambience and expertise. My hair is dry and straight, so it's impossible to cut. I go to the Plaza Hotel location for Sei Hamada, who's a Japanese [hair] expert. I also like the
Russian & Turkish Baths
(268 E 10th St between First Ave and Ave A; 212-674-9250, russianturkishbaths.com)
, which is a genuine and unique 100-year-old spa."
His style motto:
"Balance classic and modern, formal and casual, and bright and dark colors."
His favorite NYC designers:
"Most of my clothes come from Paris, but I also love [David Neville and Marcus Wainwright of]
Rag & Bone
(locations throughout the city; visit rag-bone.com).
Their jeans fit and look amazing, and if you ask, they will tailor them to your liking, which is precious."
His New York style icon:
"JFK Junior for his iconic and timeless style."
How his style has evolved:
"It has become more and more casual, and more and more comfortable. Kids will do that to you."

How he describes New York style:
"It's modern, creative and free."
Follow Cristina Velocci on Twitter:
@cvelocci