Most stylish New Yorkers 2013: Claire Distenfeld
Fivestory owner Claire Distenfeld gravitates toward lips, chain-link jewelry and artistic prints when creating her high-fashion looks.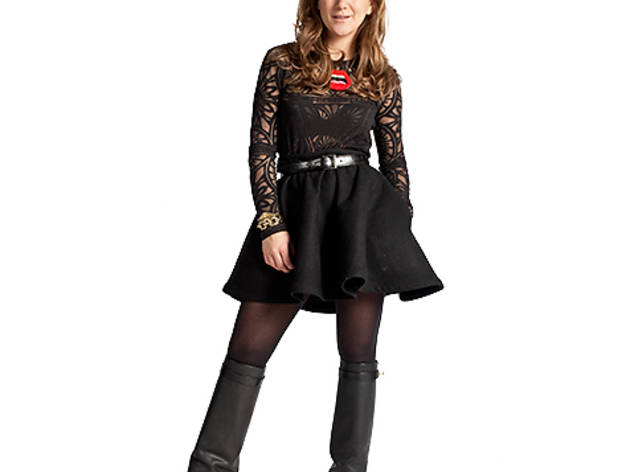 1/11
Photograph: Noffar Gat
"Jonathan Saunders (jonathan-saunders.com) always has a shirt with the most interesting patterns cut into it in every collection," says Distenfeld, who pairs a sheer, laser-cut top from the British designer with a Risto (ristobimbiloski.com) A-line skirt. "It feels tough and sexy at the same time. I like pairing it with a girly, almost ballerina-like skirt to keep it balanced."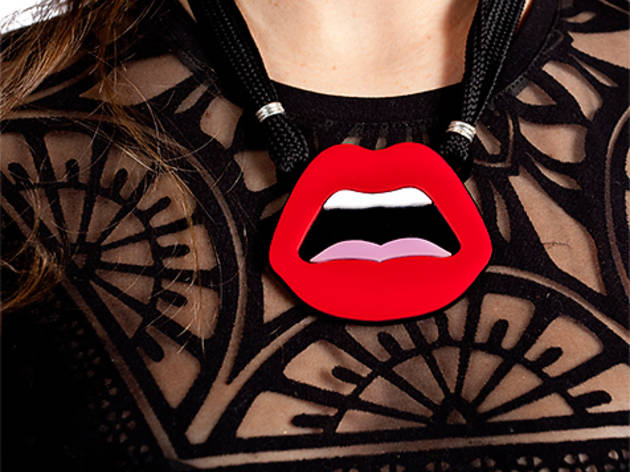 2/11
Photograph: Noffar Gat
Distenfeld lets her jewelry do the talking by wearing a statement-making Yazbukey (yazbukey.com) necklace. "I have a total lip obsession," she admits. "These lips aren't trying to be sexy—they're more in-your-face awesome."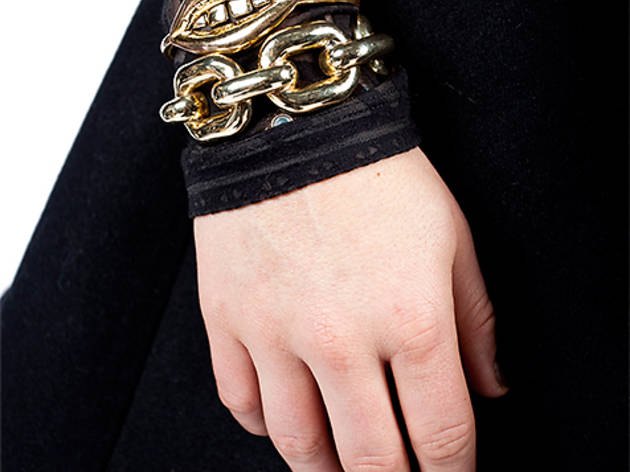 3/11
Photograph: Noffar Gat
French jewelry designer Aurélie Bidermann (aureliebidermann.com) had discontinued this lip-shaped bracelet from her line years ago, but Distenfeld convinced her to re-create it exclusively for Fivestory. It rests above a Jennifer Fisher Jewelry (jenniferfisherjewelry.com) chunky chain-link bracelet.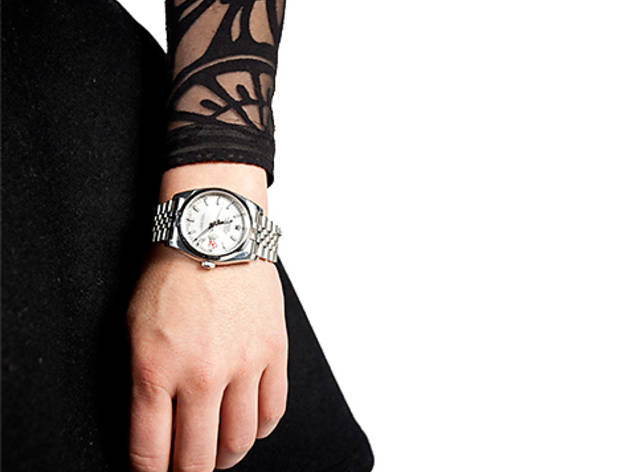 4/11
Photograph: Noffar Gat
This timeless Rolex (rolex.com) watch was a 26th-birthday gift from Distenfeld's parents. "I'm obsessed with being on time, yet I never wore a watch," she explains. "My father has the same one, so it's cute that we have matching [timepieces]."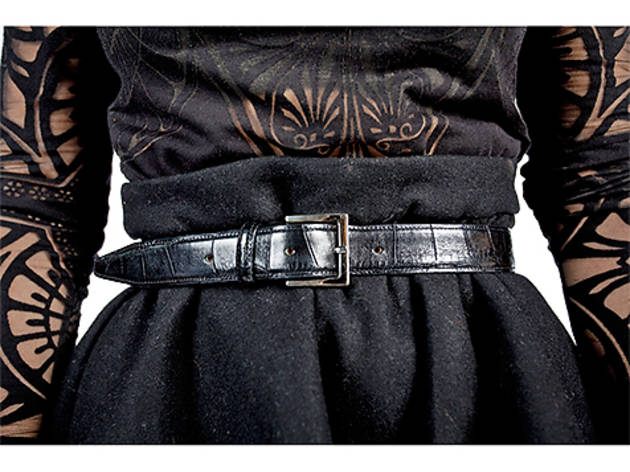 5/11
Photograph: Noffar Gat
An alligator-skin belt that Distenfeld "stole from my dad or mom or someone in my house" defines her waist and adds texture to an all-black look.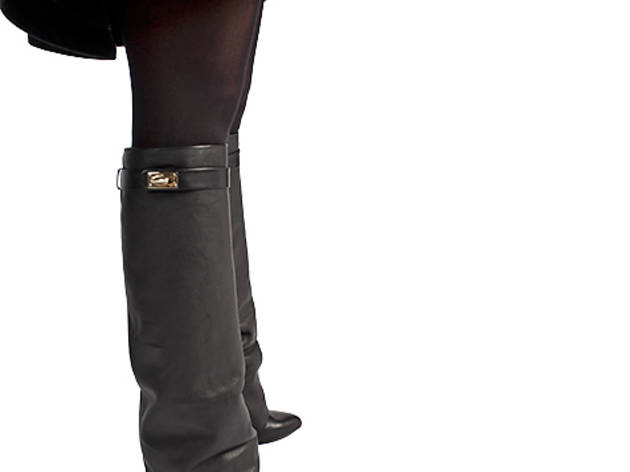 6/11
Photograph: Noffar Gat
Distenfeld had coveted these Givenchy (givenchy.com) fold-over boots for a year but couldn't find them in her size. Luckily, her mother was able to track down a pair for her as a holiday gift. "That's what moms are for—being superhuman and making miracles happen," she jokes.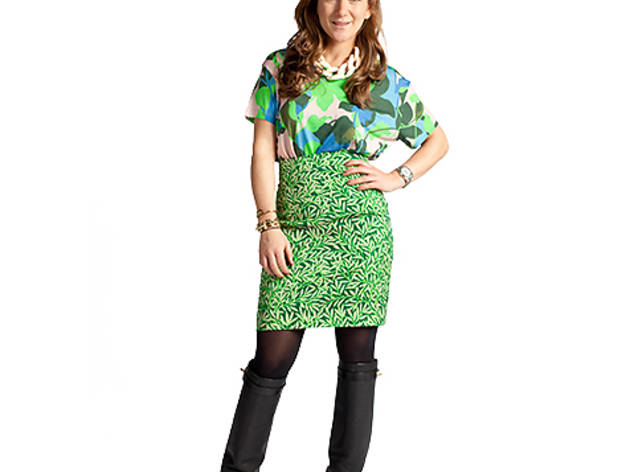 7/11
Photograph: Noffar Gat
"Another love of mine is banana leaves, and this reminded me of them," explains Distenfeld of her Jonathan Saunders high-waisted skirt. She tucks in a similarly hued tee, also by the designer, to ensure its contrasting print doesn't clash.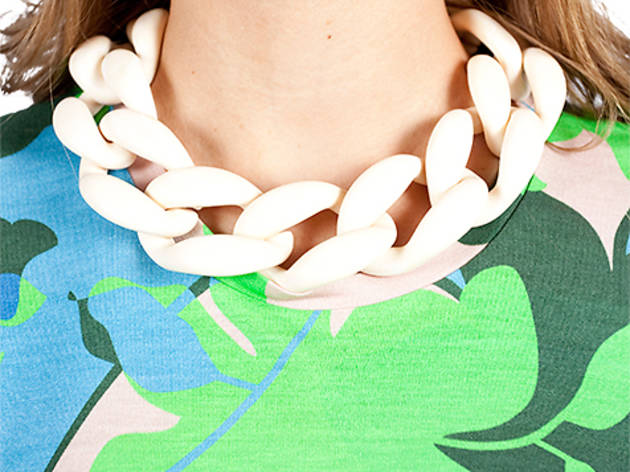 8/11
Photograph: Noffar Gat
Distenfeld models an oversize Diana Broussard (dianabroussard.com) chain-link necklace that's become a best-seller at Fivestory. "It's the best travel jewelry, because it ends up working with every outfit," she enthuses.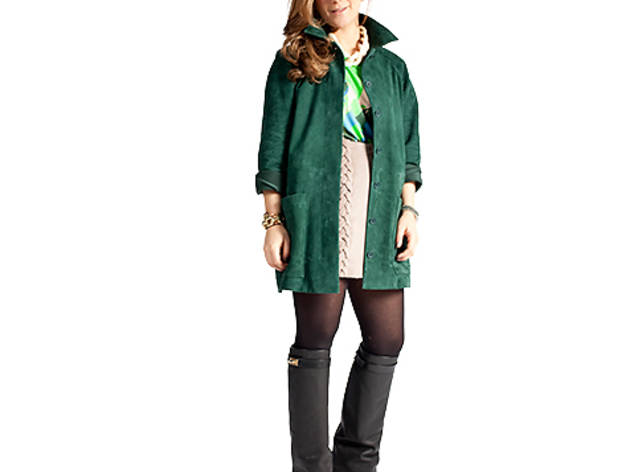 9/11
Photograph: Noffar Gat
Swapping in this Thakoon miniskirt alone wouldn't do for Distenfeld, who also added a Lyn Devon (60 E 66th St between Park and Madison Aves; 212-431-3777, lyndevon.com) jacket. "[The skirt] is girly and sexy, but I added a workman's suede, green coat that's super masculine so it would all be balanced," she explains.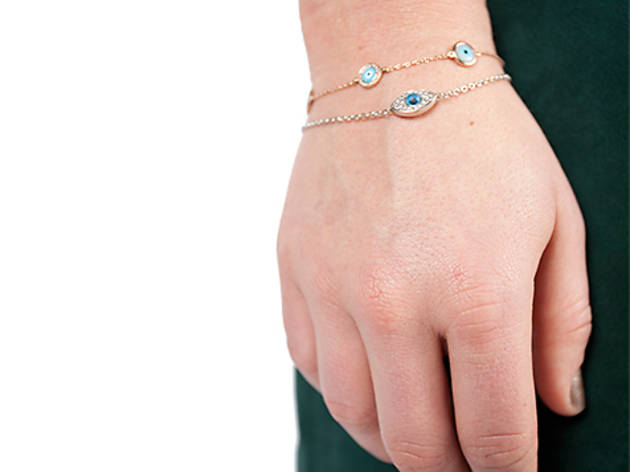 10/11
Photograph: Noffar Gat
Distenfeld's mother buys her daughter evil-eye bracelets from Greece and Capri, Italy, to mark various milestones in her life (finishing graduate school, launching Fivestory). "She's proud of me and wants to make sure I'm always moving forward with no harm," says Distenfeld.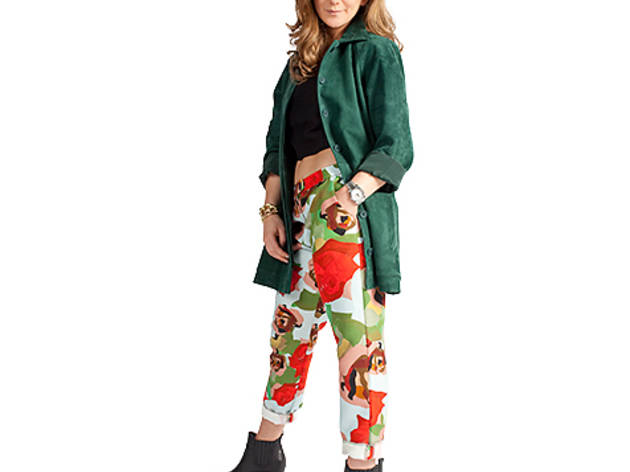 11/11
Photograph: Noffar Gat
A simple Jenni Kayne (jennikayne.com) crop top allows Distenfeld's Mother of Pearl (motherofpearl.co.uk) floral pants to be the focus. "The company works with a different artist every season, and these were done by British painter Gary Hume," she notes. "Green and red are two of my favorite colors, so that also factored in to [making them my] favorite."
Fivestory store owner Claire Distenfeld proves she is one of our most stylish New Yorkers by modeling her balanced ensembles. She favors high-end fashion designers such as Jason Wu, Thakoon and Jonathan Saunders, and shops at NYC stores Creel and Gow, Perez Sanz and Edon Manor.
RECOMMENDED: Most stylish New Yorkers

Claire Distenfeld, 27, Greenwich Village; owner and buyer at Fivestory(18 E 69th St between Fifth and Madison Aves; 212-288-1338, fivestoryny.com)

Her personal style: "Balanced, smart and witty. It's never too feminine or too masculine, never too serious or too playful."

Her inspirations: "History influences my style, as does my passion for art. I love the Abstract Expressionist era of the '50s and marrying its macho, minimal feel with an era like the '20s, which is all magical and decadent."

About her shop: "Fivestory is a place to discover new things, sounds, smells and experiences. It has a very broad range of brands—from designers such as Balmain, Versace and Peter Pilotto to streetwear T-shirts and more contemporary labels like Acne—and aesthetics, but all are unified by my view on the world."

Favorite stores: "Creel and Gow (131 E 70th St at Lexington Ave; 212-327-4281, creelandgow.com) is a place full of mystery and wonder—I love its taxidermy. Perez Sanz(20 E 69th St between Fifth and Madison Aves; 212-249-5151, perezsanz.com) is an Argentinean company that makes unbelievable, one-of-a-kind accessories, handbags and housewares using the most interesting materials. Edon Manor (391 Greenwich St between Beach and North Moore Sts; 212-431-3890, edonmanor.com) is an amazing shoe store. It was designed by Ryan Korban (ryankorban.com), who also did the interiors for Fivestory. He creates such amazing stories through his spaces, and this one is very special. It also has the best shoes!"

Favorite salons: "Chris Lospalluto at Sally Hershberger(17 E 71st St between Fifth and Madison Aves, 212-535-3519 • 425 W 14th St between Ninth and Tenth Aves, 212-206-8700 • sallyhershberger.com) is a hair whisperer. He doesn't ask too many questions, and cuts a shape and length that makes your hair look its best and healthiest without being boring. I've been going to Kimara Ahnert Makeup Studio(1113 Madison Ave between 83rd and 84th Sts; 212-452-4252, kimara.com) for makeup applications, eyebrow shaping, waxing and facials since I was a [teenager] and really love it there. It's very nostalgic; I'm a creature of habit and I like to go to the same place forever."

Her style motto: "Never be too much of anything."

Favorite NYC designers: "I like how Thakoon (thakoon.com) bridges the gap between sexy and cool, feminine and masculine. I also think his patterns, colors and cuts are always very interesting and unique. I find that Jason Wu's (jasonwustudio.com) clothing makes women feel very powerful. [The garments] are cut to make you feel like a lady but also have a very strong presence. Each Erickson Beamon (ericksonbeamon.com) piece is handmade in its NYC offices. There is such care and detail in everything they do, making the collections feel intimate and one-of-a-kind. Lizzie Fortunato's (lizziefortunatojewels.com) jewelry is extremely unique, yet fun and very easy to wear. You can really match her pieces with anything."

Her New York style icon: "If I could blend Woody Allen's personality and charm with Peggy Guggenheim's style and Iris Apfel's pizzazz, that would be my [idea of] perfection."

How her style has evolved: "I think I've really simplified my style while never, ever letting it be boring. I've homed in on the simple things that make me feel good—the colors, the cuts, the movement and the message—and really tried to stay consistent."

How she describes New York style: "Brave, smart and always a step ahead."

Follow Cristina Velocci on Twitter: @cvelocci