Most stylish New Yorkers 2013: Jade Lai
Creatures of Comfort owner Jade Lai elevates her neutral-hued garb by playing with texture and patterns.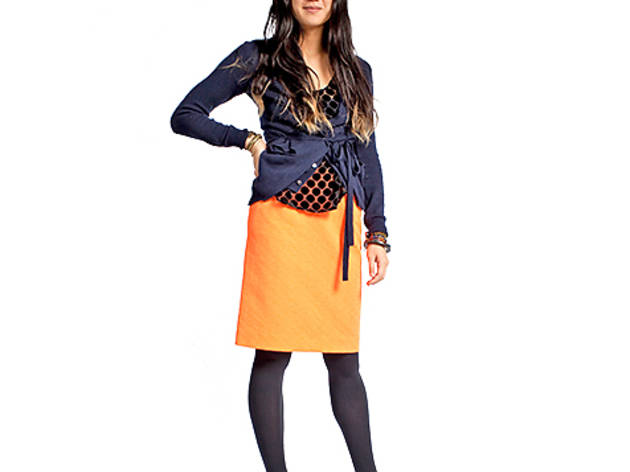 1/10
Photograph: Noffar Gat
Lai pairs a Preen (preen.eu) skirt with a Creatures of Comfort sheer polka-dot tank. "It's my favorite piece from last season," she enthuses of her top. "Two of my friends told me that they each wore it to a New Year's Eve party and saw someone else wearing the same [thing]." She layers on a Ys (ysclothing.com.au) wool cardigan and insulated Heattech tights from Uniqlo(546 Broadway between Prince and Spring Sts, 917-237-8800 • 666 Fifth Ave at 53rd St • 31 W 34th St between Fifth and Sixth Aves • 877-486-4756, uniqlo.com) for added warmth.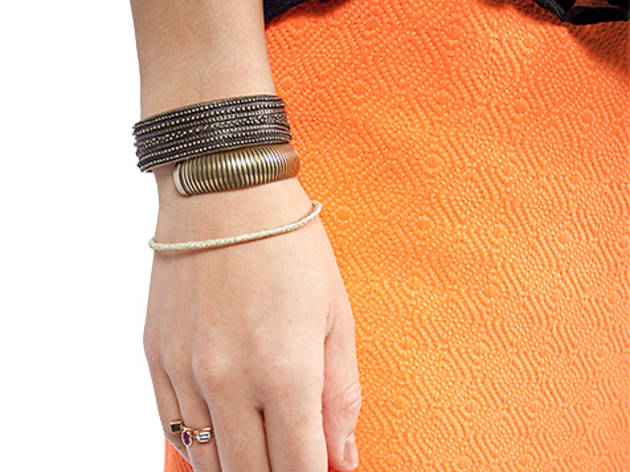 2/10
Photograph: Noffar Gat
A mix of vintage bangles and a Dream Collective (dreamcollective.com) bracelet look cohesive despite their varied textures, thanks to a shared gold color scheme. Melissa Joy Manning (melissajoymanning.com) diamond and ruby stacking rings provide a delicate touch.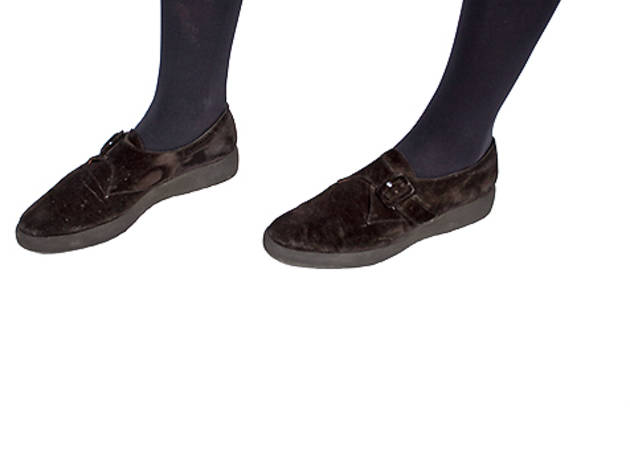 3/10
Photograph: Noffar Gat
Even Lai's feet stay cozy in these Robert Clergerie (robertclergerie.com) suede platform flats.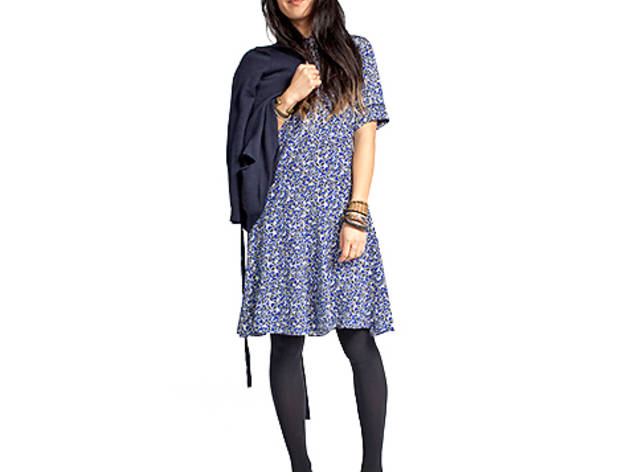 4/10
Photograph: Noffar Gat
Proving how versatile her cold-weather staples can be, Lai swaps in a Marni (21 E 67th St between Fifth and Madison Aves, 212-257-6907 • 161 Mercer St between W Houston and Prince Sts, 212-343-3912 • marni.com) dress with her Ys cardigan and Uniqlo tights for a completely different look.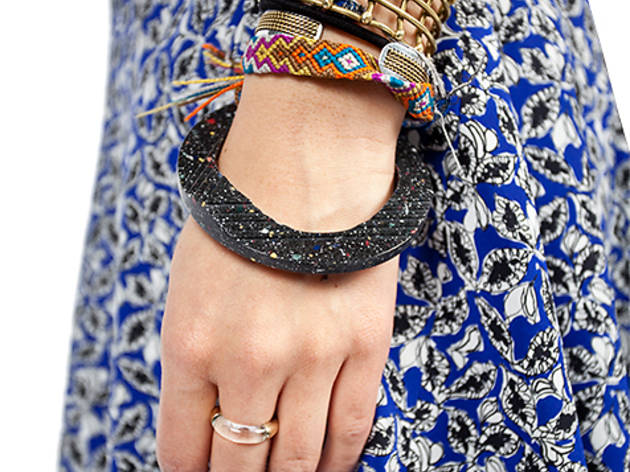 5/10
Photograph: Noffar Gat
Friendship bracelets that were gifts from close pals, vintage bangles and a cage cuff Lai purchased at a Mexico City craft market make for an eclectic mix when stacked together. An understated glass-and-gold ring by Maison Martin Margiela(363 Bleecker St between W 10th and Charles Sts; 646-664-1655, maisonmartinmargiela.com) allows the arm candy to be the focus.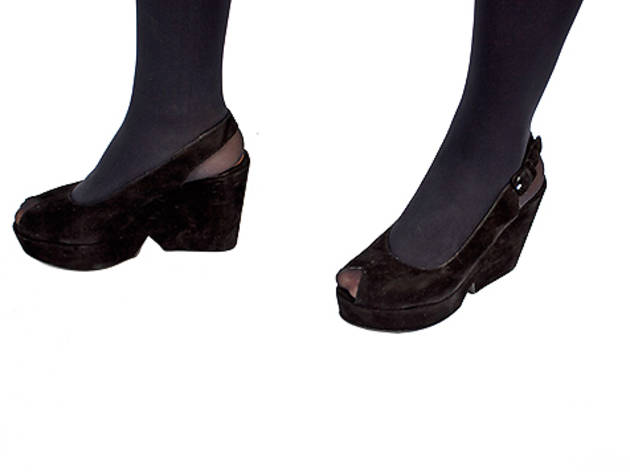 6/10
Photograph: Noffar Gat
These slingback wedges are also from Robert Clergerie. "I mostly wear flats since I run around a lot, but I am trying to wear more heels these days," she says.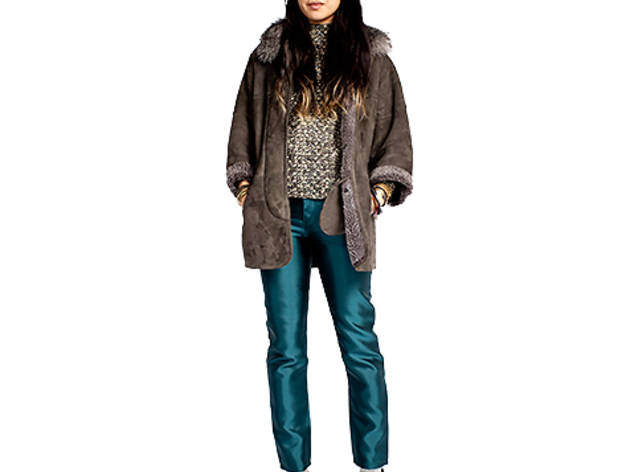 7/10
Photograph: Noffar Gat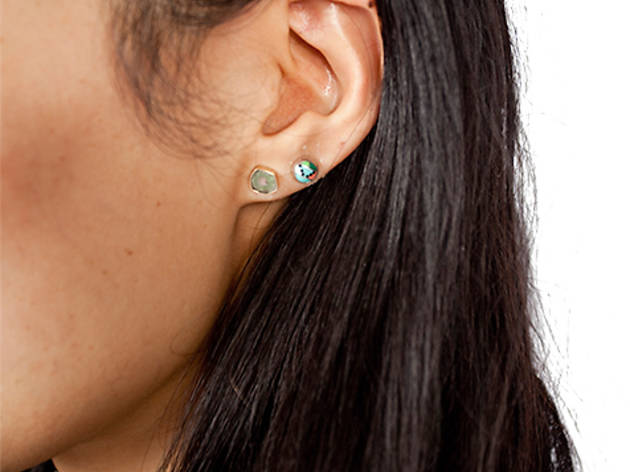 8/10
Photograph: Noffar Gat
Lai juxtaposes a Melissa Joy Manning amethyst earring with a less expensive American Indian stud she purchased at Western Spirit (395 Broadway at Walker St, 212-343-1476).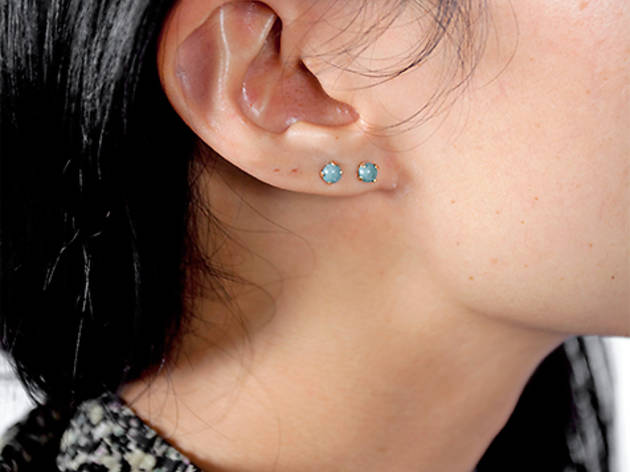 9/10
Photograph: Noffar Gat
Rather than split a pair of turquoise-and-gold studs between both ears, Lai wears them beside each other on one lobe.
Creatures of Comfort
store owner Jade Lai proves she is one of the most stylish New Yorkers by demonstrating practical dressing needn't be frumpy. She opts for Robert Clergerie flats over heels, and wears skirts and
dresses
with insulating
Uniqlo
tights. She also likes perusing the goods at
indie shops
Narnia
,
De Vera
and
Matter
for outfit inspiration.
RECOMMENDED: Most stylish New Yorkers

Jade Lai, 34, Nolita; creative director and owner of Creatures of Comfort(205 Mulberry St between Kenmare and Spring Sts; 212-925-1005, creaturesofcomfort.us)

Her personal style: "Eclectic, fun and easy."

Her inspirations: "My environment and my mood."

About her store: "It's certainly fun and eclectic, but also functional and understated. It carries everything from Bernhard Willhelm (bernhard-willhelm.com), Cosmic Wonder (cosmicwonder.com) and Arielle de Pinto (arielledepinto.com) to A.P.C. (apc.fr), Isabel Marant (isabelmarant.tm.fr) and Faux/Real (fauxrealnyc.com)."

Favorite stores: "Narnia(672 Driggs Ave between Metropolitan Ave and North 1st St, Williamsburg, Brooklyn • 161 Rivington St at Clinton St, 212-979-0661 • narniavintage.com) has some really cool, funky '80s dresses. I like to go into Matter(405 Broome St between Centre and Lafayette Sts; 212-343-2600, mattermatters.com) and drool over everything. There is this marble table with brass legs that I really want one day. Melet Mercantile (84 Wooster St between Broome and Spring Sts, 212-925-8353) is the world's most amazing and expensive vintage clothing store. I go there for inspiration. De Vera(1 Crosby St at Howard St, 212-625-0838 • 26 E 81st St at Madison Ave, 212-288-2288 • deveraobjects.com) is a house of curiosities, featuring some of the most beautiful things you can dream of."

Her style motto: "Be yourself."

Favorite NYC designers: "I have too many! To list a few: Ninh Wysocan (ninhwysocan.com), who is a sculptor making jewelry. I love working with her on custom pieces. Thomas Chen of Emmanuelle (emmanuelle-nyc.com) has a very simple and understated aesthetic [for his women's clothing]. I also love him as a dear friend. Victoria Bartlett of VPL (store.vplnyc.com) has an amazing sense for color and a great sense of humor. Her collection gets better every season."

Her New York style icon: "Diana Vreeland, only one of the most stylish women in the world! She was worldly, individualistic and decadent."

How her style has evolved: "It's not too different, actually. It has verged on the extreme here and there, but remained the same at the end. I think now my taste is just a lot more expensive."

Favorite salons: "I have been cutting my own hair for the past two years, but I really miss Cervando Maldonado, my stylist at Byron's Beauty Room (byronbeautyroom.com) in L.A. I always ask for Nick Mahrer at Great Jones Spa(29 Great Jones St between Bowery and Lafayette St; 212-505-3185, gjspa.com) for a Thai massage. It's close to my house, and there's a sauna and a steam room. There's also a Jacuzzi, which I am not into unless the place is empty. And I never go on the weekends—it's coed, so there are sleazeballs there sometimes."

How she describes NYC style: "Functional, highly aware and expressive."

Follow Cristina Velocci on Twitter: @cvelocci