Heads up! We're working hard to be accurate – but these are unusual times, so please always check before heading out.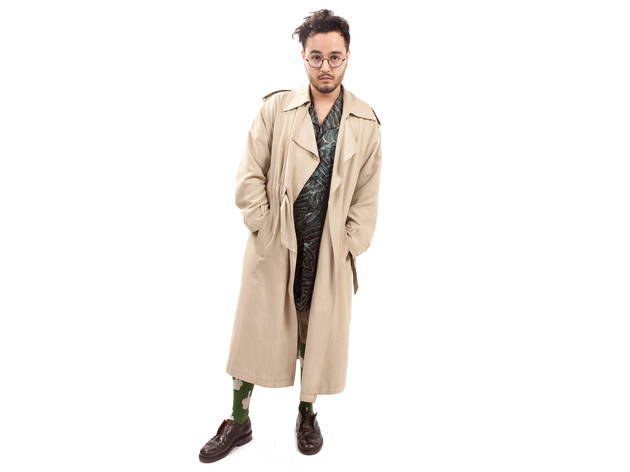 1/16
Radboy calls this Maison Martin Margiela coat "a caricature of a trench it's so self-consciously typical." The knee-length topper obscures a pair of Telfar shorts. "I think the trench-and-shorts combo is the nexus of comedy and style," says Radboy. "Making your laundry lady laugh out loud is a good sign for any look."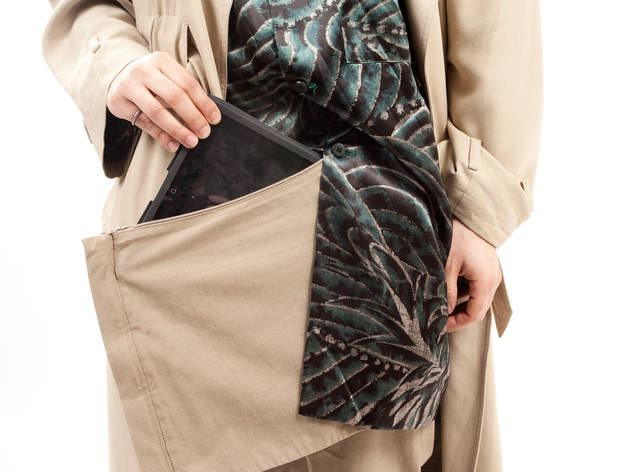 2/16
A flap in the front of Radboy's Telfar shorts zips over to form a skirt pocket that can store an iPad or MacBook Air. "Making a highly functional skirt for a man is the best kind of oxymoron," he says.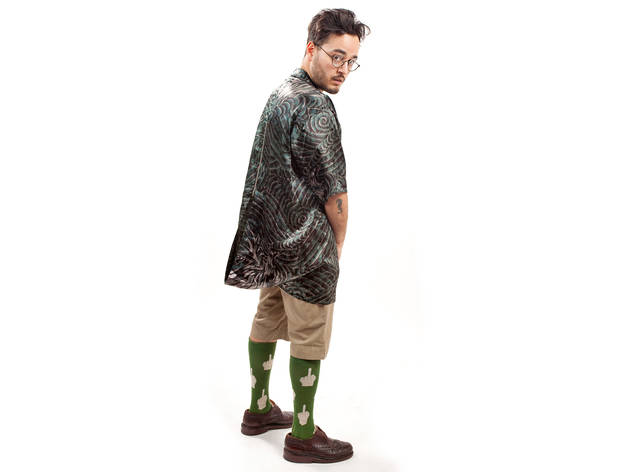 3/16
This vintage Yohji Yamamoto silk top from Allan & Suzi has an unexpected quirk: "It zips at the bottom to form a reptile tail," explains Radboy.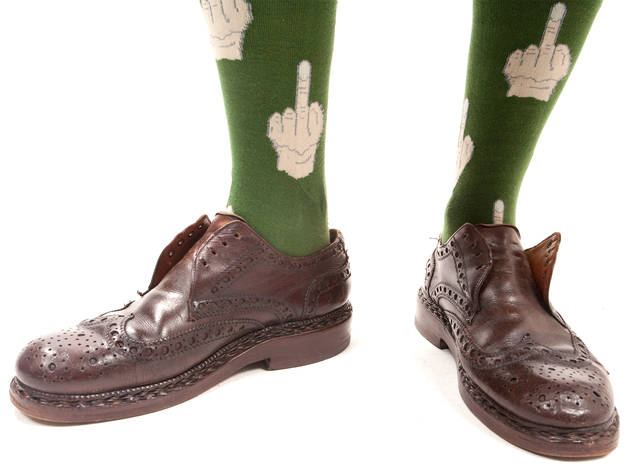 4/16
Middle-finger–adorned knee socks from the Sock Man (27 St. Marks Pl between Second and Third Aves; 212-529-0300, thesockman.com) add a subversive touch. "They weirdly look like they might be Commes des Garçons, which is a good line to blur," says Radboy. He pairs them with traditional Hungarian brogues that belonged to his friend's grandfather. "They fit without laces so voila."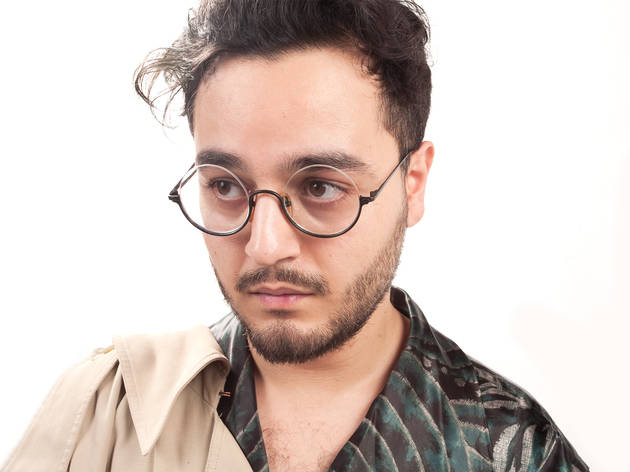 5/16
Radboy discovered these vintage Jean Paul Gaultier glasses through a Google image search. "I saw they had been sold to someone a year ago in Sweden, and I'm kind of proud and kind of ashamed that I wrote them to ask how the glasses worked out," he admits. "They offered to sell them [to me] at a very reasonable price."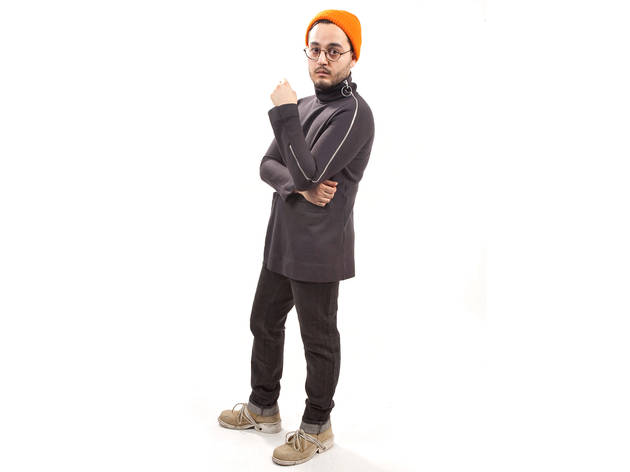 6/16
Though it appears to be a turtleneck, Radboy's top is actually a Rudi Gernreich minidress from the late '60s, purchased at Narnia (161 Rivington St between Clinton and Suffolk Sts, 212-979-0661). "There is a picture of Twiggy wearing it in orange," notes Radboy. "I love that it looks like such a viable urban-sportswear look when worn by a man." He pairs it with Maison Martin Margiela jeans. "They were [Margiela's] take on maternity pants—stretch polar fleece from naval to thigh, black denim the rest of the way down," explains Radboy. "Both extremely comfortable and discomforting."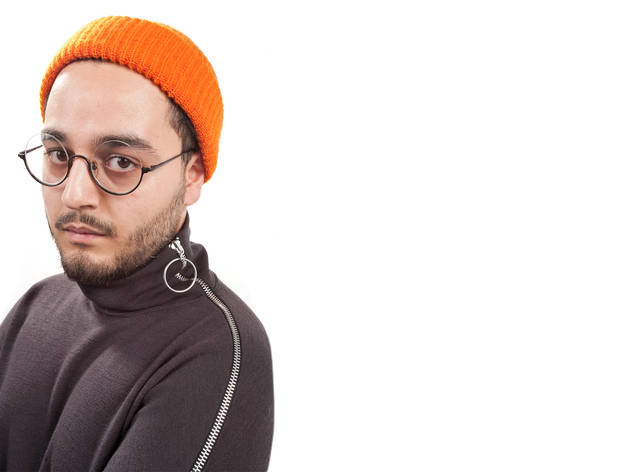 7/16
Radboy's girlfriend bought him this orange ski cap from a street vendor.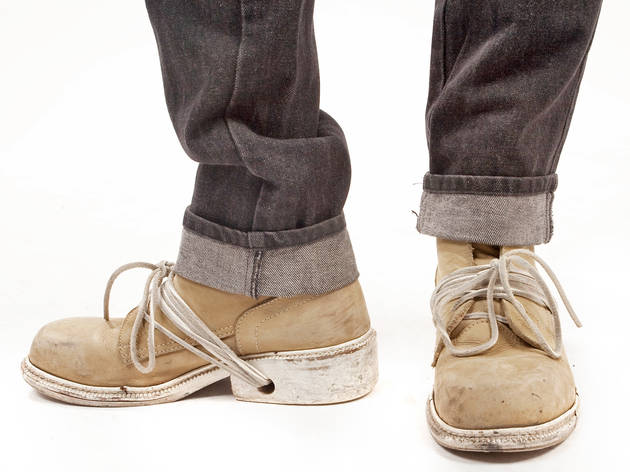 8/16
"These are Dirk Bikkembergs (bikkembergs.com), a very underappreciated designer who emerged in the '90s," says Radboy of his unique shoes. "The laces through the hole is his signature."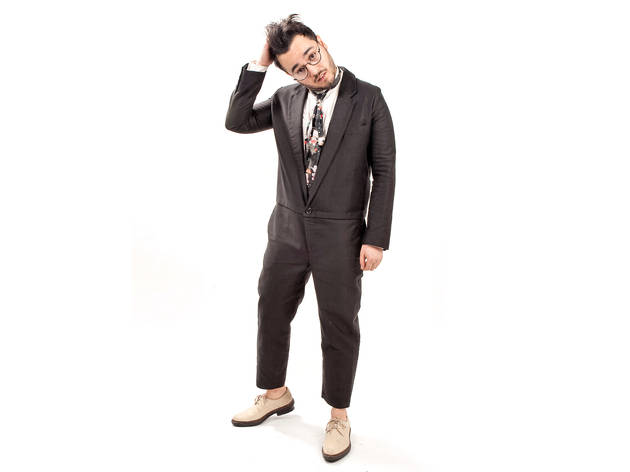 9/16
Radboy wore this one-piece tuxedo from German design collective BLESS° (bless-service.de) to MTV's Video Music Awards when he was nominated for Best Art Direction for Kanye West's video "Power." He wears it here with a collarless Issey Miyake shirt, which he supposes he bought on eBay.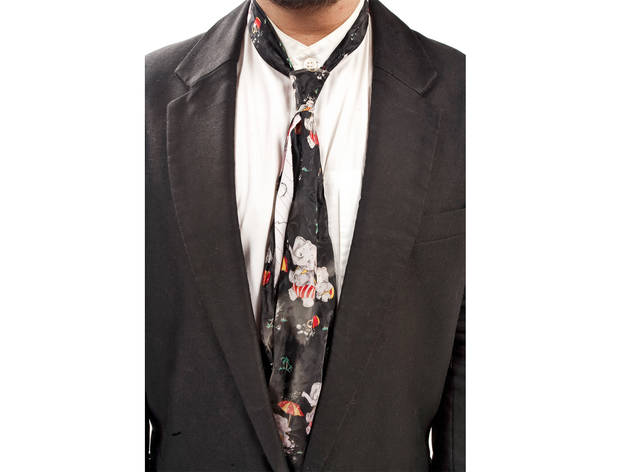 10/16
Radboy's girlfriend discovered this printed silk tie fastened to the back of a semitrailer truck in Peru.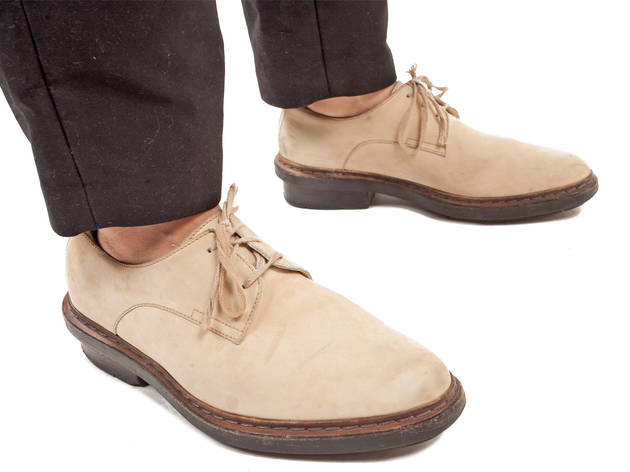 11/16
Rather than wear his tux with traditional dress shoes, Radboy opts for more casual Balenciaga suede lace-ups that he scored at the Barneys Warehouse Sale (barneys.com).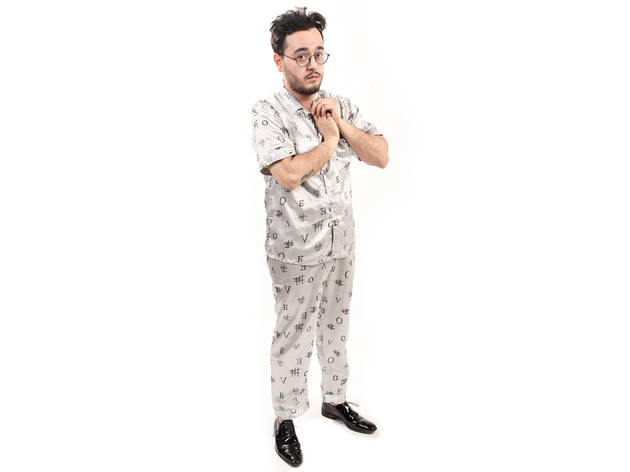 12/16
"I collect Chinese pajamas from my neighborhood; I have a dozen or so," explains Radboy of his sleepwear ensemble. "There is really no reason not to wear them during the day—especially since they are totally unwearable at night, due to the incredibly synthetic fabric."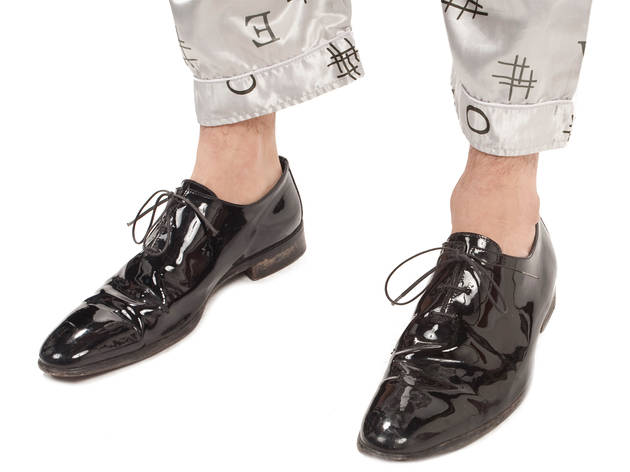 13/16
Radboy keeps these patent-leather Lanvin dress shoes shiny through unusual means. "I rub them with onions and rinse them with milk," he reveals.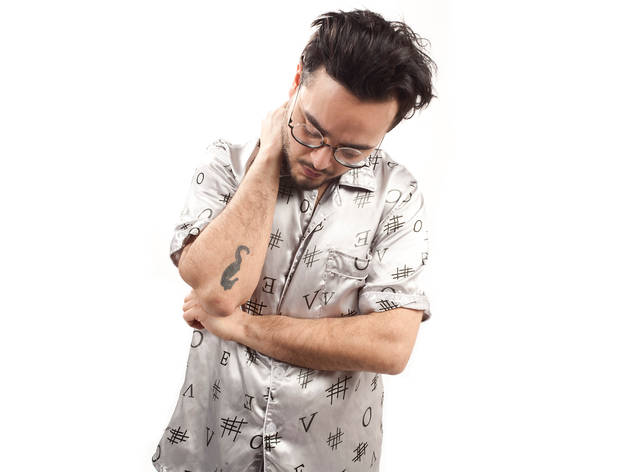 14/16
A sea-horse tattoo graces Radboy's lower arm. "I was 19 and on a long weekend [in Seattle]," he recalls. "I sat down at the tattoo parlor at 9am and drew something atrocious I wanted inked on me. They said it would be $200. Thank God I only had $40 and got this instead."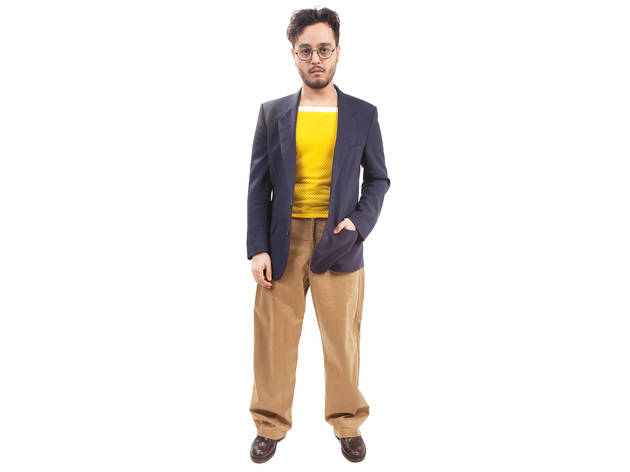 15/16
"Once you are wearing a well-tailored jacket, you can do just about anything with the rest of your body and still look presentable," reflects Radboy, who uses a Maison Martin Margiela blazer to cover up a Telfar backless mesh halter top. "I like the tension of hiding a very provocative or revealing garment inside a very conservative, maxilength look. It's very Saudi."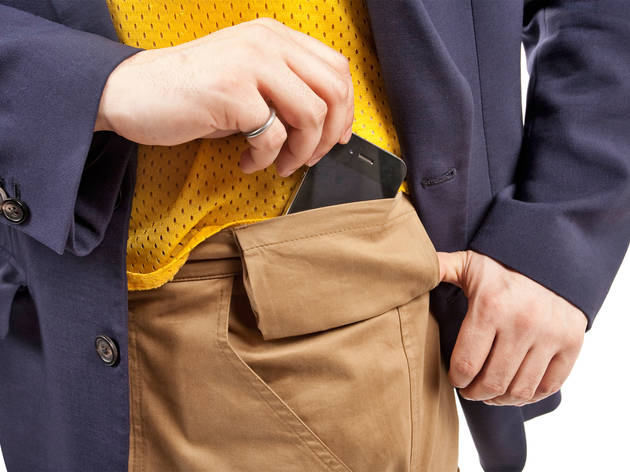 16/16
An exterior pocket on the belt loop of Radboy's Telfar pants is just big enough to hold an iPhone. "Frivolous functionality," he says. Radboy's pinkie ring is an industrial steel band that was part of an artist's project he helped install in Dubai. "They were used to weigh down clusters of balloons," he explains. "It's been on my finger for a few years now."
Most stylish New Yorkers: Babak Radboy
The creative director of Bidoun magazine takes a subversive approach to dressing.
Babak Radboy, 29, creative director of Bidoun magazine (babakradboy.com), Chinatown
His personal style: "Marxist materialist."
His inspirations: "Dressing for me is an expression of civic love. I love the way people dress in this city, especially the southern Chinese in my neighborhood. On the other hand, I am enamored with the work of certain designers—Issey Miyake, Jean Paul Gaultier, Yohji Yamamoto—as an extended historical moment in design coinciding with postindustrial capitalism. I suppose I try to marry the two, which is of course very contradictory."
Favorite stores: "Allan & Suzi (237 Centre St between Broome and Grand Sts; 212-724-7445, allanandsuzi.net) is amazing. It has a mix of both old and new designer clothes, but its ethos is like a time capsule of the highest point of New York nightlife and fashion. So many of the new stores of this stripe are so conservative by comparison. The New World Order (13 Ave B between Houston and 2nd Sts; 212-777-3600, thenewworldordernyc.com) is also comparable—the clothes selected are faithful to the collections they represent. It's not just cardigans and slacks with a twist."
Favorite salons: "Hair Party 24 Hours (76 Madison Ave at 28th St; 212-213-0056, hair24hours.com)—it actually is open 24 hours—or Astor Place Hair (2 Astor Pl at Broadway; 212-475-9854, astorplacehairnyc.com), because it's huge, cheap, fast and very New York. I'm very egalitarian about my hair."
His signature items: "I guess the things most unique to me are the things I purchase in Chinatown. I go pretty deep and endure a lot of suspicious stares to obtain a certain quality of synthetic pajama."
Favorite designer: "Telfar Clemens of Telfar (telfar.net)—the future of fashion in New York will live or die by his success. More than 90 percent of New York designers who show are handpicked and primped by the CFDA, and what it is creating has nothing to do with fashion and everything to do with retail. There is such a thing as a fashion designer, and it is a very rare thing. [Clemens] is a fashion designer."
How he describes New York style: "There is more than one New York; the people who go to work every day and spend as little as possible look amazing. They have an edge mostly missing in European [cities], a very unique and beautiful kind of vanity. The people who are trying the hardest look the worst."
How his style has evolved: "I think as I've gotten older I've learned that the object of dressing is not to look good. The whole Oprah concept of the perfect fit of jeans is the opposite of true style. It's extremely conservative to try too directly to look good. When you dress, you are making a statement at a certain place and time, in the context of many other statements. That statement shouldn't be 'I can afford this bag' or 'I figured out jeans.' "