Most stylish New Yorkers: Daniel Harder
The Alvin Ailey dancer proves you don't have to sacrifice style for comfort.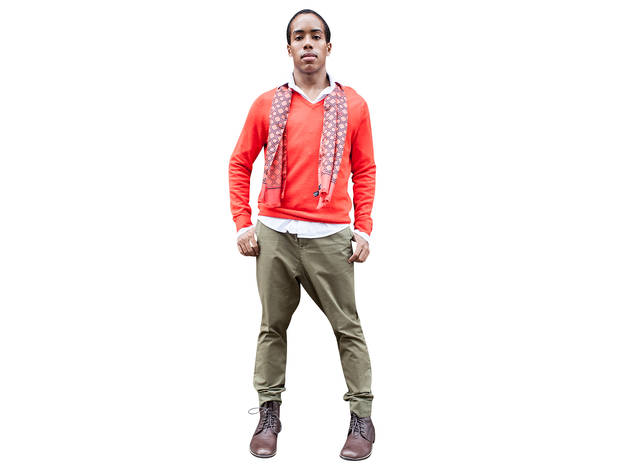 1/12
Harder first wore this outfit as an audience member on The Wendy Williams Show (wendyshow.com). "You're told to wear bright colors, so that's exactly what I went for," he says of his decision to don a bold J.Crew sweater (locations throughout the city; visit jcrew.com) over a crisp white button-up and army-green pants from H&M(locations throughout the city; visit hm.com).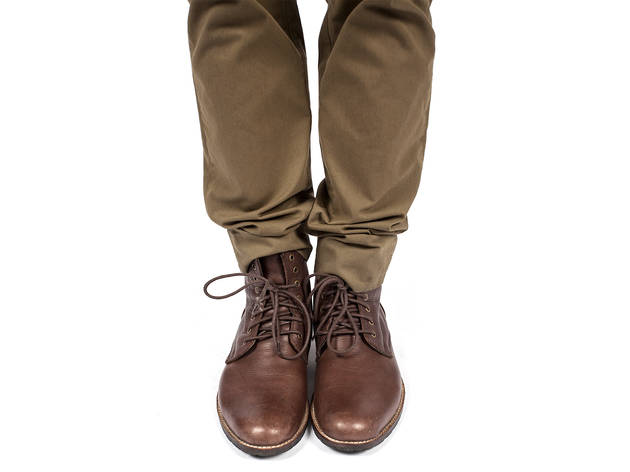 2/12
These Bed Stu boots from Urban Outfitters(locations throughout the city; visit urbanoutfitters.com) are the first pair of brown shoes Harder ever purchased. He says he gravitated toward them "because they have a worn, distressed feel."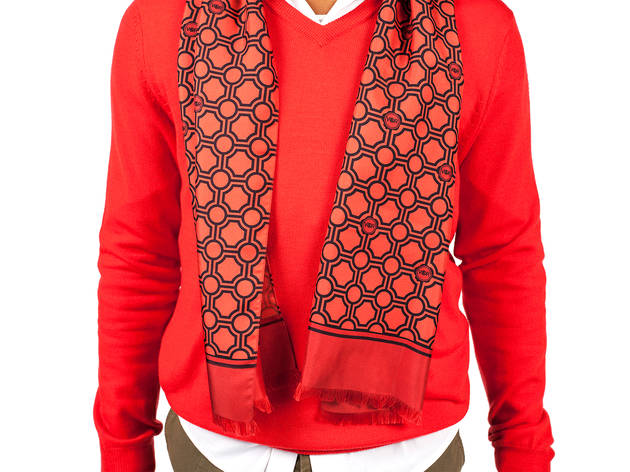 3/12
While his mother was in town visiting, Harder took her to Roundabout New & Resale Couture(31 E 72nd St between Madison and Park Aves, 646-755-8009 • 115 Mercer St between Prince and Spring Sts, 212-966-9166), where he discovered this Viktor & Rolf silk scarf. "It mostly sells women's clothing, so this was an amazing and affordable find," he enthuses.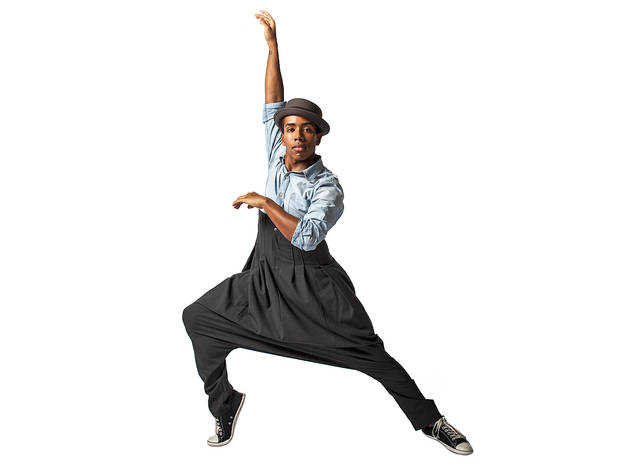 4/12
"Every year, Ailey's New York City Center season kicks off with a fabulous opening-night gala," says Harder, who had these drop-crotch pants custom-made by Charu Vyas (charudesigns.com) for the first one he attended in 2010. "I paired them with a white button-up, navy blue bow tie, black blazer and patent-leather dress shoes." Proving the pants' versatility, he dresses them down here with an H&M chambray shirt.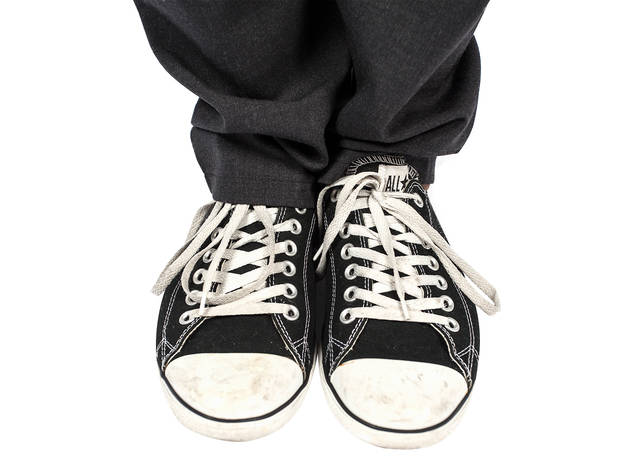 5/12
Converse(560 Broadway at Prince St; 212-966-1099, converse.com) kicks help cement the outfit's casual vibe. "These sneakers have been through it all," says Harder. "They're still quite comfortable and haven't fallen apart on me yet."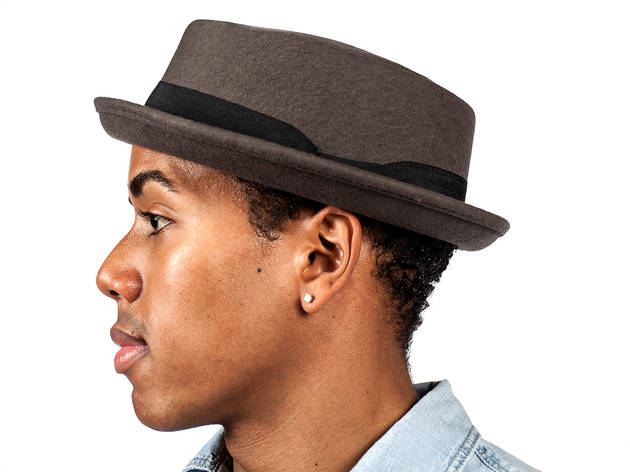 6/12
"I love the look of a nice fedora," enthuses Harder of his hat from Urban Outfitters. "The clean lines can accentuate a person's facial features very well." It also highlights Harder's diamond stud, which was a Christmas gift from his family and fills a hole he had pierced in high school.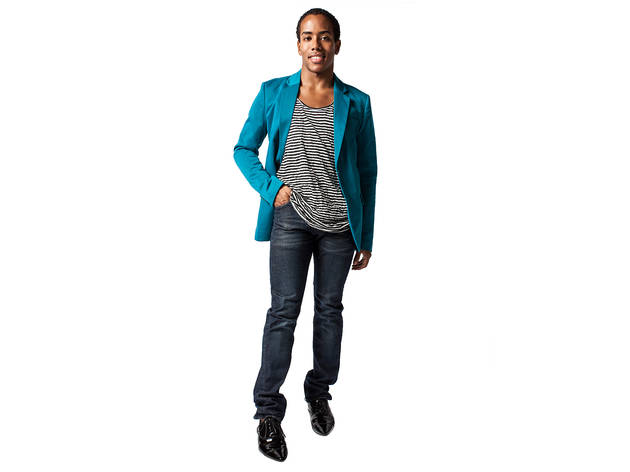 7/12
A peacock blue Zara blazer (locations throughout the city; visit zara.com) lends polish to a Nique striped shirt from Nordstrom (nordstrom.com) and H&M skinny jeans. "I was drawn to the gorgeous blue color of the jacket," recalls Harder. "I love dressing it up or wearing it more casually."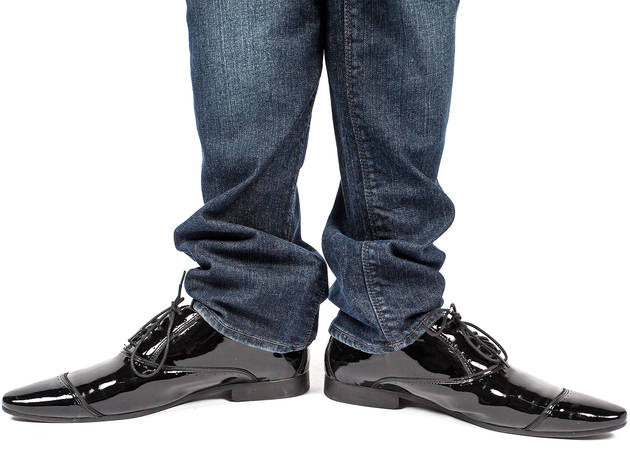 8/12
Harder originally wore these Zara patent-leather dress shoes with his drop-crotch pants to Alvin Ailey's annual gala. "I've [since] found that they add a nice flair to many of my different ensembles," he says.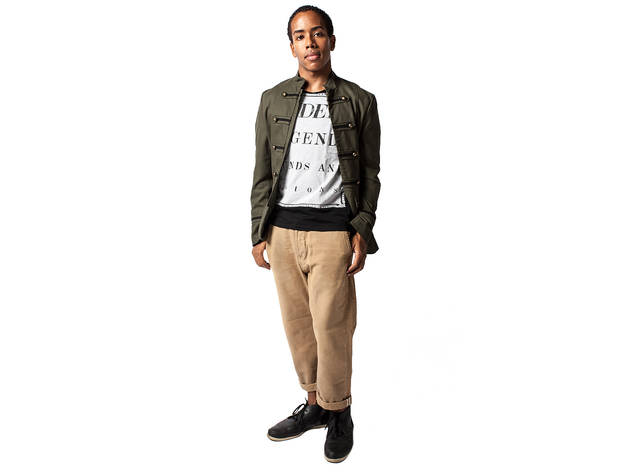 9/12
"This outfit makes me happy," says Harder of his H&M jacket (scored for half off), Zara graphic sweatshirt and khakis from an AllSaints in Germany. "I love the edge that the cadet jacket gives the sweater and pants," he explains. "It turns a normal outfit into one with a little more character."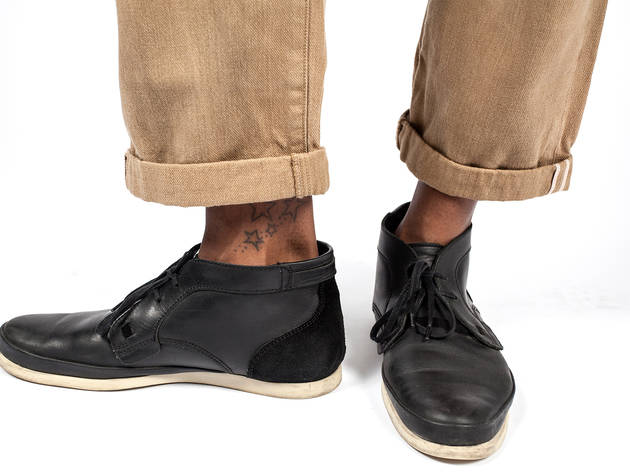 10/12
While on tour with Alvin Ailey in Germany, Harder discovered these Folk Clothing (folkclothing.com) leather-and-suede mid-top sneakers. "I just had to have them," he says.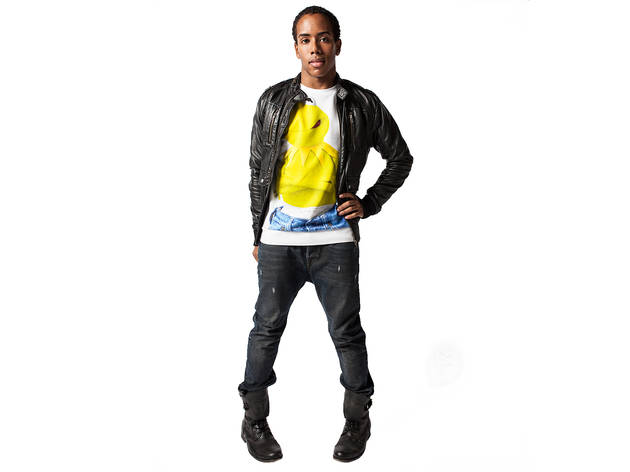 11/12
"Who doesn't love Kermit the Frog?" wonders Harder, who layers an H&M leather jacket over a sweatshirt featuring the beloved muppet as a Calvin Klein model, also from the Swedish chain. "It's always fun to find a great character shirt or sweater that you can pair with jeans and a jacket." He does exactly that with a pair of distressed denim from AllSaints.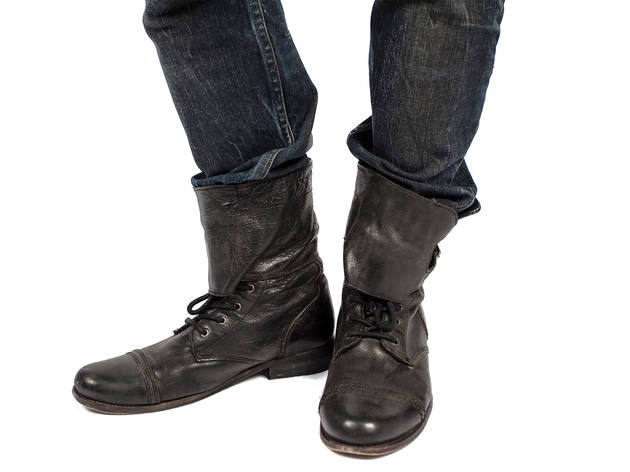 12/12
"These leather ankle boots are my everyday shoes during the fall," says Harder, who scored them at an AllSaints sale in Paris. "I can pair them with just about anything in my closet."
Alvin Ailey dancer Daniel Harder proves why he's one of the most stylish New Yorkers by modeling his favorite polished yet comfortable looks. Harder favors brightly colored basics from AllSaints, Zara and H&M.
Daniel Harder, 25, member of Alvin Ailey American Dance Theater (alvinailey.org), East Harlem
His personal style: "Eclectic—it varies from day to day. I love bright colors and lots of layers, but I also love to be comfortable."
His inspirations: "Dancing for the Ailey company, we can be on the road anywhere from seven to nine months out of the year. Getting to see the world and take in other cultures, their styles and their way of life has definitely inspired how I dress. It's nice to step outside of your own box and embrace what's around you. That being said, the edge that New York City possesses is always a source to draw from. I love people-watching, so when I see someone with a certain look or trend on the street, I try to adapt it and add my own flavor. I'm also an avid reader of many fashion magazines, so I tend to scour the pages looking for pieces that I can add to my collection."
Favorite stores: "Lazaro Soho (457 Broome St between Greene and Mercer Sts; 212-219-8494, lazarosoho.com) has amazing accessories, from great necklaces with charms to cool statement pieces. AllSaints(415 W 13th St between Ninth Ave and Washington St, 646-862-3155 • 512 Broadway between Broome and Spring Sts, 646-862-1832 • us.allsaints.com) always has a wide variety of men's clothing to choose from, which can be difficult for the male shopper to find! There's a ruggedness and edge to a lot of its clothing. My most recent purchase was in Paris, where I got some really great shorts on sale. Opening Ceremony(35 Howard St between Broadway and Crosby St, 212-219-2688 • 1190–92 Broadway between 28th and 29th Sts, 646-695-5680 • openingceremony.us) can be a bit pricey at times, but it has a wide, diverse selection from many designers, and if you search hard enough, you can usually find a good steal. I normally find interesting shirts that I can pair with different sweaters and jackets. I also bought a great jumpsuit that I have yet to wear."
His signature item: "I always have a pair of sunglasses on. My favorite pair at the moment is from Ray-Ban (ray-ban.com). They are basic circular frames—think Elton John—but the frames are trimmed in leather. I recently bought them while I was on tour in Paris from a great shop near the Louvre."
Favorite NYC designer: "It's fellow Ailey dancer Jermaine Terry. He started off designing dance clothes—he actually created the outfit that I auditioned for the company in—and has recently ventured into creating couture. His new pieces are very one-of-a-kind. He's got a great imagination and a good eye for shape and patterns. Just this past year, he created several gowns that a few of the female dancers in the company wore to our opening-night gala."
How he describes New York style: "It is all over the place, which is why I love it. You'll see a little bit of everything, from bohemian and vintage styles to a man who's bold enough to rock a kilt. Best of all, no one cares what the person next to them is wearing. It's all about individual expression. Even people who embrace fads and trends find a way to make it their own."
How his style has evolved: "The more comfortable I became with myself, the more I was able to embrace my true style. In the beginning, I followed trends, but now I'm all about what makes me feel good and comfortable—even if it isn't exactly what's hot and current at the moment."
Favorite salons: "I get my hair cut at Sanchez Barber Shop (1797 Lexington Ave between 111th and 112th Sts, 212-987-6677). It's a clean, well-kept salon, and the staff is very personable. I don't go to a particular barber, because they're all quite good. Everyone I've seen in the shop leaves looking better than how they walked in. I love getting mani-pedis from Lilac Nails (330 W 58th St between Eighth and Ninth Aves, 646-964-4566). The location is perfect for when I need a little me time during our New York City Center season. My girl Vira always hooks me up with a great manicure and pedicure that is clean and natural."
See Daniel dance!
He'll be performing at New York City Center(131 W 55th St between Sixth and Seventh Aves; 212-581-1212, nycitycenter.org) through December 30, 2012 as part of Alvin Ailey American Dance Theater's national tour.
Follow Cristina Velocci on Twitter: @cvelocci