Most stylish New Yorkers: Jenni Radosevich
The blogger behind I Spy DIY shows off her handcrafted, runway-inspired accessories.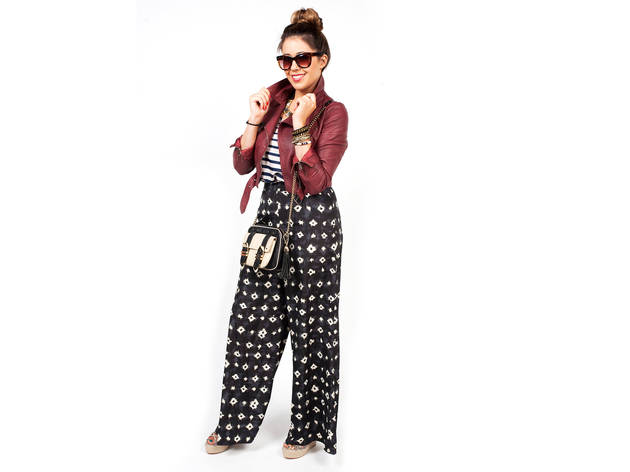 1/23
"I didn't wear pants for years—just skirts and dresses—but I am starting to get into palazzo pants," says Radosevich, who sports a printed pair from Urban Outfitters (locations throughout the city; visit urbanoutfitters.com). "I call them my compliment pants because people will literally yell 'great pants' to me from across the street." She balances her wide-legged bottoms with a striped tank and cropped faux-leather jacket from Forever 21 (locations throughout the city; visit forever21.com). Urban Outfitters sunglasses provide the finishing touch.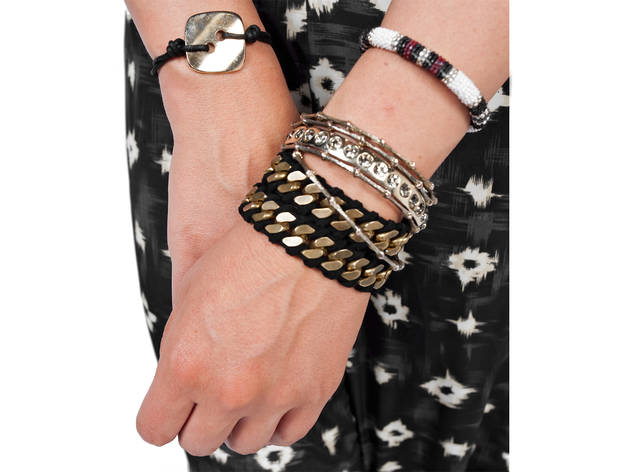 2/23
Radosevich mixes her own creations with more expensive store-bought jewelry: On her right wrist, she models a bracelet she made by knotting cord around a square button from M&J Trimming, while her left wrist is stacked with a beaded bracelet from Bird, a Chloe + Isabel (chloeandisabel.com) pavé bangle, bamboo bangles from Henri Bendel (712 Fifth Ave at 56th St; 212-247-1100, henribendel.com) and her own rope-wrapped chain bracelet. "I spotted this in a store for $150 in the Fashion District, then immediately went next door to Toho Shoji (990 Sixth Ave between 36th and 37th Sts; 212-868-7465, tohoshoji-ny.com) bead store and bought a foot of chain and suede rope to make my own for $10," recalls Radosevich.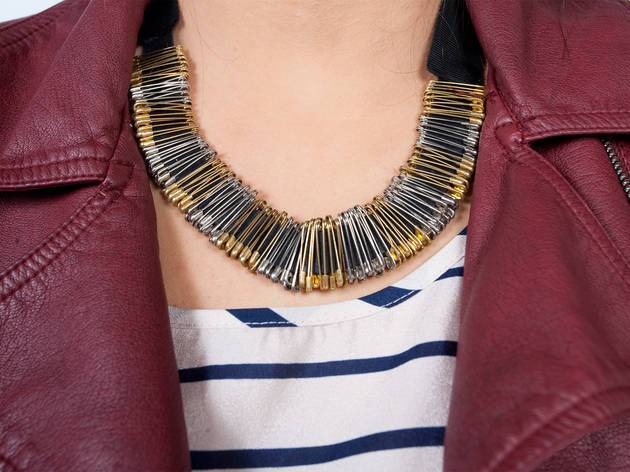 3/23
This safety-pin necklace is one of the many items featured in Radosevich's new book. "I love finding things around the house and repurposing it for fashion," she says.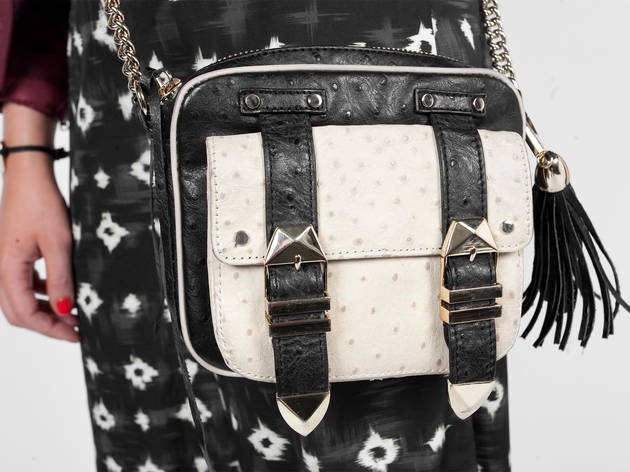 4/23
Radosevich slings a Rebecca Minkoff (rebeccaminkoff.com) cross-body bag over her shoulder. "It's perfect for hands-free shopping, concerts and for keeping your eye on your purse when you are out," she says.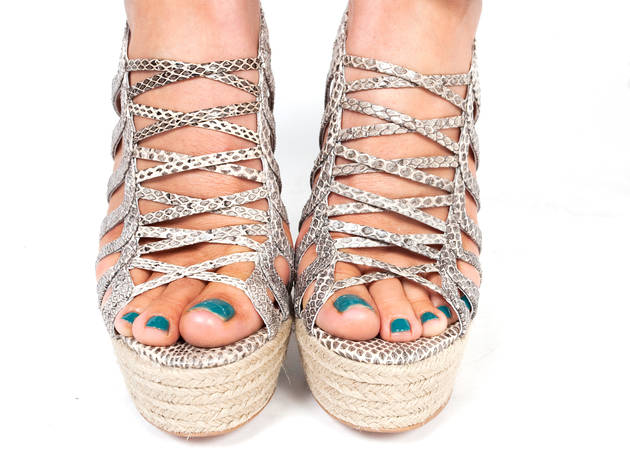 5/23
"I have freakishly small feet for how tall I am," says the 5'7" Radosevich, who wears a 7.5 shoe. "When I want a boost in height, I always stick to a stacked wedge, so I don't tip over." These snakeskin-print Elie Tahari (elietahari.com) sandals keep her grounded, while OPI Ski Teal We Drop polish brightens her toes.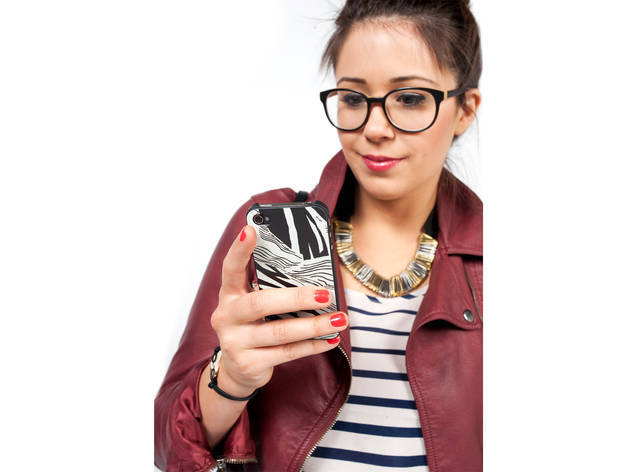 6/23
These Paul Frank (paulfrank.com) specs are one of many pairs in Radosevich's eyewear collection. "I afford my glasses habit by buying inexpensive frames and filling the prescription at Optical 88 (116 Mott St between Canal and Hester Sts, 212-343-1947)," she explains. "At $50 for lenses, I can have a different pair of glasses or prescription sunglasses every day of the week." Another accessory she changes just as frequently is her iPhone case (her mobile has on a Power Support USA x Rachel Pally style here). "Considering it is one of the most seen items you sport, why not switch it up with your style," she says.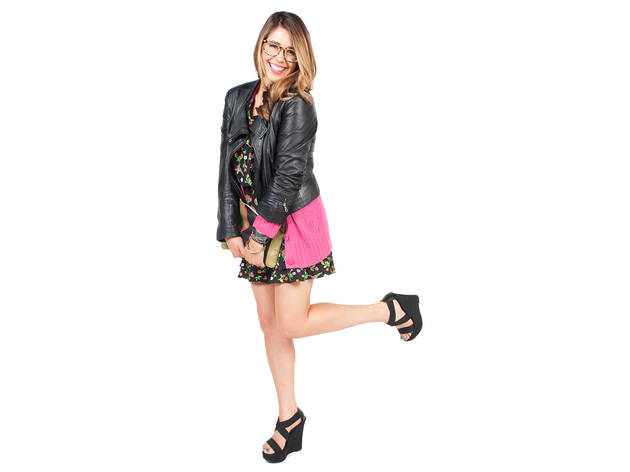 7/23
"Leather jackets are kinda my thing," says Radosevich, who layers one by Truth & Pride (truthandpride.com) over a Trouvé sweater from Nordstrom Rack and her favorite dress, thrifted from St. Vincent de Paul (svdpusa.org) in Wisconsin. "An outfit instantly looks cooler with a leather jacket."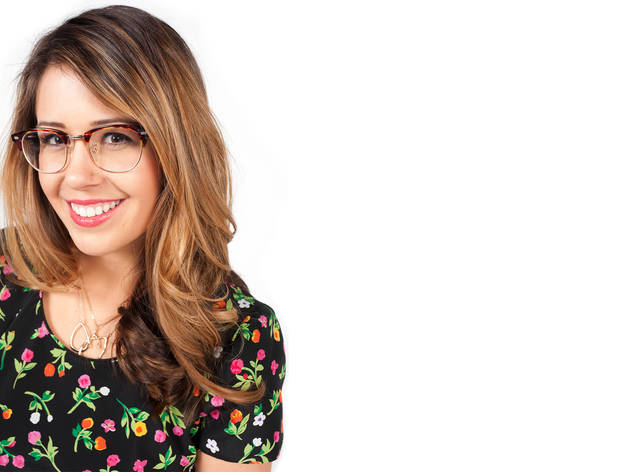 8/23
Wire-rimmed Moscot glasses frame Radosevich's face, while Ulta tinted lip balm in Melon makes her pucker pop. "Since I wear glasses, I never go too crazy with the eye makeup and play up the lips instead," she notes.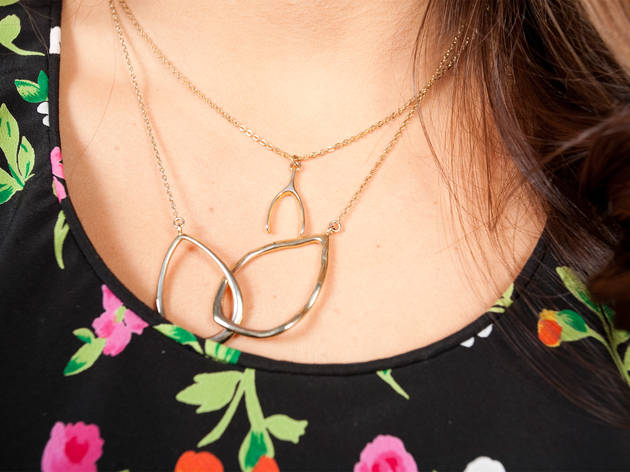 9/23
"Layering gold necklaces is my jam," says Radosevich, who does so with a wishbone necklace from Bauble Bar (baublebar.com) and a link style by Chloe + Isabel. "It is amazing how quality the pieces are for the price point."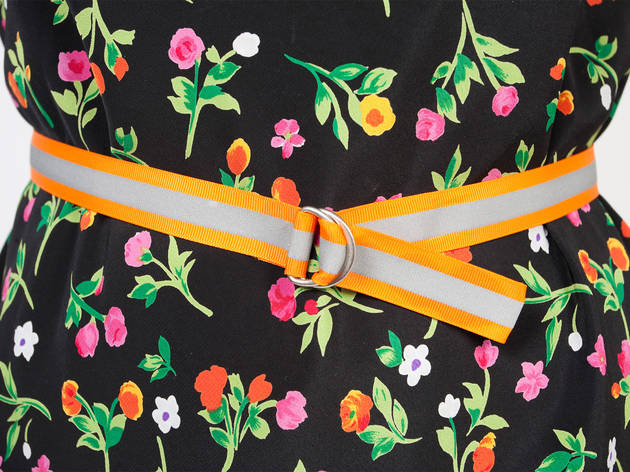 10/23
Radosevich cinches her waist with a homemade grosgrain belt. "I am embracing the neon trend but am not ready to invest, so I bought some ribbon from M&J Trimming and a couple D rings and DIYed my own," she says.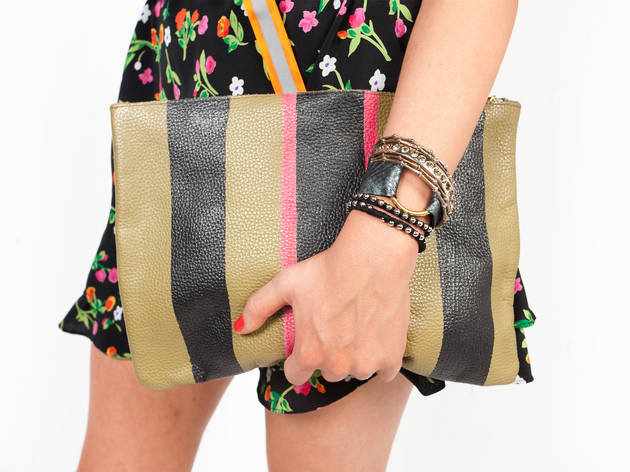 11/23
"The leather pouches at American Apparel (locations throughout the city; visit americanapparel.net) are the perfect portable canvas," enthuses Radosevich. "I like to take my favorite patterns from the runway and paint them on these bags." She swaps in a ball-chain wrap bracelet, whose instructions are detailed on the blog Honestly…WTF (honestlywtf.com), and a ring bracelet she made using leather and superglue to her bangle mix.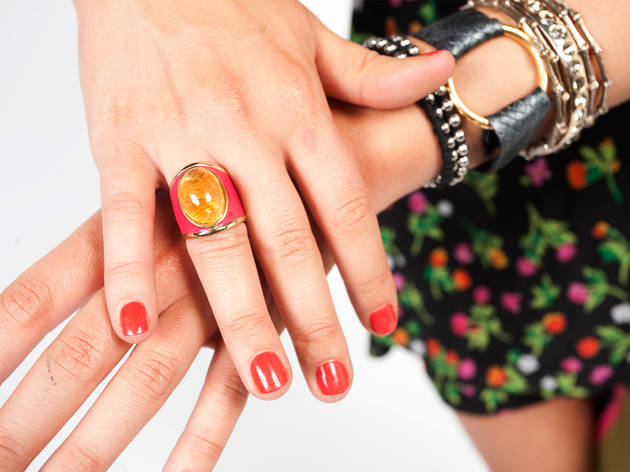 12/23
Radosevich shows off an amber ring that was a gift from a friend and her vibrant manicure. "OPI Cajun Shrimp is my current color obsession," she gushes. "It is perfectly bright."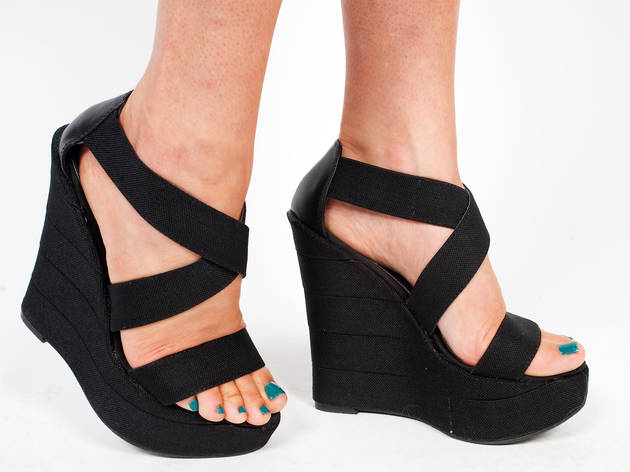 13/23
A friend tipped Radosevich off to affordable shoe brand MiaShoes (miashoes.com), which makes these sky-high strappy wedges.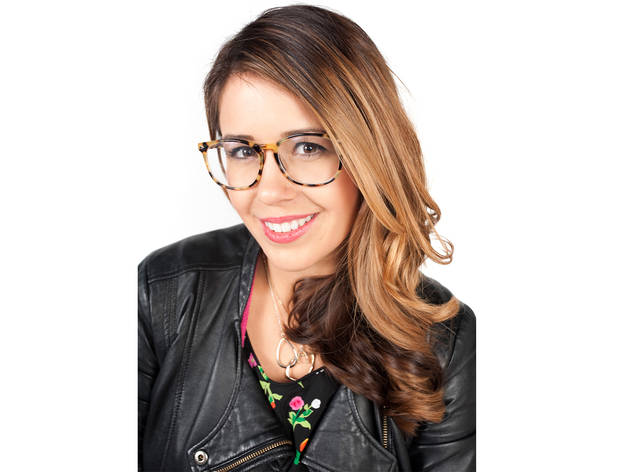 14/23
Radosevich picked up these '80s Hugo Boss tortoiseshell glasses from the Brooklyn Flea (176 Lafayette Ave between Clermont and Vanderbilt Aves, Fort Greene, Brooklyn • East River Waterfront between North 6th and 7th Sts, Williamsburg, Brooklyn • 1 Hanson Pl at Ashland Pl, Fort Greene, Brooklyn • brooklynflea.com).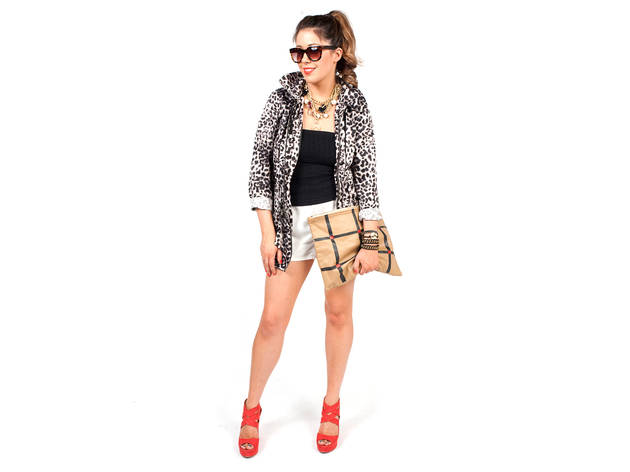 15/23
"I truly believe that I need to be checked into Animal Print–aholics Anonymous—I own way too much," confesses Radosevich, who allows her leopard-print Dana Buchman for Kohl's jacket to stand out against a basic tube top from Kmart (locations throughout the city; visit kmart.com) and H&M shorts. "Once, while preparing to board a 6am flight, I was wearing a leopard-print scarf, cardigan, bag, laptop case and cell-phone case. The man in front of me in the security line turned around and said, 'I know it's 4:30 in the morning, but I just need to say you are wearing a ridiculous amount of leopard print.' Truth."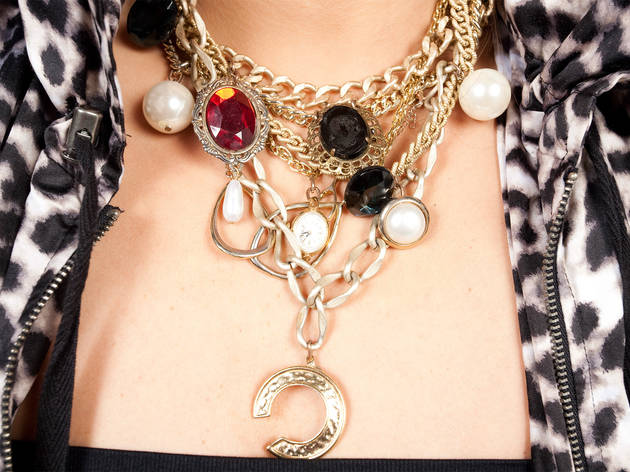 16/23
In addition to being one of the first projects she posted on her blog, this necklace "is my most meaningful DIY to date," says Radosevich. "The chains are from a thrifting trip my little sister and I went on, and all of the dangling charms, pins and watches are from my mom's jewelry box."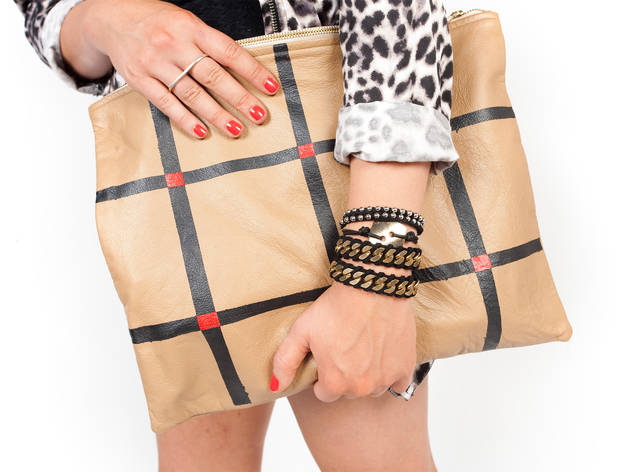 17/23
Radosevich holds another American Apparel clutch she hand-painted; this one takes inspiration from a Prada runway show. She also wears a simple silver double-finger ring that was a gift from a friend. "It's one of the only things I wear on a daily basis," she says. "I forget I am even wearing it at times."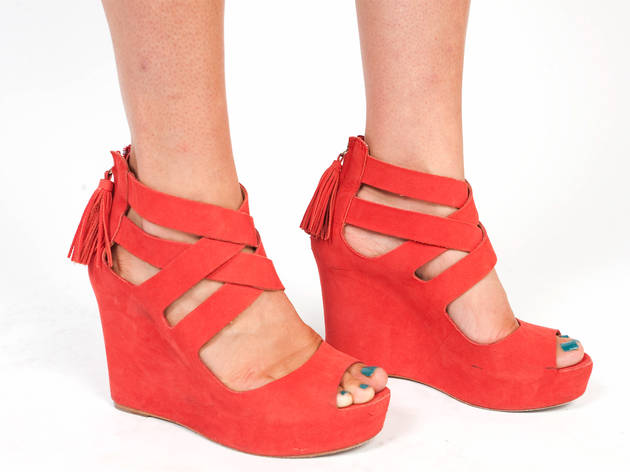 18/23
"I could literally run, Carrie Bradshaw–style, in these Dolce Vita wedges," swears Radosevich.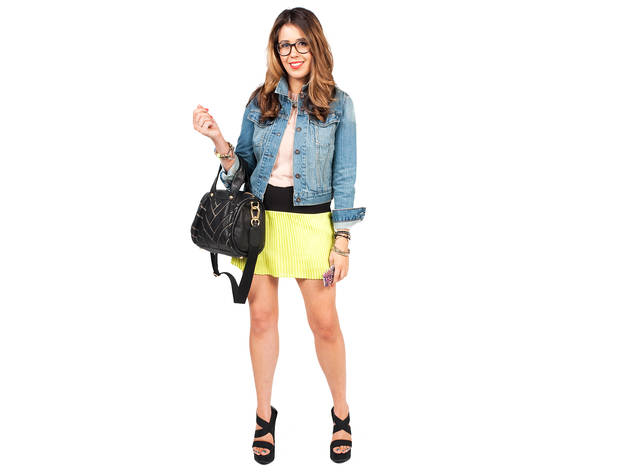 19/23
A Levi's denim jacket dresses down a frilly Walter dress. "It somehow incorporates a handful of trends from the spring runways—neon, pastel, color-blocking and pleats—and does it perfectly," marvels Radosevich of the frock. She accessorizes with strappy MIA wedges and an Ugg duffle bag.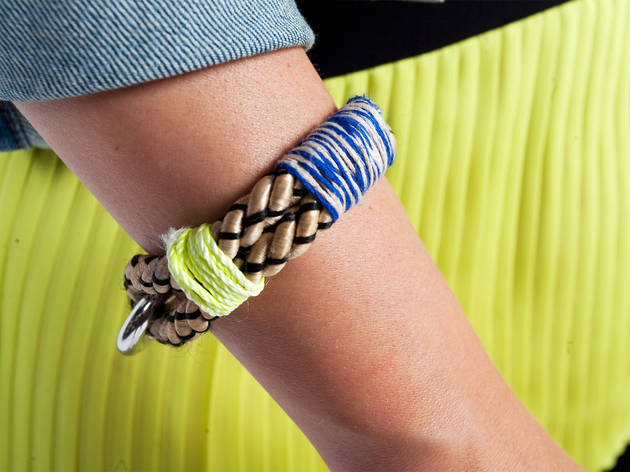 20/23
"I've met some amazing bloggers through Twitter," says Radosevich, who received this rope bracelet from fellow DIYer Grace Atwood of Stripes & Sequins (stripesandsequins.com).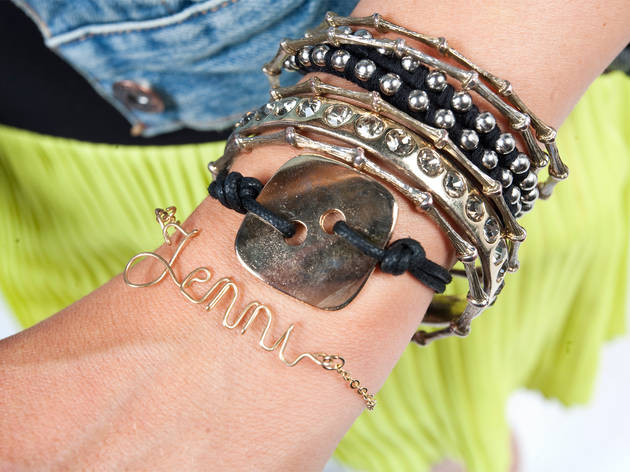 21/23
Radosevich scored this nameplate bracelet from a Soho street vendor. "For $20, he'll whip up any name in a matter of minutes," she says.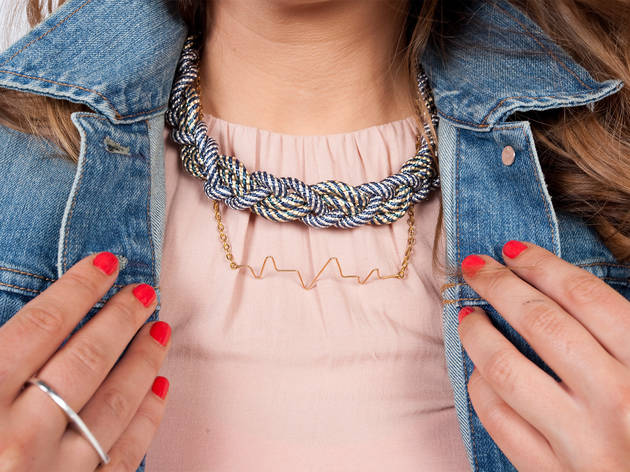 22/23
Radosevich crafted this braided necklace using metallic rope she discovered at a dollar store. "I buy rope obsessively," she confesses. "I literally cannot leave a hardware store without [purchasing] a new kind." The gold heartbeat necklace was another DIY project, inspired by an Etsy (etsy.com) creation Radosevich spotted via Pinterest (pinterest.com).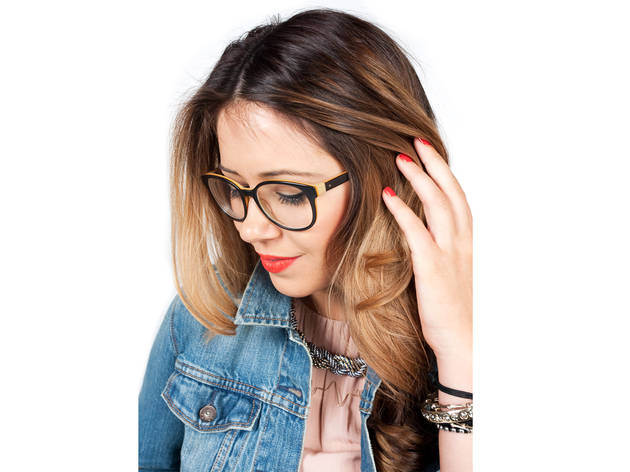 23/23
These Paul Frank glasses are the newest addition to Radosevich's eyewear collection. Her lips complement her bright nails, courtesy of NARS's Velvet Matte lip pencil in Red Square.
Jenni Radosevich, 29, DIY blogger (ispydiy.com) and author of I Spy DIY Style, Lower East Side
Her personal style: "Someone once described me as 'girl next door meets Lower East hipster,' which pretty much sums up my style—except I don't listen to emo music. Hip-hop all the way."
Her inspiration: "I love following Fashion Week and injecting the trends into my style. And since I can't always afford to get the look, I find ways to re-create [it myself]."
Favorite stores: "Whenever I see a piece of jewelry or embellishment on clothing that I love, I head to M&J Trimming(1008 Sixth Ave between 37th and 38th Sts; 212-391-6200, mjtrim.com) to get the goods to re-create the look. The store is a mecca for DIYers. The Dolce Vita(149 Ludlow St between Rivington and Stanton Sts; 212-529-2111, shopdolcevita.com) boutique has some amazing shoes and clothing. Their wedges are some of the highest yet most comfortable I have ever worn, and the dresses are perfectly flirty. Bird(220 Smith St at Butler St, Cobble Hill, Brooklyn; 718-797-3774 • 203 Grand St between Bedford and Driggs Aves, Williamsburg, Brooklyn; 718-388-1655 • 316 Fifth Ave between 2nd and 3rd Sts, Park Slope, Brooklyn; 718-768-4940 • shopbird.com) has some of the most droolworthy items. Most cost an arm and a leg, but a girl can dream, right? Although the thrifting in New York is nothing compared to Wisconsin, where you can fill a grocery bag for $5, I will say that every time I walk into Buffalo Exchange(504 Driggs Ave at North 9th St, Williamsburg, Brooklyn; 718-384-6901 • 114 W 26th St at Sixth Ave, 212-675-3535 • 332 E 11th St between First and Second Aves, 212-260-9340 • buffaloexchange.com), I come out with something new that I wear to death."
Favorite salons: "After I finished my book, I wanted a change, so I chopped off seven inches [of my hair] and went lighter with the stylists at Arrojo Studio(180 Varick St between Charlton and King Sts; 212-242-7786, arrojostudio.com). I loved it, but now I'm back to growing it out. I was ghostly white before this shoot, so I booked a spa day at Acqua Beauty Bar(7 E 14th St between Fifth Ave and University Pl; 212-620-4329, acquabeautybar.com) through Lifebooker (lifebooker.com) and got the best spray tan I've ever had. The mani-pedi was pretty perfect too."
Her signature accessory: "That would have to be my glasses. I wear them every day, and yes, they are real. I have at least 15 different pairs, four of which are currently in heavy rotation."
How she describes New York style: "One of the fantastic things about New York is that there is no one style. Pretty much anything goes. I do think certain neighborhoods have specific looks—for instance, midtown and Williamsburg are on opposite sides of the spectrum. I know when I head uptown, my glasses will draw comments."
How her style has evolved: "At nine, I was rocking a whole lot of tie-dye, neon, friendship bracelets and puffy paint, which ironically have come back into style. I love that I was making these looks back in '92, and now I've made a career out of creating the updated version two decades later. The other thing that has stayed fairly consistent is my skirt length: The shorter, the better has always been my theory."
WIN IT! We're giving away five copies of Radosevich's new book.