Most stylish New Yorkers: Julie Chang
Fox 5 entertainment reporter Julie Chang models her favorite feminine looks.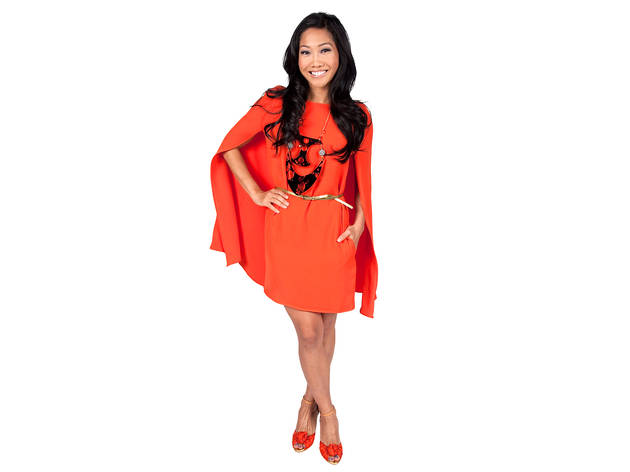 1/16
Photograph: Melissa Sinclair
This cape dress hails from one of Chang's favorite stores, Maje. "It's so me, in that it's rather simple with one thing that's quite unexpected," she notes.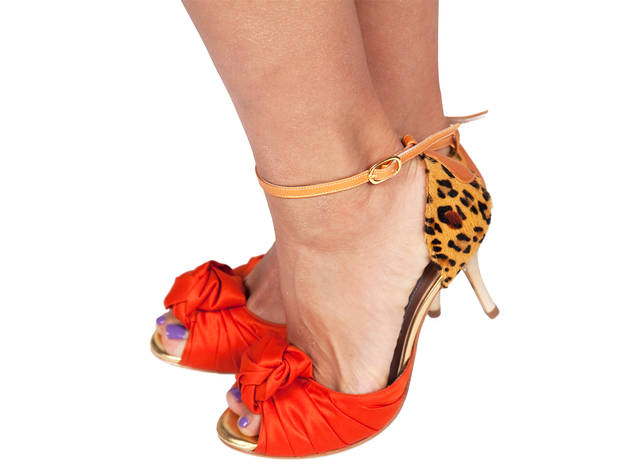 2/16
Photograph: Melissa Sinclair
"I got these at a bona fide tango shoe store, Comme Il Faut (lisadore.com), in Buenos Aires—it was the most magical shopping experience of my life," recalls Chang. "You walk through an obscure alleyway, up to the third floor and buzz at the door [to be let] into a beautiful room that's full of girly furniture, but there are no shoes in sight. The sales lady takes one look at your foot and knows your exact size before she starts bringing out dozens of shoes from the back. My sister and I walked out with six pairs, and we actually wore them to tango that night! We danced for six straight hours, so I can attest that they are pretty comfy."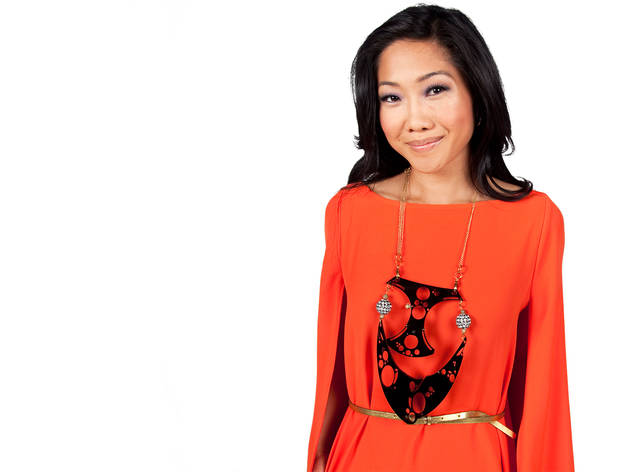 3/16
Photograph: Melissa Sinclair
The simple silhouette of Chang's dress allows her Compleated by Jerome Lamaar (compleatist.blogspot.com) statement necklace to take center stage. Chang cinches her waist with a skinny Club Monaco belt (locations throughout the city; visit clubmonaco.com) that complements—rather than competes with—her neckwear.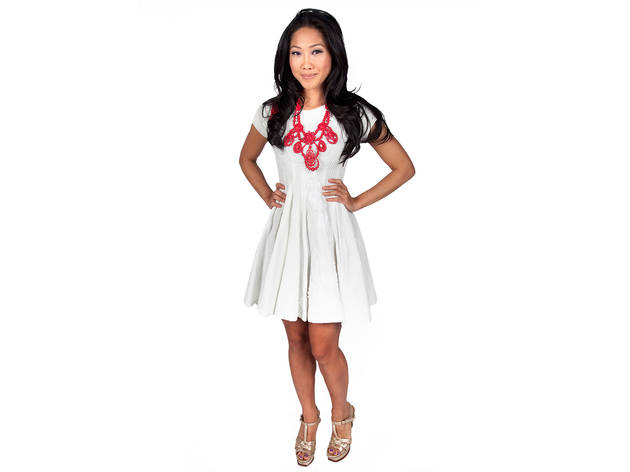 4/16
Photograph: Melissa Sinclair
Chang scored this '50s pleated-skirt dress for $30 at Miami vintage store Fly Boutique (flyboutiquevintage.com). "It's one of my most prized clothing items," she gushes. "It's the perfect fit—as if the dress was cut specifically for me."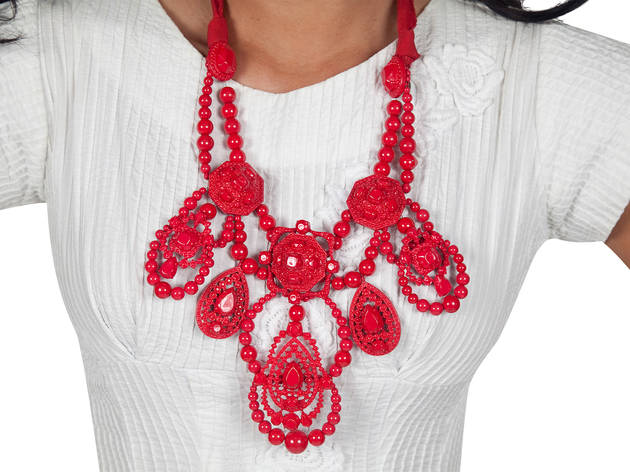 5/16
Photograph: Melissa Sinclair
A Lanvin for H&M chandelier necklace provides a splash of color for an all-white ensemble. "Perhaps the best collaboration ever!" exclaims Chang of the capsule collection the French label created for mass retailer H&M in November 2010.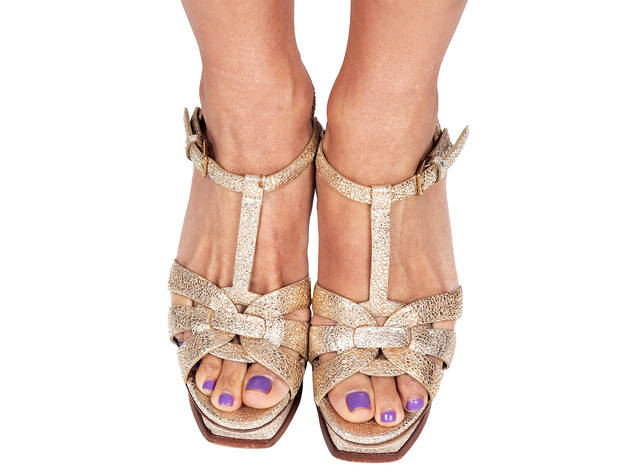 6/16
Photograph: Melissa Sinclair
Chang gets a lift from metallic Yves Saint Laurent (3 E 57th St between Fifth and Madison Aves; 212-980-2970, ysl.com) Tribute platforms. "Because God gave me a lot of hair, but not a lot of height," she jokes.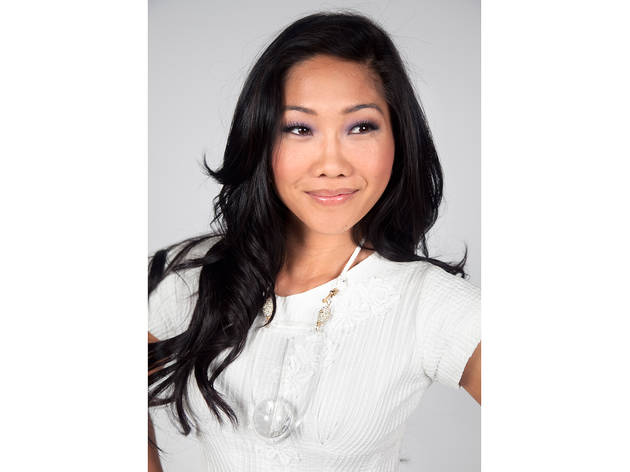 7/16
Photograph: Melissa Sinclair
Chang swaps in a Lucite Compleated by Jerome Lamaar necklace for a more subtle, sophisticated look.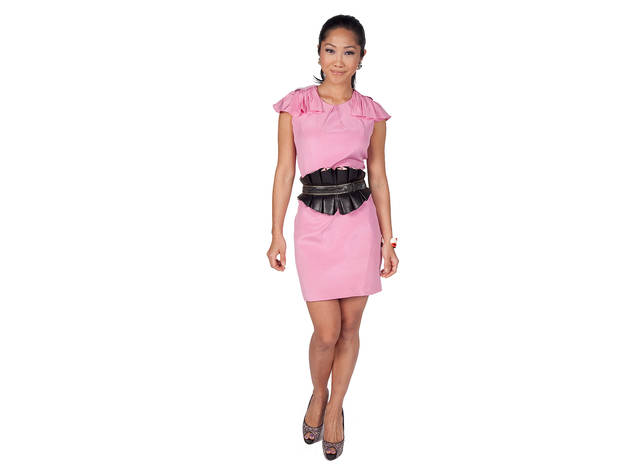 8/16
Photograph: Melissa Sinclair
Pleated shoulders give this Bensoni dress—which Chang calls a "flirty, girly take on a shift"—an unexpected twist.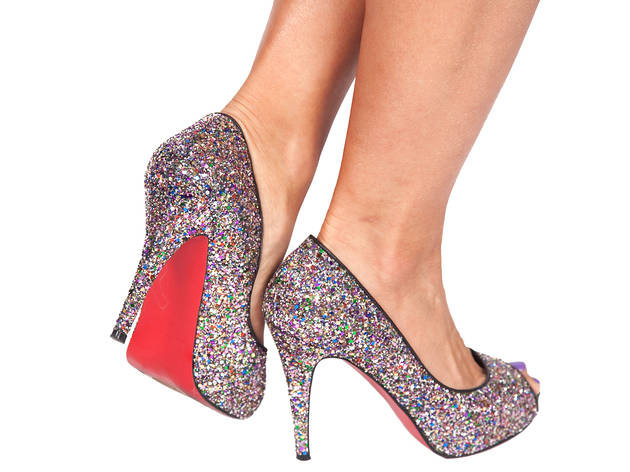 9/16
Photograph: Melissa Sinclair
"I got these in Korea; people think they are Christian Louboutin because of the red soles, but they're not," admits Chang of her glittery pumps. "They're even better because they have a built-in rubber grip on the bottom and—score!—they were 80 percent cheaper."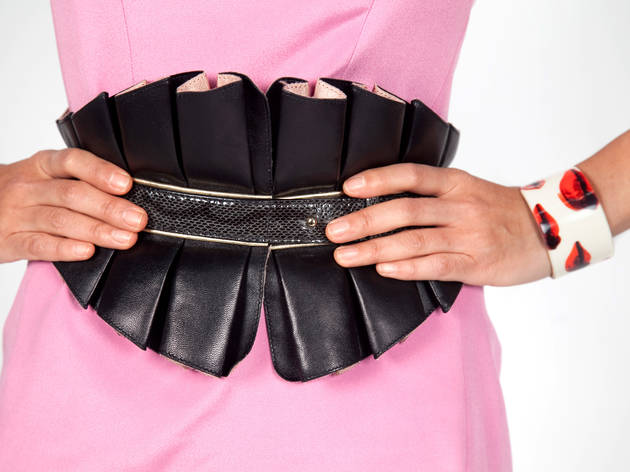 10/16
Photograph: Melissa Sinclair
A Temperley London(temperleylondon.com) accordion belt adds dramatic definition to Chang's waist. She picked up the lip-print bangle at a Buenos Aires flea market for just $3.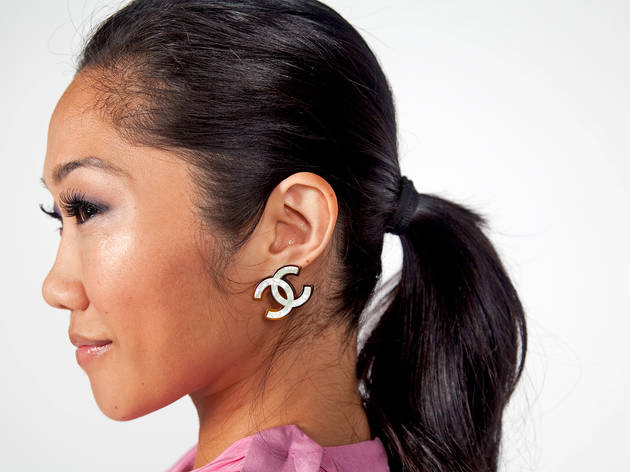 11/16
Photograph: Melissa Sinclair
"These are my favorite Chanel earrings," enthuses Chang. "They are mother of pearl, so they have that pretty iridescent sheen."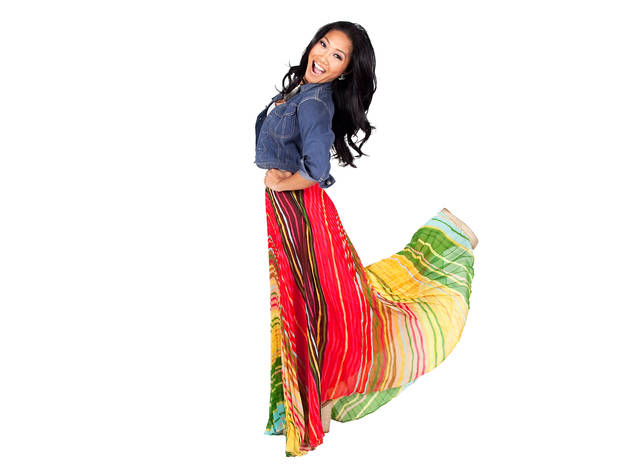 12/16
Photograph: Melissa Sinclair
Chang dresses down a pleated rainbow-striped skirt from Alice + Olivia(80 W 40th St between Fifth and Sixth Aves, 212-840-0887 ● 755 Madison Ave at 65th St, 646-545-2895 ● aliceandolivia.com) with a denim jacket picked up at Pasadena's Rose Bowl Flea Market (rgcshows.com/rosebowl.aspx) and a tank top from Target(locations throughout the city; visit target.com). "The skirt really should be shortened by three inches, but I refuse," she declares. "It's just too pretty of a fabric to cut. Instead, I wear neck-breakingly tall shoes to compensate."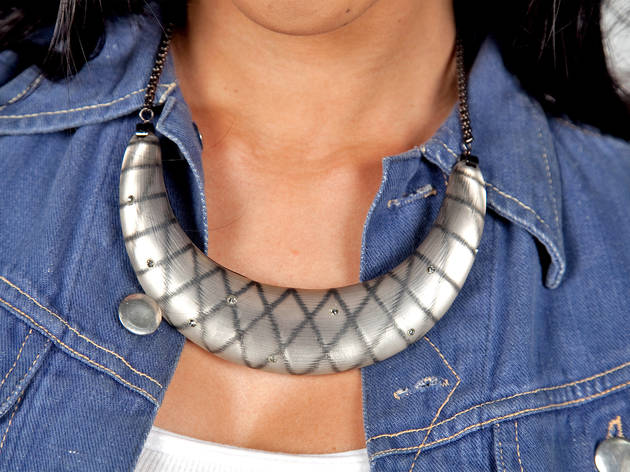 13/16
Photograph: Melissa Sinclair
Chang purchased this Alexis Bittar(353 Bleecker St between Charles and W 10th Sts, 212-727-1093 • 1100 Madison Ave between 82nd and 83rd Sts, 212-249-3581 • 465 Broome St between Greene and Mercer Sts, 212-625-8340 • alexisbittar.com) collar necklace at the annual POSH Sale (lighthouse.org/events/posh), which raises money for vision nonprofit Lighthouse International.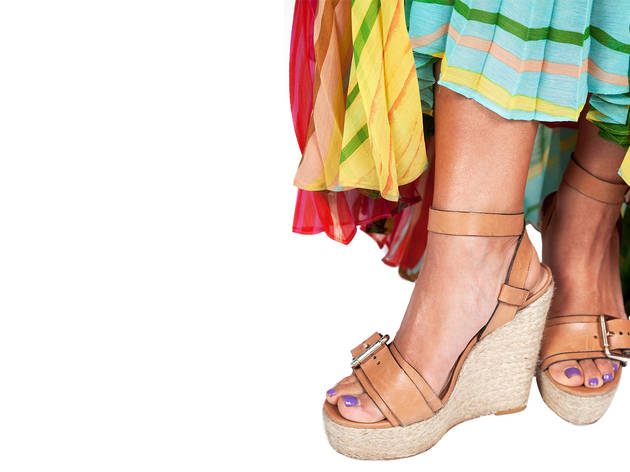 14/16
Photograph: Melissa Sinclair
"Pour La Victoire's (pourlavictoire.com) foot model must have flat feet like mine, because all of the brand's shoes fit me so comfortably," says Chang, referring to these sturdy wedges. "I have four or five pairs and can rock a 16-hour day in all of them."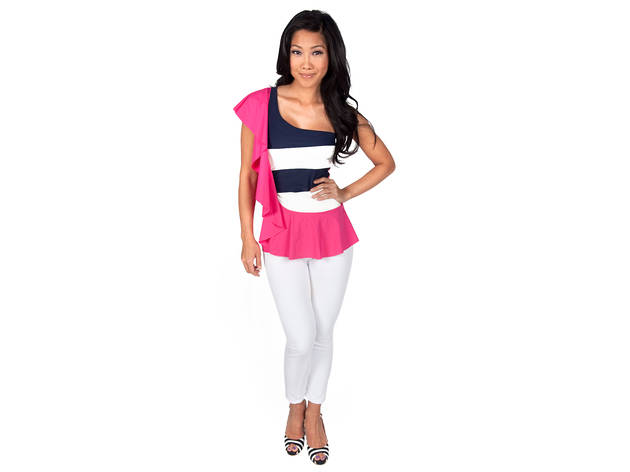 15/16
Photograph: Melissa Sinclair
Another Buenos Aires purchase, this ruffled tank is by Jazmin Chebar (jazminchebar.com.ar), who, according to Chang, is "sort of the Isabel Marant of Argentina." She pairs her flirty top with sleek white AG Jeans (agjeans.com) denim.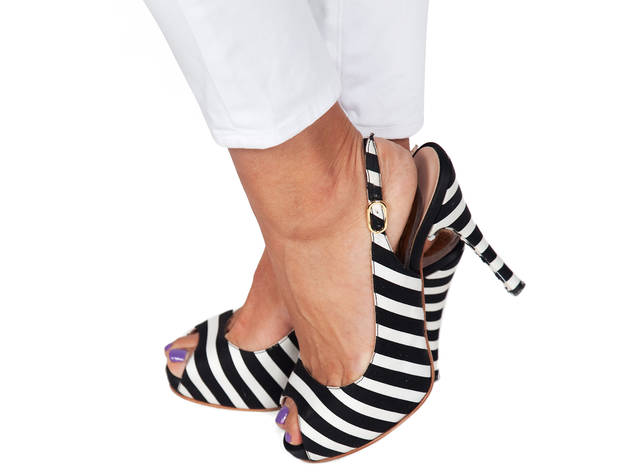 16/16
Photograph: Melissa Sinclair
"Comme Il Faut also makes street shoes, not just tango shoes," notes Chang of her striped slingbacks from the Buenos Aires brand.
most stylish New Yorkers
by modeling her favorite feminine looks. Chang cites
Olivia Palermo
as a style inspiration, and favors bright colors and sophisticated cuts from brands such as
Maje
,
Sandro
and Bensoni.
Julie Chang, Fox 5 entertainment reporter (trulyjuliechang.com); Fort Greene, Brooklyn
Her personal style: "During the week, it's sophisticated but fun, and sweet with a twist of sexy. On the weekends, it's Soho boho-chic. Everything reads differently on camera, so I've learned through lots of trials and errors. No tiny prints, since they create weird little squiggly lines onscreen; nothing too voluminous—I'm a small person, so I get lost in a lot of fabric—and no super dark colors. Jewel tones are quite telegenic, so my closet is an explosion of color. Satiny fabrics read well, too, so I try to stock up on those."
Her inspirations: "Everything under the sun and moon inspires my style—particularly my travels. I recently took a trip to Buenos Aires, where they had the most beautiful graffitied walls. It inspired me to mix prints and color-block with unusual hues. As for celebrities, I really dig the styles of Camilla Belle, Olivia Palermo, Jennifer Lopez, Cheryl Cole and Blake Lively."
Favorite stores: "I love Min-K (334 E 11th St between First and Second Aves, 212-253-8337 • 219 Mott St between Prince and Spring Sts, 212-219-2834 • minknyc.blogspot.com) because the bulk of its items are from Korea, so [there are] lots of cutting-edge pieces that flatter my petite frame. Plus, it's decent price points. I love consignment store Ina(locations throughout the city; visit inanyc.com). I go to the two Soho locations the most. I have found some serious designer gems there. Both Parisian brands Maje(145 Spring St between West Broadway and Wooster St, 212-775-8330 • 417 Bleecker St at Bank St, 212-510-8390 • 10 Prince St between Bowery and Elizabeth St, 212-226-0426 • us.maje.com) and Sandro(8 Prince St between Bowery and Elizabeth St, 212-226-3226 • 415 Bleecker St at Bank St, 646-438-9335 • us.sandro-paris.com) are chic yet edgy. All of the clothes are European-cut, so everything fits like a glove. I also love me some Zara(locations throughout the city; visit zara.com) because it offers designer looks for less."
Her signature accessory: "More often than not, I'm wearing my Chanel earrings."
Favorite designers: "Clearly, my favorite is my sister Grace Sun (gracesundesign.com). I'd say 80 percent of what I wear on-air are her designs. She has an innate killer style, and I've always looked up to how she can create a look that's so pulled together without trying so hard. I'm also a fan of Bensoni's Sonia Yoon. She designs really fun, fearless pieces that are unapologetically feminine with a dash of rebelliousness. Also, I admire the style of Heesung Choi. She's the senior women's designer for Rag & Bone(locations throughout the city; visit rag-bone.com). She is the epitome of chic."
How she describes New York style: "Expressive. Whether your look is punk, goth, corporate, hipster, diva, off-duty model, I love that New Yorkers have the power to let you know who they are and what they are all about in a single glance."
How her style has evolved: "As a kid, my style was simply outdated. I'm six and seven years younger than my sisters, so their hand-me-downs were just as many years out of fad. As a teen, I was preppy with a dash of hip-hop. In college, I was dressing relatively well. My sisters were both living in NYC at this point, so through them, I was receiving scraps of cool clothes to sport at the University of Michigan. I grew up in the Midwest, so when I first got to NYC eight years ago, I definitely dressed like I was from the heartland—lots of Ann Taylor and Banana Republic. Now, I have more Roland Mouret dresses. I'm a fan of mixing high-end and low-end, so you'll definitely find H&M and Forever 21 in my wardrobe. Overall, I went from country bumpkin to sophisticated city gal."
Favorite salons: "I get my hair cut by Rossano Ferretti at Metodo Rossano Ferretti (595 Madison Ave at 57th St, sixth floor; 212-759-9300, metodorossanoferretti.com), if he happens to be in NYC. He owns 25 salons around the world, so it's quite hard catching him. When he's not there, I go to Jan Spagnuolo, who has been trained by Rossano quite meticulously. The cuts look good with zero styling. I have no idea how they do this, but my theory is that they really study what your hair does when it naturally dries, and then cut around that shape. I've been going to Elaine Face Work (220 Centre St between Grand and Howard Sts, 212-226-3328) for eight years! No frills, just amazing, simple facials."
You might also like
Most stylish New Yorkers: Melanie Sonier
Most stylish New Yorkers: Steve Dool
Most stylish New Yorkers: Binki Shapiro
See more in Shopping & Style