Most stylish New Yorkers: Nicole Winhoffer
The professional dancer (and Madonna's personal trainer) mixes workout clothes with high-fashion threads to create her chic, sporty look.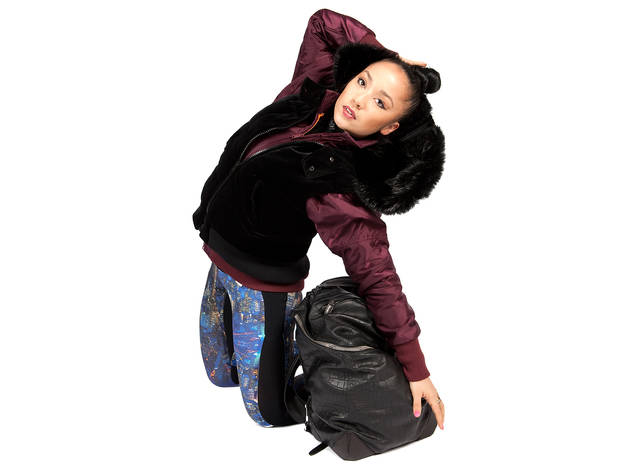 1/14
Photograph: Jessica Lin
"I love to layer," enthuses Winhoffer, who wears a Givenchy (givenchy.com) hooded vest over a gifted Y-3 (317 W 13th St at Gansevoort St; 917-546-8677, y-3store.com) quilted jacket. "The shape is unique, as it balloons out on the sides to give a beautiful silhouette, and the bright orange lining provides a nice contrast," she describes of her topper. Patterned muscle-compressing tights from London designer Lucas Hugh (lucashugh.com) balance fashion with function.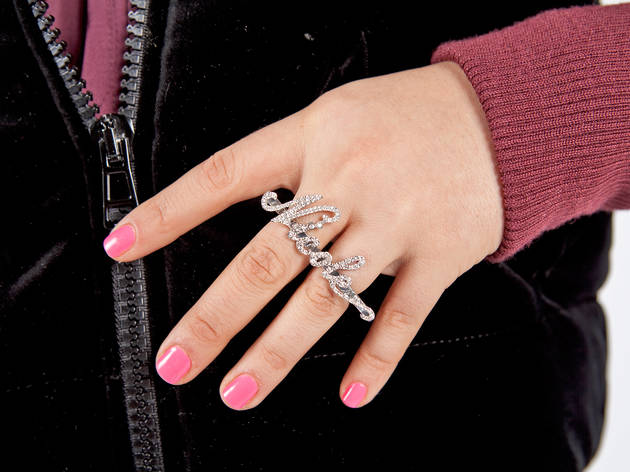 2/14
Photograph: Jessica Lin
Winhoffer purchased this Scala Jewelry (212-219-9315) nameplate ring as a golden-birthday gift to herself in 2011 (she was born on November 11). She worked with jeweler Yolanda Scala to transform her signature into a diamond-encrusted two-finger bauble. "Super baller," gushes Winhoffer. Essie nail polish in Short Shorts keeps her digits looking feminine.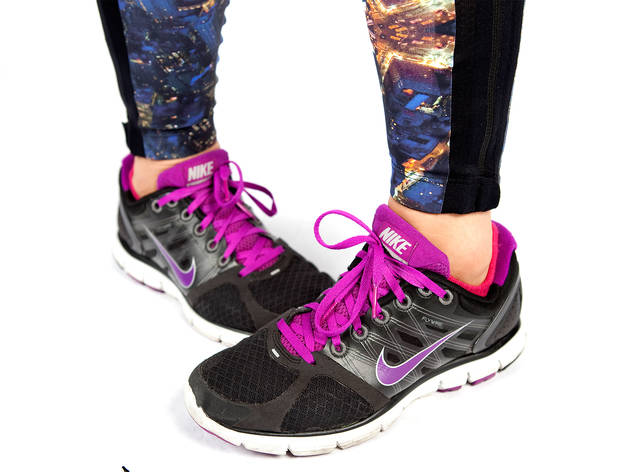 3/14
Photograph: Jessica Lin
Thanks to their shocking pink laces, these Nike LunarGlide 2 Flywire sneakers are versatile enough to wear in the studio or on the street. "They're super comfortable, light and allow me to dance up a storm," says Winhoffer.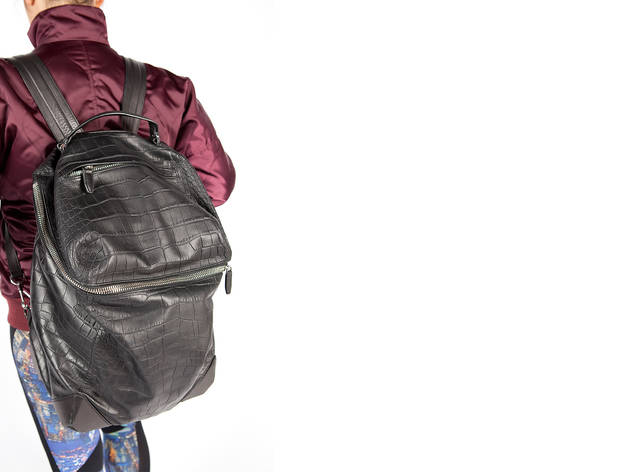 4/14
Photograph: Jessica Lin
"This is my baby," says Winhoffer of her Alexander Wang duffel backpack, which she scored at Barneys in Los Angeles. "It's strong, holds a lot of items and keeps its shape."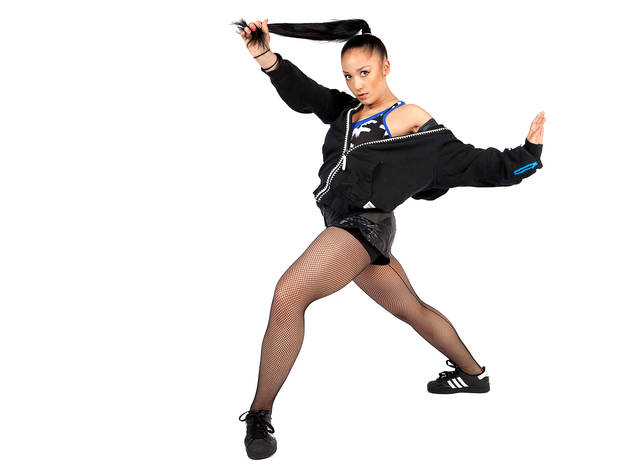 5/14
Photograph: Jessica Lin
Never one to shy away from the men's department, Winhoffer dons a guys' Adidas Originals zip-up hoodie that she bought at London shop Size? (size.co.uk) and has become a wardrobe staple. She wears it with an Adidas by Stella McCartney (adidas.com/com/stella) bathing suit worn as a tank, Lucas Hugh shorts and Capezio (locations throughout the city; visit capezio.com) fishnet stockings. "I have been wearing these since 2003," she notes. "Capezio makes the strongest fishnets in the world. I have ten pairs and they have each lasted me more than ten years!"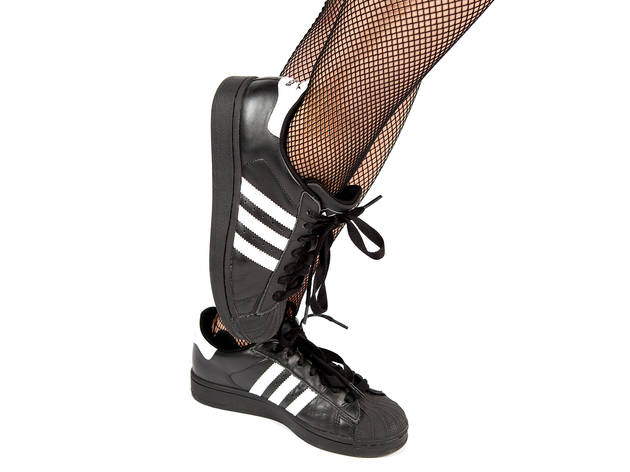 6/14
Photograph: Jessica Lin
Winhoffer finishes her sporty look with classic Adidas shell-top sneakers. "They go with everything," she says.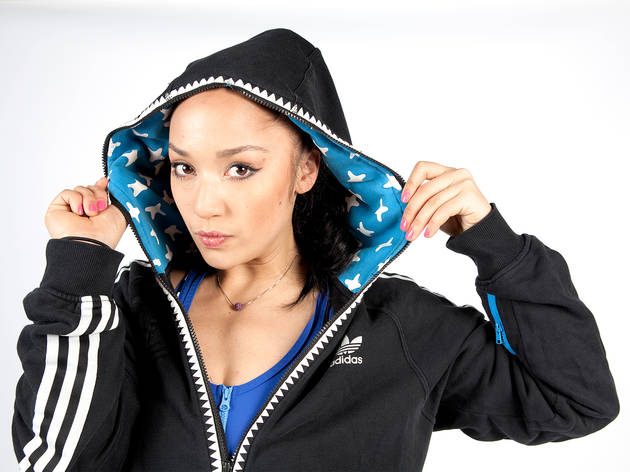 7/14
Photograph: Jessica Lin
A friend from Milan surprised Winhoffer on her birthday with this pink-crystal pendant necklace. "It's symbolic of my dreams and helps me remember my mantras," she explains. The zipper on her hoodie extends all the way to the top, "so if I don't want to be seen, I can just close it up."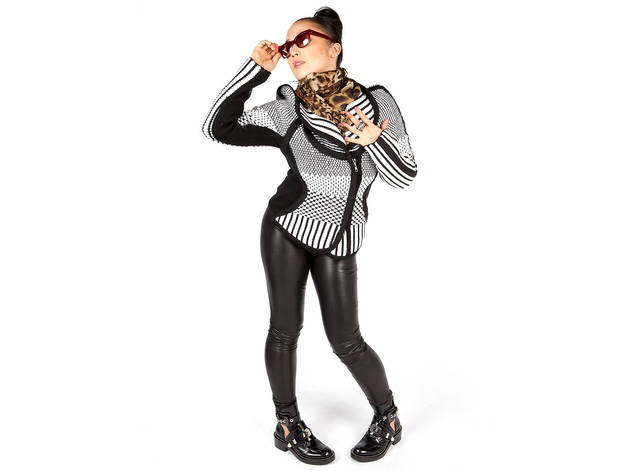 8/14
Photograph: Jessica Lin
When she's not wearing workout clothes, you'll find Winhoffer in flattering high-fashion threads. Both the graphic Ohne Titel (ohnetitel.com) sweater and the Row (therow.com) leather pants show off her curves in all the right places. "They fit like a glove," she enthuses of the latter.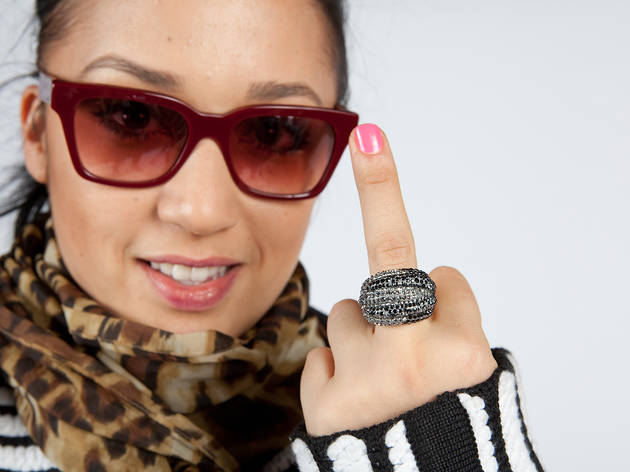 9/14
Photograph: Jessica Lin
Winhoffer gravitated toward these Retro Super Future (store.retrosuperfuture.com) sunglasses for their square cat-eye shape and unusual burgundy color. The Swarovski (locations throughout the city; visit swarovski.com) ring was a sentimental birthday gift from a fellow-dancer friend. "We took a photo [together] in front of crystals at the Budapest Swarovski store in the summer of 2009 while on [Madonna's] Sticky & Sweet European tour," she recounts. "The photo is one of our favorites and she gave this to me as a memory."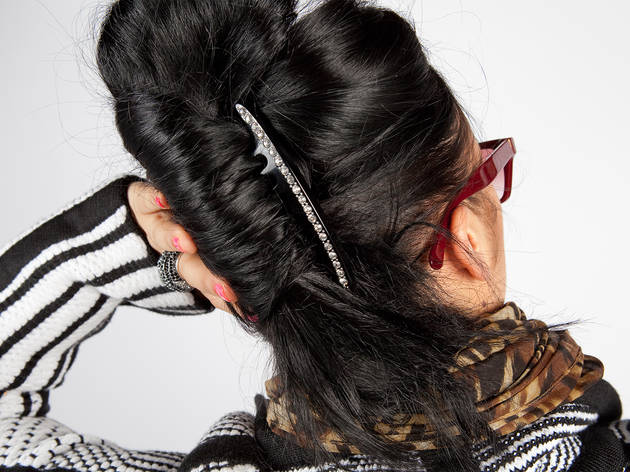 10/14
Photograph: Jessica Lin
While shopping for a hair accessory on her birthday this year, Winhoffer discovered this bejeweled clip at Alexandre de Paris (971 Madison Ave between 75th and 76th Sts; 212-717-2122, alexandredeparis-accessoires.fr/en). "It reminded me of ballet class, when I used to wear French twists," she says. "It holds my thick hair with one twist."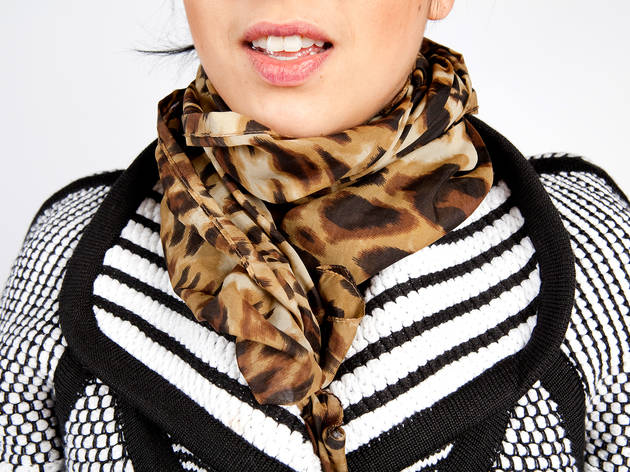 11/14
Photograph: Jessica Lin
Although she can't remember where or when she purchased it, this leopard-print scarf is a go-to item in Winhoffer's wardrobe. "It can dress up any outfit and also doubles as a cover-up on the beach," she says. "It's like my blankie—it has gone with me all over the world."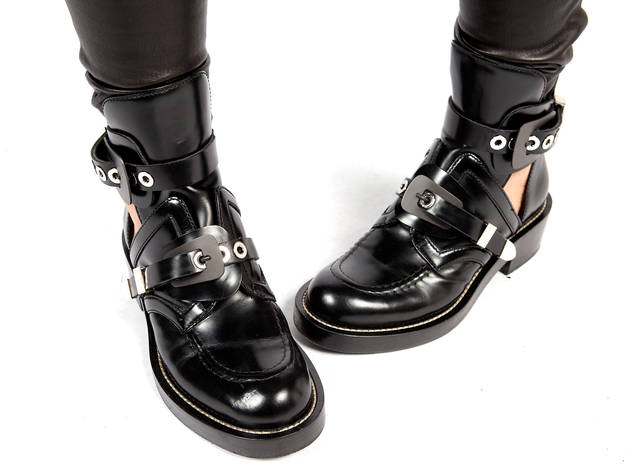 12/14
Photograph: Jessica Lin
Winhoffer spotted these Balenciaga (138 Wooster St between W Broadway and Greene St; 212-206-0872, balenciaga.com) loafers on a late-night shopping trip to Bergdorf Goodman (754 Fifth Ave at 58th St; 212-753-7300, bergdorfgoodman.com) just as the store was about to close. "I was leaving New York the next day and knew I would not be finding these boots anywhere else," she recalls. After scouring the Internet, she found them on Neiman Marcus's website (neimanmarcus.com) and had them mailed to L.A., where she was on tour. "One of my favorite movies is Edward Scissorhands, and these are definitely an ode to the film," she says. "I also fancy them because they're androgynous, and I like playing with masculine and feminine details."
13/14
Photograph: Jessica Lin
This Valentino (746 Madison Ave between 64th and 65th Sts; 212-772-6969, valentino.com) leather jacket was originally loaned to Winhoffer for an Oscar after-party this year, but she loved it so much she decided to buy it. "The shoulders are sewn into rose petals, which gives it an amazing silhouette," she says. She pairs it with lace pants from the Comme des Garçons (520 W 22nd St between Tenth and Eleventh Aves; 212-604-9200, comme-des-garcons.com) store in Paris she found while on tour with Madonna this summer. Microfiber bike shorts from London's Primark (primark.co.uk) keep the sheer bottoms modest yet sexy.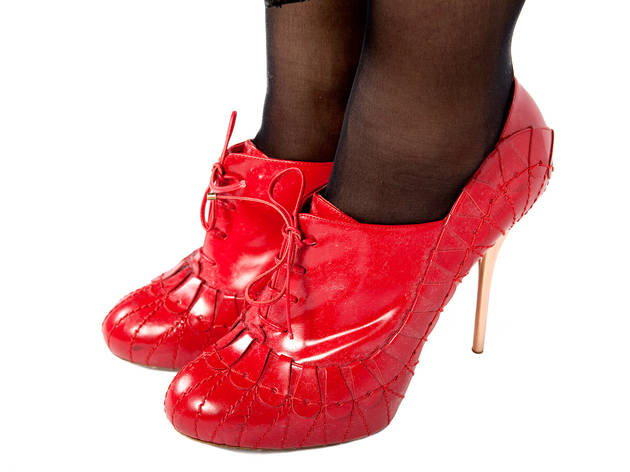 14/14
Photograph: Jessica Lin
Winhoffer scored these Christian Dior (21 E 57th St between Fifth and Madison Aves; 212-931-2950, dior.com) oxford heels while window-shopping with a friend after coming home from a Wicked tour in 2007. "They ended up being 60 percent off," she boasts. "They are an eye-catcher."
most stylish New Yorkers
by modeling her favorite sporty looks. Winhoffer mixes workout gear from
Capezio
, Y-3 and Nike with edgy designer goods from
Balenciaga
,
Comme des Garçons
and
Alexander Wang
.
Nicole Winhoffer
, 28; personal trainer, performer and fitness guru
(nicolewinhoffer.com);
Upper East Side
Her personal style:
"It's original, sporty, urban, sleek, sexy and theatrical. I'm always dressed in something that's comfortable, shows off my body, expresses myself and is unique to who I am. My clothing is an extension of my body and helps me tell a story and become a character. The influence of movement and wardrobe go hand in hand."
Her inspirations:
"My mood often dictates what I wear, but I'm inspired by dance, theater, burlesque, Europe, '90s hip-hop, Charlie Chaplin, silent movies, Cyd Charisse, Natalie Wood,
Fosse
, Helmut Newton, Steven Klein's work, ballerinas,
Swan Lake
and Madonna."
Favorite stores:
"I'm an impulsive shopper—I'll be out and about, see something and grab it—so I don't shop too often, but when I do, I love
Barneys New York
(660 Madison Ave at 61st St; 212-826-8900, barneys.com)
because it always carries unique items. I frequent
Bergdorf Goodman Men
(745 Fifth Ave at 58th St; 212-753-7300, bergdorfgoodman.com)
because it gives me inspiration and new ideas. I also love lingerie stores such as
Kiki De Montparnasse
(79 Greene St between Broome and Spring Sts; 212-965-8150, kikidm.com)
because they offer unique textures, fabrics and shapes to add to my wardrobe. [The line] is sensual, feminine and sexy."
Favorite salons:
"I get my hair cut and styled by Aleksandra Nesterchuk
(646-337-7095, sashahair.com).
She does house calls and also [works out of] her NYC apartment. She did my hair for [Hard Candy Fitness's]
Addicted to Sweat
DVD
(addictedtosweatdvd.com)
and knows how to straighten [hair] like no one's business. I am obsessed with high ponytails, and she does the best ones in the world. She works like a surgeon in an operating room. I love working with people who pay attention to detail. Since I'm always traveling and work late hours, I frequent
Juvenex
(25 W 32nd St between Fifth Ave and Broadway, fifth floor; 646-733-1330, juvenexspa.com)
, which is open 24 hours. It has hot and cold baths, a steam room shaped like an igloo and a sauna that looks like a tepee. The staff is always available and accommodating. After a treatment, they supply you with fresh melon and Chinese tea. It is my favorite."
Her signature items:
"My high ponytail, Rick Owens leather jacket, tights, Maison Martin Margiela wedges and the color black."
Favorite NYC designer:
"
Alexander Wang
(103 Grand St at Mercer St; 212-977-9683, alexanderwang.com).
He is urban, edgy and sophisticated. His amazing jackets and shirts are simple yet industrial, and his T by Alexander Wang line always has the perfect material and cut for a flattering top. He makes strong statements in subtle ways."
How she describes New York style:
"It's purposeful, diverse, edgy, iconic, individual, cultural, ahead—yet behind Europe—sleek, black, serious, fun and quirky. It ranges from Upper East Side diamonds to NYU freshmen in sweatshirts and jeans, from fresh blowouts to sweaty gym hair. You'll find everything. I hope to inspire NYC's culture with my own taste."
How her style has evolved:
"I have always been into fashion, even as a little girl. I shopped at the Limited, Gap and Diesel, wore lots of color and
always
matched. I was 'the different one' in school, wearing out-of-the-ordinary clothing for suburbia. I was influenced by fashion, music, theater and MTV from a young age. One thing that I've always done is mix my dance and workout clothes with my everyday wear. During middle school, I would wear leotards with leather jackets or fishnets with jean shorts. Dance is something so dear to my heart that I think wearing [workout] pieces throughout the day makes me feel comfortable. In the last four years, I moved from Broadway to personal training and fashion-video work. My style is still urban and edgy but more sophisticated and sexy. I love being a woman and I like to dress like one. Even though I love wearing my trainers and matching them with my looks, there is nothing more feminine than a pair of Nicholas Kirkwood pumps to make you feel sexy."
Follow Cristina Velocci on Twitter:
@cvelocci