Most stylish New Yorkers: Stalley
Rapper Stalley relies on limited-edition sneakers, bandannas and RRL garb in creating his streetwear-inflected Americana look.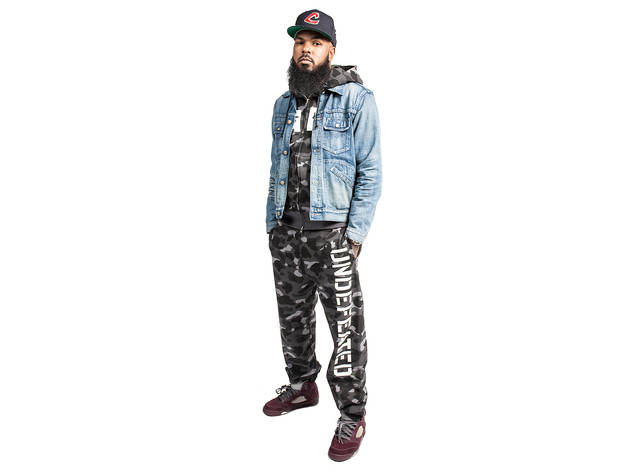 1/21
Stalley layers a RRL denim jacket over a camouflage sweatsuit that was a collaboration between Bape(91 Greene St between Prince and Spring Sts; 212-925-0222, us.bape.com) and Undefeated (undefeated.com). "It feels like something Bruce Springsteen or a mechanic might wear," he muses of his topper.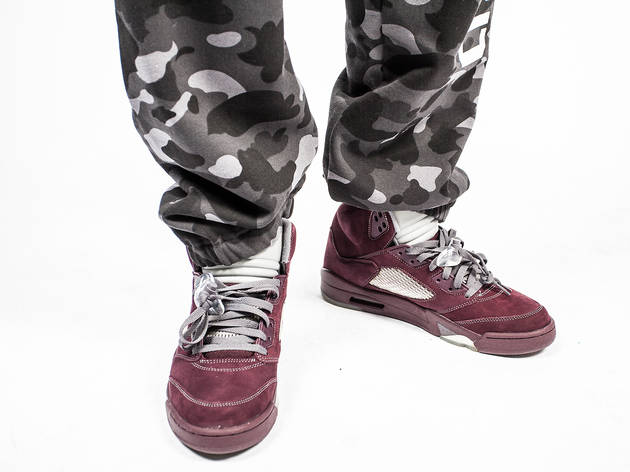 2/21
"I'm a big sneakerhead," confesses Stalley, who dons deadstock Nike Air Jordan 5 kicks from Footaction (locations throughout the city; visit footaction.com). "My mom would never be able to buy me Jordans growing up, so I feel privileged to be able to afford and collect them now."
3/21
Stalley covers his New Era Cooperstown Cleveland Indians 1975 hat with pins he collects from the places he visits and performs. "They represent my journey in the music industry and reflect a lot of memories," he says.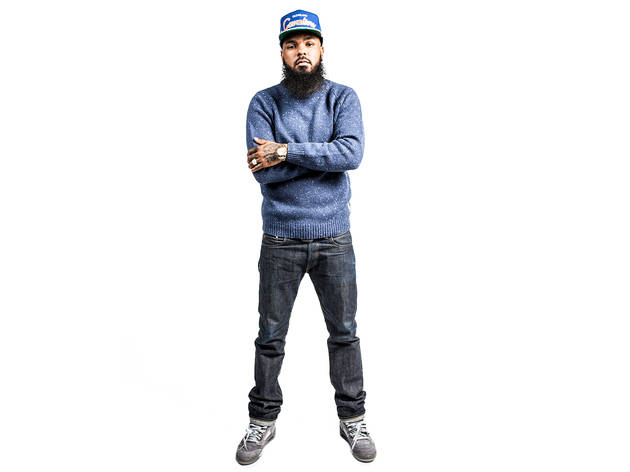 4/21
"This sweater is something my dad may have worn," reflects Stalley of his Carhartt crewneck top, which he pairs with RRL jeans.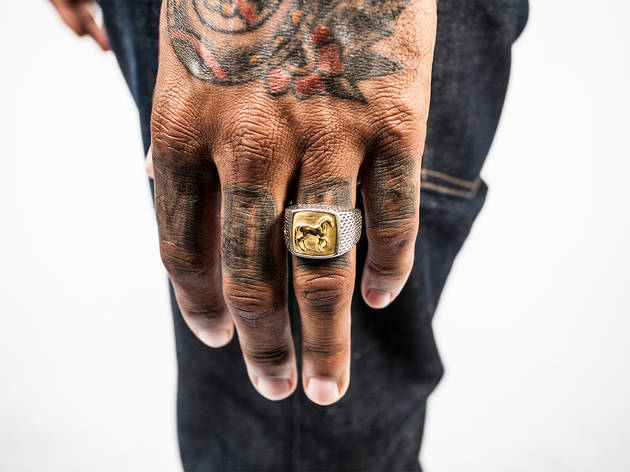 5/21
Stalley shows off an 18-karat gold signet ring from David Yurman(712 Madison Ave at 63rd St; 212-752-4255, davidyurman.com). "I spent part of my childhood in Texas living with my dad, who was a cowboy," he notes of the bauble's significance. "Horses are also just amazing, beautiful animals that represent strength and grace, and that's something I identify with."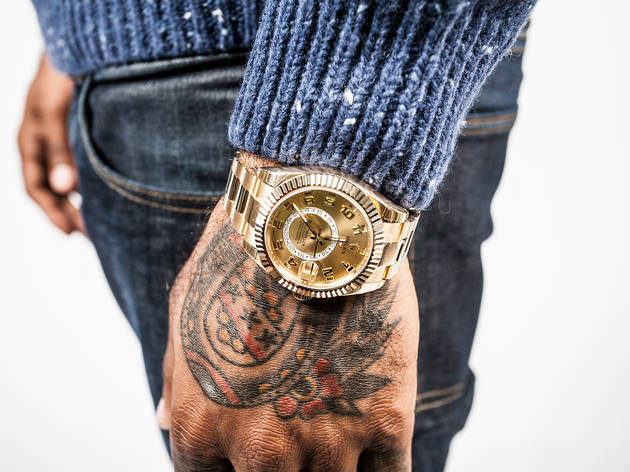 6/21
"This is a watch I can pass down to my kids," declares Stalley of his 18-karat gold Rolex Sky-Dweller watch from Toxsur & Co. "It changes time zones on its own, so it has amazing features for someone always on the road, but it's also a classic piece that can go with any outfit."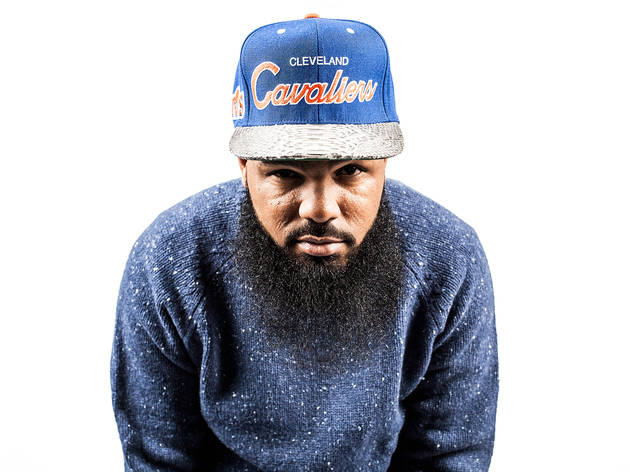 7/21
The native Ohioan represents his home basketball team, the Cleveland Cavaliers, with this Just Don hat from RSVP Gallery (rsvpgallery.com). "It's a little flashier than I normally am with the alligator brim, but I like it as an accent," notes Stalley. "It represents my Midwest upbringing, being around pimps who wore gator shoes and mink coats."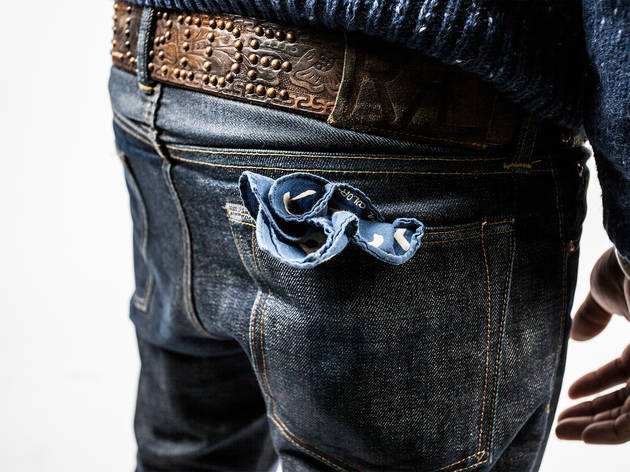 8/21
Both the embossed belt and paisley bandanna are from RRL, and echo the rugged cowboy vibe Stalley adores. "I like to have a bandanna in my pocket when I perform because I use it instead of a hand towel sometimes," he remarks.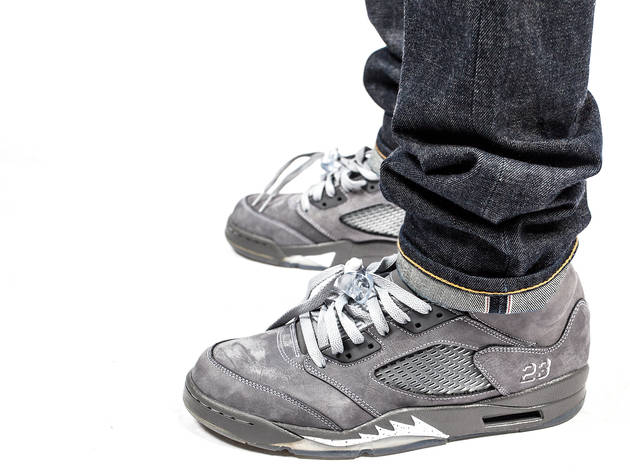 9/21
These Air Jordan 5 Wolf Grey sneaks purchased from Shoepreme (shoepreme.com) are another rare Nike style. "The suede gives the shoe some softness and texture," enthuses Stalley.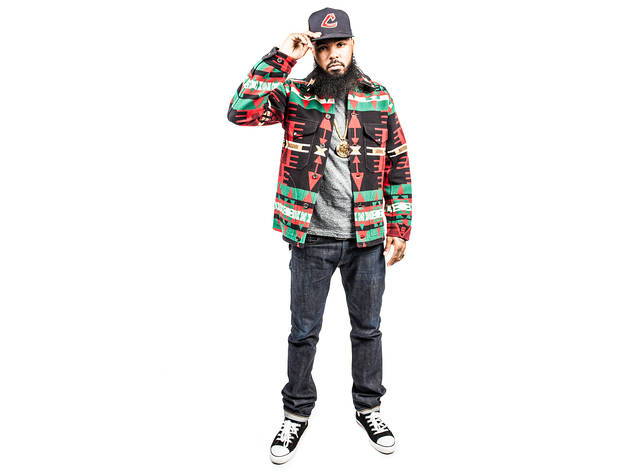 10/21
Stalley models a jacket, tee and jeans from RRL. "They're very comfortable and fit me perfectly," he says of the brand's denim. "The jacket has that Native American print that I identify with, plus it's colorful and pairs well with a simple outfit."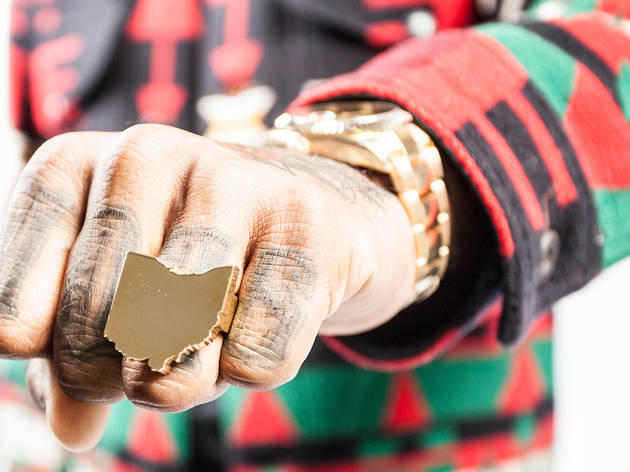 11/21
David Bling created this 18-karat solid gold ring in the shape of Ohio for Stalley. "It's important for me to represent where I'm from," the rapper explains. "This is one of the first pieces of jewelry that I bought for myself. I chose a ring over a chain because it's not as flashy."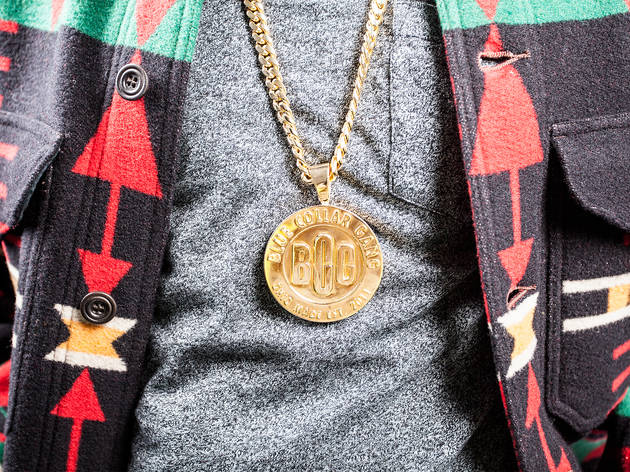 12/21
Another 18-karat solid gold creation by David Bling, this medallion necklace features the phrase "Blue Collar Gang," which represents Stalley's crew and fans, and also serves as the name of his clothing line. "It's very heavy so I reserve it for special occasions," he says of the accessory.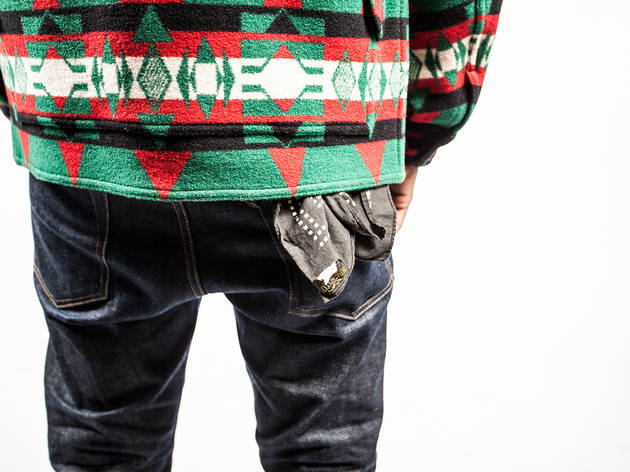 13/21
Stalley sticks another RRL bandanna in his back pocket. "I have them in a few colors, so I can pick and choose depending on the rest of my outfit," he notes.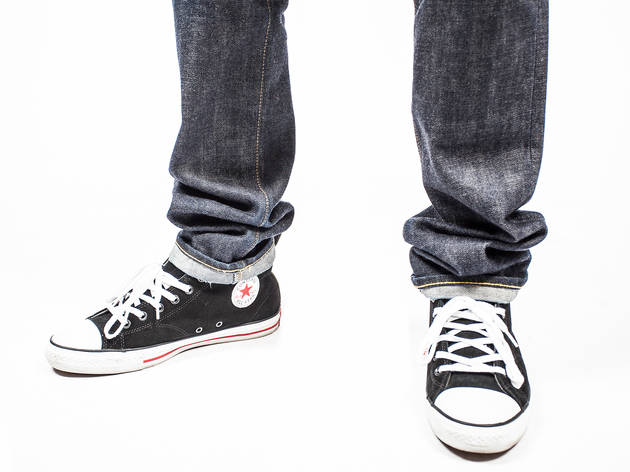 14/21
These sneakers are the product of a collaboration between Slam City and Converse(560 Broadway at Prince St; 212-966-1099, converse.com). "The accents differ slightly from a traditional Chuck [Taylor shoe]," explains Stalley. "Converse is the ultimate in comfort and classic American style, so this is just an update of that silhouette with a cool twist."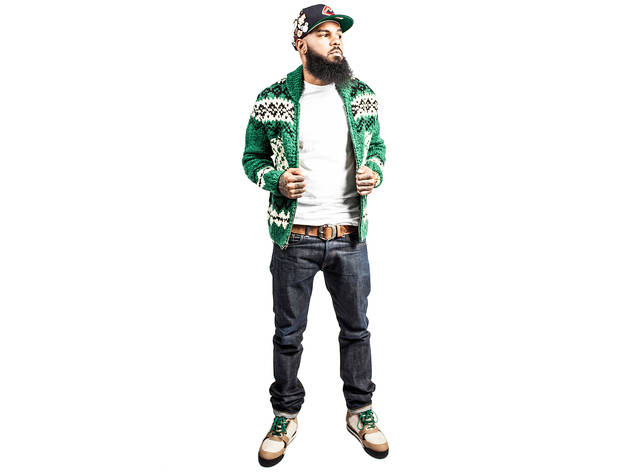 15/21
Ever the brand loyalist, Stalley mixes jeans and a sweater from RRL with a tee from sister label Polo Ralph Lauren. "The color and pattern remind me of something you'd wear in Aspen sitting by a fire and having a glass of Maker's," he muses of his zip-up.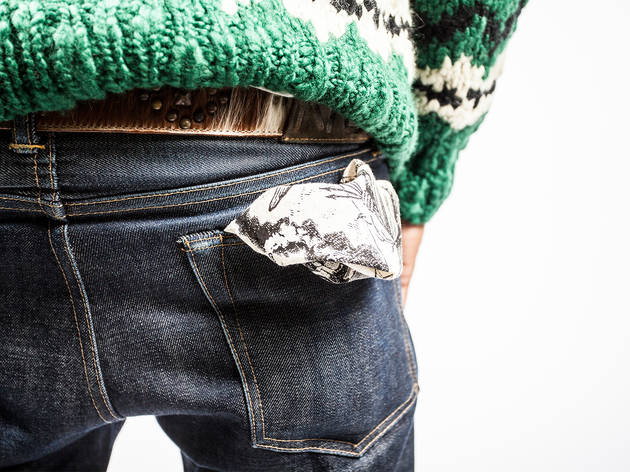 16/21
Once again, a RRL bandanna provides a flourish to Stalley's back pocket. "This one has a design on it, so it catches your eye a little more," he says.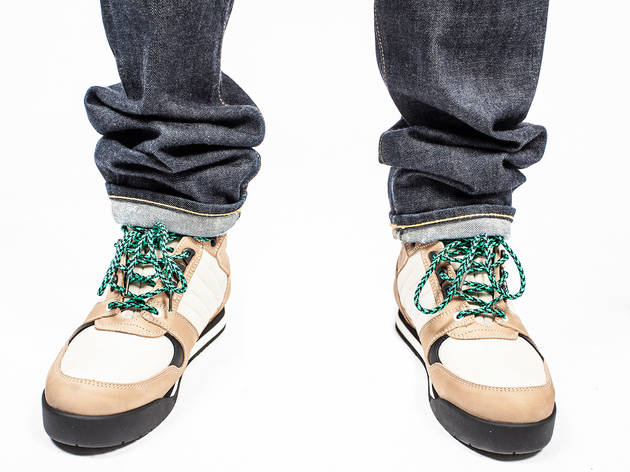 17/21
"These are fashionable but also practical shoes that someone could wear to go hiking," says Stalley of his Patta x Kangaroos (patta.nl) boots. "The Patta guys are my homies from when I used to work [as a store manager] at Alife Rivington Club(158 Rivington St between Clinton and Suffolk Sts; 212-432-7200)."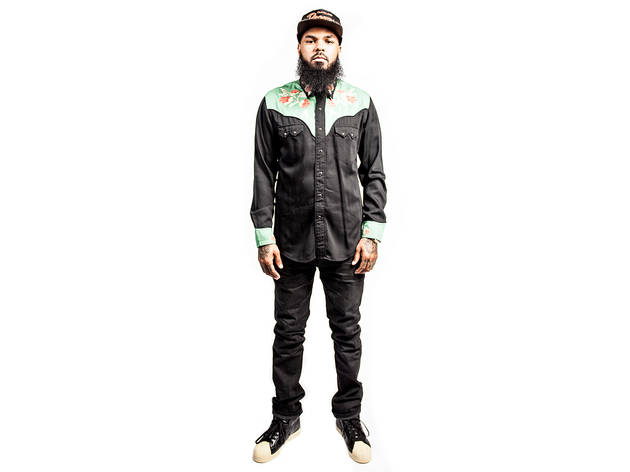 18/21
Stalley originally spotted this RRL button-up shirt at the brand's Paris store. "I knew I had to have it," he recalls. "I love how the shirt has that Elvis look to it." He pairs it with a black version of his beloved RRL jeans.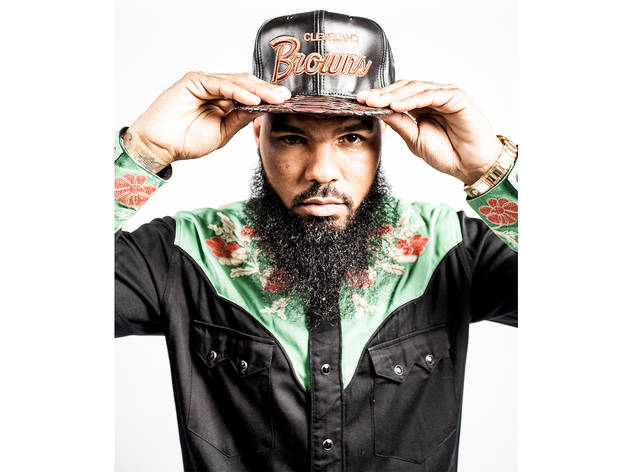 19/21
"Even though I don't usually wear snapbacks, this hat brought me back to the leather sportswear craze from when I was growing up," says Stalley of his Just Don cowhide cap from RSVP Gallery. "You don't see hats like this much anymore."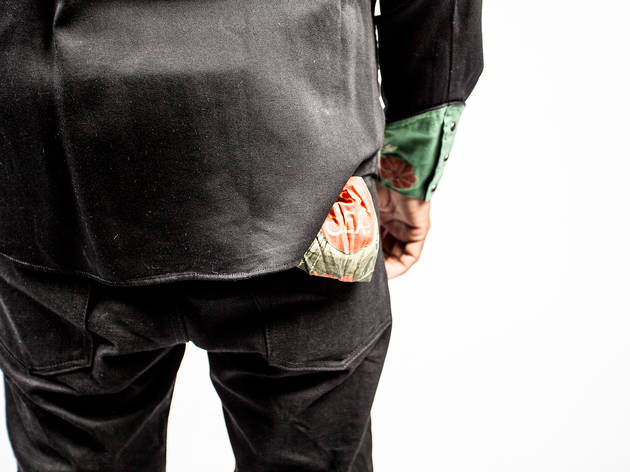 20/21
Stalley plays off the rose print on the shoulders of his shirt with this floral RRL bandanna. "I love the details on this one," he gushes. "It really pops with the all-black outfit."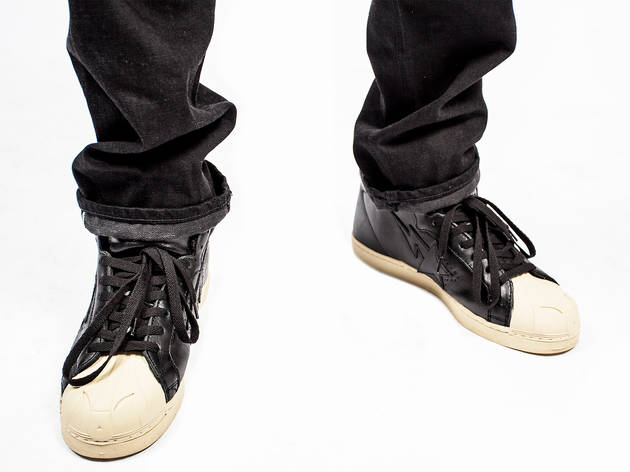 21/21
These Bape cap-toe shoes provide the finishing touch to Stalley's streamlined ensemble. "The leather is of great quality, so they look and feel premium," he says.
Rapper Stalley is a self-professed sneakerhead (he once worked at Alife Rivington Club), and draws on his Ohio upbringing in creating his blue-collar–inspired style. He proves he's one of the most stylish New Yorkers by blending streetwear from A Bathing Ape with Americana threads from RRL and Carhartt Work in Progress.
RECOMMENDED: Most stylish New Yorkers
Stalley, 30, recording artist and rapper (stalley330.com); Dumbo, Brooklyn

His personal style: "It's a combination of Americana, streetwear and sports apparel. I love denim, gold, great fabrics, and classic, simple, clean designs. [Being a musician] gives me total freedom to be artistic and creative with my style. There are no rules in the music industry, so I get to be myself. I think I am one of the few recording artists that doesn't have a stylist."

His inspirations: "America, cowboys, mechanics, my upbringing in Ohio, hard work and just the overall blue-collar lifestyle. I grew up in the Midwest around pimps and hustlers so that's also an influence, even though it may not be as evident."

Favorite stores: "The clothing at RRL(locations throughout the city; visit ralphlauren.com) embodies the American style that I love. It's classic and simple. Carhartt Work in Progress(119 Crosby St between E Houston and Prince Sts; 212-219-2934, carhartt-wip.com) has classic worker wear, so it fits the whole Ohio mentality of hard work and blue collar. I get my jewelry done by David Bling at Toxsur & Co. (1196 Sixth Ave at 47th St, suite 23; 212-300-7177, toxsur.com). He is able to make my ideas come to life [through his] custom pieces."

His signature accessory: "A fitted Ohio team hat—I'm rarely without one."

How he describes New York style: "It's trendy. New Yorkers are always experimenting with new styles, but a lot of people just wear the cool thing of the moment."

How his style has evolved: "It has stayed the same, but now I can afford pieces that I couldn't before so I'm able to express it a little bit more and accessorize the way I always wanted to."

Favorite salons: "I get my hair cut by Sherman Legendre at De Lux Gallery (704 Fulton St between South Oxford St and South Portland Ave, Fort Greene, Brooklyn; 718-522-3324, deluxgallery.com). It feels like home, and I've been going there since I first came to NYC. Sherman knows exactly what to do and also how to take care of my beard. I get facials, scrubs, massages and my nails and feet done at the Red Door Spa(663 Fifth Ave between 52nd and 53rd Sts; 212-546-0200, reddoorspas.com) because it's relaxing and they have great service. I work [hard] and feel like I deserve to pamper myself."

Follow Cristina Velocci on Twitter: @cvelocci