Most stylish New Yorkers: Theophilus London
Theophilus London models his favorite looks; we show you how to get the singer's fly style.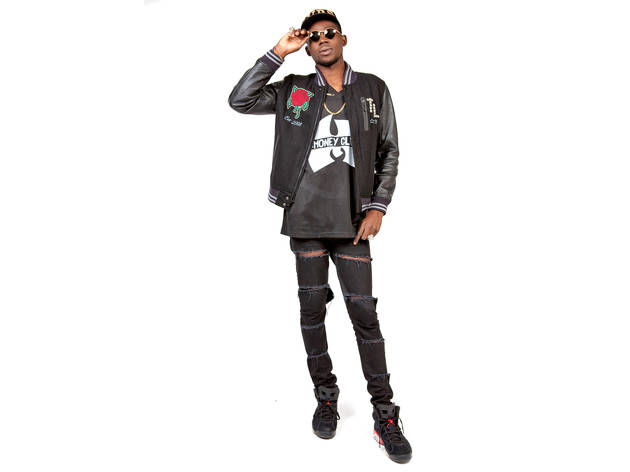 1/22
Photograph: Jolie Ruben
London models the official tour outfit he designed for his Tour De Roses 2012 concerts. It consists of a custom Nike varsity jacket and a mesh shirt that Made Studio (milkmade.com) created for the singer when he hosted a Fashion Week hockey match at the Standard Hotel's skating rink. "It has my name on the back and an upside down Wu-Tang logo," he notes. He wears them with Ksubi shredded black denim. "They're my favorite jeans," enthuses London. "I have four different pairs, I ripped up two of them with a knife."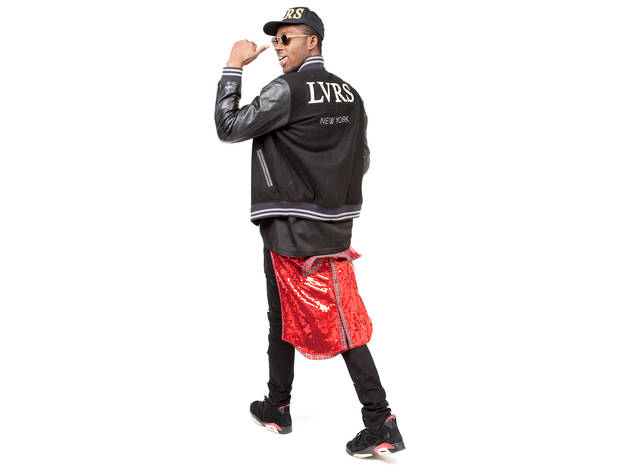 2/22
Photograph: Jolie Ruben
A sequined Comme des Garçons (comme-des-garcons.com) plaid shirt provides just the right amount of flash when tied around London's waist.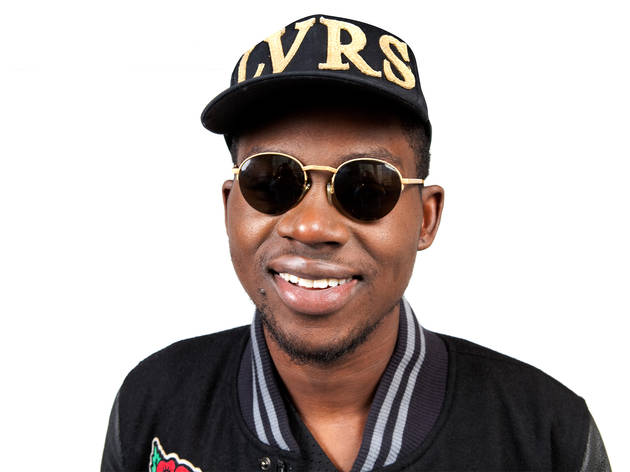 3/22
Photograph: Jolie Ruben
In February 2011, London collaborated with streetwear company FRESH.i.AM to create a limited-edition lvrs hat (the letters are a nod to his creative agency, called the Lovers). This particular version is even more rare—it was custom-stitched in gold lettering just for London. Gold-rimmed Versace sunglasses purchased in Australia complement the cap.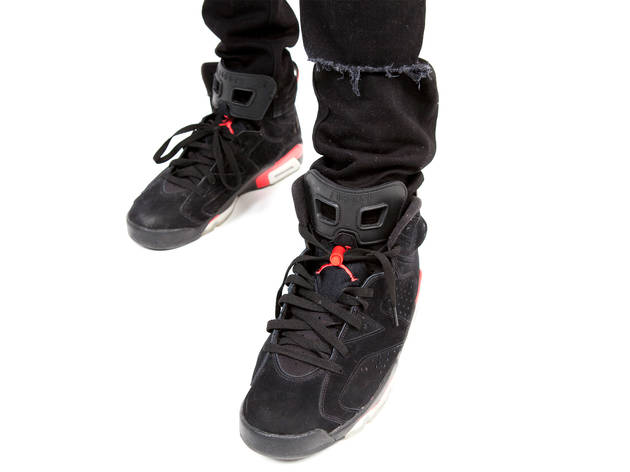 4/22
Photograph: Jolie Ruben
"They are the most rock-star Jordans of all time," gushes London of his Nike Air Jordan 6 Retro sneakers from Kixclusive.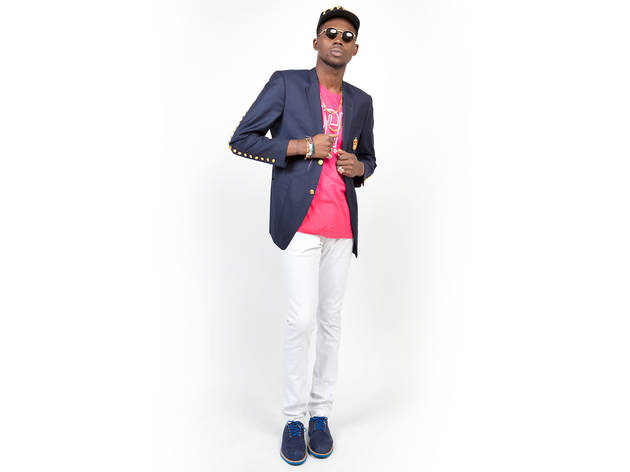 5/22
Photograph: Jolie Ruben
"I call this the Prince Harry look," says London of his Acne white pants, graphic tee from Opening Ceremony and blazer that he customized with gold buttons and a royal patch picked up in Paris. "I made the blazer in my 54th Street studio when I first started designing," he explains.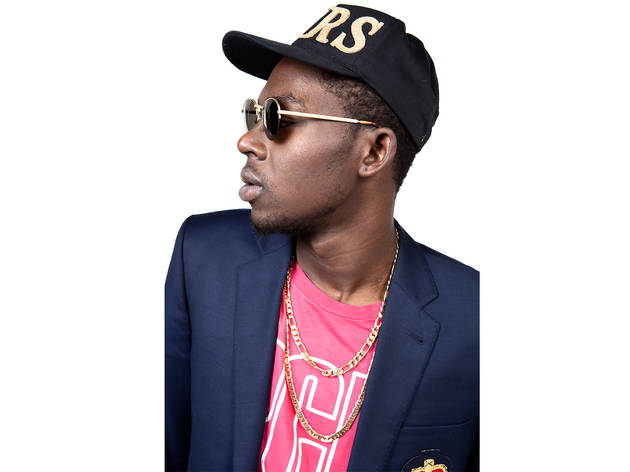 6/22
Photograph: Jolie Ruben
London often picks up chain necklaces at boutiques along his travels, but the majority in his collection come from a jeweler on Fulton Street in Brooklyn. Although London won't reveal the name of his treasured resource, he concedes, "That's my guy there."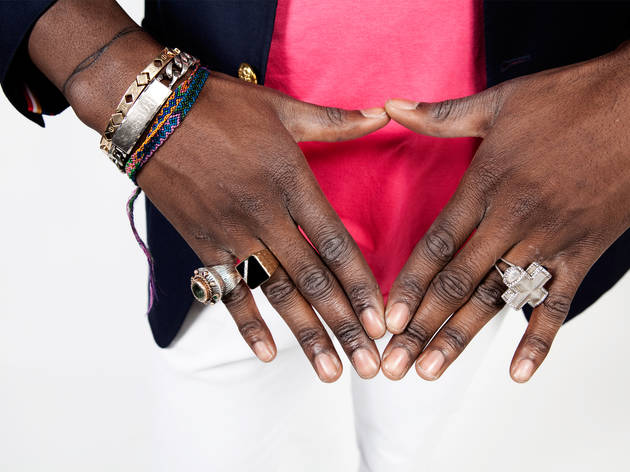 7/22
Photograph: Jolie Ruben
New York jeweler Genevieve Jones (genevieve-jones.com) made London's diamond-encrusted crucifix ring. "She lives around the corner from me," he says. "She's my new jeweler." The pinky ring is a souvenir from Turkey, while the square-shaped one next to it was a gift from his father. The gold-chain bracelet is from London's closely guarded Brooklyn jeweler, the engraved silver style was a birthday gift from a friend, and the colorful braided ones are "just spiritual bracelets" London purchased for himself from a vendor in Central Park.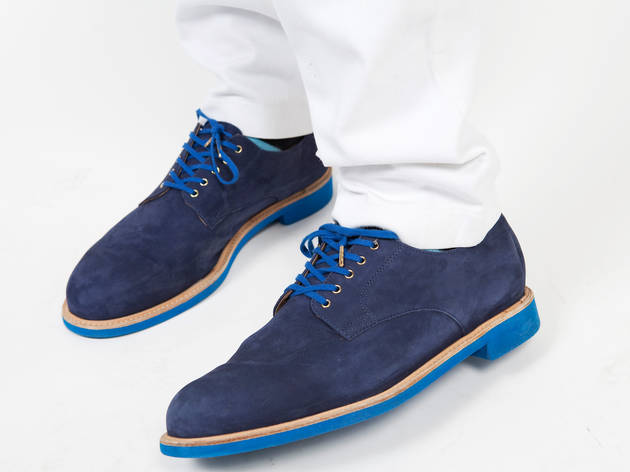 8/22
Photograph: Jolie Ruben
These Cole Haan blue suede shoes were a limited-edition collaboration London did with the footwear brand.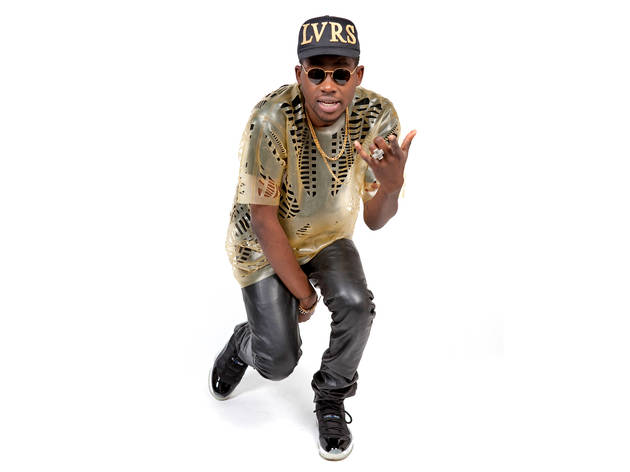 9/22
Photograph: Jolie Ruben
On first glance, London's tee looks like an ordinary webbed top, but it's actually a laser-cut rubber shirt that British brand Komakino (komakinodesign.com) created exclusively for Opening Ceremony. He pairs it with Rick Owens leather pants for an even edgier vibe.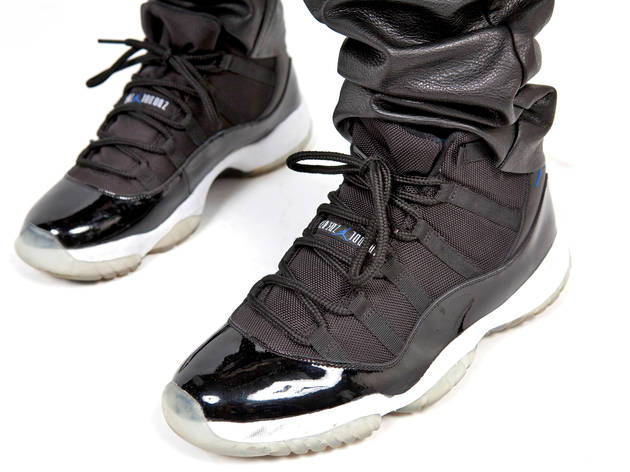 10/22
Photograph: Jolie Ruben
London dons the same style of Air Jordan 11 Space Jam sneakers that Michael Jordan wore in the 1996 movie Space Jam. He picked up his pair at Kixclusive.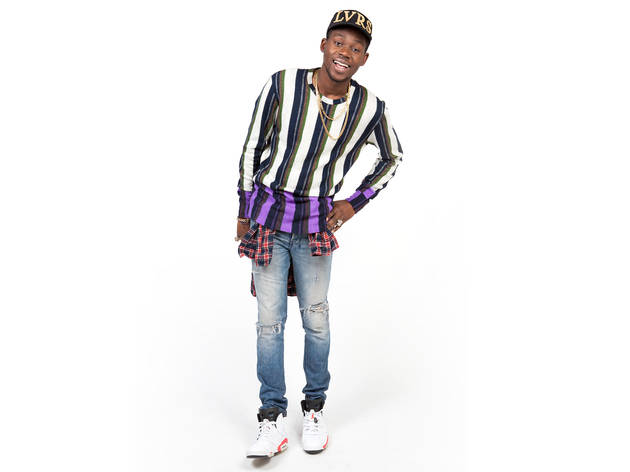 11/22
Photograph: Jolie Ruben
This outfit, comprised of a Comme des Garçons striped sweater, American Apparel (locations throughout the city; visit americanapparel.net) plaid shirt and Ksubi jeans, is London's high-end take on a "Seattle grunge look inspired by Kurt Cobain."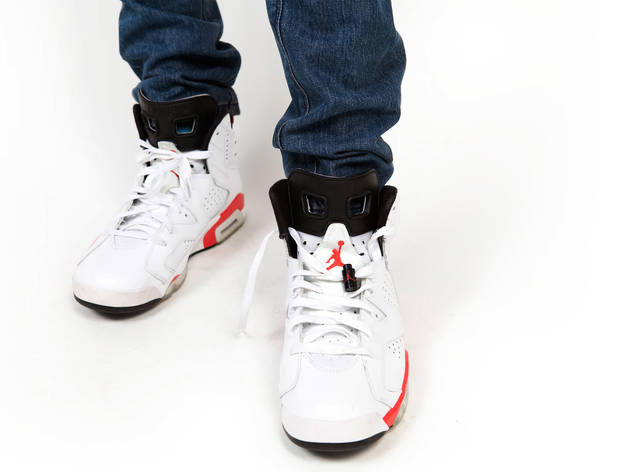 12/22
Photograph: Jolie Ruben
Although London has a penchant for collectible Nike sneakers, these all-white Air Jordan 6 kicks from Kixclusive are particularly rare.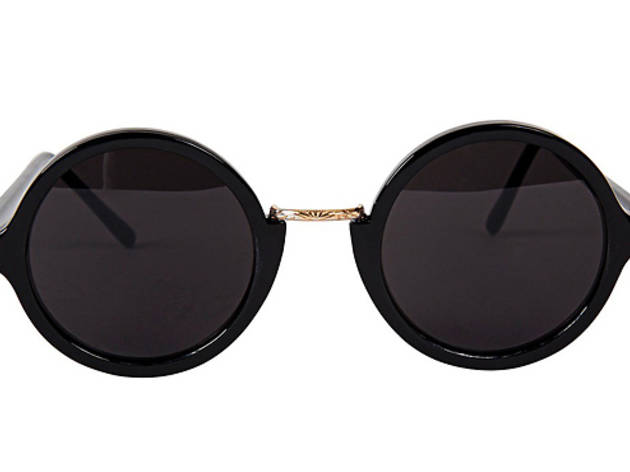 13/22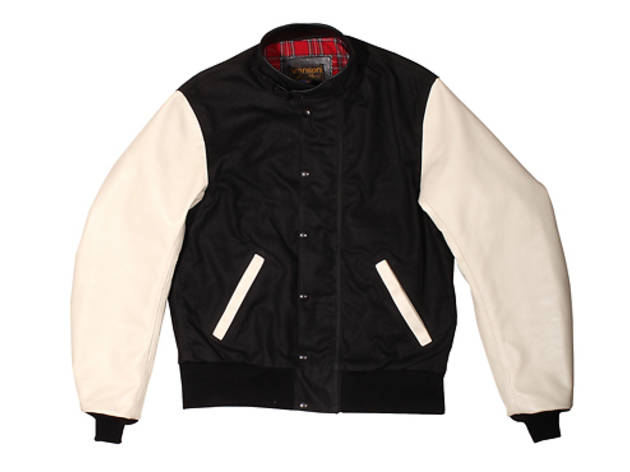 14/22
SPIN HIS STYLE

Vanson for Epaulet Lenny waxed varsity jacket, $288, at Epaulet, 231 Smith St between Butler and Douglass Sts, Boerum Hill, Brooklyn (718-522-3800, epauletshop.com)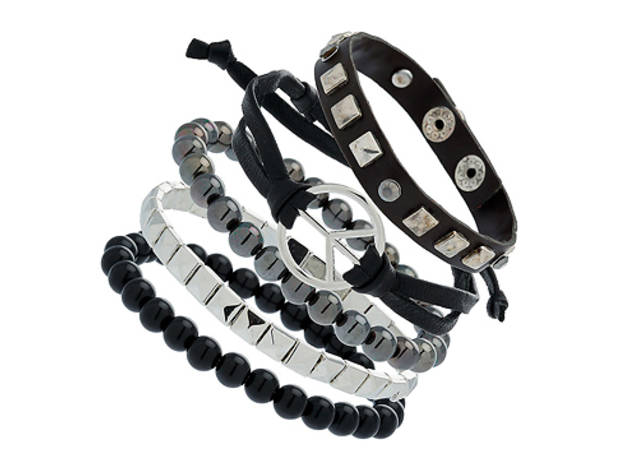 15/22
SPIN HIS STYLE

Topman picture and cross multipack bracelets, five for $24, at Topman, 478 Broadway between Broome and Grand Sts (212-966-9555, topman.com)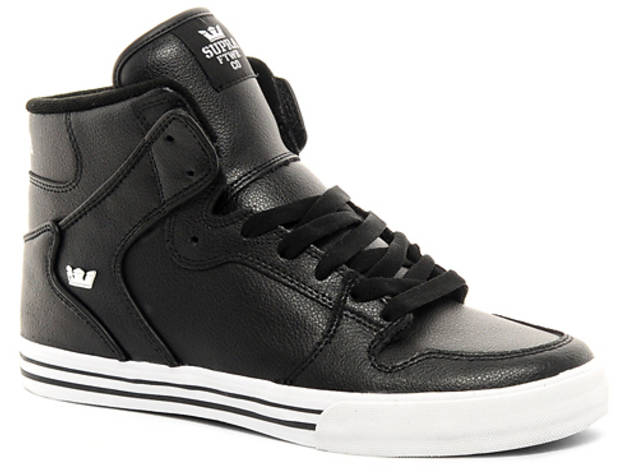 16/22
SPIN HIS STYLE

Supra Vaider high-top sneakers, $148, at asos.com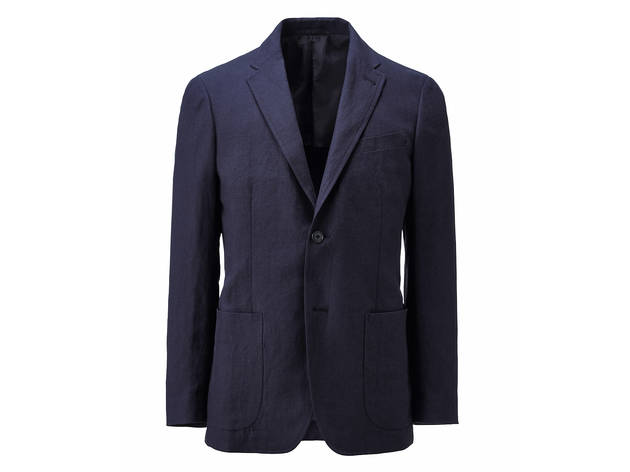 17/22
SPIN HIS STYLE

Uniqlo premium linen slim-fit jacket, $80, at Uniqlo, locations throughout the city; visit uniqlo.com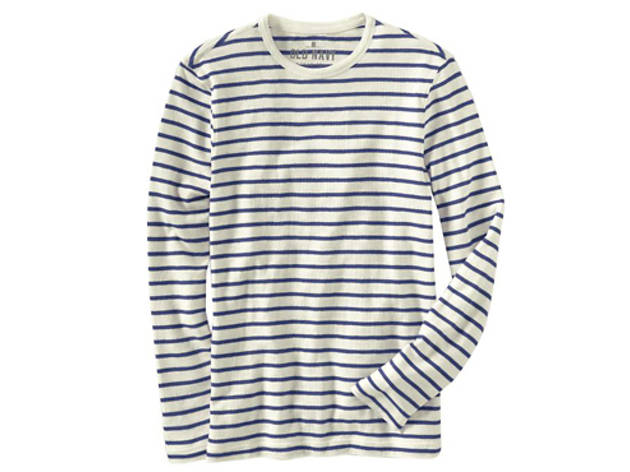 18/22
SPIN HIS STYLE

Old Navy striped crew-neck pullover, $30, at Old Navy, locations throughout the city; visit oldnavy.com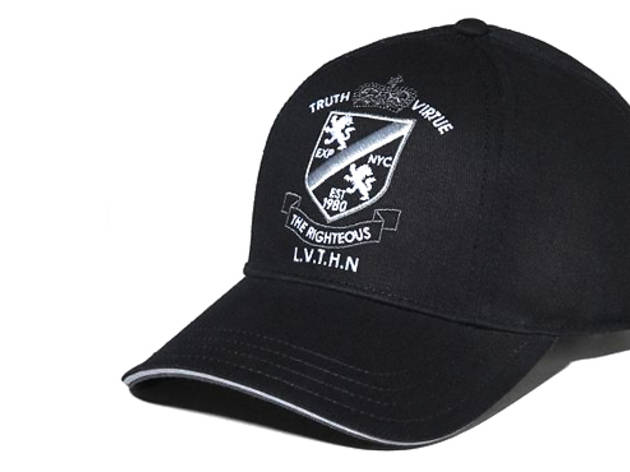 19/22
SPIN HIS STYLE

Express Heritage baseball hat, $25, at express.com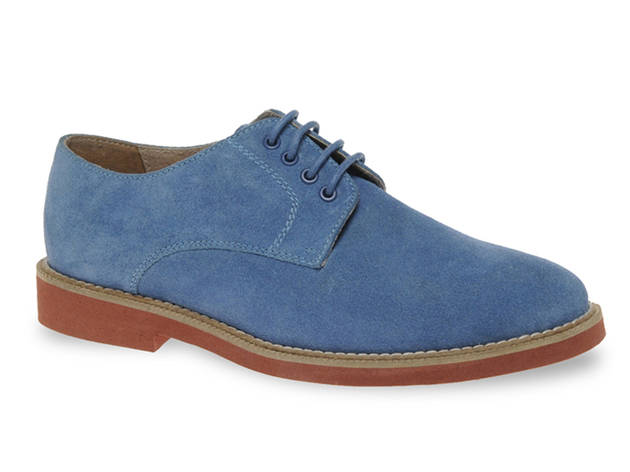 20/22
SPIN HIS STYLE

ASOS Officer suede shoes, $78, at asos.com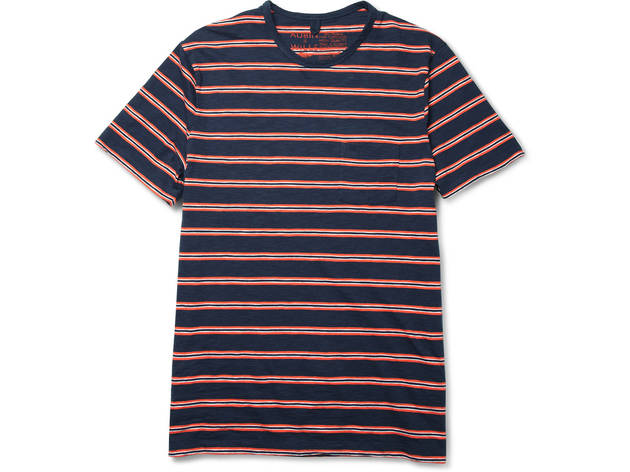 21/22
SPIN HIS STYLE

Aubin & Wills striped cotton T-shirt, $65, at mrporter.com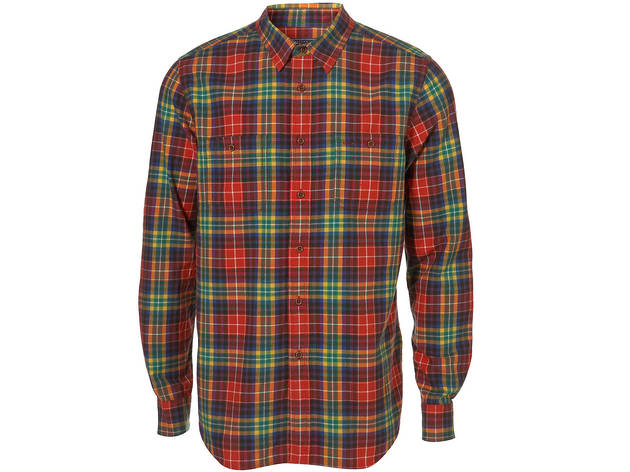 22/22
SPIN HIS STYLE

Topman red plaid oxford shirt, $60, at Topman, 478 Broadway between Broome and Grand Sts (212-966-9555, topman.com)
Theophilus London, 23, musician (theophiluslondon.net), Nolita
His personal style: "I call it duh. It goes with the mood I'm in that day. I have a million things to choose from in my wardrobe, and while I [approach it] not knowing what I'm going to wear, I'll have a certain color or vibe in my head beforehand."
His inspirations: "I have a few friends that have inspired me since I was a young kid. When I watch old films or modern movies—particularly Gladiator, New Jack City and The Skin I Live In—I'll also get ideas."
Favorite stores: "I like Opening Ceremony (35 Howard St between Broadway and Crosby St, 212-219-2688 • 1190–92 Broadway between 28th and 29th Sts, 646-695-5680 • openingceremony.us). The style is harmonious from L.A. to New York to Tokyo and it's exclusive—you're not going to see everyone walking down the street in the same shirt. Kixclusive (288 Mulberry St at E Houston St; 646-344-1172, kixclusive.com) is a very chic sneaker store. It's family owned and I'm friends with the people [who work there], so I like to support them. Then, if I'm going to buy Ksubi, Givenchy or Rick Owens, I might go to Barneys New York (660 Madison Ave at 61st St; 212-826-8900, barneys.com)."
Favorite salons: "I have a personal barber, Mister C. He lives in Brooklyn, but he travels with me. He used to cut Lady Gaga's hair, but he fired her to work for me. He's better than most barbers, who will tell you their stories and talk to you about sports or psychological shit; I don't want to hear it. I also like to get massages at Great Jones Spa (29 Great Jones St at Lafayette St; 212-505-3185, gjspa.com), which is convenient to my neighborhood."
His signature accessory: "My lvrs hat. I had it custom-made by FRESH.i.AM (freshiam.net), so it's very rare."
Favorite designers: "I like Yanghi (arminamuse.bigcartel.com), Black Scale (black-scale.com) and Pigalle (pigalleparis.fr)—they're all raw."
How he describes New York style: "It's changing every day. I think 2012 is very definitive—people 40 years from now will be able to tell what 2012 looked like. It's a crazy time."
How his style has evolved: "It develops every day through knowledge and experience. When I was younger, I wasn't thinking about fit. Clothes are measured just for me now. I know that's not what the average person does, but I've gotten smart about what fits my body the right way and what makes me feel comfortable."
You might also like:
See more Most Stylish New Yorkers
See more in Shopping & Style