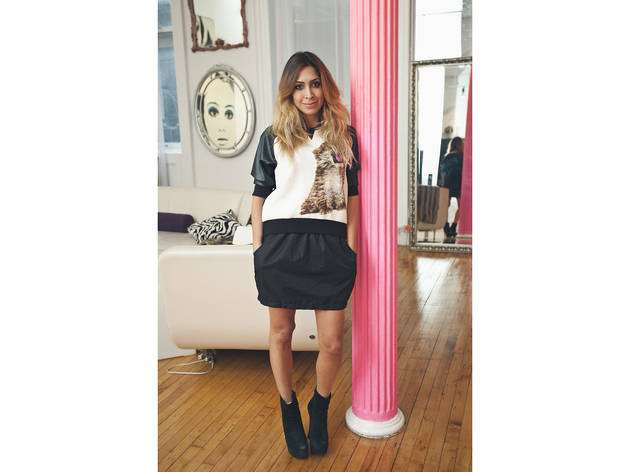 1/20
Photograph: Virginia Rollison
After residing in Williamsburg for five years, women's clothing designer Leila Shams (leilashams.com) made the move to Manhattan in 2012, simultaneously transitioning from a homeowner to a renter. "It was so hard to sell my last apartment—it took me two years because everything was fluorescent pink," she says. That didn't stop her from painting the columns in her new 1,800-square-foot pad with Rosco (rosco.com) black-light paint, however. "Every apartment I'm in looks similar," she admits of her consistently neon-inflected modern decor. "It's very girly, but not in a frilly or shabby-chic way." Shams shares the space with her husband, ZocDoc (zocdoc.com) sales manager Brent Dougherty, and their Pomeranian puppy, Sydnie (named after Shams's assistant). Their abode is featured prominently—along with her self-deprecating humor—on the reality series City Girl Diaries (debuting Sunday 21 at 9pm on Style Network), which follows Shams and four friends as they navigate life in NYC.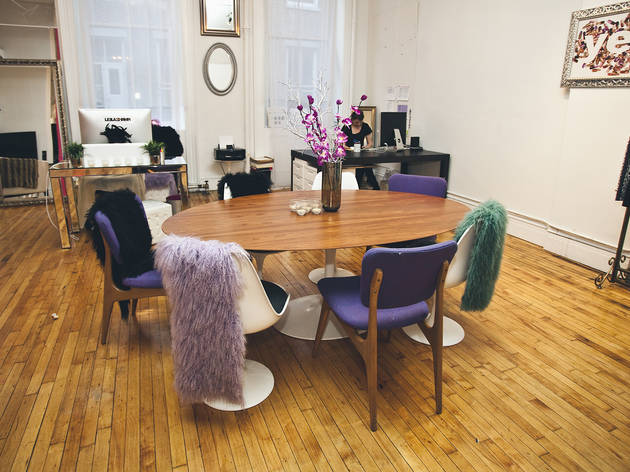 2/20
Photograph: Virginia Rollison
"I hate anything old and musty," declares Shams, who prefers contemporary furniture, such as the replica Eero Saarinen Tulip table and chairs she purchased from White on White, to vintage finds. The fabric seats from West 25th Street Market (W 25th St between Broadway and Sixth Ave (hellskitchenfleamarket.com; Sat, Sun 9am–5pm), interspersed throughout the dining-room set, are a rare exception. Excess jacket fabric used to create fur throws for a fashion show is once again repurposed as cozy chair backs. The centerpiece is a leftover from Shams's March 16 nuptials, which took place in her hometown of Baltimore. "We tried to make the table arrangements ourselves," notes the newlywed, who ordered the light-up orchids and silver branches from Amazon (amazon.com). "The markup [for florals] is just outrageous."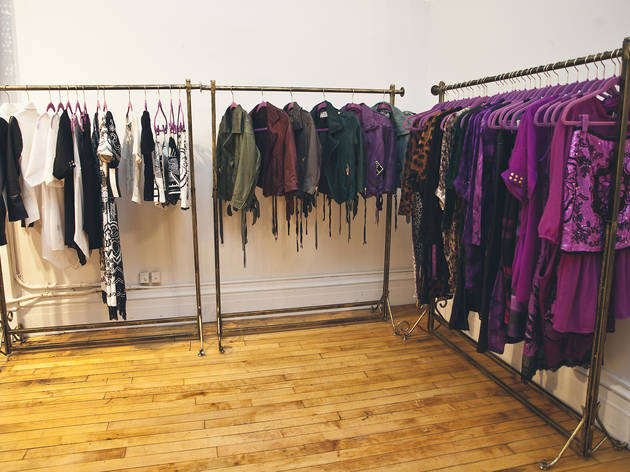 3/20
Photograph: Virginia Rollison
Even though Shams currently has public relations and sales showrooms in NYC for her eponymous five-year-old label, she keeps the samples from the line in a dedicated corner of her home. "Normally I have some esoteric inspiration," she says. "I've done collections on bad luck, weird science, underwater creatures—none of that stuff sold." For fall/winter 2013, Shams stuck with a black, white and purple palette for her Ultraviolet theme, which may be her most successful yet. "I actually got into Neiman Marcus for the first time," she boasts. "I'd never gotten into an American department store before."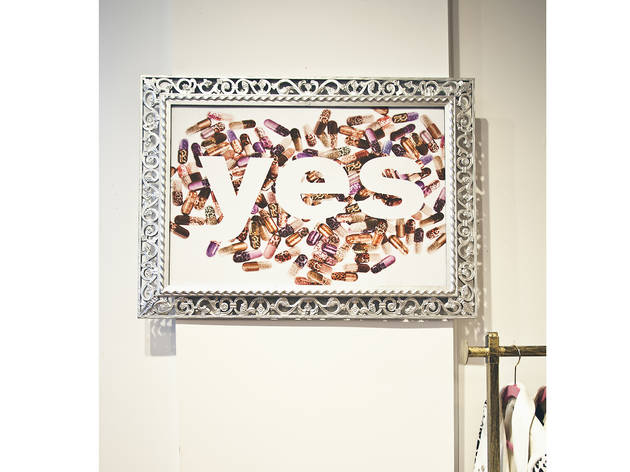 4/20
Photograph: Virginia Rollison
Shams created this graphic for her spring/summer 2013 collection by superimposing cheetah-print nail art onto pills. "The printer made a mistake—it was supposed to be on a T-shirt but they printed it gigantic," she explains. Her assistant, Sydnie White, transformed the error into wall art by placing it inside a mirror frame from Home Depot (locations throughout the city; visit homedepot.com). "I posted a version of that [design] on Tumblr (leilashams.tumblr.com) a year ago and it got 100,000 reblogs, so I thought it would be a huge hit if it put it on a sweatshirt," says Shams. "I sold, like, two."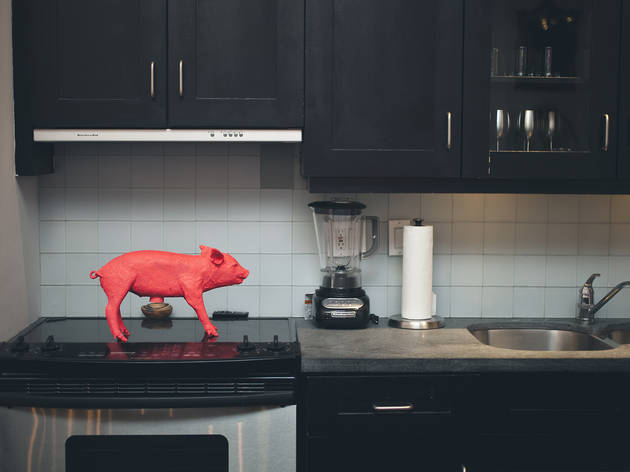 5/20
Photograph: Virginia Rollison
A piggy bank from A&G Merch (111 North 6th St between Berry St and Wythe Ave, Williamsburg, Brooklyn; 718-388-1779, aandgmerch.com) presides over an otherwise empty kitchen. "Obviously I don't cook often," admits Shams.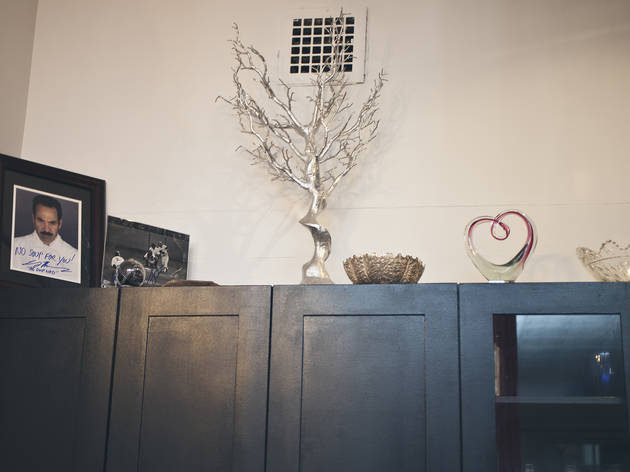 6/20
Photograph: Virginia Rollison
"I'm the least sentimental person," swears Shams. "I don't have photographs anywhere, and knickknacks give me the heebie-jeebies but we've seemed to have amassed some recently." Most tchotchkes hail from her wedding, including the Amazon-procured silver branch, and bowls and glass heart sculpture that were gifts from the couple's mothers. They share space atop the kitchen cabinets with signed memorabilia from a charity auction. "No one was bidding on anything and it was making us so uncomfortable," says Shams, who felt compelled to purchase something. She ended up winning the black baseball with an accompanying photo of the game where it was thrown and a portrait of the Seinfeld Soup Nazi.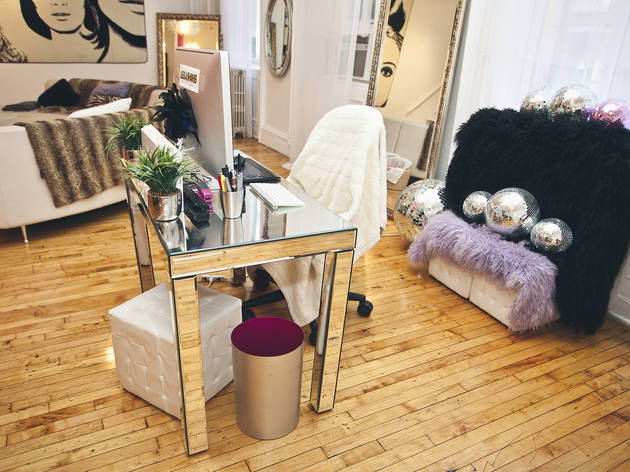 7/20
Photograph: Virginia Rollison
Although she holds down a full-time job as a designer for Buffalo David Bitton (buffalojeans.com), Shams keeps a mirrored desk from West Elm (1870 Broadway at 62nd St, 212-247-8077 • 112 W 18th St between Sixth and Seventh Aves, 212-929-4464 • 75 Front St between Main and Washington Sts, Dumbo, Brooklyn; 718-875-7757 • westelm.com) at home for working on her own line outside of normal office hours. "Sydnie comes here every day," she notes of her assistant, who has her own workspace set up beside Shams's. "It will be Sydnie sitting at the computer working and my husband walking around in his underwear as we're getting ready—it's not a good live-work [situation] at all." Ottomans purchased from Amazon for elevating tired feet at least keep the immediate area comfortable.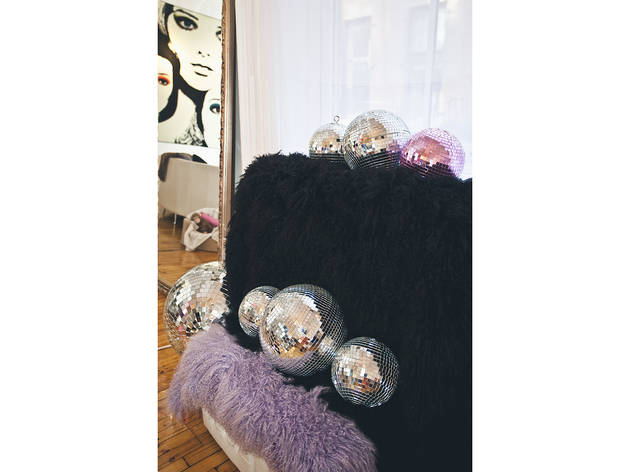 8/20
Photograph: Virginia Rollison
More leftover furry fabric covers the furnace, which has been transformed into a shrine for disco balls—many of which were poached from an Express (express.com) holiday shoot (Shams used to design for the chain). "It makes you want to kneel at the altar of disco," she jokes. "I get a gigantic Christmas tree [every year] that touches the ceiling, so some of these are ornaments."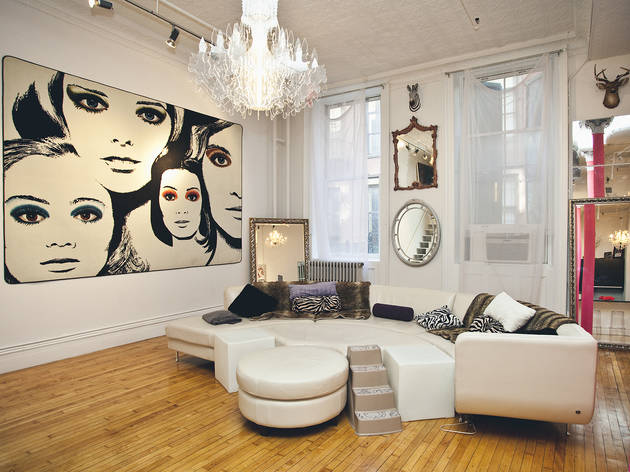 9/20
Photograph: Virginia Rollison
One of the reasons Shams's decor has stayed so consistent throughout several moves is this leather sectional from Jensen-Lewis (89 Seventh Ave between 15th and 16th Sts, 212-929-4880 • 969 Third Ave at 58th St, 212-434-0990 • jensen-lewis.com). "When you invest in a couch like that, it's not like you could go traditional in your next apartment," she explains. "It was at the time—and even still to this day—the biggest purchase I ever made." The round ottoman is actually a separate piece from her mother that happens to match perfectly. "I've always prided myself on having different taste than her—I like things clean and she's like a pack rat—but I went to her house last year and she had the same exact couch," laments Shams. A pair of cubes from Amazon is her own addition and serves as side tables.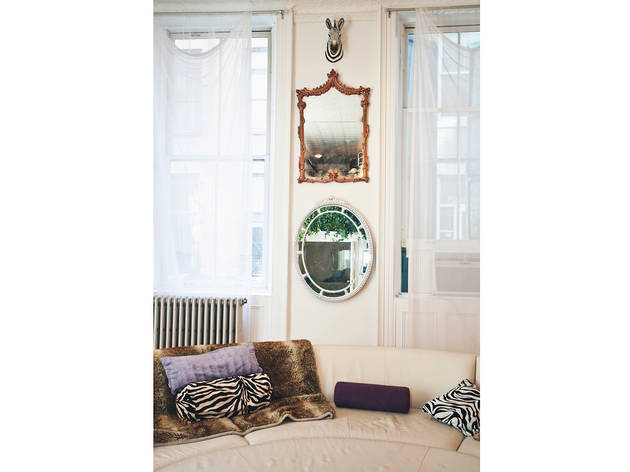 10/20
Photograph: Virginia Rollison
Shams often incorporates animal prints and images into her designs, and that tendency bleeds into her decor through zebra-stripe pillows from Overstock.com and a faux taxidermic head purchased on eBay (ebay.com). "I don't know why it appeals to me since I'm not an animal lover," she wonders. Inexpensive mirrors from Home Depot cover the walls and help create the illusion of a larger space.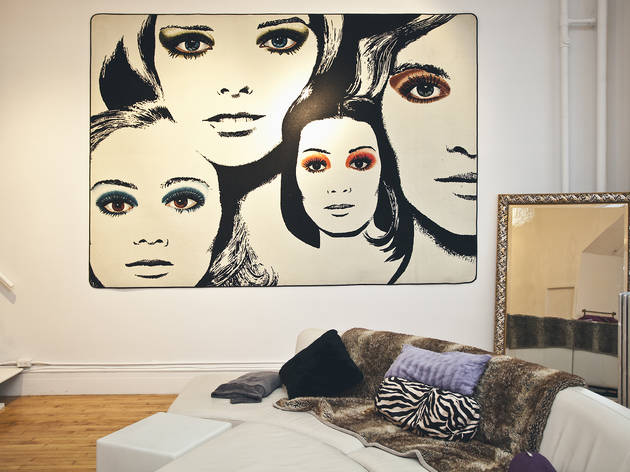 11/20
Photograph: Virginia Rollison
This graphic wall hanging is actually a carpet from the Art Production Fund's Works on Whatever collection (artproductionfund.org/shop), which prints paintings onto towels, shower curtains and plates. "I saw a picture of it in The New York Times and fell in love with it," says Shams of the Richard Phillips portrait. "The one on the bottom left drives me crazy though because she's a little bit cross-eyed." The piece is flanked by an ornate mirror from Junk (567 Driggs Ave between North 6th and 7th Sts, Williamsburg, Brooklyn • 197 North 9th St at Driggs Ave, Williamsburg, Brooklyn • 718-640-6299, junk11211.com).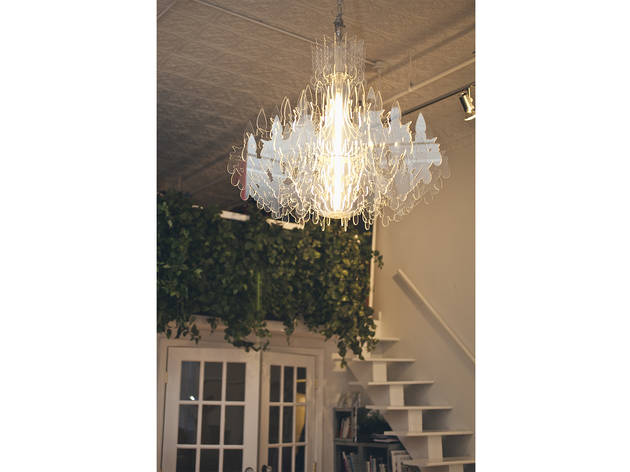 12/20
Photograph: Virginia Rollison
"Getting chandeliers installed is a pain in the ass," groans Shams, who assembled this acrylic version from AllModern (allmodern.com) herself. "I had more but the guy who was putting them up just never came back. He got a little sick of me because I'd be like, 'Um, it's a little too high.' So he just stopped coming. But I'd love to have ten chandeliers in here."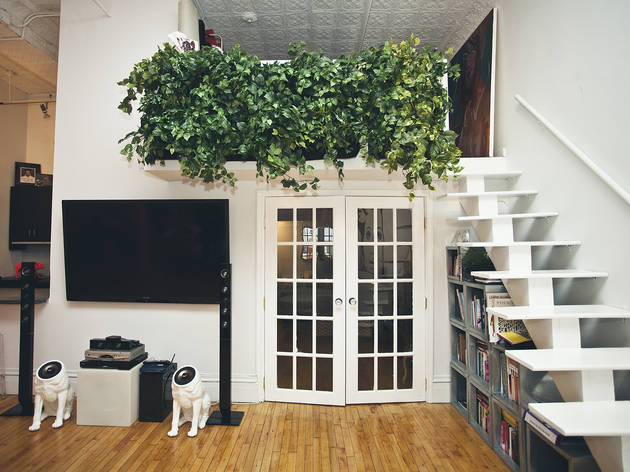 13/20
Photograph: Virginia Rollison
Shams spotted these Woofer headless-dog speakers at MTV's studios and immediately bought them from Amazon. "They were a big problem when I was selling my last apartment," she says. "Children and dogs would get really upset, so I'd always come home after an open house and there would be a pillow covering one and a sheet over the other." The Woolly Pocket fabric pocket planters (woollypocket.com) hanging from the upstairs balcony were once filled with real greenery until that presented problems. "Almost instantly it became a fruit-fly jungle and they are so annoying," she says. She swapped the plants out for fake foliage purchased in bulk on Amazon. "Now the apartment is so much more pleasant. Just one fruit fly will really ruin your day."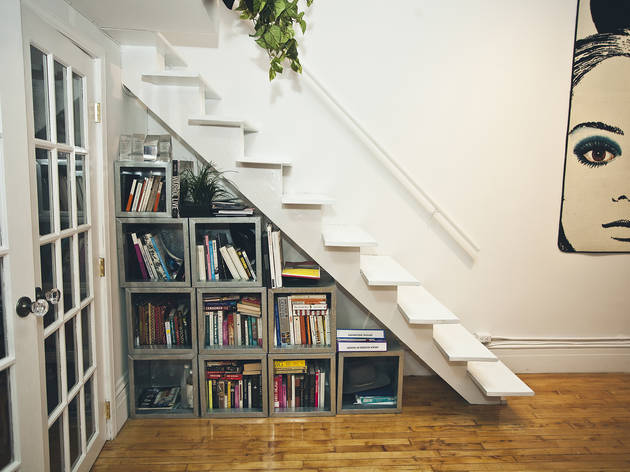 14/20
Photograph: Virginia Rollison
By turning galvanized-iron square planters from CB2 (451 Broadway between Grand and Howard Sts, 212-219-1454 • 979 Third Ave at 58th St, 212-355-7974 • cb2.com) on their side, Shams was able to create a modular bookcase beneath the stairs. "It's a weird space to [fill]," she says. "I don't think I've read a physical book in ten years and every time I move, I'm like, 'Really? These fucking things?' But it's just weird to throw away a book."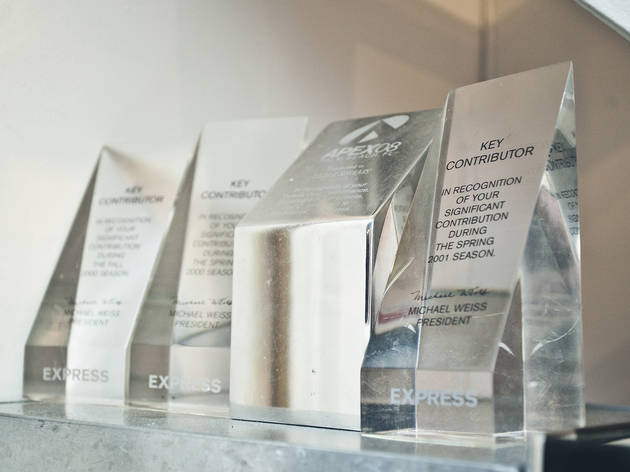 15/20
Photograph: Virginia Rollison
"Most of them are stolen," admits Shams of these company awards from Express. "They were just sitting on my desk when I started—I wasn't even working there some of these years." She did, however, earn one of the statues on her own merit. "They fired me a year later," she adds.
16/20
Photograph: Virginia Rollison
This liquid-gas fireplace from eBay was another regrettable purchase. "You pour ethanol into it, set it on fire, and it burns for maybe 20 minutes," says Shams. "Then it smells horrible. We tried to give it away and no one wanted it, so one day I felt inspired and created this lovely altar."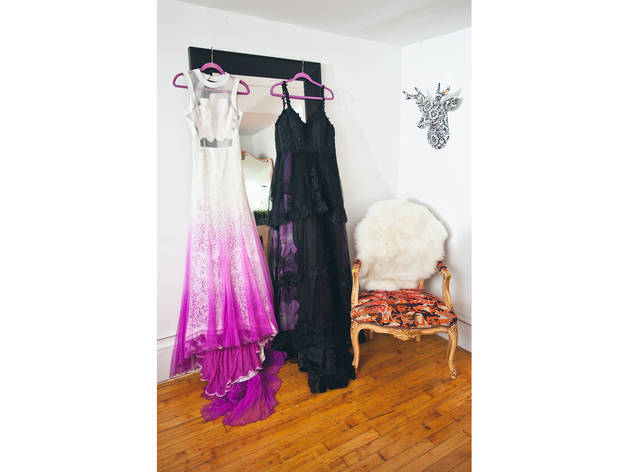 17/20
Photograph: Virginia Rollison
Shams's wedding dress and the gown her mother wore on the big day—both of her own design—hang from an Ikea floor mirror (1 Beard St at Otsego St, Red Hook, Brooklyn; 718-246-4532, ikea.com) in the master bedroom. "It was very stressful because [mine] didn't come until the day before the wedding, and then it didn't fit so we got a tailor involved," she recounts. The lace lining—part of a dress made from a vintage tablecloth bought on Etsy (etsy.com)—was also a last-minute swap. The printed armchair was pilfered from an Express shoot and is draped with a faux-fur throw from Pottery Barn (1965 Broadway at 67th St, 212-579-8477 • 117 E 59th St between Park and Lexington Aves, 917-369-0050 • 100–104 Seventh Ave between 16th and 17th Sts, 646-336-7160 • potterybarn.com). A papier-mâché deer head from Etsy guards the sleeping area.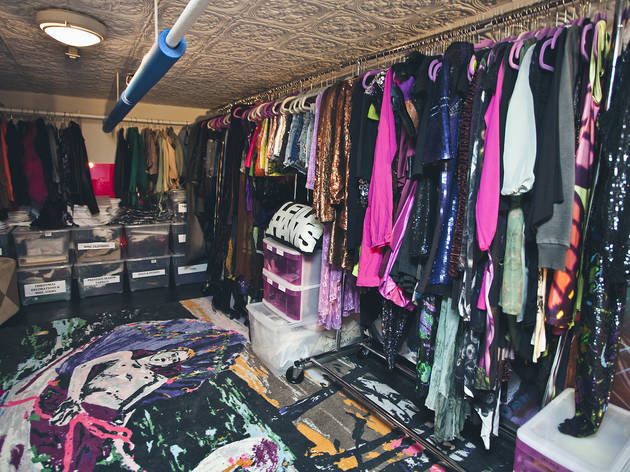 18/20
Photograph: Virginia Rollison
The upstairs loft has been converted from a second bedroom into Shams's walk-in closet (her husband uses the single built-in one downstairs). "Most men can't stand up in here but I can, even in five-inch heels," she explains. The designer mostly wears clothing from her own label or canceled samples from the brands she's worked for. Another carpet from Works on Whatever finishes off the space.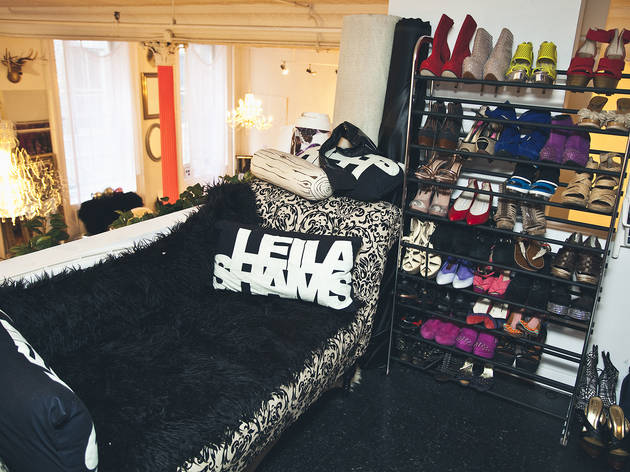 19/20
Photograph: Virginia Rollison
A damask chaise lounge from Urban Outfitters (locations throughout the city; visit urbanoutfitters.com) provides a resting place for Shams to put on her stilettos. "I just got my first pair of sneakers because of the dog," says the heel devotee. "I kept stepping on her and I was going to kill her." The pillows emblazoned with her name are leftovers from a Fashion Week event.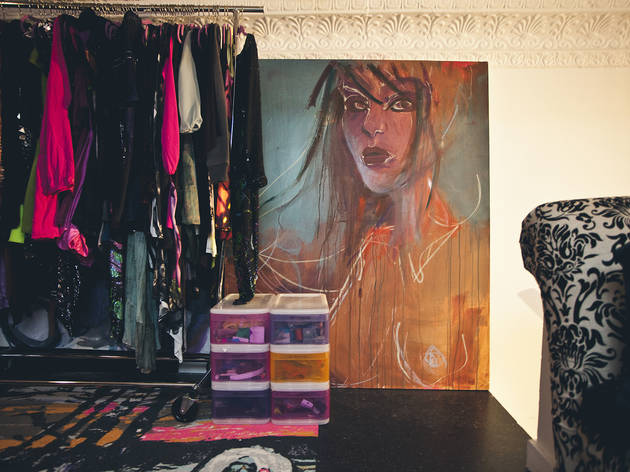 20/20
Photograph: Virginia Rollison
"That's one of my many unfinished paintings," says Shams, who often uses her artwork to create textile prints. "My spring collection was inspired by '70s porn and there's this French actress, Jane Birkin, who is always naked—that's who it's supposed to be. I got lazy and just ended up using a photograph of her instead."
New York City apartment tour: Two-bedroom loft in Soho
Leila Shams, fashion designer and star of the Style Network reality series City Girl Diaries, gives us an apartment tour of her modern, clutter-free pad.
Throughout several moves—most recently from Williamsburg to Soho—Leila Shams, fashion designer and star of the Style Network reality series City Girl Diaries, has kept her modern design aesthetic consistent. She largely eschews knickknacks, and invests in clean-lined furniture from West Elm, CB2, Kartell and Urban Outfitters.
Love the look? Get it here!
The Future Perfect 55 Great Jones St between Bowery and Lafayette St (212-473-2500, thefutureperfect.com)
"When I go in there I think, 'I really want to be rich,'" jokes Shams of this avant-garde interior-design shop. "Everything is so bright, quirky and happy. I like that it carries small jewelry and big [furniture] pieces, and a lot of stuff is very nostalgic."

Kartell 39 Greene St between Broome and Grand Sts (212-966-6665, kartell.it)
"I love anything clear—it just doesn't seem bulky," says Shams, who purchased her Lucite barstools from this Italian furniture company, known for its modern plastic designs.

White on White Locations throughout the city; visit whiteonwhite.com
Shams discovered this minichain, which sells budget-friendly reproductions of iconic midcentury-modern pieces, while walking by its Lower East Side location. "I just passed it one day and it was all this stuff I always wanted but could never afford," she recalls. "It's basically all knockoffs of [things carried at] that fancy place Design Within Reach (dwr.com), which is so not within reach—everything costs thousands of dollars."

Follow Cristina Velocci on Twitter: @cvelocci