Heads up! We're working hard to be accurate – but these are unusual times, so please always check before heading out.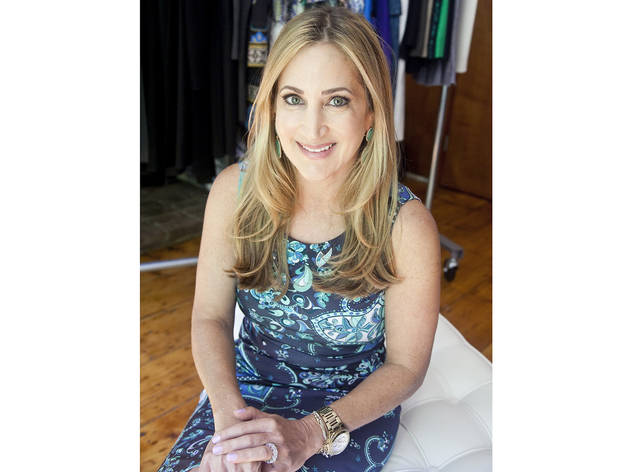 1/25
As CEO and founder of NYC educational-consulting firm IvyWise (ivywise.com), Dr. Kat Cohen travels at least four months out of the year. Her busy schedule and need for organization led her to turn a bedroom on the top floor of the four-story Midtown East townhouse she shares with her husband, Hervé Larren, and two young daughters, Cassia and Sienna, into an area devoted to clothing and accessories. Aside from a single built-in closet and two cabinets, the sunlit space keeps everything on view along two rolling racks and on a wall of open shelves reserved for shoes. "It's like a store where I can see what I own," she says. "I actually wear everything I have and there's not something hiding underneath a pile of clothes."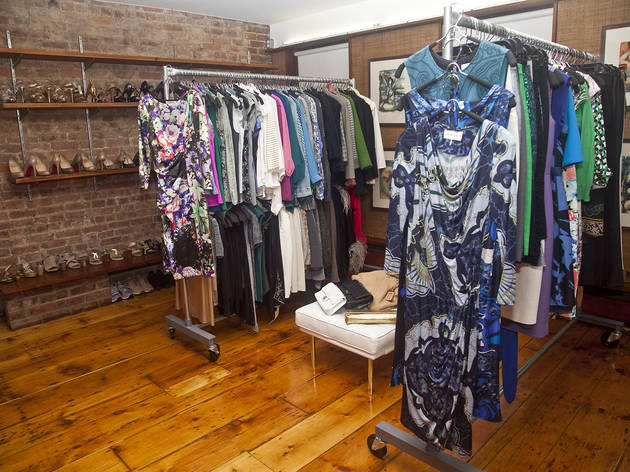 2/25
To help keep her closet streamlined, Cohen enlisted wardrobe-management company Visual Therapy (visual-therapy.com) to buy her clothes and shoes, and maintain their organization. "I don't have time to shop," she explains. "They see what's missing in my wardrobe and fill [in the gaps]. It's like Garanimals for adults." The company photographs every item it purchases and creates a look book that Cohen can leaf through before getting dressed. Visual Therapy even arranges her threads on rubber hangers from the Container Store (725 Lexington Ave at 58th St, 212-366-4200 • 629 Sixth Ave between 18th and Sts, 212-366-4200 • containerstore.com) according to garment length.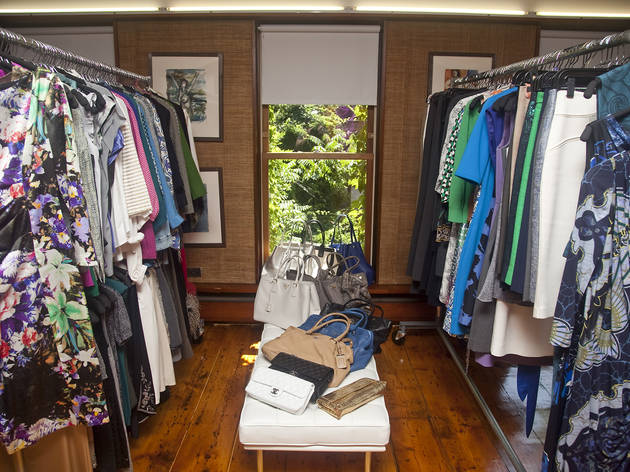 3/25
Cohen bought this leather bench years ago from interior decorator Miles Redd (milesredd.com) and had it reupholstered in white by NY Custom Furnishings (43-59 10th St between 43rd Rd and 44th Ave, Long Island City, Queens; 718-392-0214, nycustomfurnishings.com). It provides both a comfortable seat for choosing outfits and a place to display handbags.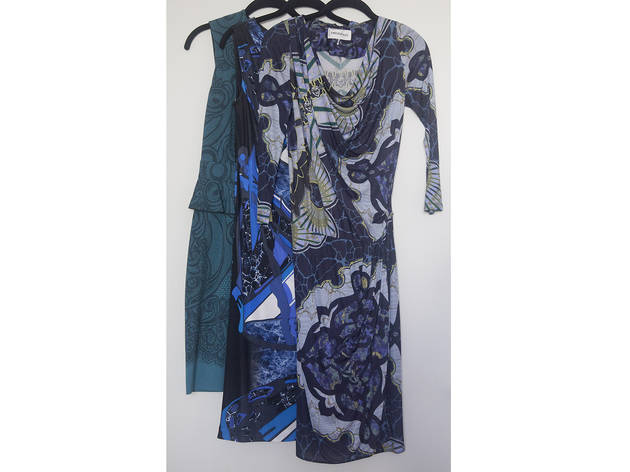 4/25
"They have timeless prints that never go out of style," says Cohen of her numerous Pucci dresses (855 Madison Ave at 71st St; 212-230-1135, emiliopucci.com). "They work from day to night, whether you're at a professional event or going out to dinner."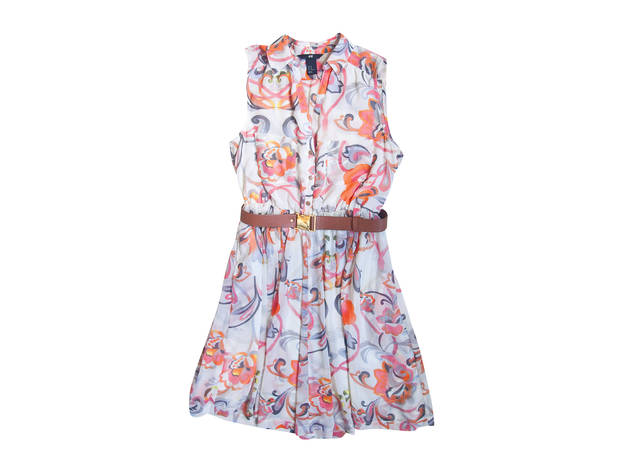 5/25
Cohen often reaches for one of the only mass-market items in her otherwise designer-laden closet, a floral H&M (locations throughout the city; visit hm.com) dress that she found in a Dubai mall.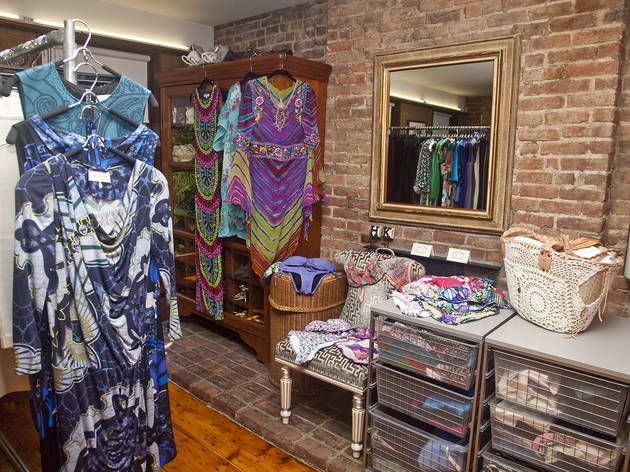 6/25
Photograph: Melissa Sinclair
Bikinis ready for the weekend are draped over an antique brocade chair from Miles Redd. Metal bins from the Container Store hold add-ons such as scarves, casual T-shirts and workout clothes, while a vintage gold mirror from home-goods store Cafiero Select (36 E 2nd St at Second Ave; 212-414-8821, cafieroselect.com) comes in handy for quick spot checks.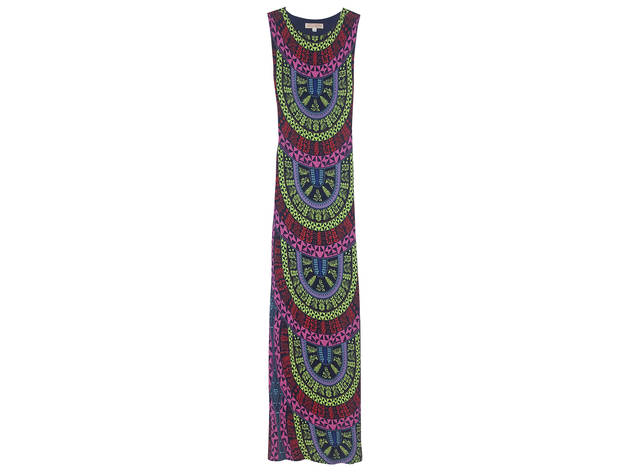 7/25
"My style gets bohemian in the summer," says Cohen, referring to this Mara Hoffman maxidress from Amazon (amazon.com) that she wears to the Hamptons. "I love bright colors and fun prints."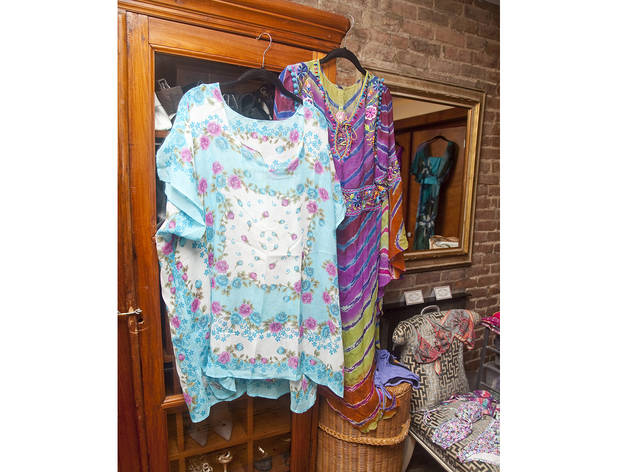 8/25
All of Cohen's bathing suits and beach cover-ups were purchased overseas, with a large majority hailing from Turkey. "You can get everything for under $100 [there]," she swears. "And often pieces are one of a kind." Two lace-and-cotton caftans hang from an Indonesian armoire that Cohen had reconfigured by Melanie Charlton of Clos-ette (clos-ette.com) to store handbags and shoes that aren't in her regular rotation.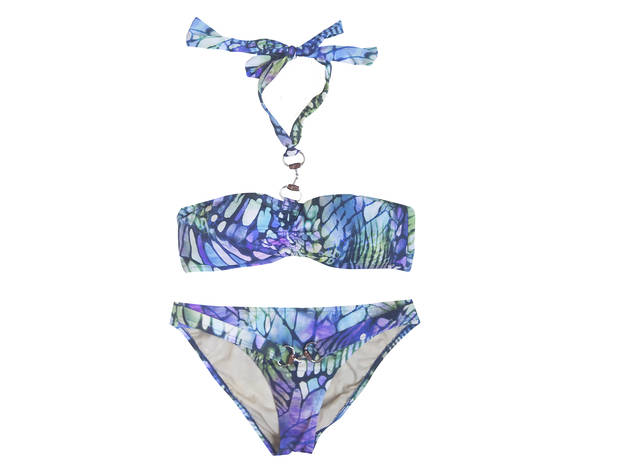 9/25
Cohen's favorite Ay Yildiz (ayyildiz.com.tr) bikini was an Bodrum find. "I bought a bunch of them because they are so cool and inexpensive," she says. She stores her many styles under the bed in clear plastic bins from the Container Store.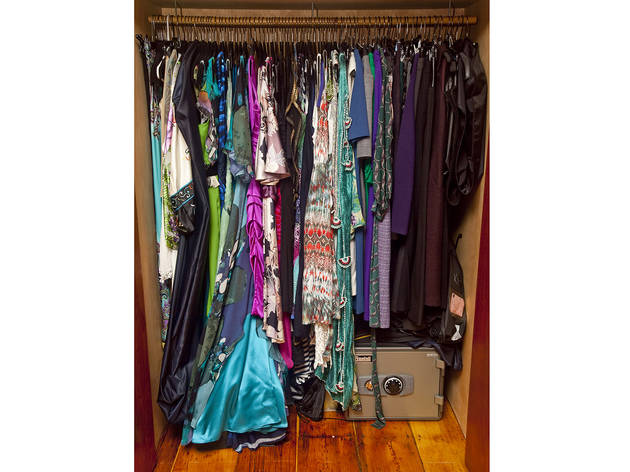 10/25
This traditional closet holds Cohen's fancier attire, as well as off-season work garb that gets swapped out when the weather changes. Thin velvet hangers from Closet Complete (closetcomplete.com) help maximize space.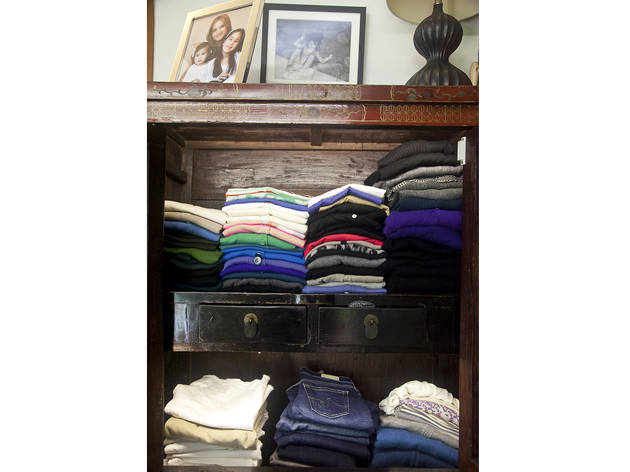 11/25
A Chinese wedding cabinet stores more casual duds, including neatly folded stacks of jeans and sweaters. "When I'm not working, I wear cropped jeans with a denim shirt or flowy top," explains Cohen of her pared-down style. She favors the stretch in denim from AG Adriano Goldschmied (305 Columbus Ave between 74th and 75th Sts, 212-496-5692 • 111 Greene St between Prince and Spring Sts, 212-680-0581 • agjeans.com).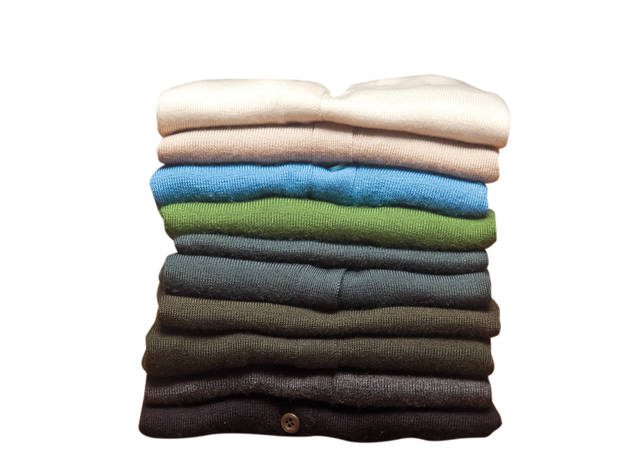 12/25
"I collect Prada sweaters," admits Cohen of her dozens of cardigans. "They are an investment but they don't deteriorate or ball up, and they last years." She purchases them from Prada boutiques (575 Broadway between E Houston and Prince Sts, 212-334-8888 • 724 Fifth Ave between 56th and 57th Sts, 212-664-0010 • 841 Madison Ave between 69th and 70th Sts, 212-327-4200 • prada.com) and wears them with chunky jewelry for a modern update.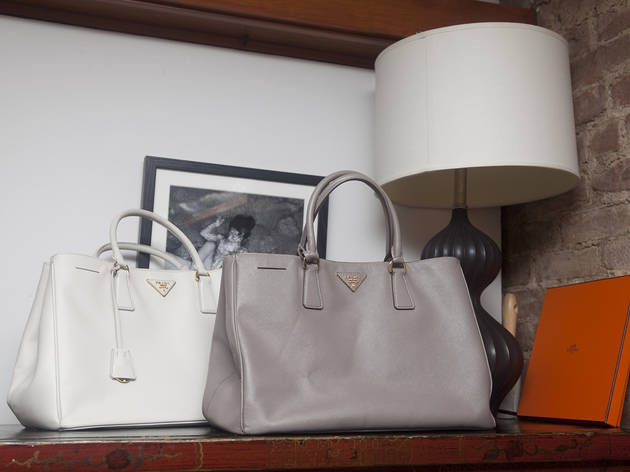 13/25
Cohen is careful when selecting handbags, since they will be in her rotation for the long haul. "I'm not one of those girls who switches bags every day," she says. "I like a style that's big enough to put my work stuff in and neutral in color." These Prada leather satchels fit the bill.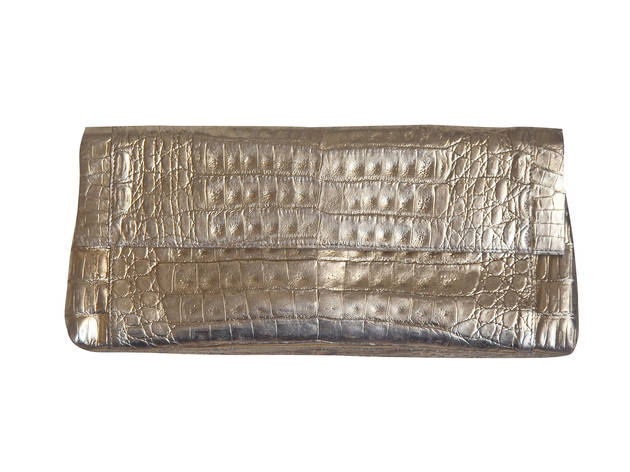 14/25
Cohen's favorite evening bag is this leather Nancy Gonzalez (nancygonzalez.com) clutch from Bergdorf Goodman. "The gold goes with everything," she says.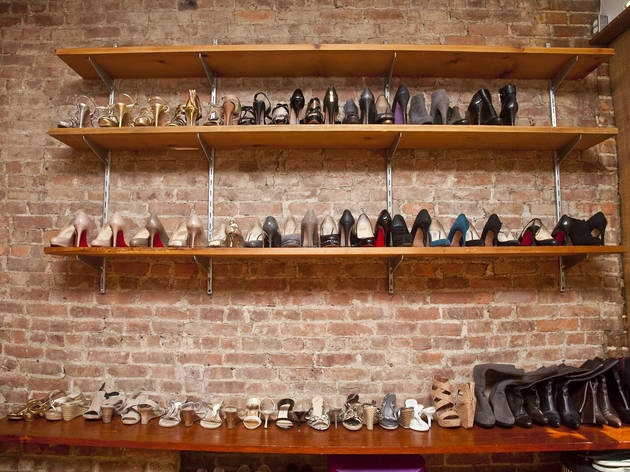 15/25
These wood shelves were already installed in the brick wall when Cohen and her family moved in two years ago. Neutral shoes organized by hue makes getting ready quick and easy. "I tend to go more into color with my dresses and jewelry," she says. She arranges her footwear with one facing in and the other out to allow for even more pairs to fit on the ledges.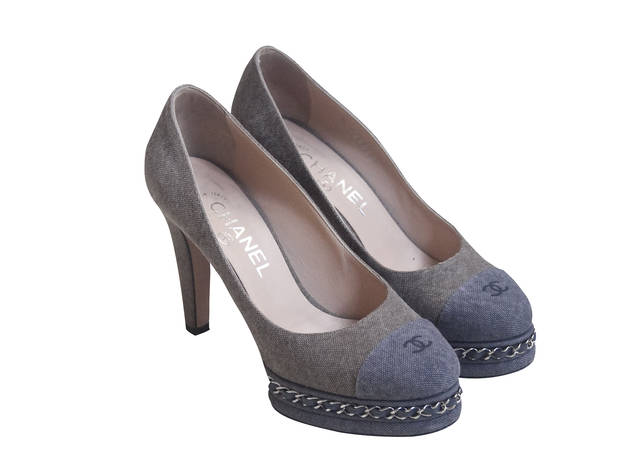 16/25
Cohen loved the fit and style of these Chanel (chanel.com) pumps from Bergdorf Goodman so much that she also bought them in black. "I have a wide foot and these are really comfortable," she notes. "Also, the chain detailing is really different for me. It's a little bit of jewelry [for your feet]."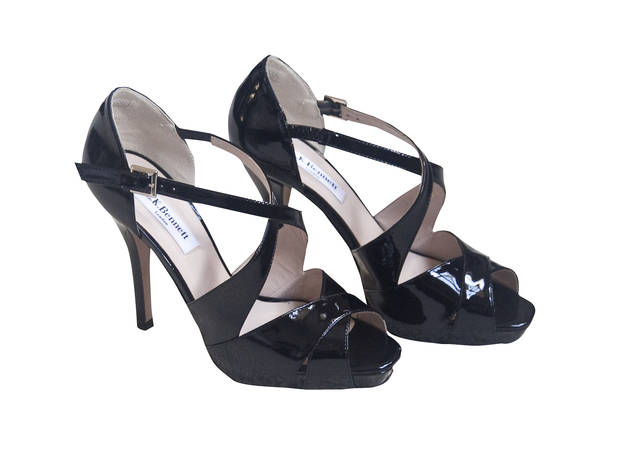 17/25
"I wear these with black cropped pants, a crisp top and some fabulous gold jewelry," says Cohen of her platform L.K. Bennett heels (10 Columbus Circle at Broadway; 212-309-7559, us.lkbennett.com). "They have a bit of stretch, which makes them easy to walk in."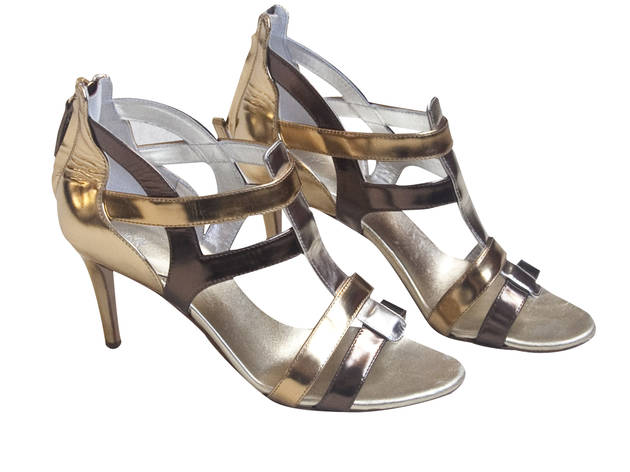 18/25
Cohen and her husband were shopping for men's pants at Saks Fifth Avenue (611 Fifth Ave at 49th St; 212-753-4000, saksfifthavenue.com) but these Giuseppe Zanotti (giuseppezanottidesign.com) metallic heels served as a bit of a distraction. "I just had to pull him into the shoe [department]," she admits. Cohen wears the versatile sandals with both casual daytime threads and party frocks.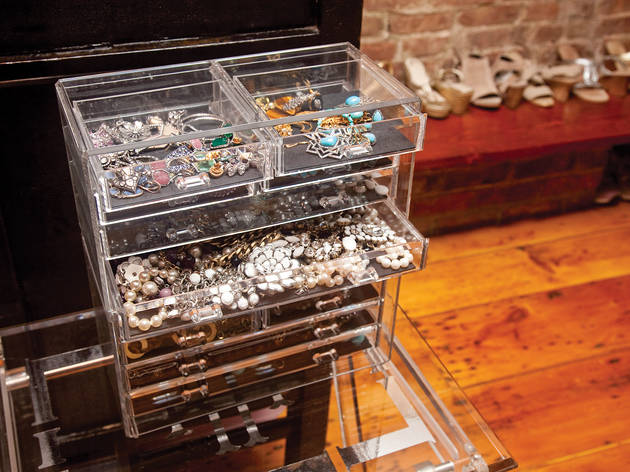 19/25
Rather than separate costume jewelry from precious baubles, Cohen uses acrylic storage units from the Container Store to hold "everything from Chanel pearls and J.Crew necklaces to stuff I pick up off the street for $30." They sit on top of custom Lucite tables from Palm Beach boutique Lori Jayne.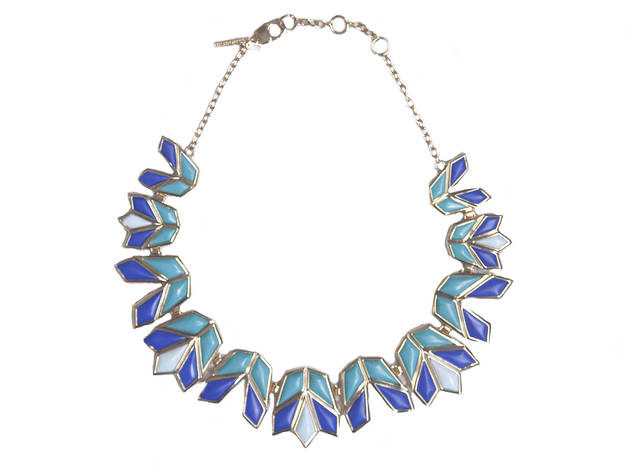 20/25
Cohen's friend Lisa Sadoughi, who used to be the head jewelry designer for J.Crew (locations throughout the city; visit jcrew.com), recently launched her own brand, Lele Sadoughi (lelesadoughi.com). This colorful necklace is one of the many pieces Cohen owns from the label.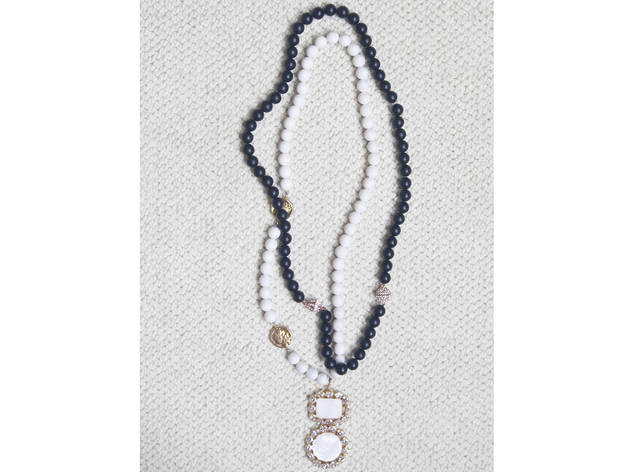 21/25
Cohen and her husband just got back from Turkey, where she picked up these black and white beaded strands. The unique baubles snap apart to become a shorter necklace and a bracelet. "I have a lot of Turkish friends and clients," says Cohen, who got married in Bodrum seven years ago and continues to make frequent trips to the country. "It's a beautiful place filled with culture and history."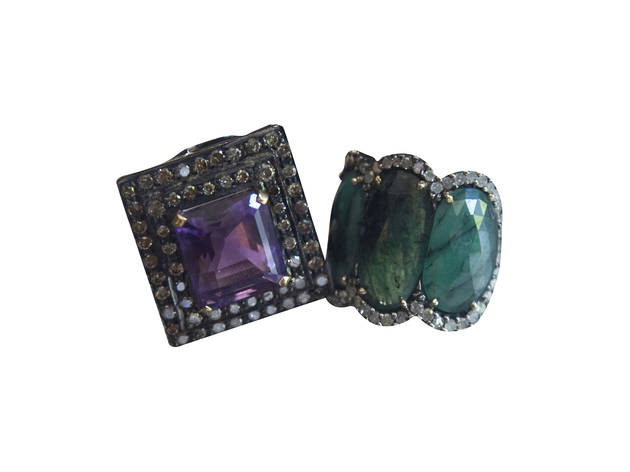 22/25
These emerald cocktail rings are the creation of another one of Cohen's friends, local jewelry designer Gwen Myers of Eden Presley (edenpresley.com). "After work, I will put one on and it dresses up the outfit to make the day-to-night transition," she says. "I wear a lot of purple and green, so these work with many of my looks."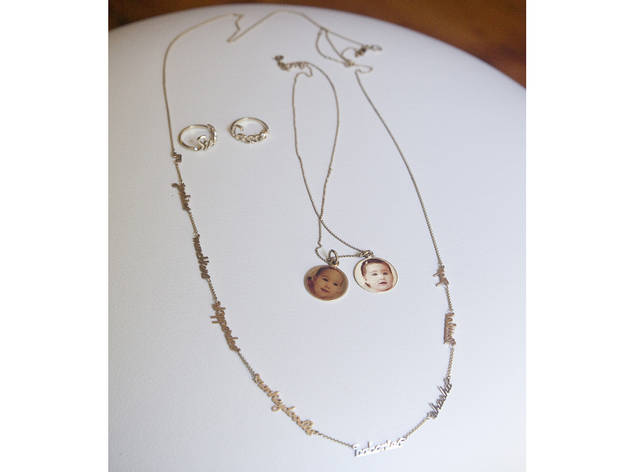 23/25
Cohen is often seen wearing a piece of personalized jewelry from NYC designer Christina Addison (christinaaddison.com). Baby pictures are screenprinted onto gold-disc charms and family nicknames are inscribed on long necklaces (the pair of rings that spell out each daughter's moniker are from Turkey). "I'll give them to my daughters when they get older," she says of the modern heirlooms.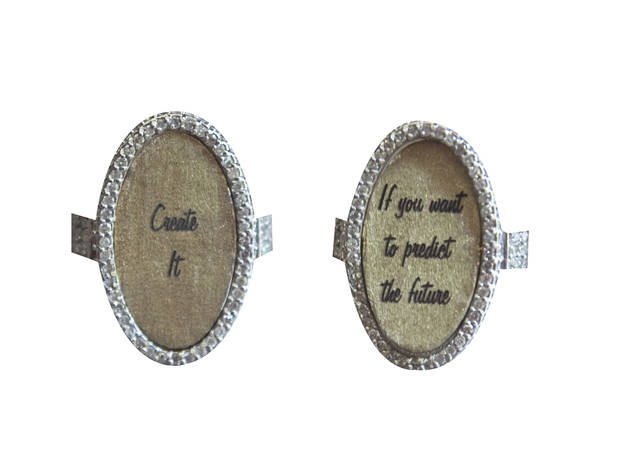 24/25
Gwen Myers custom-made this inspirational ring for Cohen, which says IF YOU WANT TO PREDICT THE FUTURE on one side and flips to read CREATE IT on the other.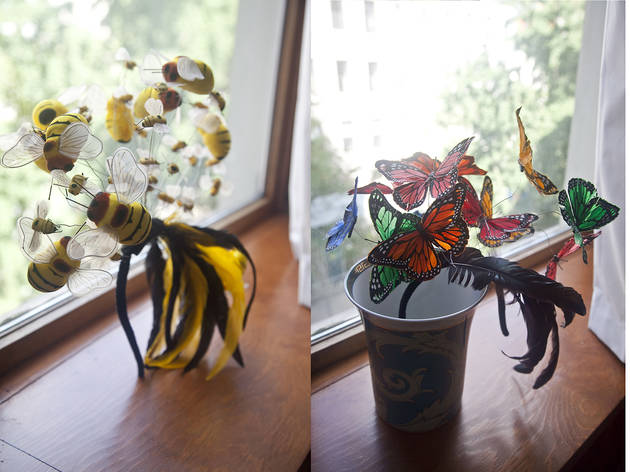 25/25
"My husband laughs when I wear these to the Easter parade but I love silly hats," says Cohen of her custom fascinators from Los Angeles designer Arturo Rios (arturorios.com). She has also worn them to Veuve Clicquot Polo events where "everyone goes crazy with their hats."
New York City closet case: Dr. Katherine Cohen, IvyWise founder and CEO
Dr. Katherine Cohen, IvyWise founder and CEO, keeps her tightly edited wardrobe on view for stress-free dressing.
With the help of wardrobe-management company Visual Therapy, IvyWise founder Dr. Kat Cohen keeps her bedroom-turned-closet streamlined with only clothes and accessories she currently wears. She favors high-end brands such as Chanel and Prada, and shops for her favorite Pucci dresses at Bergdorf Goodman.
Her favorite NYC style resources
Bergdorf Goodman 754 Fifth Ave at 58th St (212-753-7300, bergdorfgoodman.com)
"You can find anything for any occasion," says Cohen of the high-end department store. "It's close to my office and has the best shoe department."

J.Crew Locations throughout the city; visit jcrew.com
Cohen favors this on-trend chain for "less-expensive work wear and weekend clothes." She also dresses her daughters in the children's line, Crew Cuts.

Follow Elizabeth Denton on Twitter: @elizabethann1