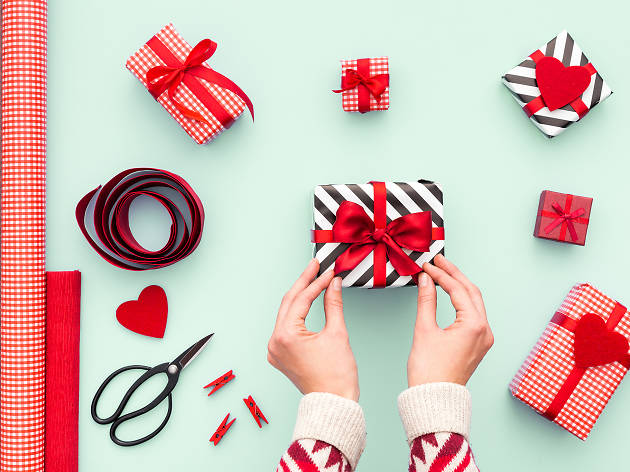 Santa's little helpers
Holiday shopping has never been easier, thanks to our guide with the best gift emporiums in town. It's a miracle!
The holidays are just around the corner, and we're willing to bet you haven't even thought about your shopping list yet. We don't blame you: Gift hunting can be daunting. Once you schedule the time to search for actually good gifts, you then have to deal with the added stress of combating the holiday crowds. Yeah, it's no surprise so many of us turn to our laptops instead of our city's storefronts to nab presents for our tribe. But chin up, Scrooges! We live in one of the world's greatest cities for retail, and there are many benefits to hitting some of New York's best stores to choose a little something (or big, if you're feeling generous) for everyone on your nice list. In case you need convincing, we've selected awesome, go-to shops filled to the brim with fun and unique presents.
Find gifts here:
Photograph: Courtesy Huminska
You may be all set with your list for the season (congrats!), but have you figured out what you're going to wear to your big, fancy holiday work party? Never fear, as this ready-to-wear brand has the perfect frock for any festive bash. (We're particularly loving the Analisa Huntress velvet dress.) 315 E 9th St (888-908-0245, HUMINSKA.com)
Here's a great (and fun!) stocking stuffer that won't completely drain your bank account. Give the gift of holiday magic when you buy the new Scratch-Offs depicting merry holiday scenes from the New York Lottery. Let the festive games allow your loved ones to be playful this holiday. Plus, if any of them become a winner, there's a good chance they'll share a little piece of the action with you out of gratitude. Must be 18 years or older to purchase. (NYLotteryHolidays.com)
Photograph: Courtesy Artist and Fleas
This beloved collective retail space operates at three locations in New York (Williamsburg, Chelsea Market and Soho), so you won't have to venture very far to snag gifts for your loved ones. At any one of these emporiums, you'll find a great selection of art, design, fashion and vintage from more than 150 independent sellers. Shop unique goods, including some of our favorites: accessories from menswear brand Curated Basics, baubles from Brooklyn Charm, vintage jewelry from Brooklyn Bleu, rare LPs from Eat Records, oils and balms from Real Bearded Men. Various locations (artistsandfleas.com)
Photograph: Courtesy Hunter Boots
What's the most practical (but thoughtful) present to give an East Coaster? Snow boots, baby. Once Old Man Winter casts a tundra-like chill over New York, we'll all be in need of durable boots for our daily trek to work. And they might as well be stylish, right? Enter the new Original Snow Boot by British brand Hunter. The wet-weather retailer used its sleek Original Rain Boot as inspiration for its cold-weather footwear. The winter-hardy shoe has extra neoprene lining for insulation, a tight-tying bungee cord at the top of the boot, internal padding to lock in the heat and a molded rubber outsole with a great grip for battling difficult terrain. Slush puddles, beware! hunterboots.com
If you're on a strict holiday shopping budget, Nordstrom Rack allows you to shop luxuriously while saving big. Grab your plastic and run—don't walk—to the brand-new outpost located near Herald Square. The three-floor fashion mecca is stocked with super-discounted designer duds from big names such as Vince, Theory, Diane Von Furstenberg, A.L.C., 360 Cashmere and more. There's also a hefty shoe department, budget-friendly ready-to-wear and accessories for men and women, and a lifestyle and home goods section. You're bound to find something for every friend and family member here. Better yet, the space offers massive windows providing plenty of natural light, so you can actually see what you're buying (no one likes to shop under florescent lights). 865 Sixth Ave (646-861-5440, nordstromrack.com)
Photograph: Courtesy 242 Jewelry
Give your gal (or fella) a little glitz and glam this holiday when you shop at this Williamsburg boutique that doubles as a working studio. Step inside and peruse one-of-a-kind jewels, home goods and other pieces of art created by in-house and independent designers Perry Gargano, Britt Bolton and Delia Langan. The shop offers a wide variety of trinkets and merchandise; highlights include unisex jewelry, nautical dinnerware, delicate gemstone pieces and more. If you're shopping for a lady, the small gold leaf earrings (from $45) are sure to put a smile on her face. 242 Grand St, Brooklyn (929-337-9242, 242grand.com)
Photograph: Courtesy Buffalo Exchange
What's the best thing about shopping secondhand during the holidays? Guilt-free giving! Whether you buy someone a Buffalo Exchange gift card or nab glitzy accessories to stuff in stockings, everyone will appreciate your sustainable and charitable efforts. (FYI: Buffalo Exchange donates portions of its proceeds to local charities.) The resale chain is a treasure trove bursting with cute and cool gently used duds for people of all sizes, so you can also use this opportunity to find a low-budget but marvelous outfit for any upcoming holiday parties. East Village: 322 E 11th St (212-260-9340), Brooklyn: 504 Driggs Ave (718-384-6901), 109 Boerum Place (718-403-0490), Astoria: 29-16 Ditmars Blvd (718-274-2054), Chelsea: 114 W 26th St (212-675-3535)
Here's a rad, ever-changing concept shop we simply can't get enough of. Owner Rachel Shechtman's new holiday setup is a fantasyland circus inspired by The Greatest Showman—a new musical spotlighting the life of ringmaster P.T. Barnum. The whimsical wonderland, designed by David Stark, looks like a circus tent and is filled with loot like Alexis Bittar bracelets, Edie Parker acrylic clutches, Sugarfina candies and Denik journals. Prepare to geek out over 2,000 (damn!) foolproof presents. And there's an extra incentive to shop each Saturday from November 25 to December 23: Munch on gratis treats from Korilla BBQ, Cinnamon Snail and Snowday during STORY's series called Snack and Shop Saturday. 144 Tenth Ave (212-242-4853, thisisstory.com)
Photograph: Courtesy Madonna & Co
There's definitely an incentive for doing some holiday shopping at this cool-girl store in New York. After sifting through luxury items like unparalleled apparel collections, statement shoes and handbags, treat yourself to a service in the beauty bar. Get your hair or makeup done, or opt for a relaxing facial and afterward feel refreshed to do, well, more shopping! For an added bonus: Enjoy 15 percent off in-person or at madonnaandco.com with the code "TIMEOUT." 202 E 60th St (212-226-3363, madonnaandco.com)
Photograph: Courtesy The Shoe Tree
Buying someone a pair of shoes for the holidays is truly the gift that keeps on giving. (Especially since New Yorkers go through pairs of kicks like crazy from trotting around.) The Shoe Tree—a family-owned retailer—is your go-to for finding multiple sizes and styles from stylish and notable brands such as Clarks, Skechers, Timberland and more. If you decide to go the gift card route (always a safe choice), accompany it with an accessory like a cute pair of gloves, a cozy hat or a cool pair of sunglasses. 2876 Broadway (212-280-1711, theshoetreeonline.com)