Ski day trips
These local shops will get you to the slopes and back with all-inclusive packages.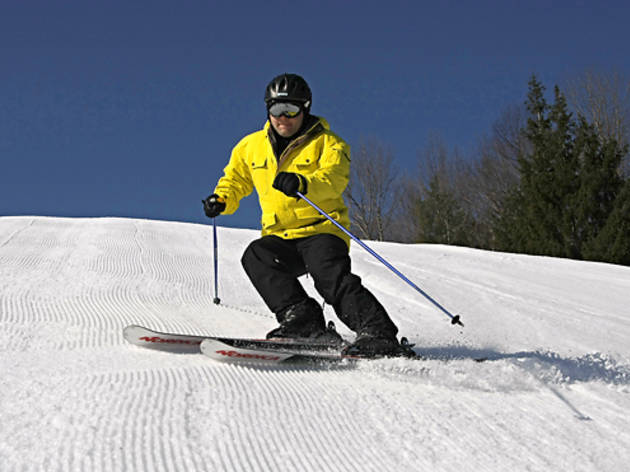 RECOMMENDED: See all day trip ideas
Blades
A one-stop shop for New York's skate and snowboard enthusiasts, Blades whisks up to 200 people per day in Wi-Fi--equipped coach buses from its Upper West Side and Soho locations to the snow-covered mountains of Hunter (Tue 6:30am--8pm; $75. Sat, Sun 6:30am--8pm; $85), Windham (Wed 6am--8pm; $75), Mount Snow (Thu, Sun 4am--10pm; $105) and Stratton (Sat 4am--10pm; $105). The cost includes an all-area lift ticket, a bagel from either Bergen Bagels or 72nd Street Bagels, bottled water, and entertainment like Superbad and an episode of It's Always Sunny in Philadelphia—a hallmark of the trip. There's also the option to customize your package with lessons and/or equipment rental and on the way back, passengers are treated to aprs-ski beers from Lagunitas. Those who prefer to sleep in will appreciate Saturday trips to Camelback ($75), which depart at a civilized 10am rather than the crack of dawn. 659 Broadway between Bleecker and W 3rd Sts (212-477-7350) • 156 W 72nd St between Amsterdam and Columbus Aves (212-787-3911) • bladesnyc.com. Dec--Apr.
Emilio's Ski Shop
This venerable Queens store has been shuttling snow-starved New Yorkers to the slopes from its Forest Hills headquarters for the past 40 years, and with that experience comes a no-nonsense attitude: There's no free breakfast (only your lift ticket is included), no frills (you'll ride on a standard coach bus or Sprinter van) and a strict no-refund policy. Expect diehard skiers to accompany you on trips to nearby Hunter (Tue, Thu 6am--7:30pm; $75. Sat, Sun 5:30am--7:30pm; $85) and Windham (Wed 6am--7:30pm; $75) Mountains, and farther-flung destinations, including Stratton (call for dates; $100), Okemo (Sat 4am--10pm; $100) and Mount Snow (Sun 4am--10pm; $100). 112-28 Queens Blvd between 75th Rd and 76th Ave, Forest Hills, Queens (718-544-0404, emiliosskishop.com). Dec--Apr.
Homage
Brooklynites looking to hit the slopes have a convenient option in this Cobble Hill skate and snowboard shop, which has teamed up with rider-owned and -operated OvRride to run day trips to Hunter (Tue 6am--6:30pm; $75. Sat, Sun 6am--6:30pm; $80), Windham (Wed 5:30am--$6:30pm; $75), Camelback (Sat 9:15--11pm; $75), Mount Snow (Thu, Sun 3:30am--8:30pm; $100) and Stratton (Sat 3:30am--8:30pm; $100) that include the cost of your lift ticket. You better program the delay brew on your coffeemaker, though: The 55-seat Mercedes-Benz bus hits the first stop as early as 3:30am for the Vermont excursions. No need to worry about breakfast, though, since onboard bagels are provided (there's free beer on the ride back). You'll also get a card entitling you to 20 percent off gear and board services in-store. 151 Smith St between Bergen and Wyckoff Sts, Cobble Hill, Brooklyn (718-596-1511, ovrride.com/homage). Dec--Apr.
Paragon Sports
Board the specialty sports shop's 55-seat bus, leaving from its Union Square location, to get to Hunter Mountain (Wed 6:30am--7:30pm; $79. Sat 6:30am--7:30pm; $84) or Windham Mountain (Sun 6:30am--7:30pm; $84). The store also runs trips to Stratton (Sat 5am--10pm; $99) every other week. Along with round-trip transportation, that price gets you a warm bagel, a bottle of water, an all-area lift ticket and entertainment in the form of comedies like Liar Liar screened on the ride. If you have time (and an extra $30) to spare, Paragon will even arrange for your ski rentals—all it takes is a quick in-store fitting one to three days before you depart. 867 Broadway at 18th St (212-255-8036, paragonsports.com). Dec--Mar.