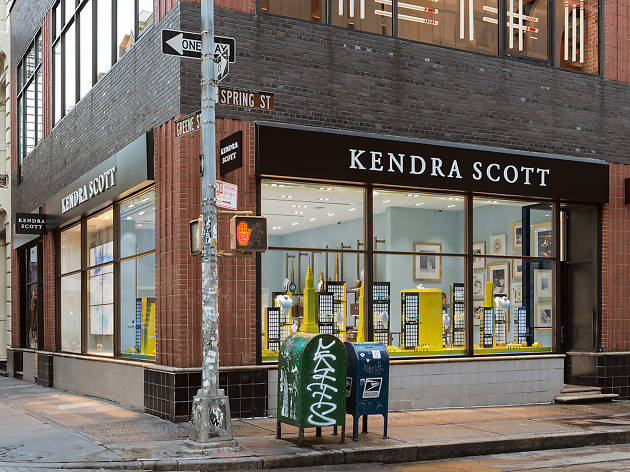 Welcome to NYC, Kendra Scott
Much-loved jewelry brand Kendra Scott has just opened its first New York store this month—and you're invited to help celebrate its long-awaited arrival
Austin-based fashion and lifestyle brand Kendra Scott has chosen SoHo as the location of its first New York store; a perfect home for the brand's bold, colorful accessories, home collection and community-centric ethos.
To celebrate the new flagship—which opened Tuesday September 4 at 126 Spring Street— Kendra Scott is bringing bursts of yellow to unexpected areas of the city and fun customer experiences in-store throughout September and October, all to #PaintNYYellow.
The new SoHo store offers the full collection of Kendra Scott jewelry, including fine jewelry, two Color Bars™ (one on each of the store's two floors), home, candles, and nail lacquer.
The sprawling, two-story NYC storefront is not only a place to shop, but also a place for New Yorkers to get creative, enjoy curated experiences, and connect to meaningful causes. The store will host give back events for the local community to support causes that matter to them in addition to supporting and working with New York-based organizations such as Good+ Foundation, Memorial Sloan Kettering, Southampton Hospital, and the Breast Cancer Research Foundation.
Scott founded her namesake company in 2002 with $500, going door-to-door around Austin boutiques with a tea box of handmade jewelry and a newborn son at home. With her innate eye for bold colors and love of gemstones, she quickly gained a following from loyal customers across the US and Hollywood celebrities alike. Today, Kendra Scott's statement fashion jewelry and timeless fine jewelry—with its bold gemstones and vibrant color combinations—has catapulted the company from a small startup into to a global billion-dollar business.
Scott's award-winning, innovative nature extends beyond her distinctive seasonal jewelry collections, with visionary concepts such as Color Bar™, an in-store and online experience where customers can design their own personalized jewelry, selecting from more than 30 shapes and 50 different stones.
Starting next month, the Color Bar™ will feature the Kendra Scott Charms Collection, offering more than 300 charms to choose from including letters, birthstones, zodiac symbols, and healing stones, which can be faceted onto necklaces, bracelets and earrings for even more options for custom jewelry from Kendra Scott.
As the company continues to grow (Kendra Scott has more than 80 namesake stores in the US, in premiere retailers including Neiman Marcus, Nordstrom, Bloomingdale's, Selfridges and in 600+ specialty boutiques around the world and counting), its brand commitment to 'Fashion, Family, and Philanthropy' has remained the same. Since 2010, the Kendra Scott company has given back over $25 million to charitable organizations nationally.
Events at Kendra Scott this month
In the store's first month open, Kendra Scott is bringing all things ATX to SoHo—including Austin's beloved breakfast tacos. There'll be events including Topo Chico, a networking session with Charlotte Tilbury (9/6), 'Keep Austin Weird' day (9/22), and collaboration with nail salon Paintbox (9/30), among others. For more details, check the Kendra Scott blog and follow along on social.

Bringing her Austin charm to the Big Apple, after 16 years in business, the SoHo store is a dream come true for Scott and the beginning of the next chapter of success and giving back.
Visit Kendra Scott in SoHo at 126 Spring Street, at the corner of Greene Street.