50 fitness classes reviewed
The TONY staff rates everything from Warrior Boot Camp to Booty Slide. (And, um, Eye Yoga.)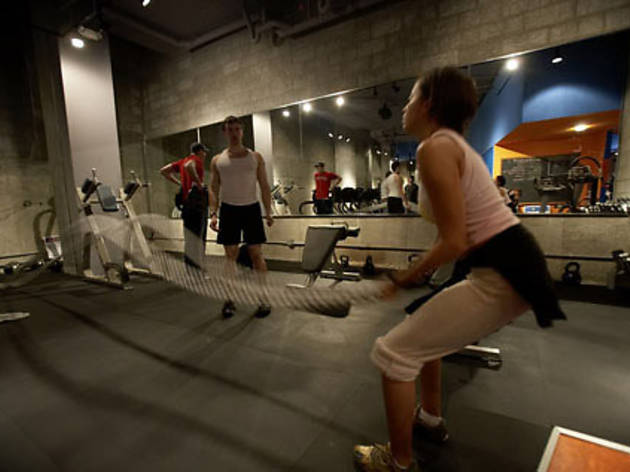 1/3
Art of Strength at Mid City Gym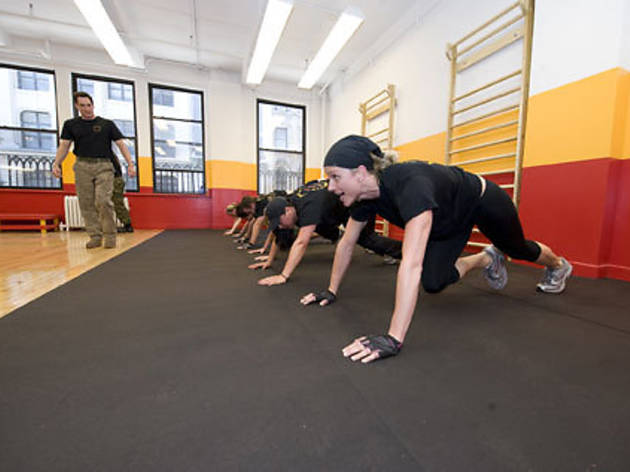 2/3
Warrior Boot Camp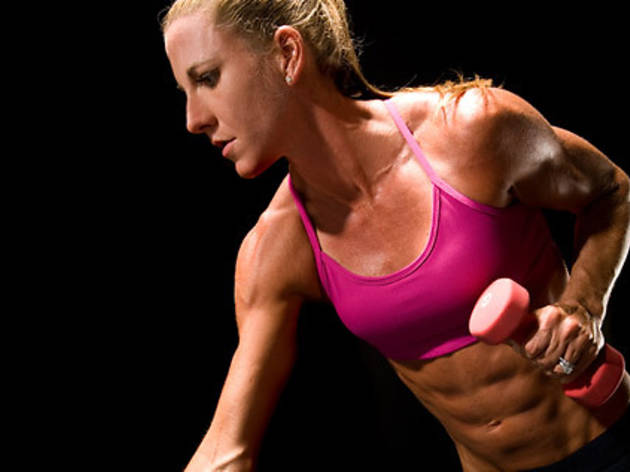 3/3
Stoked 360 instructor Kira Stokes at Reebok Sports Club/NY
Cardio classes
The Art of Strength
Mid City Gym (345 W 42nd St between Eighth and Ninth Aves; 212-757-0850,midcitygym.com). Monthly membership $49, plus enrollment fee starting at $29; day pass $15.
Length: 45--60 minutes
Type of activity: Strength training
What to expect: A circuit of strength-based exercises using kettlebells, ropes and logs. Twenty-second microsets are followed by one-minute rest periods.
How in shape you need to be: Gym regular
The verdict: Before this workout, I'd never lifted a kettlebell (picture a cannonball with a handle, ranging from 8 to 32 kilos), so I didn't know what to expect. Surprisingly, the unusual weight proved versatile: We used them in everything from dead lifts to through-the-legs-and-round-the-back figure eights. Additional exercises with ropes, logs and a medicine ball on a leash (menacingly dubbed the "tornado ball") kept the workout both interesting and challenging. There's definitely a community of seasoned regulars here, and the quick pace results in a steep learning curve for newbies. You'll be panting by the third station, but the abbreviated sets encourage a full-throttle approach.—Dan Lopez
Booty Slide
Crunch (various locations; crunch.com). Membership prices vary; day pass $16.
Length: 1 hour
Type of activity: Cardio/toning
What to expect: The booties in question are both anatomical and literal: You wear footgear that enables you to slide across the floor, performing lunges reminiscent of speed skating and Pilates. In part two, you press, sweep and stretch your upper body and legs, aided by a bandanna, resistance band and Bosu ball. Overall, it's 60 solid minutes of working on your glutes and core.
How in shape you need to be: Gym regular
The verdict: Although I accepted the assignment for its comic value and was regarded as a novelty once there ("We have a token male tonight, ladies!"), the workout was no joke. It raised my heart rate, I broke a sweat, and my lower body was sore for days afterward. Gents, don't fear the booty: The instructor plans to rebrand the class as Core Slide to appeal to men, but whatever it's called, it beats the stair climber by a mile.—Michael Martin
Cardiolates
Pilates on Fifth (501 Fifth Ave between 41st and 42nd Sts; 212-687-8885,pilatesonfifth.com). $22 per class, five-class intro package $85.
Length: 1 hour
Type of activity: Cardio on trampolines with a Pilates twist
What to expect: The workout begins with, as you'd expect, core work—but then moves on to mini trampolines for the heart-pumping portion.
How in shape you need to be: Occasional exerciser
The verdict: Cardiolates is a Pilates-infused workout created by identical twins and former Rockettes Kimberly and Katherine Corp. The idea here is that you can get your fat-burning-cardio fix, in addition to the conditioning and alignment benefits that Pilates offers. If you're like me, you'll also get a good dose of the giggles: The cardio part takes place on mini trampolines, which make the class—populated by a handful of youthful women and led by the fabulous Ron, who at moments was definitely channeling Richard Simmons—feel more like a slumber party than an exercise routine. After several initial minutes of focused core work (it really burns!), we mounted our trampolines and set to work putting our sports bras through the toughest crash test since the invention of the pogo stick. At first, it was easy (see above: giggles and slumber parties). About 20 minutes in, the nonstop jumping paired with hand-weight tricks and repetitive leg kicks started taking its toll. While I never reached heart-pounding exhaustion, 35 minutes of bouncing, plus that initial abs routine, made this a full-body workout. One that I'll regret tomorrow, no doubt.—Kate Lowenstein
Cardio Capoeira
Crunch (330 Flatbush Ave between Park and Sterling Pls, Park Slope, Brooklyn; 718-783-5152, crunch.com). Membership prices vary.
Length: 1 hour
Type of activity: Capoeira
What to expect: After practicing basic moves in front of the mirror, we partner up to execute combinations of kicks and escapes, plus cartwheels and handstands. Class ends with a roda, in which two people spar in the center of a circle while everyone sings in traditional capoeira call-and-response.
How in shape you need to be: Gym regular
The verdict: Despite the gym setting and cardio buzzword, this is a genuine capoeira class; about half the students are regular practitioners. If you're not naturally coordinated, it can be hard to keep up with the kicks and fancy footwork, which are done in time to high-energy rhythmic music and, later, in coordination with your partner (it helps that students are divided into two levels). I hoped to be a wallflower during the end-of-class roda, but the teacher beckoned me in. When my armada, a kick that begins with a spin, sprayed my classmates with my sweat, I realized there was a cardio component after all—I'd barely stopped moving since class started.—Megan Gendell
FleXpress
Sports Center at Chelsea Piers (Pier 60, W 23rd St at the Hudson River; 212-336-6000,chelseapiers.com). Monthly membership fee $158; initiation fee varies.
Length: 1 hour
Type of activity: Cardio
What to expect: For the non-cardio-inclined, hell. This is hard-core aerobics, an hour of constant motion incorporating hand weights, riser work, body bar and Bosu ball. You squat, flex, press, crunch and question your existence.
How in shape you need to be: Gym regular
The verdict: One step below boot camp, one step above death. I felt deeply insecure in the intimate space amid the class regulars, who were far superior in strength and coordination (this is a more choreographed routine than most cardio classes I've attended). But the instructor took me under his seriously toned wing, and the high skill set of the room forced me to keep pace. By the end I felt something close to instantly fit—there's no way to phone it in here.—Michael Martin
Nike Running Club
Meets at NikeTown (6 E 57th St between Fifth and Madison Aves, 212-891-6453). Free.
Length: Varies depending on your stamina
Type of activity: Running
What to expect: This run through Central Park is usually three, five or seven miles—just pick which group you want to run with. After a ten-minute stretch, "pacers" lead runners through the park; the session concludes with another guided stretch.
How in shape you need to be: Gym regular
The verdict: I enjoy running because it's a solitary sport, but this group, which often exceeds 100, is a great example of how a running community can be fun and physically rewarding. The path can be congested during the quarter-mile warm-up trot, but after that it spreads out nicely. You choose your speed. That said, the pacers will help you push yourself, and I definitely ran faster than I do when I'm alone. Overall, the vibe is a nice mix of camaraderie and endearing runners-club nerdiness: Even before the workout starts, people are revved up, supportive and just a tad fanatical. Will the club stop when it gets cold? No way. As one pacer put it, "We'll run right through the snow." Surrounded by that kind of perseverance, you might just do it too.—Michael Miller
Spinning
McBurney YMCA (125 W 14th St between Sixth and Seventh Aves; 212-912-2300,ymcanyc.org). Membership $70--$142 per month, plus initial fee $75--$125.
Length: 45 minutes to an hour
Type of activity: Spinning
What to expect: As soon as you arrive, sit down and pedal. After a few minutes of upper-body stretching (while pedaling), you'll ride for almost 40 minutes, with climbing, sprinting, jumping and more sprinting. Stretch it all out for a few minutes at the end.
How in shape you need to be: Gym regular
The verdict: Thanks to the resistance dial on the stationary bike, this class is good for those new to spinning, while still a challenge to those with a bit more experience in the gym. Either way, you will break a sweat. Our instructor kept the class moving with a mix of nonstop funk, encouraging the class to keep to the rhythm by adjusting resistance. Each leg of class—fast sprints, slow climbs, midtempo jumps—is timed to a song, so you can get a feel for just how long you'll need to keep up before you can rest and sip water. Just don't stop pedaling.—Amanda Meffert
SoulCycle Signature Class
SoulCycle (117 W 72nd St between Columbus and Amsterdam Aves, rear lobby; 212-787-1300, soul-cycle.com * 1470 Third Ave at 83rd St, 212-639-1300). $32 per class, package deals available.
Length: 45 minutes
Type of activity: Indoor cycling
What to expect: A pedaling warm-up, followed by on-bike abdominal and endurance work, and then ten minutes of upper-arm weights done while still pedaling, and finishing with a cooldown
How in shape you need to be: Occasional exerciser
The verdict: Cycling for your soul? The candlelit spin room won't quite get you to nirvana, but at least this cardio workout comes without barking from the teacher. The music is upbeat, the instruction is encouraging, and a hand-weights portion means the arms don't get short shrift. It's an invigorating sweat, with none of the postcycling soreness that can make spinners walk like cowpokes. When first-timers manage to get the pedaling crunch maneuvers in sync with the rest of the class—which attracts high-profile types such as Chelsea Clinton when we visited—it's almost transcendent. Almost.—Allison Williams
Stoked 360
Reebok Sports Club/NY (160 Columbus Ave at 67th St; 212-362-6800,mpsportsclub.com)
Length: 75 minutes
Type of activity: Cardio and strength training
What to expect: A mixture of cardiovascular exercises (think running and jump roping) and strength-building exercises like lunges, weights, push-ups and crunches.
How in shape you need to be: Gym regular
The verdict: Instructor Kira Stokes did a great job of motivating and energizing her students (most of whom were regulars), and the constantly changing activities will definitely get you sweating. Unfortunately, the class's scattershot approach is also its downfall; just as you get the rhythm of one set, Stokes moves on to something else. And though Reebok's schedule indicates the class is 75 minutes, we busted our asses for nearly 90.—Christy Purington
Warrior Fitness Boot Camp
Warrior Fitness Boot Camp (29 W 35th St between Fifth and Sixth Aves, third floor; 212-967-7977, warriorfitnessbootcamp.com). Five-week program (15 classes) $600. TONY DEALLength: 1 hour
Type of activity: Military-style circuit training
What to expect:The workout starts with brief stretching, and then moves into a variety of strengthening activities and calisthenics, including lunging, crunching, climbing and an obstacle course.
How in shape you need to be: Gym regular
The verdict: My regular exercise routine consists of a Spin class and some free weights, but that's child's play compared with this boot camp. It was intense, and I was sweating from the get-go, but the drill instructors were both firm and encouraging, which really motivated me to get through the hour. I thought I was faring pretty well during all the jumping jacks, crunches and even the obstacle course—but then I came to the stairs. Running up and down 12 flights after hoisting myself over walls and swinging from monkey bars was enough to drive a girl to the brink; I had to hang my head out a window to keep from tossing the humus I ate a couple of hours earlier. But when it looked as though I was losing steam, the other participants offered their support, cheering, "You can do it, you're almost there!" and "You're doing great!" Their votes of confidence kept my energy up. This class was definitely one of the most challenging regimes I've ever put myself through, but I would do it all over again. Just next time, I'd do it without the hummus.—Shaina Park
Note: Look for Mommy and Bridal Boot Camps coming this fall.
YogaWorks Body Slim
YogaWorks Soho (459 Broadway at Grand St; 212-965-0801, yogaworks.com)
. YogaWorks East Side (1319 Third Ave between 75th and 76th Sts, second floor; 212-650-9642, yogaworks.com)Soho: Monthly members only (no drop-ins); Membership $108 per month; East Side drop-ins $22 per class
Length of class: 1 hour
Type of activity: Yoga
What to expect: Modeled after interval training, the class alternates between quick posture changes for an aerobic workout (you'll sweat buckets) and challenging posture holds for strengthening (tomorrow = ow!).
How in shape you need to be: Gym regular
The verdict: As a runner, I was looking for a cross-training option that addresses upper-body strength and all-over flexibility. I really felt the burn during the cardio portions, not just in my arms and core but in my legs as well (a humbling surprise). Stretching was disappointingly minimal. An advanced classmate—who performed sit-ups with her legs lifted at a 90-degree angle to the floor—might disagree. Beginner blues aside, I would try this workout again—as with aerobic classes, it's hard to gauge the full benefit until you've mastered the choreography. But I wouldn't recommend the class for the touted slimming effects—I burned just 212 calories according to my heart-rate monitor, compared to twice that for an hour of running.—Maureen Shelly
Also try: Cardio Groove and Fame: The Class
Dance classes
Advanced ballet
Mark Morris Dance Center (3 Lafayette Ave between Ashland Pl and Flatbush Ave, Fort Greene, Brooklyn; 718-624-8400, mmdg.org). $13 per class.
Length: Two hours
Type of activity: Ballet
What to expect: Class starts with a gentle barre warm-up but quickly progresses to long, brain-teasing movement phrases with challenging footwork and lots of weight and direction changes.
How in shape you need to be: Professional dancer (or able to dance just like one)
The verdict: Mark Morris's studios are spacious and full of light, a joy to dance in, and class is accompanied by a pianist (with a slightly annoying propensity toward playing "My Favorite Things" during dgag combinations). The instructor gave subtle, insightful corrections throughout class, and her brief demonstrations showed inspiringly effortless, expansive movement. But despite my preprofessional dance background, her class was way over my head. As she walked us through a toe-twisting waltz combination, packed with pirouettes and fouetts and piqu turns en dedan, I wasn't the only student who snuck out the door early. Thank goodness they teach lower-level sessions, too.—Megan Gendell
Bollywood Funk Beginners
Weekend classes: Stepping Out Studios (37 W 26th St between Sixth Ave and Broadway, ninth floor; 212-502-7997, bollywoodfunknyc.com).
Weekday classes: Ripley-Grier Studios (520 Eighth Ave between 36th and 37th Sts, 16th floor; 212-502-7997, bollywoodfunknyc.com).Five-class package $75.
Length: 60 minutes
Type of activity: Dance
What to expect: Fifteen minutes of warm-up, followed by 45 minutes of choreography set to a song from a current Bollywood film soundtrack. Sign up for a five-week session; each class builds on the choreography from the last class.
How in shape you need to be: Couch potatoes welcome
The verdict: It's pretty much impossible not to smile when there's upbeat Indian pop blasting and a group of unassuming New Yorkers bungling their way through funk/jazz/hip-hop-inspired moves. Everyone looked a little foolish (except for the teacher, Ayesha, and her assistants), and that made the whole thing all the more fun (and funny). Don't expect to break a sweat—-as you string together choreographed steps, the thing that gets the toughest workout is your memory.—Kate Lowenstein
Cardio Groove
David Barton Gym (4 Astor Pl at Broadway; 212-505-6800, davidbartongym.com). Membership $125 per month; initiation fee varies.
Length: 45 minutes
Type of activity: Dance-infused aerobics
What to expect: A very brisk two-minute warm-up that goes straight into a series of high-energy movements. Each chunk of choreography steadily builds on the last to create a full dance routine at the end of 45 minutes.
How in shape you need to be: Gym regular; some basic dance experience helpful but not necessary.
The verdict: "Omigod, that's a gym?!" squeals a passerby outside David Barton's newest location in the East Village. I can't say my reaction to the posh quad-level space is much different: Decorated like a trendy Meatpacking club—flattering low lights, thumping club music and all—this space makes you nearly forget that you're in a fitness center. That is, until you step foot in Tina Thompson's fast-paced, choreography-intensive class, and the sweat starts to pour. Thompson wastes no time with feeble stretches (just a few head and shoulder rolls at double time), launching straight into fancy footwork worthy of a Knicks City Dancers halftime routine. There are no instructions, simply body language that you are expected to follow. At first, the lack of direction was off-putting as I struggled to keep up, but through the power of repetition, I eventually had every move down pat. Having taken dance the majority of my youth, I forgot what an invigorating full-body workout it could be—in this case probably because Thompson crammed enough steps into 45 minutes that would take weeks to rehearse in a studio. But the point here isn't to master each move; rather it's to exercise every muscle, and as my calves, glutes, shoulders and lower back can attest, it's a fun way to get the job done.—Cristina Velocci
Fame: The Class
Crunch (144 W 38th St between Broadway and Seventh Ave, 212-869-7788,crunch.com). Membership prices vary. Day pass $16.
Length: 1 hour
Type of activity: Dance
What to expect: After a dancey warm-up, the group learns a routine inspired by the choreography in the movie Fame (the new one out September 25, with presumably some influence from the old Irene Cara classic). By the end of the hour, you're meant to have a whole chunk of it down pat.
How in shape you need to be: Gym regular
The verdict: Led by a mike-less teacher in a studio dominated by two giant pillars, the class was crowded, and I often found myself with no sight or sound connection to the instructor (and no, the music isn't the Fame tunes you recognize). Most participants had dance experience and familiarity with the class series; a new combination is taught in each session, but beginners immediately feel behind. It's difficult to work up a sweat—or even relax—when you can't see or hear what's going on, especially if you need more than one try to master a twirl or Fosse-handed walk. Still, the class is a good outlet for dancers who miss their old jazz recitals. For anyone hoping to score a cardio workout by bopping around to "I'm gonna live forever," you'll be better served by loading the movie soundtrack on an iPod and going for a jog.—Allison Williams
Intro to Horton
The Ailey Extension (405 W 55th St at Ninth Ave; 212-405-9500, aileyextension.com). $16.50 first class, package deals available.
Length: 90 minutes
Type of activity: Dance
What to expect: Rather than being a cardio-based workout, this class (one of many offered by the Ailey Extension, the Alvin Ailey dance school's equivalent of a continuing-ed program) teaches the Horton technique, a series of codified movements invented by Alvin Ailey's mentor, Lester Horton, to help correct a dancer's physical faults.
How in shape you need to be: Couch potatoes welcome
The verdict: Amazingly, I—who have not been to a gym in years—made it through this 90-minute session without a heart or a fit of embarrassment attack. I'm also not a dancer in any form, but I still benefited from the miniroutines, which largely focus on balance, muscle strength, core work and the general yogaish idea of becoming more aware of your body so that you can do everything in your life better. The most difficult part was following instructor Iquail Johnson's quickly rattled-off combinations, but even though I barely understood the language (planche, arabesque, ronde de huh?) and couldn't keep eight counts of anything in my head, I was able to clumsily find my way after many repetitions. What's more, thanks to the genius idea to use a live djembe drum player instead of a crappy playlist, and because of Johnson's jokey energy, I had a stupid grin on my face the whole time—even when we had to lope across the floor in nerve-racking groups of three. In the end, the class was a little frustrating, since the skill level of the other participants made it seem like anything but an intro course, but it did whet my appetite to try other classes here, especially since you can take them on a no-pressure, one-off basis.—Billie Cohen
Samba
The Ailey Extension (405 W 55th St at Ninth Ave; 212-405-9500, aileyextension.com). $16.50 first class, package deals available.
Length: 90 minutes
What to expect: It starts with stretching, moves into basic samba dance steps, and then continues with vigorous samba dancing in rows.
How in shape you need to be: Occasional exerciser
The verdict: The class is led by a leopard-print-leotard-wearing teacher named Quenia Ribeiro, and as you'd expect, she's fantastically flexible and entertaining. The students, meanwhile, are mainly young girls—some of whom are pretty good at the samba steps, others who are total beginners. After a stretching session, a band of live drummers accompanies the main workout, which starts with basic steps, then quickly acquires flourishes and extra moves. It's high-energy stuff, and because the class is pretty packed, it can be hard to see what you're supposed to be doing; basically, the better you are at the steps, the more you'll benefit from the workout. But as one grinning beginner said at the end of the class, "If you wanna get rhythm, which I sorely lack, this is a good class."—Sophie Harris
Martial arts classes
Boxing
Element Fitness (5-02 50th Ave between Jackson Ave and Vernon Blvd, inside LIC Kids, Long Island City, Queens; 917-295-5102, efitnyc.com). $18 per class, 12 classes $180, unlimited monthly pass $99
Length: 1 hour
Type of activity: Boxing
What to expect: Boxing moves combined with muscle-building ab work, plus old-school cardio stints, like jump-roping and jogging.
How in shape you need to be: Occasional exerciser
The verdict: Turns out, I'm a badass. Aftern an hour spent at this boxing class, I spent the rest of the day annoying friends with my freshly learned pugilistic prowess. Pop pop, pow! The class size was small, with just seven people (it was only the second week of sessions at this new fitness center, which offers once-weekly workouts in boxing, belly dancing, running, martial arts, cross training and core work), so instructor Mike was able to provide personal attention, checking our form and providing encouragement when necessary. We quickly learned the basics—the boxing stance and a few punches—and then put it all together into cardio-building combinations. To practice our moves, we paired off, one victim holding pads while the other threw jabs and hooks—and we all got added workouts from interspersed squats and jogs around the room. Class ended with (oy!) two minutes of jump rope and a couple more runs around the small space. Though my technical skills are not quite at "I must break you" levels just yet, it was really satisfying to feel like we could kick butt so soon, instead of spending the entire hour—or even several classes—niggling over exact form. And while the combinations were enough to raise anyone's heart rate, the addition of small spurts of cardio and calisthenics made the hour feel like a complete-body workout.—Billie Cohen
Grupo Capoeira Brasil
World Oyama Karate Matsumoto Dojo (35 W 31st St between Fifth Ave and Broadway, sixth floor; capoeirabrasilnyc.com). $20, first class free.
Length: Beginner class one hour; open-level class two hours
Type of activity: Brazilian martial art capoeira
What to expect: Warm-up, conditioning exercises and an end-of-class roda (circle) to try your new moves
How in shape you need to be: Gym regular
The verdict: A welcoming group of fit capoeiristas pass no judgment as beginners fumble through the nuanced movements of this graceful martial art. After a 15-minute warm-up, we practiced basic kicks, escapes, handstands and cartwheels in pairs and as a class. The final quarter hour is reserved for the roda, in which the experienced members of the group play the drums and berimbau (a bow-shaped single-stringed instrument) and sing traditional capoeira songs while we all take turns sparring in the middle. Prepare to feel clumsy but, by the end, accomplished.—Kate Lowenstein
MMA
Church Street Boxing (25 Park Pl between Church St and Broadway; 212-571-1333,nyboxinggym.com). Single class $20, year-long membership $125 a month.
Length: 1 hour
Type of activity: Kickboxing and mixed martial arts
What to expect: Mixed martial arts (MMA) is exactly what is sounds like—a combo of fighting techniques, with some wrestling thrown in. Have you see any UFC matches? It's that. The class teaches punching, kicking, grappling and general strength and cardio.
How in shape you need to be: Occasional exerciser
The verdict: Though I haven't done much in the past six years, I used to be a serious wrestler—and so I walked into Church Street Boxing with a love for MMA as both a fan and as a former champ hoping to find a way back to my former fitness glory. Not only did this class kick-start my heart, it made me realize that working out is about feeling good, more than looking good. The fiery Jason Strout led the session (which is brand new to Church Street, and which covers all levels, from beginner to expert), and his intense, take-no-prisoners style was inspiring. So was the atmosphere: This is not your typical boutique-style gym, so don't expect spritzers and lattes after your workout. Fight posters adorn the walls, a ring is set up toward the back, and you can almost smell the blood, sweat and tears in the air. Strout started us out with jump-rope cardio and a series of push-ups, sit-ups and solo punch work. Right after that, we partnered up and attacked a punching bag with fists and feet. Following more cardio punching, we moved on to calisthenics specifically designed to help absorb the impact of various kinds of pummeling. (Think lots of abdominal work.) While this style of class was very new to me, I got a great workout, nearly lost my lunch (in a good way) and was left itching for more.—John Gregory
One-Two Combo
Sports Center at Chelsea Piers (Pier 60, W 23rd St at the Hudson River; 212-336-6000,chelseapiers.com). Monthly membership fee $158; initiation fee varies. Fri 6:30--7:30pm.
Length: 1 hour
Type of activity: Boxing
What to expect: After the students have wrapped their hands and donned their gloves, instructor Gary Griffin takes the classes through jabbing the heavy bag, combinations, suicides, push-ups, runs up and down bleachers, and other activities that give you a new and profound respect for Apollo Creed.
How in shape you need to be: Gym regular
The verdict: Being a man of peace, I'd never really taken a proper boxing—or even a martial-arts—class before. I had, however, always been a fan of the sport, and am intrigued by Rocky's montage in the mountains of Siberia. The pace of the classis pretty intense, and your arms kind of feel like they're going to cry after awhile, but there is nothing so cathartic as punching stuff. The others in the class are generally helpful, and it's an accessible environment for newcomers. Now all I need is a sweet ring nickname, and I'll be ready to go fight Mayweather.—Drew Toal
Tai chi
Taoist Tai Chi Society (245 W 29th St between Seventh and Eighth Aves, sixth floor; 212-967-3975, taichinnyc.org). Four-month new-member package of unlimited classes $175, plus $20 membership fee. Free open house on the last Saturday of every month.
Length: 60 or 90 minutes
Type of activity: Taoist tai chi is a Chinese exercise and martial art. But it's not used for self-defense, instead focusing on the health benefits of body alignment, balance and overall relaxation.
What to expect: The beginner course starts out with a few simple warm-ups, before jumping right into learning the forms, or specific routines (each class covers about five). It takes three months to learn all 108, and when you feel ready, you can advance to the continuing classes. According to the experienced members, attending regularly can help lower blood pressure, improve concentration and reduce stress. A tea break in the middle of the "workout" certainly helps with that.
How in shape you need to be: Couch potato. With the slow and precise movements, you need to be focused, but the exertion level is low. Designed for a person of any age and health condition, it's about finding your internal energy (in New Agey terms: your chi).
The verdict: As a beginner, it's daunting to think that you're going to have to learn 108 moves in three months. But the calm in the room and the positive energy of the instructors createds a very comfortable environment in which to practice forms with silly names like "Carry Tiger to Mountain" and "Go Back to Ward Off Monkey." You follow along, focusing on your balance and turns as each pose flows into the next one. After the session, I felt the exertion of a low-level workout, but I wasn't tired. I was invigorated. Concentrating on physical balance and coordination in a calm space was exactly what my overstimulated work brain needed after a long day in front of a computer.—Adam Fulrath
World Kanreikai Karate
Society for Martial Arts Instruction (4 W 18th St between Fifth and Sixth Aves; 212-677-7228, sfmai.org). $20 per class, packages available.
Length: 1 hour, 30 minutes
Type of activity: Karate
?What to expect: Sessions begin with stretching, followed by variety of punching, kicking, footwork, leg-strengthening and fighting drills, all designed to integrate and strengthen the core, and increase speed and flexibility. Classes end with sparring and cool-down exercises.
How in shape you need to be: From couch potato to gym regular, depending on what level you're atThe verdict: As a member of this school for the past six years, I can say that the karate course has an exemplary effect on one's physical and mental development (you should've seen me seven years ago). And I know I'll sound like an ad, but from what I've seen—regardless of fitness level, age or sex—people who train here and stick with it look healthier and do gain confidence. The key, it seems, is that you get an intense overall workout while learning something extremely useful. Yes, you'll be taught how to punch, block and kick, but you'll also learn how to be calm, assertive and respectful (which will usually prevent having to use those punches, blocks and kicks). There are four different senseis who rotate classes, so you can benefit from a diverse range of martial-arts knowledge if you come at different times. Some students train here to compete in tournaments, but the majority just come for the physical conditioning and the user-friendly group training.—Peter Chiu
Also try: Cardio Capoeira
Pilates
All-levels Pilates
Real Pilates (177 Duane St between Greenwich and Hudson Sts; 212-625-0777,realpilatesnyc.com). $25 per class, packages available.
Length: 45 minutes
Type of activity: Pilates
What to expect: Traditional core-building Pilates exercises with arm and leg work courtesy of a wall unit (a tall structure with springs attached) and a Magic Circle (a ring to hold that provides resistance for inner arms and thighs).
How in shape you need to be: Gym regular
The verdict: When I hear group Pilates, I imagine yoga mats on the floor. Not so at the Tribeca studio of Alycea Ungaro. Well-pedicured students struggle with plastic rings and metal resistance springs for 45 minutes as instructor Caitlin drops standard Pilates terms like swan and rolling like a ball with a calm generally reserved for flight-safety videos. While "all levels" by name, this class assumes fundamental knowledge (try the library of Ungaro-penned books in the lobby) and some experience—soothing Caitlin didn't demonstrate anything until about 20 minutes in, and didn't explain fundamentals or the targeted muscles of most exercises. Granted, when trying to move your legs in big circles while attached to giant springs, you know which muscles you're working (and will still remember the next day), but without a solid understanding of Pilates fundamentals I'm confident I could have done significant damage to myself with a wrong move. It's a gratifying, exhausting workout for both core and appendages, and tools like the "Magic Circle" ring work inner arms and legs better than your average mat series, but this class should be preceded by some beginner or one-on-one Pilates training.—Genevieve Ernst

re:AB Pilates (33 Bleecker St between Lafayette and Mott Sts, suite 2C; 212-420-9111,reabnyc.com). $24 per class.
Length: 45 minutes
Type of activity: Pilates
What to expect: You'll cover Pilates mat exercises, plus moves with weights, bars and other props.
How in shape you need to be: Gym regular,br /> The verdict: This moderately paced class was led by a master teacher, but her constant banter and jokes were distracting. When I'm working this hard, I need constant reminders to inhale, exhale and keep good form. Still, the instruction was clear and the small class had a friendly vibe. Varied, challenging exercises worked my core, inner and outer thighs, and all those tiny stabilizing muscles that Pilates is so good at targeting. Stronger tiny stabilizing muscles do not necessary make for a sculpted body, but I did leave class standing taller and straighter than when I'd arrived.—Megan Gendell
Pilates Mat
Equinox (various locations, equinox.com). Membership $142--$173 per month, initiation fee varies.
Length: 1 hour
Type of activity: Pilates
What to expect: The class begins with a mild stretch and carefully builds in intensity and rapid Pilates movement, all while the instructor continues to emphasize strong posture.
How in shape you need to be: Occasional exerciser
The verdict: The class was an exhilarating way to stretch and tone from shoulders to feet to fingertips. Flexibility and agility are not required, as those attributes increase over the course of the class—though it does help to have some core strength so your limbs aren't flopping around uncontrollably. It's a gentle way to start a workday or put a lazy weekend to rest.—Nina Topiel
Pilates Mat/Springs/Props
Movements Afoot (49 W 27th St between Broadway and Sixth Ave, mezzanine B; 212-904-1399, movementsafoot.com). $20 per class, first class for new clients free; packages available.
Length: 1 hour
Type of activity: Pilates
What to expect: An intense but gentle Pilates workout, which is based around a lot of body-lengthening and core-building poses. The final third of the class makes use of spring grips and balls, and really works your hamstrings, calves and lower abs.
How in shape you need to be: Occasional exerciser
The verdict: This class felt just right for me, even though I'd never done Pilates in my life. What I have done is yoga, running, swimming—basically, if you already have some limberness, and like to feel the burn, then Pilates is a great way to put your muscles to the test in a creative way. Kim's voice is soothing and her words helpful, and she keeps the poses dynamic so that, even though you're getting a tough workout, things never get boring. "If it doesn't feel right, then don't do it" is her mantra, and though my legs felt at times like they were about to fall off, I kept at it and was amazed to find myself reenergized by the end of the hour-long class.—Alex Schechter
Private Pilates
Lisa Jones Pilates (80 E 11th St between Broadway and University Pl, suite 305; 212-387-8580, lisajonespilates.com). Private class $95 per session, Duet $55 per session (per person); packages available.
Length: 1 hour by appointment
Type of activity: Pilates
What to expect: Jones tailors each one-hour class (private or two-person) to the individual, and you can expect to work on a variety of specialized machines while being coached into better form.
How in shape you need to be: From couch potato to gym regular, depending on what level you're at
The verdict: The apparatuses can be intimidating (the chair! the reformer! the Cadillac!), but each new exercise builds on the movements and muscles worked in the last. Plus, I was guided in every moment by an expert trainer, so there was never a point where I was unsure of what to do. Because it was just me and Jones, the moves we did focused on my particular needs, and I was motivated to push myself harder, pull myself higher and isolate the muscles I should be isolating (which is frequently a challenge). Though I never broke an aerobic sweat, my abs, back, shoulders and legs were definitely put to the test. I left the studio feeling calm, strong, tall and a little bit pampered.—Heather Moore
Also try: Cardiolates
Toning and strength classes
Break-Thru Fitness
92nd Street Y, $189 for 9 classes.
Length: 1 hour
Type of activity: Aerobics
What to expect: Beginning and ending with five minutes of stretching, the majority of the class is spent sweating through three circuits of Kettlebells, medicine balls and TRX to improve muscle tone and cardiovascular fitness.
How in shape you need to be: Gym regular
The verdict: Think you're a gym rat? So did I, until I signed up for Break-Thru Fitness. With three instructors and just 15 students, there's nowhere to hide from the grueling reps of crunches, lifts and twists with medicine balls, kettlebells (imagine a bowling ball with a handle), and TRX, a total-body strengthening system where participants must use nylon straps to fight gravity. TRX was, by the way, designed by a Navy SEAL. The class had upbeat and motivating music, and worked on every part of the body, from arms to abs to calves. But don't expect a lot of rest—it's so intense that we're told pro ballers have been known to come to class for a workout.—Carrie Byler
FlowFit
Equinox (various locations, equinox.com). $142--$173 monthly, initiation fee varies.
Length: 1 hour
Type of activity: Strength training, yoga
What to expect: The concept of FlowFit is to work up to a series of seven total-body movements that will ultimately be repeated continuously. The basis of these moves is a low-sitting squat, which develops into other movements that work your core.
How in shape you need to be: Occasional exerciser
The verdict: You can forget relaxing oms and downward dogs, and prepare for a mat-based class that is more strength training than sun salutation. FlowFit combines yogalike postures with small and effective strengthening moves that will have your muscles burning in the first ten minutes. Think buns and thighs on fire. Ultimately, the class evolves into a moderate cardiovascular routine, once the seven moves are repeated continuously. That is, if you can keep up with the seven moves. Like yoga, it is certainly a class that you can build up to and cater to your own level, but it can be difficult if you are not particularly limber.—Allison Duda
Gyrokinesis
BodiBalance (20 E 17th St between Broadway and Fifth Ave, second floor; 917-806-7520, drasticaction@earthlink.net). $15, first class is free.
Length: 1 hour
Type of activity: Gyrokinesis
What to expect: You begin seated in a chair doing reaching, contracting and twisting movements, then progress to bigger stretches and light abdominal work on yoga mats. It all ends with standing weight-shifting and walking exercises.
How in shape you need to be: Couch potatoes welcome
The verdict: If you measure your workouts in liters of sweat per dollar, this won't be your technique of choice, but its progression of small, purposeful reaching and twisting movements fosters bodily awareness—you're not finding new muscles, but paying attention to the ones you use every day. Instructor Aviva Geismar was appropriately invisible, quietly but clearly leading by example for a small circle of students whose abilities varied, making it easy to keep up. To start, we sat in a chair and focused on our backs and arms, then moved to mats for leg exercises. I recognized some yoga terminology throughout, but mostly the session dealt with back support and the lengthening of your spine. The class is kind of boring (there's no music, and definitely no cardio rush), but it feels like it's good for you (I could imagine it helping with core support and spinal articulation, as promised), at least as a solid hour to check in with your body and see how it's doing.—Genevieve Ernst
Gyrotonic training
Kinespirit @ Studio Riverside (214 W 85th St at Broadway; 917-806-7520,drasticaction@earthlink.net). Intro package of three sessions $180.
Length: 55 minutes, by appointment only
Type of activity: Gyrotonic
What to expect: Individualized training that repeats circle-based arm, leg, abdominal and back exercises, using a specialized machine to provide resistance and guide movement patterns.
How in shape you need to be: Couch potatoes welcome
The verdict: The Gyrotonic pulley tower looks like it should be manned by a deeply bronzed, bulging humanoid in a late-night infomercial. But Aviva Geismar, a reassuringly pale trainer and dancer, led me through a very unintimidating 55 minutes of Gyrotonic, machine-based "yoga for dancers" that focuses on narrowing the midsection and using energy to lengthen and decompress the joints. The machine might make you think of Pilates, but whereas that more-linear system focuses on exercising core abdominal muscles, the circular movements of Gyrotonic use energy to build a sensation of length throughout the entire body. Another difference is that Gyro incorporates a lot of spinal movement and, according to Geismar, "addresses the whole body including the nervous, digestive, cardiovascular and respiratory systems." Impressive. Before I arrived for my session, we discussed my movement history and injuries so that Geismar could factor in my ex-dancer needs and abilities in order to provide a range of exercises, from lying on my back bicycling in the air while attached to resistant cords, to sitting up and pushing handles in circles—a stunt that resembled a land-based breaststroke. With so much room for individualization (the technique is often used for injury rehab, as well as with fit professional dancers), I felt that with time, Geismar could develop a routine exactly to my liking. But I think she went easy on me at this first session; it wasn't exhausting, but the movement felt good, and I've been standing up a little straighter.—Genevieve Ernst
M.E.L.T.
Reebok Sports Club/NY (160 Columbus Ave between 67th and 68th Sts; 212-362-6800thesportsclubla.com). Membership prices vary, day pass $35.
Length: 1 hour
Type of activity: Body sculpting
What to expect: M.E.L.T. (myofascial energetic length techniques), a program of self-administered pressure movements created by in-house instructor Sue Hitzmann, revitalizes connective tissue important to posture, range of movement and general health.
How in shape you need to be: Couch potatoes welcome
The verdict: There is an impressive science behind the M.E.L.T. process. Stress on muscles and joints damages the connective tissue that holds them together. By "shearing," or pressuring, this surface, we can help maintain our posture and flexibility. Despite the technical complexities, the workout is simple and restorative. A holistic-minded instructor guides this self-massage (proving that it isn't an oxymoron), teaching students to leverage their body against a foam roller. Once you get ahold of a cylinder and two little balls to rub on your hands, you can even self-administer bliss at home (of the fitness variety, of course).—Tom Oesau
Six-Pack Attack!
David Barton Gym (4 Astor Pl at Broadway; 212-505-6800, davidbartongym.com). Membership $125 per month; initiation fee varies.
Length: 30 minutes
Type of activity: Abs workout
What to expect: After a short warm-up, it's straight into a moderately paced series of crunches, calisthenics and core-focused aerobic exercises, often utilizing light weights.
How in shape you need to be: Gym regular
The verdict: Given the gym's creepy nightclub lighting, faux-Gothic decor and DJ booth housed in a giant disco ball, I can't say I'm surprised the ripped but reticent instructor was all but drowned out by Lady Gaga and the Black Eyed Peas. Some of the routines require a bit of coordination, and at times I wondered if we wouldn't be better off ditching the accessories and just doing sit-ups. Overall, it's a solid workout for general core strengthening, but I never felt like I was really "attacking" my abs. Maybe I was doing it wrong? Someone should have told me.—Chris Schonberger
Splash Abs
Reebok Sports Club/NY (160 Columbus Ave between 67th and 68th Sts; 212-362-6800,mpsportsclub.com). Membership prices vary, day pass $35.
Length: 90 minutes
Type of activity: Toning
What to expect: Standing chest-deep in water, you and several women of a certain age push your legs against the water, the pool wall and a floating tube. The movements are focused on elongating and stretching muscles, targeting core, legs and butt. As the instructor pointed out, it's essentially submerged Pilates, but more effective than the mat version because of the water resistance.
How in shape you need to be: Couch potatoes welcome
The verdict: As a devotee of swimming (and happy hour), I thought the prospect of shredding my abs in the pool sounded like fitness Valhalla. And in fact, I've never been so relaxed after an ab workout. But as anyone who's sobbed their way to minimal results via Abs of Steel will attest, the road to a six-pack isn't paved with inner calm. This class is best considered a warm-up; after it was over, I had enough energy to do my usual complement of crunches.—Michael Martin
Splash Dance
92nd Street Y (1395 Lexington Ave at 92nd St; 212-415-5500, 92y.org). Nine sessions $189.
Length: 45 minutes, starts Nov 17
Type of activity: Water aerobics
What to expect: A lot of time is spent "walking," swinging the opposite arm to your leg, and moving forward, then backward against the swell you've created by moving forward. The end of the session is spent floating in deeper water and stretching.
How in shape you need to be: Couch potatoes welcome (and elderly women)
The verdict: Joining a small class with women of mature years (and three younger females) may sound like a waste of time for a reasonably fit 27-year-old male (cough, who smokes), but there's a lot to recommend in this class. It takes a while to work out how to move properly in the water, but when it clicks, the added resistance, especially on the arms, makes it tough going (and, ipso facto, beneficial, right?). There is the option to take it easy, but dynamo instructor Bettina Curtis is sharp on spotting and encouraging people who can do more...although her MOR music taste is a mite suspect if accessible (M People, Perry Como). I've already noticed the benefit from working my core muscles, and I am writing this less hunched over than usual. While it was enjoyable being in water for that long (of her own volition, Bettina let the class run twice as long as usual), the same class geared toward a younger set would be more attractive to me.—Jonathan Shannon
Also try: Booty Slide, Stoked 360 and Warrior Fitness Boot Camp
Yoga classes
AntiGravity Yoga
Om Factory Yoga Center (265 W 37th St at Eighth Ave, 17th floor; 212 616-8662,omfactorynyc.com). $17 per class, packages available.
Length: 75 minutes
Type of activity: Stretching and yoga
What to expect: Yoga poses and other spine-expanding moves done with the assistance of a "silk" sling hanging from the ceiling.
How in shape you need to be: Couch potatoes welcome
The verdict: If Jean Claude and Christo were yogis, they'd be all over this class. Sixteen luminous saffron swathes of fabric hang from the ceiling of Om Factory's orange-walled studio—it's like the Gates in Central Park, except instead of walking under them, we're coaxed into sitting in them, wrapping our legs around them, and generally striking impressively exotic poses that feel pretty good too. Teacher (and AntiGravity creator) Christopher Harrison has broken even the most complicated moves into manageable baby steps—I found myself hanging by my ankles like a Cirque de Soleil performer without even one moment of fear. The class riffs on standard yoga poses, using the slings to support you into deeper stretches. There are a few minutes of muscle-building strain, but the main focus here is loosening up the joints. Indeed, I arrived with an achy, compressed lower back from hours at the office and left feeling loose and limber.—Kate Lowenstein
BarWorks
YogaWorks Soho Studio (459 Broadway between Canal and Grand Sts, second floor; 212-965-0801, yogaworks.com). Membership $108 per month, mat rental $2.
Length: 1 hour
Type of activity: Ballet-inspired yoga
What to expect: Traditional yoga poses and ballet moves combined to give a (somewhat painful) total-body workout
How in shape you need to be: Gym regular, with yoga experience
The verdict: Um, ouch. If you don't exercise regularly, don't take this class, which combines yoga and ballet movements (downward-facing dog, plis, etc.)—using a ballet barre. The seemingly simple exercises (for example, holding your body in plank pose) were made increasingly harder by the addition of muscle-building micromovements (like lifting your leg ever so slightly while in plank pose). But even if I weren't an out-of-shape sloth, this class would have rubbed me the wrong way: Too-loud music made it impossible to hear the instructor, who ran through each movement quickly, without further explanation (nor did she offer modifications for people who were clearly struggling with the poses). On the bright side, the barre made the stretching exercises easier and helped deepen them—something my sore muscles needed after attempting the more precise movements earlier in the hour.—Amy Plitt
Bikram Yoga
Bikram Yoga East Harlem (4 E 116th St between Fifth and Madison Aves; 212-369-1830, bikramyogaeastharlem.com). $20 per class; packages available; discounts for students, public school teachers and performing artists.
Length: 90 minutes
Type of activity: Bikram yoga
What to expect: Each class consists of the same 26 postures (asanas) and two breathing exercises (pranayamas) in a room heated to 105 degrees.
How in shape you need to be: Occasional exerciser
The verdict: As one of the world's least flexible people, I was a little nervous when Stephanie Pope Caffey, an instructor and part owner of Bikram Yoga, shut the door to the studio (read: sauna) at the beginning of the class and asked that no one leave. But by the end, I was so relaxed, I didn't want to stop. We spent the majority of class doing standing positions aimed to increase balance and stretch muscles, and then switched to seated exercises for the final half hour. Caffey knew the names of every one of her students, and offered encouragement, which helped every time I fell over. I highly recommend giving it a try—the studio is immaculate, offers babysitters and even holds classes taught in Spanish twice a week.—Carrie Byler
Detox Yoga
Body & Mind Builders (78 Reade St between Broadway and Church St; 212-587-1099,bodyandmindbuilders.com). $18 per class, monthly unlimited pass $165, new-member two-week unlimited pass $30.
Length: 90 minutes
Type of activity: Yoga and meditation
What to expect: Eighty minutes of challenging yoga, with a focus on poses that promote cleansing of the circulatory, lymphatic and digestive systems. The class begins with a light warm-up and includes about ten minutes of meditation at the end.
How in shape you need to be: Gym regular; yoga experience is helpful but not necessary.
The verdict: The class regards pain as a necessary evil to achieve the resulting detox. The workout is hard—challenging enough to leave your muscles sore the day after, but paced just right so you aren't struggling to keep up. Each movement comes with a specific breathing instruction, which helps you stay focused and relaxed even as the contortions get more involved. The instructor, Ruah Bhay (who teaches this signature class at various studios; see ruahyoga.blogspot.com), provides several options in each pose, so that yogis of all levels can find their way through the practice.Plan to take a hot bath after this one.—Noelle Stout
Open Yoga
Kusala Yoga (159 Franklin St at India St, Greenpoint, Brooklyn; 917-251-1359,kusalayoga.com). $15 per class, packages available.
Length: 90 minutes
Type of activity: Hatha yoga
What to expect: The class opens with focused breathing exercises. After a brief warm-up, we moved through several series of poses on mats, then ended with an inversion and a long, meditative cooldown.
How in shape you need to be: Occasional exerciser, though new-to-yoga couch potatoes can go at their own pace
The verdict: The teacher, Marissa, was calm and relaxed, but direct and firm. The class itself was similar, offering both a meditation and a workout. This was not "power yoga"; there was no talk about burning calories or kicking ass. However, you will sweat, and your butt will be sore. Among the dozen or so students, there was an almost even mix of genders, and most of them appeared to be regulars. They also ranged in ability from beginner to expert, so for each pose, Marissa offered options at various skill levels. I especially appreciated the way the class began, with a focus on body consciousness: In this class, she asked us to be aware of the location and situation of the sacrum, rather than discussing some moral duty derived from a Sanskrit poem. There is nothing wrong with the latter variety of classes; I frequently enjoy them. But there is something about Kusala that strikes me as very sensible, which is a great way to start or end the day.—Jane Borden
Prana Flow Yoga
Sonic Yoga (754 Ninth Ave at 51st St; 212-397-6344, sonicyoga.com). $18 per class, packages available.
Length: 90 minutes
Type of activity: Yoga
What to expect: Class begins with about five minutes of breathing and slower yogic movements, and gradually transitions into sequences of yoga poses. It ends with a brief meditation.
How in shape you need to be: Occasional exerciser
The verdict: Prana Flow yoga blends classical vinyasa-style technique (a school characterized by its fluid sequences of postures) with innovative approaches, such as the incorporation of various kinds of music. Students can expect to hear everything from traditional chanting to Dave Matthews and the Bad Plus during the hour-long session. The style deftly balances the strenuous with the relaxing, leaving students invigorated rather than exhausted, and there's enough practice early on that even the slowest student can keep up. If the poses get to be too challenging, that's okay, too: The good thing about any kind of yoga is that students are always encouraged to listen to their bodies and do what they can. one drawback: While most of the time the playlist complemented our poses, there were a few instances when the volume was distracting. Yet even with the addition of music, the class still felt like a traditional yoga class. And that's a good thing.—Monika Fabian
Workshop class
Integral Yoga Institute (227 W 13th St between Seventh and Eighth Aves; 212-929-0586, iyiny.org). $17 per class.
Length: 90 minutes
Type of activity: Yoga
What to expect: This hatha yoga workout focuses on a particular type of pose in each session and ends with a 15-minute savasana, ten minutes of pranayama (breathing exercises), and five minutes of chanting and meditation.
How in shape you need to be: Occasional exerciser with basic yoga knowledge
The verdict: As someone used to exhausting vinyasa yoga, this class felt slow to the point of sluggishness, but it was nice not to feel tortured for a change—instead, the instructor offered suggestions like, "When you're finished exploring this pose, take a rest." The day's focus was twists, but the two seated spinal twists did not give me new insight or open my body in amazing ways. I did appreciate the scenefree atmosphere (no Lululemon in sight), and as I spent ten minutes leisurely packing up after class, I realized I had the calm, floaty feeling that only yoga can give me.—Megan Gendell
Crazy classes
Aerial Dance
Manhattan Movement & Arts Center (248 W 60th St between Amsterdam and West End Aves; 212-787-1178, manhattanmovement.com). $35, ten-class card $300.
Length: 90 minutes
Type of activity: Aerial acrobatics
What to expect: After stretching on our own, we spent 20 minutes practicing handstands on the mats and then took to the air to learn basics on the silks (two long strips of fabric hanging from the ceiling). Each class ends with an opportunity to "fly" around the room, suspended by the fabric.
How in shape you need to be: A sometime exerciser can do it, but you're better off if you're a gym regular (you'll have greater success, and you won't be as sore the next day). Also, this is at a dance school, so try not to be intimidated by the lissome figures around you.
The verdict: Ivo Gueorguiev, formerly of Cirque du Soleil, opens with a well-coached series of handstands that had my shoulders begging for mercy immediately. Then, as his advanced students practiced independently, he showed us beginners the basics on the silks. Fear not: Though the poses are easier if you're flexible, even less-pliable noobs look cool doing a back bend while hanging upside down. Your shaking arms will come close to resuming their normal function while you wait for your next turn. I knew I'd feel it the next day, and I did (mainly in the upper abs, shoulders and arms), but I didn't expect that my pinkies would ache.—Heather Moore
Eye Yoga
Movements Afoot (49 W 27th St between Sixth Ave and Broadway, mezzanine B; 212-904-1399, movementsafoot.com). $20 per class.
Length: 1 hour; Oct 19, Nov 23 at 7pm
Type of activity: Eye movements
What to expect: This three-part workshop (two dates are left in this session, and you can join at any time) mixes informational discussion with eye exercises that are supposed to improve your vision and help relax your total body. There's some extremely light stretching, but you don't even need to change out of your street clothes.
How in shape you need to be: Couch potatoes welcome
The verdict: The word yoga, of course, is a euphemism; we weren't downward dogging while darting our eyes back and forth (though we did salute the sun and thank the floor). But the concept here turned out to be pretty much the same as with that stretching practice: If you learn to be aware of bad muscle behaviors—like you'd learn to be aware of bad posture—and of when your muscles are tired, then you can perform gentle exercises to strengthen and retrain those muscles. The logic seems sound. Your eyes are controlled by muscles, after all—why not stretch them out too? So yes, we walked around the room a lot and looked at things, moving our peepers this way and that, with and without focus, slowly warming to the idea that these various ways of letting our eyes wander are good for you. Oddly, the exercise we did the most was covering our eyes with our hands, a method that instructor Martha Eddy (who impressively has a doctorate in movement science and education, a field I didn't know existed) calls "palming." The darkness purportedly provides healthy rest for overworked eyeballs, especially those that live in a skull that lives in NYC, where there's never really any pitch blackness. Though I felt silly, the palming and enforced minutes of quiet darkness actually had a slight restorative effect, if not on my eyes then definitely on my overworked brain.—Billie Cohen
Flip & Tuck
STREB Lab for Action Mechanics (51 North 1st St between Kent and Wythe Aves, Williamsburg, Brooklyn; 718-384-6491, streb.org). $15 per class, ten-class card $135.
Length: 90 minutes
Type of activity: Gymnastics and acrobatics
What to expect: In a plan to improve flexibility and core strength (and train you in acrobatics), instructor Fabio guides you through some pretty nifty moves like the "X pose" (a half plank with your leg raised in the air) and bridge pose before you leap headfirst into handstands and flips; in between moves, he'll have you do sets of crunches or pull-ups.
How in shape you need to be: Gym regular
The verdict: If there is one thing I wish I'd had the foresight to think of before this class, it's a sweatband. Though the course is called "open level" (there is a beginners' version on Mondays), my handstands aren't what they used to be (fine, they never were), and even by the start of the warm-up, I was already leaving wet marks on the mats. You really need to have some experience in gymnastics to get the most out of this class, which, granted, is offered (among other cool-sounding circus tricks like trapeze and trampoline) by experimental dance company STREB, so I should've guessed it'd involve more than toddler-level tumbles. By the time we were lining up to take running, flying leaps across the floor, I was feeling very out of my element. Thankfully, the instructor was patient with everyone, including me, and saw I wasn't up to the speed of my fellow flippers and tuckers (who seemed more exhilarated than annihilated). When it was my turn, he let me work on some simple somersaults.—Alex Schechter
Iyengar/Rope Wall
Sangha Yoga Shala (107 North 3rd St between Berry St and Wythe Ave, No. 2H, Williamsburg, Brooklyn; 718-384-2097, sanghayoganyc.com). $20 per class, package deals available.
Length: 90 minutes
Type of activity: Yoga
What to expect: Rope Wall Yoga focuses on just a few poses, and ropes are used to suspend the body and alleviate the pressure associated with certain positions.
How in shape you need to be: Occasional exerciser with yoga experience
The verdict: Unlike the culty yoga classes I'm used to (and enjoy), this session has more of a gym-class feel, with less of a spiritual angle and more conversational back-and-forth as the instructor explained how we'd be using the ropes attached to the walls. Basically, you wrap a rope harness around a limb, with enough slack to allow you to get into a given pose, and then you lean against the rope so that it supports you. In this way, you make gravity work for you rather than against you. And because you don't have to strain so hard to hold the positions, you can work on perfecting your form, getting deeper into the poses and holding them for longer, extending the benefits. The class focuses on only a few poses, but they range from easy (variations on downward dog) to difficult (hanging upside down like a bat). I'll admit that in the beginning, I thought it was kind of tame, but slowly I began to break a sweat. When it was over, I was wiped out—and two days later was still sore.—Beth Levendis
Power Pose
New York Health & Racquet Club (270 Park Ave South at 21st St; 212-245-6917,nyhrc.com). $50 per class.
Length: 45 minutes
Type of activity: Flexing
What to expect: Former Mr. Australia Gennaro Ferra takes students through the poses used in bodybuilding competitions for a surprisingly intense workout.
How in shape you need to be: Between a sometime exerciser and gym regular
The verdict: Apart from being the closest someone like me will ever get to bodybuilding, Power Pose is awesome because it feels sort of like yoga for nonyuppies. Lots of balance and stretching are required as you gracefully segue from one sweet flexing maneuver to another—though your legs might start to shake from the exertion of twisting your torso and your focus might waiver from wishing your arms looked bigger in the mirror. In addition the fact that it targets nearly every part of your body, Power Pose just seems a more efficient way to engage your muscles than straight weight lifting.—Drew Toal
Rock climbing
Brooklyn Boulders (575 DeGraw St between Third and Fourth Aves, Gowanus, Brooklyn; 347-834-9066, brooklynboulders.com). Intro class: $60, includes gear and two climbing passes. League classes: eight sessions $250.
Length: 1 hour
Type of activity: Rock climbing
How in shape you need to be: Couch potatoes welcome, but a little arm and leg strength wouldn't hurt
What to expect: Knot-tying and rope basics, with some climbing thrown in at the end
The verdict: Currently, Brooklyn Boulders offers a Learn the Ropes intro class (daily at 1, 3, 5 and 7pm), which teaches newbies the climbing basics. But it's not much of a workout, since it is, well, an introduction to the sport—you spend most of the hour learning to tie lifesaving knots and to belay (or control your partner's rope) so that you can pass a certification test and start scrambling around on the walls (where the real workout begins). Clearly the session necessary for a novice, but it doesn't give unskilled climbers much opportunity to actually climb with an expert. Thankfully (says this eager but quite spastic reporter), that will change starting October 6, when BKB launches a twice-weekly "league," essentially an open-level group class. The first 30 minutes of each session will focus on skills and instruction, while the following hour will let attendees scale the walls under the watchful and instructive eyes of pro teachers. It'll also provide an incredible workout for legs, arms and—the other vital muscle that comes into play in this sport—the mind. Which is important, because as I found out, you can have decent strength, but if your brain says, "Holy crap, that's a long way down," you're not going to get very far.—Billie Cohen
Trapeze workshop
Streb Lab for Action Mechanics (51 North 1st St between Kent and Wythe Aves, Williamsburg, Brooklyn; 718-384-6491, streb.org). Open-level Fri--Sun classes $47 per class, ten-class card $425; Wednesday "economic stimulus plan" classes $35, five-class card $150.
Length: 2 hours
Type of activity: A beginner's course in flying trapeze
What to expect: You start out with a brief overview of the stunts you'll be performing on the trapeze, but the instructor shows you how to do them on a stationary bar. Then you move onto the real thing, 18 feet in the air.
How in shape you need to be: Occasional exerciser
The verdict: I didn't believe I'd actually attempt the trapeze at my first class, or if I did, it would be only for a few embarrassing moments. But I spent nearly the entire time up there, which was pretty amazing. When I arrived, I walked into what appeared to be a very close-knit group of instructors and mid- to advanced-level students—I was one of only two beginners that day, and this made me feel a bit self-conscious. But everyone was so overwhelmingly friendly and cheerful that within minutes I felt at home. At the start of the class, the main instructor, Jay, took me and the other beginner aside to show us how to perform a "knee-hang" on a stationary bar, and to walk us through our first sequence. Then we were thrown in line with the rest of the students to wait for our turn. This was intimidating, even knowing we'd be safe up there in a harness; my heart was racing, and for a moment, I thought I might black out. But despite my nerves, I did the trick correctly, if not perfectly, on my very first try, as did the other beginner. I was kind of amazed, and after that I felt totally confident on every turn. We did the trick about ten more times and watched and applauded as other students practiced their more advanced maneuvers. During the final half hour, a catcher climbed onto the trapeze, and instead of dropping down off the bar, we ended our swings by reaching out and locking arms with him. Trapeze gives you a full-body workout, and at one point, the backs of my knees were so sore I though I'd have to quit, but apparently that's par for the course; all I needed was a short break. Besides, no amount of soreness could deter from the sheer exhilaration of being airborne.—Beth Levendis