Heads up! We're working hard to be accurate – but these are unusual times, so please always check before heading out.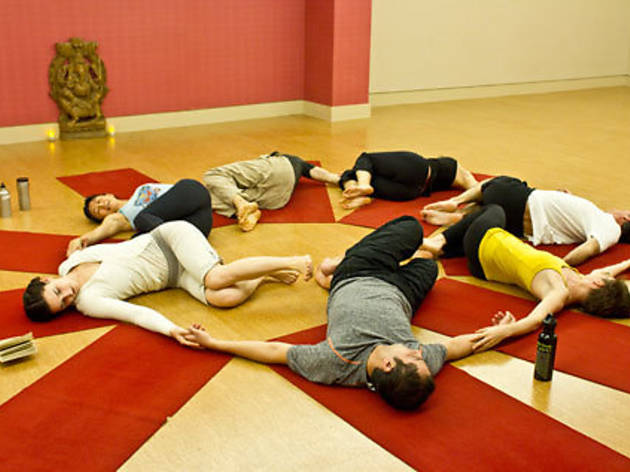 1/6
Photograph: Caroline Voagen Nelson
classesboundarypushing01AcroYoga at Pure Yoga West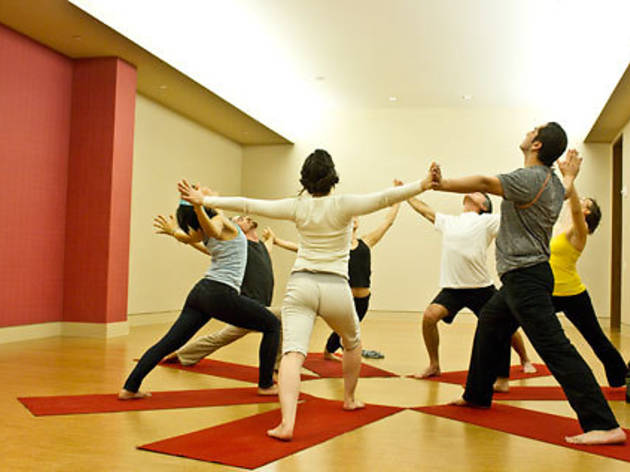 2/6
Photograph: Caroline Voagen Nelson
classesboundarypushing02AcroYoga at Pure Yoga West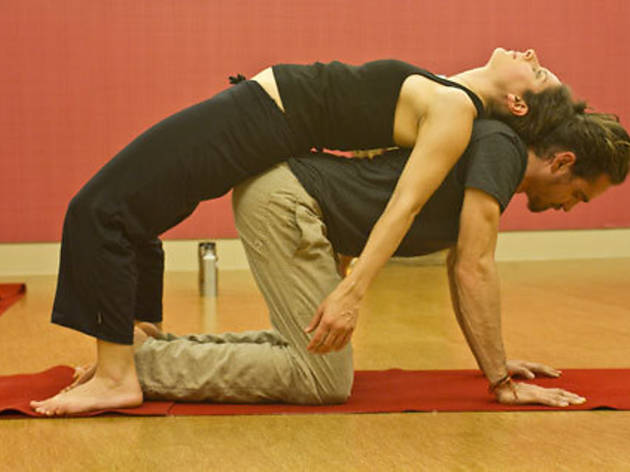 3/6
Photograph: Caroline Voagen Nelson
classesboundarypushing03AcroYoga at Pure Yoga West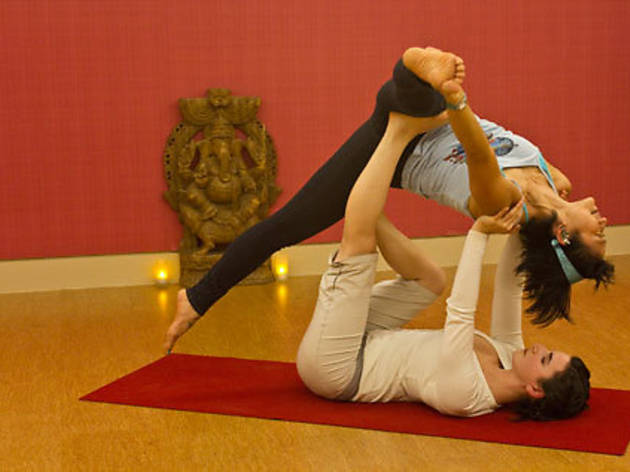 4/6
Photograph: Caroline Voagen Nelson
classesboundarypushing04AcroYoga at Pure Yoga West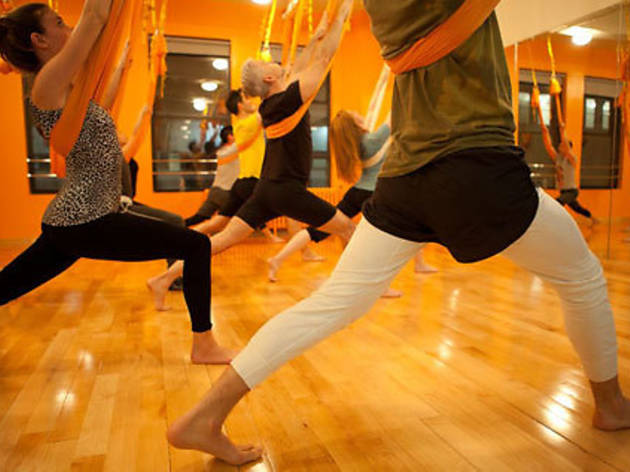 5/6
Photograph: Caroline Voagen Nelson
classesboundarypushing08Antigravity Yoga at Om Factory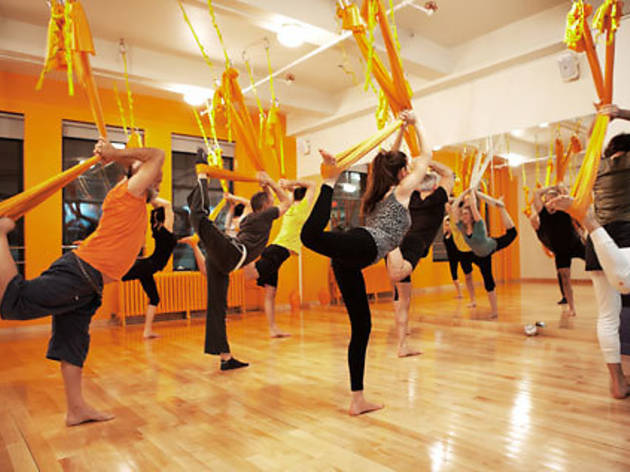 6/6
Photograph: Caroline Voagen Nelson
classesboundarypushing09Antigravity Yoga at Om Factory
Boundary-pushing yoga
Fusion classes and offbeat techniques add a challenging dimension to traditional practice.
RECOMMENDED: Find the best NYC fitness classes and gyms
Sexy Stretch at Crunch
On the brink of descending into erotic debauchery, this class reminds you why your hips are meant to swivel, dip, sink and thrust. Expect this class to open your joints, make supple what was rigid, and—above all else—get you in the mood without exhausting you (work out beforehand on your own to get loose). Dancer turned yoga instructor Kyra Johannesen leads this group (typically all women, though men are welcome too) through vinyasa positions fused with the sort of provocative maneuvers you might see performed by the Pussycat Dolls. Crunch Union Square, 113 Fourth Ave between 12th and 13th Sts (212-533-0001). Sat 1:30--2pm * Crunch Christopher Street, 152 Christopher St between Greenwich and Washington Sts (212-366-3725). Sun 11:30am--noon * Crunch Lafayette, 404 Lafayette St between Astor Pl and W 4th St (212-614-0120). Thu 6--6:30pm * crunch.com. Day pass $35, membership prices vary by location. TONY deal: Bring this article into any Crunch to redeem a one-week guest pass and one personal training session.

AcroYoga at Pure Yoga West
While your friends slog away on the treadmill, flipping through the sweat-moistened pages of celebrity tabloids, you could be flying, levitating and de-stressing: This class is named for its amalgam of classic yoga, acrobatics and Thai massage. Working in teams of three, you'll switch off as spotter, flyer (the one who's being lifted) and base (the one who's getting a workout). Be prepared to become more intimately involved with your classmates as you sling limbs together, pile atop one another and surrender your safety to strangers. 204 W 77th St at Amsterdam Ave (212-877-2025, pureyoga.com). Sat 3:30--5pm; initiation $200, unlimited monthly membership $145.

Antigravity Yoga at Om Factory
Feel a sense of nostalgia at this sleek but intimate Garment District studio, where Antigravity Yoga may induce childhood flashbacks of monkey bars and swing sets. Expect only a marginally taxing workout as you twist, flip and dangle precariously from silky-smooth hammocks suspended from the ceiling. Experiment with inverted maneuvers like "the mosquito," "vampire pose" and "cannonball," in which you hug your knees to your chest and swing upside down in deep arcs. You'll also practice some of the classics, like a modified, arm-punishing down dog, as you hang from the silks. You'll finish the class with a lengthened spine and a wicked head rush. 265 W 37th St at Eighth Ave, 17th floor (212-616-8662, omfactorynyc.com). Mon noon--1:15pm, 7:30--9pm; Tue--Thu noon--1:15pm, 7--8:30pm; Fri 2--3:15pm, 5--6:30pm, 7--8:30pm; Sat, Sun 6--7:30pm. Drop-in $17, unlimited monthly membership $165.

Rock Star Yoga at David Barton Gym
This high-energy class aims to get your heart racing by following a traditional vinyasa flow. You won't be expected to pull off any Mick Jagger--esque high kicks, but you will feel like you're performing at a show. That's thanks to the studio's gothic, exuberant atmosphere—featuring midnight-purple walls, a studio lit with at least 200 candles and skull-penetrating rock music. The result is that each warrior-one stance feels more like a declaration of your Ozzy awesomeness than a Zen-centering yoga position—even though it accomplishes both. Bring your game face, because this intermediate class is considerably demanding. 4 Astor Pl between Broadway and Lafayette St (212-505-6800, davidbartongym.com). Sat 5:30--6:45pm; unlimited monthly membership $125.

Zenergy atReebok Sports Club/NY
Familiar positions are reimagined in this open-level, hot-blooded practice, with a vinyasa flow and Top 40 hits at its core: Utkatasana (chair pose), typically a slow-burning static position, becomes a glute- and quad-busting squat jump, and warrior two progresses to a series of lunges followed by the restorative triangle pose. Don't be afraid if you can't keep the rhythm during some of the more aerobic segments when it takes as much coordination as strength to keep up the pace, others in the class can't either. 160 Columbus Ave between 67th and 68th Sts (212-362-6800, mpsportsclub.com). Mon 11:15am--noon, Fri 7--8am, Sat 9:30--10:30am; unlimited monthly membership $209--$219 plus initiation fee.
Vesica Practice at Kula Yoga Project
This studio is tough to spot, but inside you'll find a sanctuary of hushed voices and warm colors, although the soothing environment lasts only until you unfurl your yoga mat. This vigorous, advanced blend of different yoga schools (including vinyasa and kundalini) will spike your heart rate and melt your winter-sore muscles. Plus, after enduring a yoga flow that pummels every major muscle, your entire body will ache for days. You're in good hands, though, because as you side-plank and headstand, you're sure to pull from the motivating energy of your fellow classmates, who match the intensity of flow bind for burning bind. 28 Warren St between Broadway and Church St (212-945-4460). Tue 4:30--6:05pm, Thu 6:30--8:05pm, Sun 11am--12:35pm * 85 North 3rd St between Berry St and Wythe Ave, Williamsburg, Brooklyn (347-463-9886). Mon 7--8:35pm, Sat 3--4:35pm * kulayoga.com. Drop-in $18, monthly unlimited membership $185.

Inner Warrior atEquinox
Apparently, finding your inner yogic warrior means stretching your calves out for down dog one second, then springing upright and firing off a throaty "hi-yah!" punch the next. The silent first half of this class follows a traditional but fast-paced vinyasa flow. Midway, when the music kicks in, you'll begin to incorporate martial arts into your movements: Soon you're roundhouse-kicking, leg-swiping and uppercutting. Trained in a range of martial-arts methods including kung fu, capoeira and hapkido, instructor Nadia Zaki, who has worked with Ralph Lauren, Nike and Fischerspooner, will guide you through a bare-knuckled yoga class. 97 Greenwich Ave between Bank and 12th Sts (212-620-0103, equinox.com). Tue 5:30--6:30pm, Sat 11:30am--1pm; day pass (only available when accompanied by a member) $30, monthly all-gyms pass $179, plus initiation fee that varies.

Forrest Yoga at Bend and Bloom
You'll be well on your way to a set of Ryan Reynolds--esque abs (see page TK for more) after you complete this core-intensive practice. Hatha yoga influences coalesce in the focused intensity of Forrest Yoga's deep stretches and muscle-smoldering binds, designed to challenge your mental stamina. And a focus on matching motion and breath will help to distract you from the unrelenting boat-pose-induced abdominal torture, consisting of a series of bicycle kicks, sit-ups and leg lifts. 708 Sackett St between Fourth and Fifth Aves, Park Slope, Brooklyn (347-987-3162, bendandbloom.com). Sun 5--6:30pm, Tue 6:30--8pm; monthly unlimited pass $150, drop-in $18.

Punk Rock Yoga atReflections
Punk Rock Yoga channels a spirit of rebellion minus the coke binges. The directive here is to break rules—the yogic kind—so you might be working out to Arcade Fire one week and a live drummer the next. Expect to be asked to fist-pump when you dip for a deep lunge and display your "ninja hands" when you dangle your digits during warrior two. The result is a taxing yet lively variation on a vinyasa flow. 250 W 49th St between Broadway and Eighth Ave (212-974-2288, reflectionsyoga.com). Fri 6:45--8pm; drop-in class $20, one-month unlimited pass $125.

Power Yoga atPrana Power Yoga
This hot-yoga course, led by Kristin Caforio (formerly of the Boston Ballet), is blistering, with the thermostat jacked up to about 100 F. You'll slip through balance-challenging positions in this hybrid of vinyasa yoga and ballet—moving from a standing split all the way down to lizard (a hip-yawning stretch made deeper by the heat) and spinning up to triangle pose. And while similarly athletic practices at gyms come off more like Jazzercise than yoga, this meditative session will wring out your emotional baggage, along with the sweat and toxins. 862 Broadway between 17th and 18th Sts, second floor (212-460-9642, pranapoweryoga.com). Mon 6:45--8pm, 8:15--9:15pm; Tue 5:15--6:30pm, 6:45--8pm; drop-in $18, monthly unlimited membership $200.