Entry-level yoga
You may not be Stretch Armstrong, but these beginner classes can still help you achieve a higher state of stretchiness.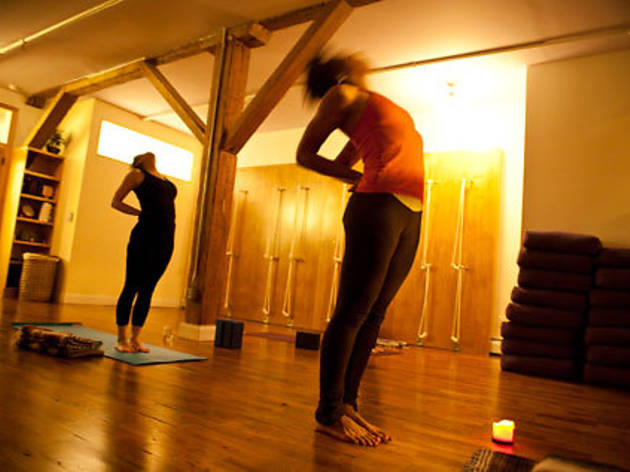 1/4
Photograph: Jolie Ruben
classesentrylevel01Candlelight Flow at Sangha Yoga Shala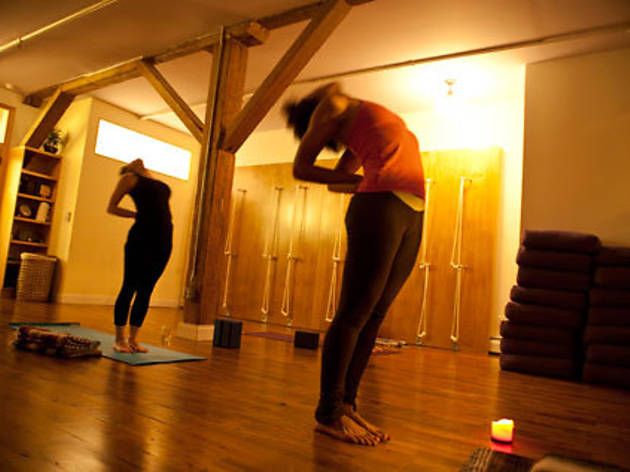 2/4
Photograph: Jolie Ruben
classesentrylevel02Candlelight Flow at Sangha Yoga Shala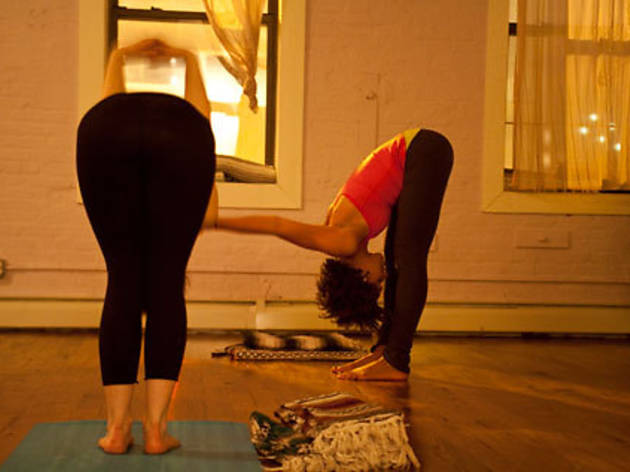 3/4
Photograph: Jolie Ruben
classesentrylevel03Candlelight Flow at Sangha Yoga Shala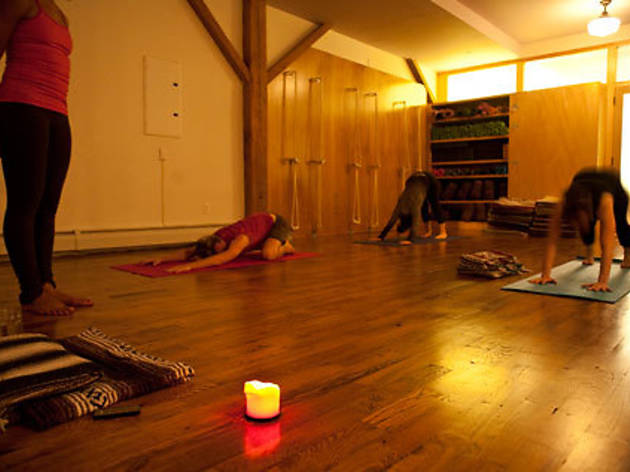 4/4
Photograph: Jolie Ruben
classesentrylevel04Candlelight Flow at Sangha Yoga Shala
By

Alex Schechter, Tim Lowery and Jonathan Shannon
|
RECOMMENDED: Find the best NYC fitness classes and gyms
Candlelight Flow at Sangha Yoga Shala
Sarita Lou, who trained as a dance teacher, crafts a serene gentle flow that's enhanced by the glow of a single candle. Her playful tone and intimate, one-on-one instructions make the class feel like an informal gathering. Nothing is rushed, and as you transition from simple poses like the lizard and pigeon to slightly more challenging headstands, Sarita Lou walks the room, stopping to guide you into the proper posture. 107 North 3rd St between Berry St and Wythe Ave, Williamsburg, Brooklyn (718-384-2097, sanghayoganyc.com). Tue, Thu 9--10pm; drop-in $18, new students unlimited first-week pass $25.

Hot Yoga at theYoga Room
This beginners' hatha session offers a robust introduction to Bikram in a room clocking in at 105F. The energetic instructor, Anna Morgan, guides newcomers through the strict set of 26 sweaty poses with a calm, steady voice—the fact that she likes to put on Prince while you're in tree pose doesn't hurt either. 10-14 47th Rd between Vernon Blvd and 11th St, Long Island City, Queens (718-786-7962, the-yoga-room.com). Fri 4:30--6pm; drop-in $18, one-month unlimited $100.

Kundalini Yoga atLucky Lotus
Kundalini draws from thousands of different poses and meditation sets, so you never quite know what you're going to get at an open-level class like this. But the trademarks that persist—a heavy emphasis on introspection, combined with simple, repetitive exercises—tend to put practitioners in a dreamy, trancelike state. The class concludes with a ten-minute deep meditation that called for a shoveling movement, in which we visualized ourselves throwing away emotional baggage to achieve a kind of yoga catharsis. 203 DeKalb Ave between Adelphi St and Carlton Ave, Fort Greene, Brooklyn (718-522-7119, luckylotusyoga.com) Tue 8:15--9:30pm; $10.

Gentle Kripalu at Usha Veda Yoga
Gentle Kripalu encourages restorative, heart-opening movements, helpful to those seeking physical therapy through yoga; you'll open your hips, stretch your hamstrings and strengthen your knees. At this open-level Sunday morning session, none of the poses would be difficult for a beginner to pick up. The straightforward warrior two pose—in which your arms are splayed and one knee is bent, as if in battle—is the most demanding, and the class is bookended by short periods of silent meditation. 1104 Manhattan Ave between Clay and Dupont Sts, Greenpoint, Brooklyn. For info, call 718-383-0901 or e-mail usha@ushavedayoga.com. Sun 10:15--11:45am; $15.

Deep Relaxation at Dharma Yoga Brooklyn
If you're seeking more of a mental workout, try this energy-restoring class, where the goal, as instructor Barbu Panaitescu puts it, is not to fall asleep. Sure enough, the entire class consists of a deliciously extended savasana—lying down on our backs with our eyes closed, covered by blankets. Each part of your body is systematically relaxed through visualization and guided meditation, in a process called yoga nidra, or "yogic sleep." Snoring would be gauche, so take a nap before you head to Dharma and walk away refreshed. 82 Sixth Ave at St. Marks Ave, Park Slope, Brooklyn (718-395-7632, dharmayogabrooklyn.com). Thu 8--9pm; minimum requested donation $5.
Basic vinyasa atYoga Sutra
This midtown studio is notable for its comparative luxury, with couches in the waiting area and a warm decor. Basic vinyasa here runs in four-week cycles, dedicating sessions to standing poses, forward and back bends and shoulder work before pulling together the different elements in the final class. (You can still join midway through the schedule and follow the pace with ease.) Jill Camera gives clear directions and works through maneuvers slowly, providing you with the chance to get accustomed to each before stringing them into gentle routines. 6 E 39th St between Fifth and Madison Aves, second floor (212-490-1443, yogasutranyc.com). Thu 7:45--8:45pm; drop-in $21, first class free, packages available

Basic vinyasa atGreenhouse Holistic
First-timers beware: Basic doesn't mean beginner in this demanding class. Leigh Evans opens the class with leisurely stretching, but she quickly steps up the pace, calling out pose names one after the other in quick succession. Not that she forces you beyond your level—she recommended beginners try to adopt an easier pose while the rest of the class performed proper shoulder stands. You won't be put into pretzel-like contortions, but you won't always get the maneuvers broken down for you in a "feet go here, arms go there" style either, so you should at least be familiar with basic vinyasa terminology. If you know the fundamentals, Evans's hands-on posture corrections are helpful, and less confusing than trying to decipher verbal instructions. 88 Roebling St at North 7th St, Williamsburg, Brooklyn (347-987-4526, greenhouseholistic.com). Thu 12:30--2pm; drop-in $15, packages available.

Beginner's Night at Jaya Yoga
A combination of an older demographic and an often-small class size makes this a good fit for the absolute beginner. Instructor Susan Kraft uses accessible imagery, describing one move as "Kate Winslet in Titanic." Intermittently, Kraft also discusses a philosophical focus of the month; January will be devoted to shraddha (commonly translated as "faith"), an interesting diversion into some of the thinking that underpins the practice. 1626 Eighth Ave at Windsor Pl, Park Slope, Brooklyn (718-788-8788, jayayogacenter.com). Thu 7:45--9pm; drop-in $15, packages available.

Basics class atYoga People
This weekend class is perfect for those looking to improve their technique. Instructor Tamar Samir employs a number of helpful approaches: For one, she delves into the intricacies of downward-facing dog, precisely explaining how to place brick-size blocks under your hands to further achieve correct alignment and balance. Getting to know your classmates is a hallmark of this course—later, students are paired off to assess each other's chaturanga poses. Afterward, go out for a cup of Yogi tea and continue the mutual admiration. 160 Montague St between Clinton and Henry Sts, second floor, Brooklyn Heights (718-522-9642, yoga-people.com). Sat noon--1:30pm; drop-in $20, packages available.

Beginner Workshop 101 at Sonic Yoga
It's worth familiarizing yourself with a few basic vinyasa poses before heading to this class. Genuine newbies may struggle to keep track of all the positions and terms (you'll learn downward-facing dog, warrior one and two, and tree, among other beginner's poses), although the instructors were gentle with posture corrections. After the vigorous two-hour workout, the class ended with a calming meditation chant in the studio's quiet, spacious digs. 754 Ninth Ave between 50th and 51st Sts, third and fourth floors (212-397-6344, sonicyoga.com). Thu 7:45--9pm, Sun 1:30--3:30pm; drop-in $40, packages available.