Heads up! We're working hard to be accurate – but these are unusual times, so please always check before heading out.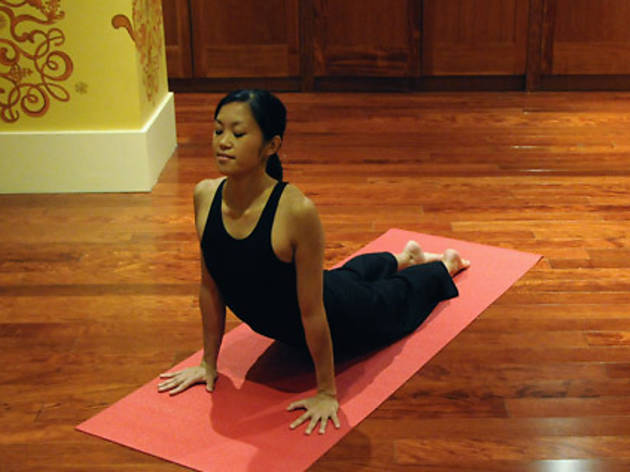 1/2
Chopra Center & Spa at Dream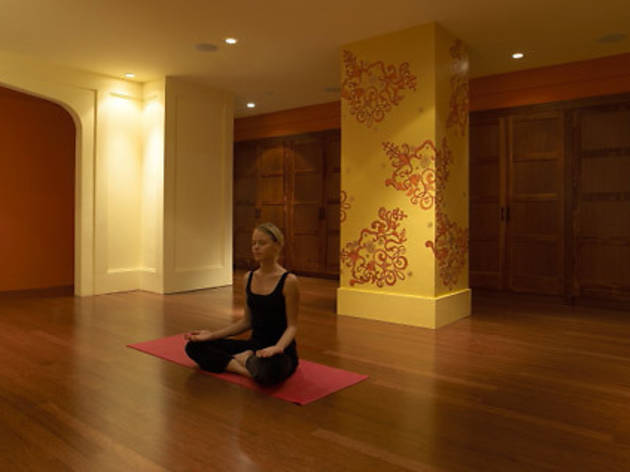 2/2
Chopra Center & Spa at Dream
Hatha yoga
A catchall term used by studios that employ a mix of yogic practices in their classes, hatha often implies a special emphasis on breathing.
RECOMMENDED: Fitness guide to NYC
Chopra Center & Spa at Dream
(1710 Broadway between 54th and 55th Sts; 212-246-7600, chopracenterny.com). Single class $15--$20, packages available.
Types of yoga offered: Three versions of hatha, including Calming, Centering and Invigorating
Name of class: Centering
Length: 75 minutes
What to expect: Designed for yogis of all skill levels, the moderately paced class incorporates gentle asanas and lots of breath work.
Level: Yoga newbies can do it.
The verdict: Juu'll feel a sense of renewal just by stepping into the small but beautiful Chopra studio.. Under calming dim lighting, you'll start your practice by concentrating on one of Chopra's Seven Spiritual Laws of Success, which your instructor will encourage you to be mindful of throughout the session. Instructions—for poses, breathing and concentration—are clear, and attention is paid to those in need of assistance. Take advantage of the free meditation sessions 30 minutes before each class so you're relaxed and ready to engage.—Elizabeth Barr
Crunch
(variations throughout the city, crunch.com). Membership prices vary; day pass $16. Text "CRUNCH" to 24474 for a free one-week pass.
Types of yoga offered: Ashtanga, hot yoga, Yoga Extreme, vinyasa, Virgin Yoga, Mysore ashtanga, On the Ball Yoga
Name of class: Ashtanga Yoga
Length: 90 minutes
What to expect: Bookended by call-and-response Sanskrit chanting, this class progresses through a few dozen standing and sitting poses, some of which are for the very flexible only. Variations are given to make the asanas harder or easier.
Level: Some experience helps
The verdict: You can take the gym rat out of the gym, but you can't take the competitive spirit out of the gym rat: While the yoga studio at Crunch's 13th Street location is safely tucked away from clanging weight machines and the thumping Top 40 soundtrack, there's an unmistakable stench of rivalry among the fitness buffs in this class. The vibe is only exacerbated by the instructor's constant evaluation of our success: "Okay! We didn't do so well on that one, let's move on to the next sitting pose," she kept saying. I thought yoga was about inner peace and self-acceptance; these people were clearly in it to win.—Bill Casey
Integral Yoga Institute
(227 W 13th St between Seventh and Eighth Aves; 212-929-0586, iyiny.org). Single class $7--$17, packages available. Free class for the unemployed Wed 5:30pm.
Type of yoga offered: Generally speaking, Integral's personalized brand combines various methods, including nidra (deep relaxation), japa (mantra repetition), raja (meditation techniques) and bhakti (devotion and prayer).
Name of class: Hatha I
Length: 90 minutes
What to expect: The class moves at a moderate pace, with very descriptive instruction and a focus on breathing techniques, posture and the recitation of Sanskrit prayer. Although the poses are not held for long periods of time, they are gentle and followed by brief relaxation respites.
Level: Yoga newbies can do it.
The verdict: Just walking down 13th Street, approaching the Integral Yoga Institute, I felt like I was on the path to health and wellness: The Institute not only houses three floors of studio space, but also lines the block with a natural-foods market and an apothecary. Hatha I was an excellent introduction to this yoga sanctuary, and provided very thorough instruction in an extremely meditative setting. I didn't get much of an athletic workout, but still reaped benefits: The class was soothing yet invigorating, and left me with clarity and peace of mind.—Allison Duda
The JCC in Manhattan
(334 Amsterdam Ave at 76th St; 646-505-5716, jccmanhattan.org). Single class $12--$25, packages available. Fri 1 is the "Fitness for EveryBODY" celebration, which includes free classes all day.
Types of yoga offered: Flow, aqua, Iyengar, Yogilates, meditative, anusara, chi gun, Unnata Aerial, rasa, vigorous, yoga for seniors, for men with cancer, for women with breast and ovarian cancer, therapeutic for chronic illness, and chair yoga for people with Parkinson's
Name of class: Yoga Basics
Length of class: 75 minutes
What to expect: As a beginners' class, no poses were too difficult, and the instructor, Diana Rilov, worked within everyone's abilities. The class warmed up with simple stretches, before moving into wall stances.
Level: Yoga newbies welcome
The verdict: This was an excellent introduction to both the basic poses and the deeper stuff, like using the wall to position myself at a 90-degree angle with my feet in the air (not as easy as it sounds, thanks to a tight lower back, but I was amazed at what I was able to do with Rilov's calming support). Because every pose was adjusted to accommodate my limited flexibility, I could put myself in even the most challenging positions. Instead of spiritual instruction, Rilov chattily made reference to everything from The Shawshank Redemption to eating Twizzlers.—Adam Fulrath
Life in Motion Yoga
(2744 Broadway between 105th and 106th Sts, third floor; 212-666-0877, lifeinmotion.com). Single class $18, first class $10, packages available. Class cards and Life in Motion memberships are also good at four other studios: Body Strength Fitness (lifeinmotion.com/body.asp), Namast Yoga Center (namasteyogacenter.net), Park Slope Yoga (parkslopeyoga.com) and Devi (parkslopeyoga.com).
Types of yoga offered: Hatha, vinyasa, parent-baby and prenatal
Name of class: Hatha (basic) with Oceana Baity
Length: 90 minutes
What to expect: You'll move through sequences at a moderate pace, holding many of the poses for one to two minutes. The class is invigorating, but not exhausting, and the instructor circulates through the room to adjust students' positions. The class incorporates breathing exercises, props (blocks, blankets, belts) and repeated sequences, with the option to increase or decrease the difficulty level in some of the poses. The class begins and ends with collective oms.
Level: Some experience helps.
The verdict: Baity's Tuesday hatha class is for yogis who may be out of practice but are familiar with traditional asanas. She provides clear instruction, even counting the number of breaths for each position, without inserting spiritual or ideological content. The class I attended did not include inversions or advanced positions, but Baity suggested more challenging variations for those who want to "up-level" their practice. She demonstrated how to align the body in a specific way (e.g., tuck in the tailbone to avoid lower-back compression) and circulated around the room to offer individual adjustments. When I was in downward dog, she applied pressure to my sacrum, helping me lengthen the pose and stretch my lower back. You'll leave feeling refreshed, not exhausted, and quite possibly tempted by the Silver Moon Bakery just below the studio.—Shayna D. Skarf
Mala Yoga
(162 Court St at Amity St, second floor, Cobble Hill,Brooklyn; 718-237-9642, malayoganyc.com). Single class $16, packages available.
Types of yoga offered: Asana-based yoga; prenatal and "Baby & Me" classes are also available, along with seated meditation.
Name of class: Basics Class for Beginners (hatha)
Length: 90 minutes
What to expect: Chanting and a spiritual talk, followed by a challenging yet manageable class
Level: Yoga newbies can do it.
The verdict: The group was made up of the same people I see at the Cobble Hill Trader Joe's, ranging in age from 20 to 60. The class began with everyone in seated position, as the instructor discussed the spiritual meaning of yoga, at one point relating a parable about a snake and some other animal. (No, I wasn't really paying attention.) After some chanting, we moved through poses fairly quickly, returning to either downward dog or tabletop pose as rest positions. The teacher moved about frequently, correcting poses, or placing padded blocks under the hands of the people who weren't flexible enough to touch the floor while bending over. Due to warm weather and an overactive radiator, the room was very hot the afternoon I went, making the whole thing feel a bit like Bikram yoga. The instructor started off slowly enough, so that even I, a neophyte, could easily follow. But then she suddenly began to accelerate the pace; it took a lot of concentration to keep up, especially when she started throwing around yoga lingo and anatomical terminology (femur, thoracic cavity). Also, while generous with encouragement, she addressed us in a tone that reminded me of someone talking to their pet. Still, I never became completely lost, and neither, it seemed, did anyone else—meaning the class is good for both beginners and more regular yogi types.—Howard Halle
McBurney YMCA
(125 W 14th St between Sixth and Seventh Aves; 212-912-2300, ymcanyc.org). Monthly membership $70--$142, initial fee $75--$125.
Types of yoga offered: Hatha, Iyengar, vinyasa, Kripalu/vinyasa, Sivananda
Name of class: Hatha Yoga Open
Length: 75 minutes
What to expect: Geared more toward gymgoers than traditional yogis, this class moves quickly and focuses on flowing from one pose to another. Since it's an open class, the teacher offers modifications for more advanced students, as well as suggestions for toning and stretching.
Level: Some experience helps.
The verdict: A class that caters to students of all ages and multiple skill levels can be boring, but this rendition managed to stay interesting. The instructor kept the pace moving and encouraged advanced practitioners to make modifications, so that everyone had a shot at inducing sore muscles. Nonetheless, experienced yogis may find the class a little too soft: The teacher discouraged us from attempting headstands because the studio's floors are hardwood.—Amanda Meffert
Sivananda Yoga Vedanta Center
(243 W 24th St between Seventh and Eighth Aves; 212-255-4560, sivananda.org/ny). Single class $8--$12, packages available.
Type of yoga offered: Sivananda (with a focus on breathing, relaxation and positive thinking)
Name of class: Open class
Length: 90 minutes
What to expect: This session begins and ends with a nice lie-down, complemented by soothing chanting, courtesy of the instructor and anyone else who knows the words. (It's sort of like a really good relaxation CD.) Next is a series of regimented breathing exercises (warning: it'll get messy if you have a cold), followed by the main program: a moderate routine of stretching-related movements, all of which are held long enough and performed with enough repetition to give beginners a feel for the position before everyone's moved on.
Level: Yoga newbies can do it.
The verdict: It's not just about the class itself at the Sivananda center—the whole place sets a tone of relaxation. You enter a brownstone on a quiet Chelsea street and are welcomes by a calming scene—people chatting in indoor voices, staff members dressed in super-comfortable pants, and yogis eating vegetarian meals out in an open kitchen (meals are served Monday and Tuesday at 7:30pm and Saturdays at noon; $12, members $10). The classrooms have low lighting and some enviable feng shui, and my instructor was completely welcoming and happy to help me through the exercises. While newcomers are best off at a beginners' class (Sat 12:15pm), they should get enough individual attention in the open classes to be able to keep up. That said, Sivananda yoga moves slowly, and is not for ADD types or people who need to perspire profusely to be satisfied with their workout. I didn't feel like I'd earned a five-course meal or anything, but I had more energy going out than coming in, and my hamstrings and back felt thoroughly stretched.—Chris Schonberger
YogaWorks
(37 W 65th St between Broadway and Central Park West, fourth floor; 212-769-9642, yogaworks.com). Single class $22, packages available.
Types of yoga offered: Iyengar, ashtanga, vinyasa flow, prenatal, athletic, rehabilitative, Power yoga
Name of class: YogaWorks class Levels 1 and 2
Length: 90 minutes
How much experience you need: Yoga newbies can do it.
The verdict: YogaWorks' West Side location is a well-designed space reminiscent of a dance studio, with numbered classrooms and a tidy locker room with showers and towels. We used soft blocks, belts and blankets to achieve certain poses, while the instructor explained the importance of each and provided hands-on help where needed. The class was populated by a wide range of ages and didn't feel the least bit trendy. An added bonus—or detraction, depending on your attitude-—was the operatic voice drifting in through the open window.—Marc Whalen
NEXT Bikram
Also called hot yoga, Bikram is practiced in a humid room cranked up to between 100 and 110F. There are 26 poses, done at varying paces depending on the instructor. Expect copious sweat, and don't forget to hydrate, hydrate, hydrate.
Vinyasa | Hatha | Bikram | Anusara
Forrest Yoga | Iyengar | Kundalini | Acroyoga | Hybrids
BACK TO MAIN PAGE
Winter fitness guide
100 yoga and fitness classes reviewed and profiles of the city's best personal trainers.