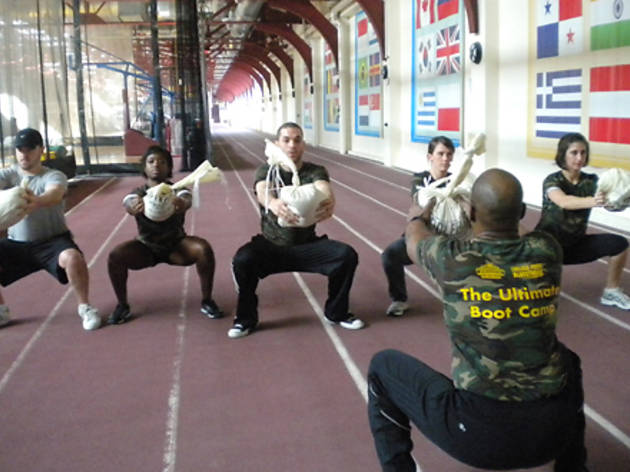 1/4
The Beast Boot Camp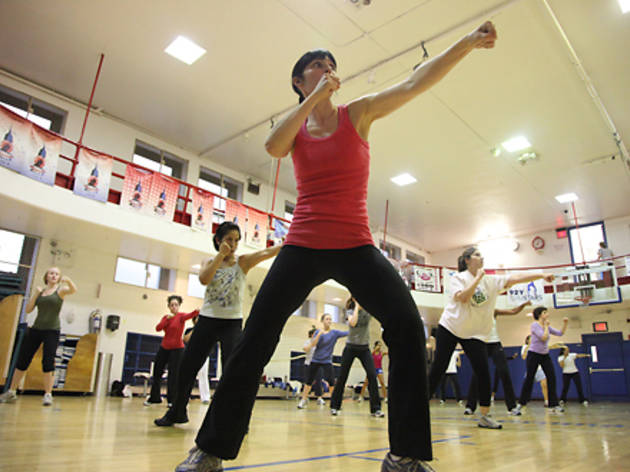 2/4
Powerocity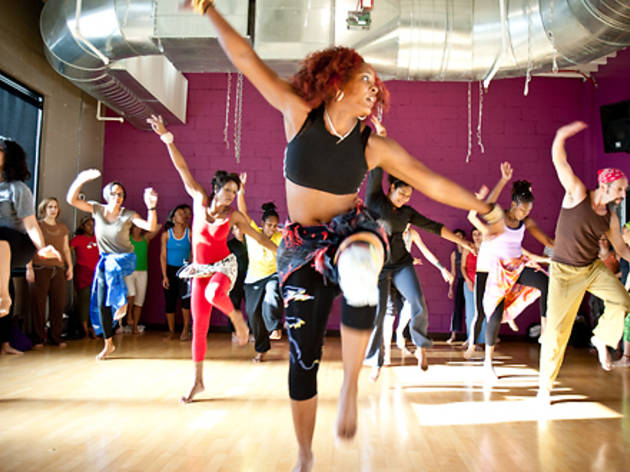 3/4
Tabura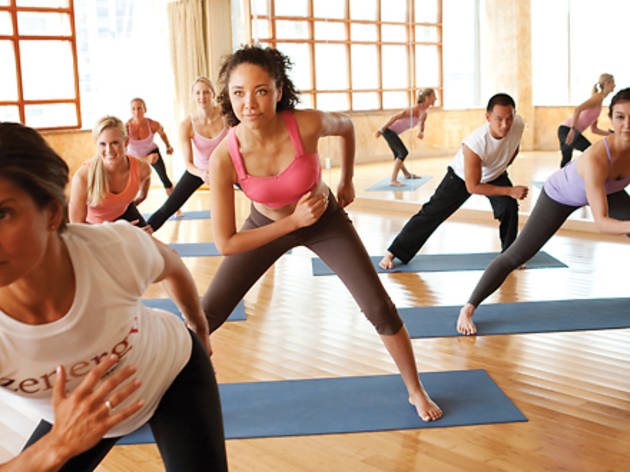 4/4
Photograph: Bill Miles
Zenergy
High-energy aerobics and fusion classes
Get toned fast with these punishing fitness activities.
Aqua Workout
Aquaman may not have the cachet of Spidey or Wolverine, but there's no denying how good he looks in spandex. Take your cue from the amphibious Justice Leaguer and hit the pool with trainer Brian Kent. His rigorous, hour-long sessions lead swimmers through kicking, running, weight training and flying jump-kick maneuvers. "The water is great for getting an all-around workout without putting pressure on your joints," says Kent. New York Sports Club, locations vary; visit mysportsclubs.com for details. Schedule varies. Day pass $25, membership $69--$95 per month.
RECOMMENDED: Find the best NYC fitness classes and gyms
The Beast Boot Camp
Reenact a Captain America--style training routine by climbing cargo nets, running while pushing a sled, racing wheelbarrows and zooming down fire escapes. By the time you get to suicide sprints in the sandpit, you might think saving the universe is easy in comparison. Nonmembers who mention TONY get 50% off the eight-week session when enrolling in the session that starts Oct 29. The Sports Center at Chelsea Piers, 23rd St at the Hudson River (212-336-6000, chelseapiers.com). Mon, Wed, Fri 6--7am, 7--8am. Three classes per week for eight weeks: nonmembers $720, members $576.
Blockbuster Body
The goal of this new cardio circuit is to get you a covetable physique through a combination of running, kicking, rolling, crawling and gymnastics. After a breathless succession of sprints, you'll move into kickboxing alternating with push-ups and squats, followed by a gymnastics-inspired core series that will leave your abs screaming. Finally, you'll stretch everything out with 15 minutes of sinuous, yoga-style stretching. Equinox, 250 E 54th St between Second and Third Aves (212-972-8000, equinox.com). Thu 6:45pm; monthly membership $149--$179.
Fight Club
The first rule of this cross-training session is that you can talk about it all you want—but that won't stop your muscles from getting sore. Jumping rope is at the heart of Fight Club, and the exercise will extract sweat as you burn three times the calories you would while running. Intersperse that with jabs, uppercuts and Rocky-style strength-training intervals, and just 45 minutes can start whittling a svelte form from your Chipotle gut. Location and schedule varies; visit davidbartongym.com for details. Membership $125 per month.
Powerocity
Trainers Michael Hughes and Rima Bien play tag team with this multidisciplinary class's 20 or so participants. You'll be divided into groups and driven through a program of sprinting reps, kickboxing moves and basketball drills. The sheer breadth of sports you'll tackle can ready you for anything the universe throws at you. 92nd Street Y, 1395 Lexington Ave at 92nd St (212-415-5500, 92y.org). Tue, Thu 9:15--10:30am; 16 classes $400, 20 classes $500. Next session begins Nov 29.
Tabura
In this sweaty 45-minute session, creator and instructor Reign Hudson meshes West African dance and kickboxing into one hardcore workout. After a brief warm-up, she alternates between flurries of jabs and kicks, and bursts of low-to-the-floor dances based on routines practiced by West African soldiers. "I put the whole insanity of fight training, dancing and even P90X into one class," says Hudson. "I get so excited that I start yelling and running around waving a towel over my head." Bring in this article to receive a free one-week guest pass. Location and schedule varies; visit crunch.com for details. Nonmember day pass $30, monthly membership $60--$99.
Aerobox
One day you're floating like a butterfly and stinging like a bee, and the next, you're floating like a beer belly in a baby pool and stinging from your too tight waistband. Whip yourself into peak condition by training with former pro middleweight boxer Michael Olajide Jr., who's maintained a championship-grade figure using nothing but his body weight and the skills he employs in the Aerobox routine. He'll guide you through drills, including punches and block and jabs, upping the intensity through just-complicated-enough combos. Every week brings a new mix of maneuvers, so your mind stays as sharp as your left hook. Aerospace High Performance Center, 336 W 13th St between Eighth Ave and Hudson St (212-929-1640, aerospacenyc.com). Mon 7:30pm, Thu 6:30pm, Sat 10am; first-time drop-in $20, unlimited classes $160 per month.
Sweat
Without the technological expertise of Alfred, Batman would just be a buff guy in a leather suit. Gadgets are key to superhero-dom, and this hour-long workout employs an array of equipment to get you ripped. It begins with kettlebells and quickly progresses to more challenging and complex props, including undulation ropes attached to the wall (you whip them back and forth to strengthen your arms, shoulders and back). Clay Health Club + Spa, 25 W 14th St between Fifth and Sixth Aves (212-206-9200, insideclay.com). Mon 6:30-7:30pm; membership $180 per month.
Zenergy
Much like Superman's Fortress of Solitude, this combo routine helps restore balance to busy, overburdened lives: Traditional yoga poses improve flexibility and focus, while fitness-boosting aerobic moves like mountain climbers and lunges elevate your heart rate to burn calories and blast fat. The whole thing ends with five minutes of meditation, during which you can reflect on your newfound sense of calm (and your strategy for defeating that brown-noser in marketing). Reebok Sports Club NY, 160 Columbus Ave between 67th and 68th Sts (212-362-6800, mpsportsclub.com). Sat 9:30--10:30am, Sun 8:15--9:15am; unlimited monthly membership $209--$219 plus initiation fee.
Wave
Staying upright on a moving board, be it on pavement or water, requires some serious core strength and balance—both of which you'll improve in this surfingesque workshop. Most newcomers are apt to wobble on the convex boards a bit before settling into smooth side-to-side and front-to-back motions, but the struggle to balance is a key component of muscle toning. Over the course of 30 minutes, you'll sway both fast and slow, with free weights and without, getting a full-body workout with additional focus on your butt and thighs. Smart Workout, 124 E 40th St between Park and Lexington Aves, suite 603 (212-661-1660, smartworkout.net). Mon 8--9pm, Tue 11--11:30am, Thu 10:30--11am, 5:30--6pm, Sat 4--4:30pm. Monthly membership $145.