Martial arts
Punch up your life with these classes in jujitsu, capoeira, Krav Maga, kung fu, kickboxing and more.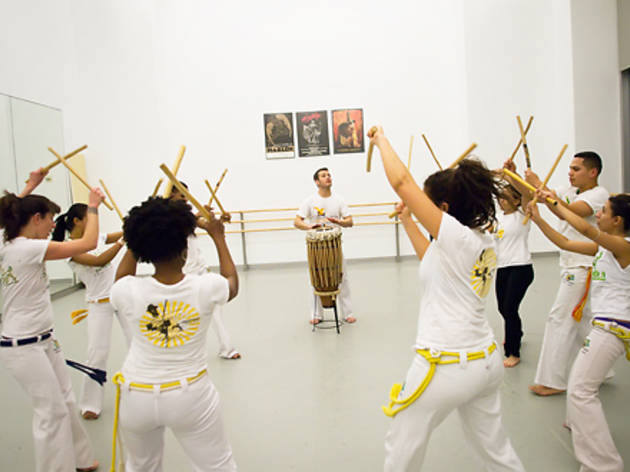 1/5
Photograph: Kyle Froman Photography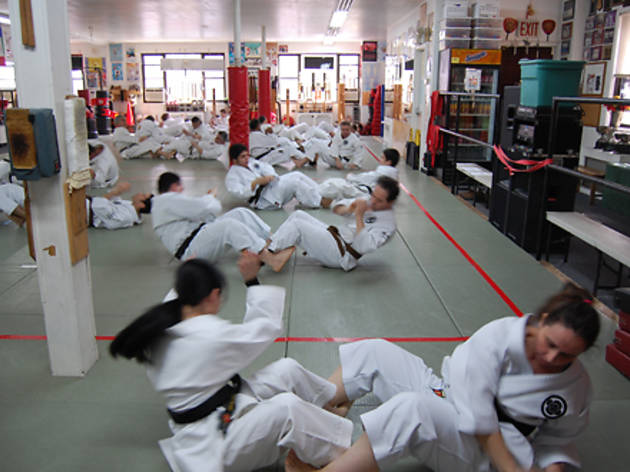 2/5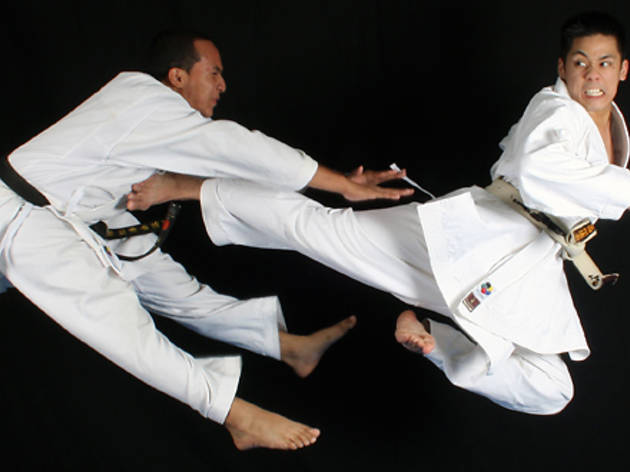 3/5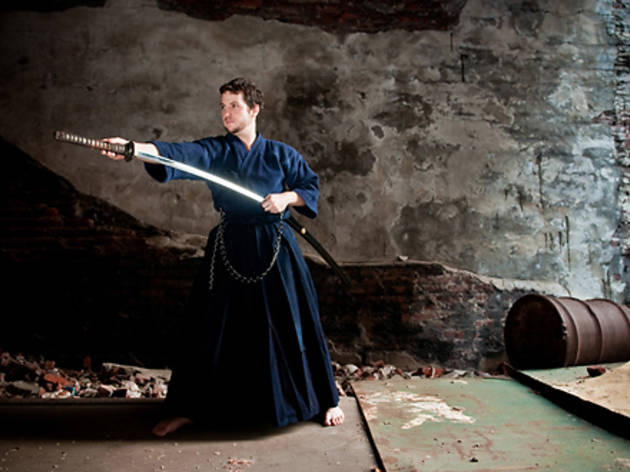 4/5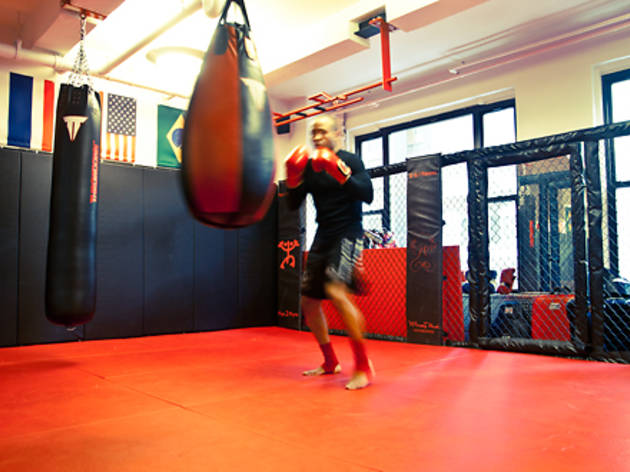 5/5
Brazilian jujitsu
"It's ground-grappling, submission-based wrestling," says Manny Mendonis, an assistant instructor at Brooklyn Brazilian Jiu-Jitsu. "When you bring your partner to the ground, that's when it goes into effect." Throws, pins, takedowns and partner work are some of the first techniques you'll pick up for this South American martial art. It's based on the Japanese jujitsu of the 20th century, with a focus on close-quartered self-defense. Later, you'll move on to chokes and joint locks. "You're using muscles that you probably never knew existed," Mendonis says. Mention TONY to receive a complimentary uniform ($40 value) at your first class through Nov 1. Brooklyn Brazilian Jiu-Jitsu, locations throughout Brooklyn (718-331-5487, brooklynbjj.com). Schedule varies; visit website for details. Introductory class $19.95.
RECOMMENDED: Find the best NYC fitness classes and gyms
Capoeira
Training for this 400-year-old Afro-Brazilian self-defense method includes a fluid series of movements set to live music. Although the form is dancecentric, you'll also be kicking, spinning, doing handstands and, at advanced levels, pulling off gravity-defying flips in tandem with the partner you're battling. Ailey Extension instructor Tiba Vieira, who's been teaching the sport for a decade, says you're guaranteed to enjoy yourself while improving your strength and coordination. First-time class participants can visit alvinailey.org/tony for a two-for-one class coupon, good through Nov 1. Ailey Extension, 405 W 55th St between Ninth and Tenth Aves (212-405-9500, aileyextension.com). Beginner capoeira Tue 7--8pm, Sat 4:30--6pm; intermediate Tue 8--9:45pm. Single class $16.50, five classes $75.66, ten classes $145.50, 20 classes $276.45, unlimited monthly classes $225.
Karate
Repeated viewings of The Karate Kid or a longtime crush on Ralph Macchio may be what draws you to karate, but the champion trainers at dojo Shotojuku take this Japanese martial art very seriously. Respect is primary here: "The first thing you learn is to bow," says shihan Kai Leung, a karate scholar and the owner of Shotojuku, who obtained his black belt in 1967 and has been teaching for more than 30 years. Classes wind through the five principles of karate, as well as physical fitness and basic self-defense, namely punching, kicking and blocking. "It's a great workout," says Leung. "Your whole body gets developed." Shotojuku Karate Dojo, 32-48 Steinway St between Broadway and 34th Ave, Astoria, Queens (718-204-0777, shotojuku.com). Schedule varies; visit website for details. Trial classes for new students free; unlimited monthly classes $125.
Siljun Dobup
Indulge your samurai fantasies by testing your skills at siljun dobup, or sword-fighting. At Samurai Sword Class NYC, an extension of the Sun Moo Kwan Kendo Academy, beginners employ a wooden practice sword (and later, a blunt metal one) to learn "the art of drawing the sword, making a perfect cut, flicking the blood off the blade and then resheathing the sword in your scabbard," says instructor Raab Rashi. "You're definitely going to sweat. Anyone can swing a sword and injure someone, but to have control and precision and to do it correctly is really challenging." Mention TONY to receive one free class through Dec 15. Samurai Sword Class NYC, Joria Theatre, 260 W 36th St between Seventh and Eighth Aves, third floor (646-580-9532, swordclassnyc.com). Samurai Sword Class I (beginner) Mon, Tue, Wed 6--7pm, Samurai Sword Class II (intermediate) Mon, Tue, Wed 7--8pm; one class $20, four or more purchased together $15 each.
Aikido
This noncompetitive Japanese martial art focuses on redirecting the energy of an attacker with throws, rolls and locks. For a traditional approach, check out nonprofit dojo Brooklyn Aikikai: According to instructor Kate Savoca, classes are typically broken down into 15 minutes of stretching, 35 minutes of technique (during which partners take turns attacking one another) and 10 minutes of conditioning. "A lot of people sign up because it's aerobic, it's strengthening, but it's much more than that," says Savoca. "You're put in a position where you're uncomfortable: It's too hard, too much, too fast. You have to face that in yourself." Brooklyn Aikikai, 408 Third Ave between 6th and 7th Sts, Gowanus, Brooklyn (718-643-6044, brooklynaikikai.com). Class times vary. One month $115, three months $325, six months $620, one year $1,200.
Kali
This lesser-known Filipino form of combat includes an intricate stick-fighting practice as well as empty-handed techniques (grappling without a weapon), but focuses on improvisation for maximum street-battle success. "Classes begin with footwork and stretching," says instructor Simon Burgess. "Then we work on drills, [which show you how] to flow from one technique to another, depending on the range and type of weapon." Though training starts at the individual level, students eventually progress to sparring. Kali's fitness benefits are seen quickly: In addition to weight loss, strength and cardio endurance, Burgess says self-confidence and heightened awareness are the biggest draws. Five Points Academy, 277 Canal St between Broadway and Lafayette St, third floor (212-226-4474, academyfivepoints.com). Kali classes Tue, Wed, Thur 6pm--7pm; Sat 11am--noon; Sun 10am--noon . One-month membership $249, three-month membership $204. trial classes for new students free.
Krav Maga
"There are no rules in the streets!" says Eve Gold, co-owner of Krav Maga NYC, which coaches practitioners on the intensely aggressive hand-to-hand combat moves of this Israeli street-style martial art. Krav maga is a form of fighting used to train the Israeli military and concentrates on escaping from choke holds and grabs as well as the proper way to punch, elbow, knee and kick an attacker. The co-ed 15-to-35-student classes at Krav Maga NYC are taught by experts who have trained in the art for years, and feature 15 minutes of warm-up followed by a variety of striking techniques that are demonstrated step-by-step. "We teach self-defense for everyone," says Gold. "Regardless of fitness or shape or size." Mention TONY to receive 50 percent off any beginner class through Oct 14; advanced reservation via email required. Krav Maga NYC, 164 W 25th St between Sixth and Seventh Aves, suite 3R (212-781-7918, kravmagainc.com). Class times vary. One class $30; unlimited memberships available, prices vary.
Kung Fu
"I call it action meditation," says warrior monk shifu Shi Yan Ming of says of original-style kung fu, a martial art that encompasses several different Chinese fighting styles. It gained popularity in the U.S. in the '60s, thanks in no small part to Bruce Lee. But at the American branch of Shaolin, a temple founded in 1994 by Ming, absorbing kung fu's Buddhist philosophy (developed in the 5th century at the original Shaolin monastery in China) is as important as stretching, striking, throwing and jumping, some of kung fu's basic techniques. "When you stretch your body, you stretch your mind," Ming says. "You stretch the stress out of your life." The first 15 people to mention TONY receive a free trial class and 20 percent off a Shaolin Temple membership fee through Oct 15. USA Shaolin Temple, 446 Broadway between Grand and Howard Sts, second floor (212-358-7876, usashaolintemple.org). Kung Fu Level 1 class Mon, Wed, Fri noon--1:30pm; Tues, Thur 7--9pm; Sat, Sun 11am--1pm. Initial registration and tuition (includes a uniform, shoes, sash and T-shirt) from $275, subsequent monthly registration for unlimited Level 1 classes from $150.
Muay Thai Kickboxing
D&I Fitness owner Kru Delon Nelson offers private and semiprivate sessions (four people maximum) in what he calls the D&I method: "a well-rounded routine combining calisthenics, body weights and Muay Thai." The latter is a combat kickboxing sport from Thailand that teaches stand-up striking, punches, kicks and other techniques using eight specific points of contact. In addition to burning calories and gaining muscle endurance, Nelson, who's been teaching Muay Thai for 15 years and is certified by the World Kickboxing Association, says you'll gain emotional stamina as well. "We train like fighters—under pressure, you're not going to crumble." Mention TONY to get 25 percent off your first private or semiprivate session through Oct 15. D&I Fitness, 139 E 57th St between Lexington and Third Aves, seventh floor (646-879-4577, delonnelson.com). Private 50-minute sessions $110--125; semiprivate 50-minute sessions $50--$60.
Tae Kwon Do
Loosely translated as "the way of hand and foot," this Korean martial art is all about strikes, leading West Side Taekwondo instructor Paul Lim to liken the sport to boxing. Although in tae kwon do, "power comes through speed and movement, and you don't have to be a big person to be effective," he says. The first half of each class focuses on cardio, core strength and flexibility; later you'll work on fundamental kicks, blocks and punching. "Expect to be sore and lose some weight," says Lim says. Mention TONY to receive a trial month of unlimited classes for $99, uniform included, through Jan 1, 2012. West Side Taekwondo, 700 Columbus Ave at 95th St (212-663-3998, westsidetkd.com). Class times vary; one month unlimited classes $200.