Unconventional workouts
Add variety to your exercise regime with climbing, aerial work, parkour and more.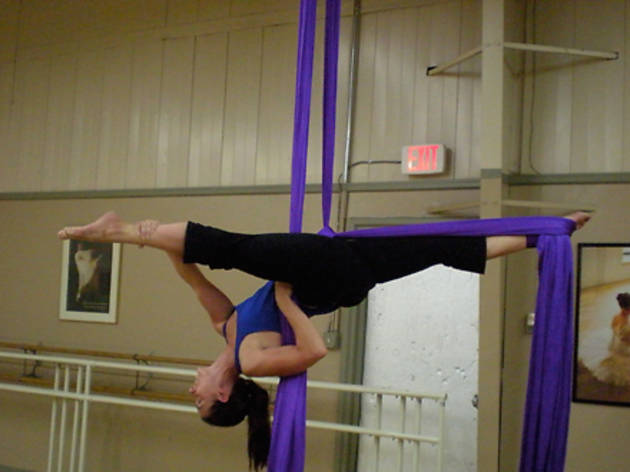 1/7
Helium Aerial Dance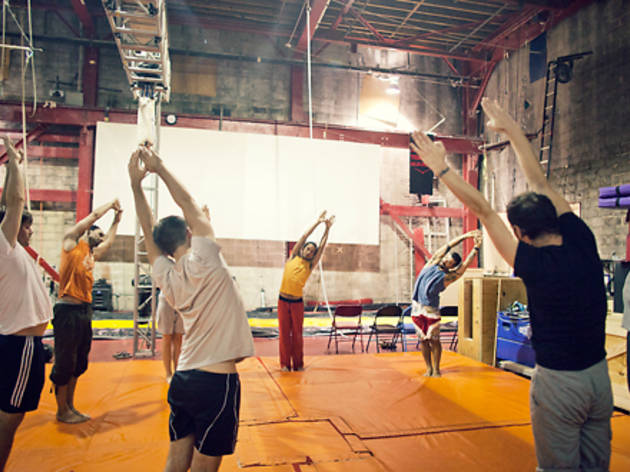 2/7
PopAction Technique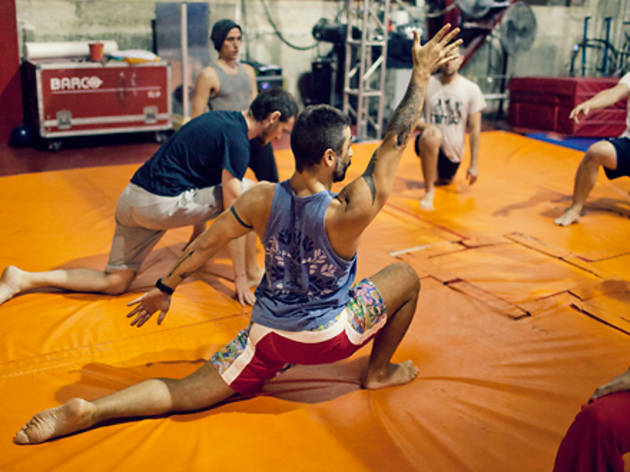 3/7
PopAction Technique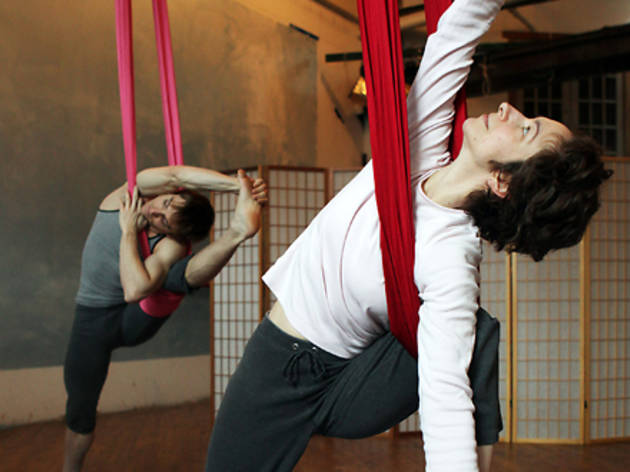 4/7
Photograph: Lauren Goldberg
Aerial Yoga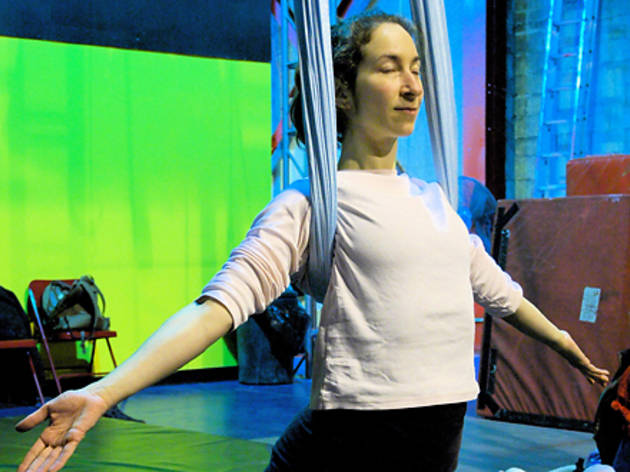 5/7
Aerial Yoga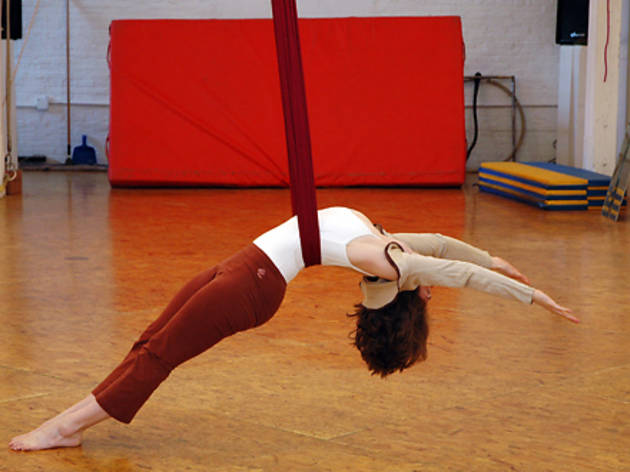 6/7
Aerial Yoga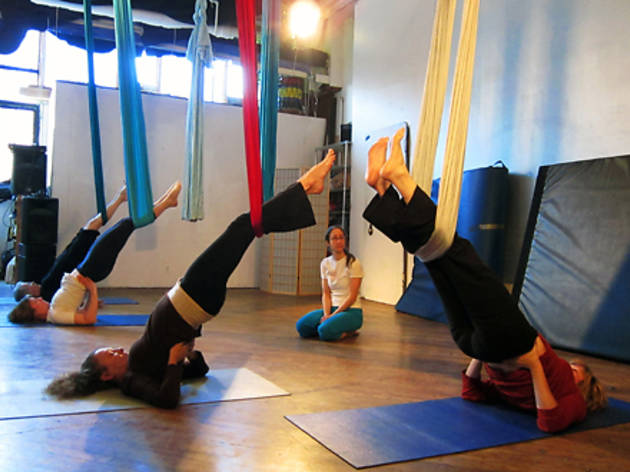 7/7
Aerial Yoga
Aerial Silks
In addition to offering six kinds of aerial acrobatics classes (including silks, hoop, rope, static trapeze), the Sky Box studio gives students the chance to perform in front of a live audience during monthly variety shows. Instructor Anya Sapozhnikova advises first-time participants to wear unitards and avoid being intimidated. "Know that this stuff is extremely challenging," she says. "Trust your body to adapt to it instead of getting frustrated." Mention TONY to receive $5 off the Beginner Silks class through Mon 19 (usually $25--$30). The Sky Box at the House of Yes, 342 Maujer St between Morgan Ave and Waterbury St, Williamsburg, Brooklyn (skybox.org). Schedule varies; visit website for details.
RECOMMENDED: Find the best NYC fitness classes and gyms
Learn the Ropes and Learn to Boulder
This two-year-old rock-climbing gym has more than 18,000 square feet of bouldering and climbing walls. Introductory classes are offered several times a day, and the staff will make even the newest climber feel at ease. "You may go slower at first," notes route setter Mark Heal. "Soon you stop worrying about falling and just climb." Mention TONY to score a Learn the Ropes class for $37 (usually $75) through Dec 31. Brooklyn Boulders, 575 DeGraw St at Third Ave, Gowanus, Brooklyn (347-834-9066, brooklynboulders.com). Schedule varies; visit website for details.
Explosive 30
This 30-minute Crunch class uses a fast-paced mix of strength training and cardio to engage your whole body. Instructor Marc Santa Maria breaks sessions down into two-and-a-half-minute sets that target bigger muscle groups (like the thighs, glutes and back), before moving onto smaller ones (like biceps, triceps and calves). Santa Maria says the challenge appeals to those who "want their asses kicked and like to feel like a badass." Bring in this article to receive a free one-week guest pass to Crunch through Nov 1. Crunch, location and schedule varies; visit crunch.com for details.
Helium Aerial Dance
Aspiring acrobats of all levels can hone their skills with Helium personal trainer and head instructor Heather Hammond. She has a dozen years' experience as a professional aerialist and a background in modern dance and ballet, and recommends one of her company's eight weekly classes, offered at two different locations. During sessions, you'll learn how to build sequences of connected aerial movements on silks, straps, hammocks and more . "It's integrated conditioning that's super fun, and challenges your mind and body," says Hammond. Mention TONY when you buy one drop-in class ($35--$40) and get the second free through Oct 31. Hype Gym, 480 Second Ave at 27th St, first floor. Mon 5:30, 6:45pm; Wed 12:15, 6:45, 7:45pm; Fri 1:30pm. * Embody Language Studio, 241 Bedford Ave between North 3rd and 4th Sts, studio 7, Williamsburg, Brooklyn. Tue, Thu 5pm. * (917-280-2611, heliummm.com)
PopAction Technique
The Streb Dance Company is known for a distinctive type of performance that combines explosive dance moves with gymnastics and acrobatics. Former performer and teacher Sarah Donnelly helps students master the "perfect line" (where all the body's joints stack on top of one another), vertical and horizontal pivots, frozen positions (where the dancers quickly transition from one position into another) and more. Mention TONY to receive a 5% discount on the $15 class price through Nov 1. Streb Lab for Action Mechanics, 51 North 1st St between Kent and Wythe Aves, Williamsburg, Brooklyn (718-384-6491, streb.org). Mon 6--7:30pm.
Aerial Yoga
If wobble-inducing poses keep you from attaining yogic bliss—or bore you to tears—challenge yourself by trying to go Zen while cradled in a fabric hammock suspended from the ceiling. "We place the hammock in certain places on the back. [By] allowing the body to hang, gravity helps undo tension that puts [you] out of alignment," says Unnata Aerial Yoga founder and teacher Michelle Dortignac. "We also [employ] conditioning and strengthening exercises that [try to offset] bad posture habits." Class size is limited to 12, so Dortignac recommends calling ahead to reserve a spot at least 24 hours in advance. 241 Bedford Ave at North 4th St, studio 7, Williamsburg, Brooklyn (646-205-3210, aerialyoga.com). Tue 7:15--8:45pm; Sat, Sun 1:15--2:45pm. $20, five classes $85, ten classes $150.
Flying/Static Trapeze
By day, Circus Warehouse serves as a training ground for professional circus performers, but by night and weekend the facility opens its doors to amateurs seeking an avant-garde workout experience. The venue offers lessons on both flying trapeze (which swings, allowing for somersaults and other tricks) and static trapeze (a stationary hanging bar that the performer flips and spins on). Beginners should check out the Open Level Flying Trapeze classes taught by fifth-generation trapeze artist Gino Farfan, who holds the world record for being the youngest flyer ever to execute a 3-and-a-half-turn somersault. Mention TONY when you call 212-751-2174 to reserve a single flying trapeze class for $40 (usually $55) through Dec 31. Circus Warehouse, 53-21 Vernon Blvd at 54th Ave, Long Island City (212-751-2174, circuswarehouse.com). Open Level Flying Trapeze Mon 7--9pm, Sun 1--3pm; Open Level Static Trapeze Tue 7--9pm, Sat 1--3pm.
New York Parkour
Turn unlikely spots like Battery Park and Central Park's Bethesda Fountain into an urban jungle gym by practicing this gravity-defying alternative sport—which employs methods Spidey himself would appreciate. Beginners are advised to prepare themselves by pushing, pulling and lifting their own weight so that they can get used to propelling their body through the sport's dramatic jumps off of large obstacles and leaps off walls. "Relax," says Oasis, one of the head instructors. "Remember that your body is more capable than you think. As long as you don't panic and focus too much on failure, your body will work with you, and you will be pleasantly surprised at how capable you are." Bring in this article to receive $5 off the walk-in rate (usually $25) through Sept 28. Location and schedule vary; visit nyparkour.com for details.