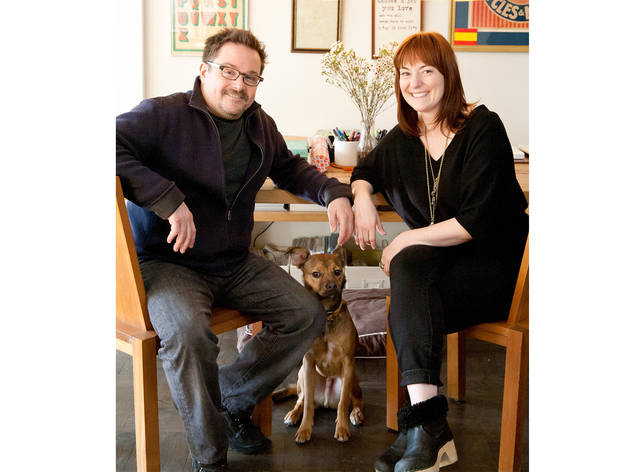 1/18
Photograph: Mimi Ko
Kate Cummings, who runs design company Freestyle Restyle (freestylerestyle.com), shares a 900-square-foot pad with her boyfriend, Griffin Stenger, co-owner and creative director of ad agency Concept Farm (conceptfarm.com), and their puppy, Jonesy. Cummings moved in nearly two years ago (Stenger bought the space in 2006) and took on the challenge of merging the couple's eclectic treasures—both new and heirloom—to make the space reflective of their different tastes. "It's not like we just went out and bought stuff," she notes. "Everything came together from the things we already had."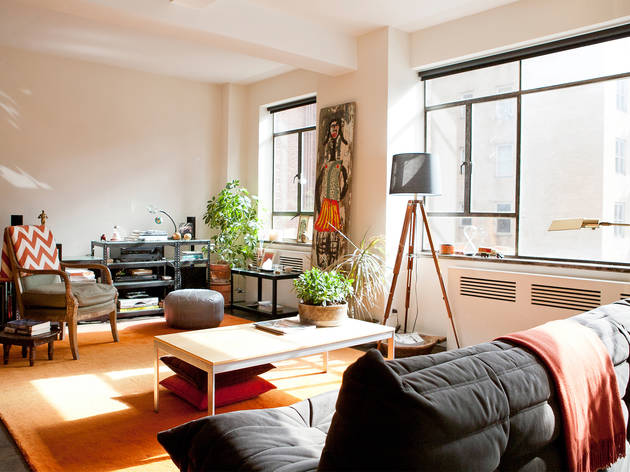 2/18
Photograph: Mimi Ko
"It's warm, organic, unisex, modern and industrial," Cummings describes the multifunctional living room. In lieu of a TV, the couple uses a projection screen that pulls down from the ceiling when they want to watch movies and entertain friends. "We love having people over," says Cummings. "It's cheaper than hanging out at bars and restaurants." Stenger renovated most of the apartment when he moved in by knocking down walls to open up the space, but the couple was happily able to keep the original windows, which provide an abundance of light and views of the Empire State Building. Plants from Ikea (1 Beard St at Otsego St, Red Hook, Brooklyn; 718-246-4532, ikea.com) add to the airy feel.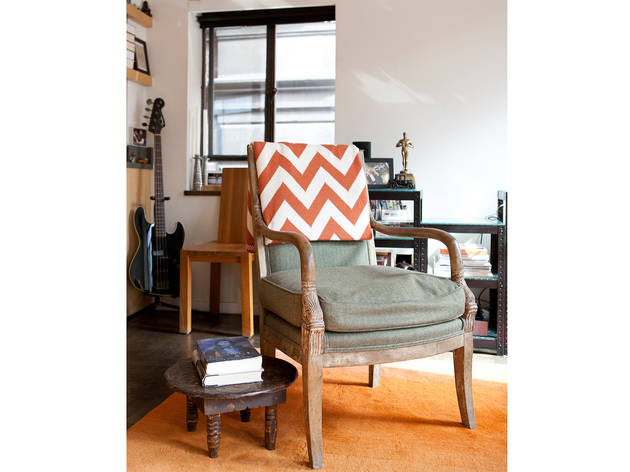 3/18
Photograph: Mimi Ko
Stenger snagged this chair at an Upper East Side thrift shop, only to find out that it once belonged to a friend's uncle, who had donated it. Cummings had it reupholstered at H&A Upholstery (53 Pearl St between Plymouth and Water Sts, Dumbo, Brooklyn; 718-855-9664, dumboupholstery.com) with cashmere she found at Holland & Sherry (330 E 59th St between First and Second Aves; 212-758-1911, hollandandsherry.com) and added a chevron knit throw from Lillian August (12 W 20th St between Fifth and Sixth Aves; 212-206-1883, lillianaugust.com). The footstool, used here as a side table, was found in a "dumpy, [now] closed" store in the East Village.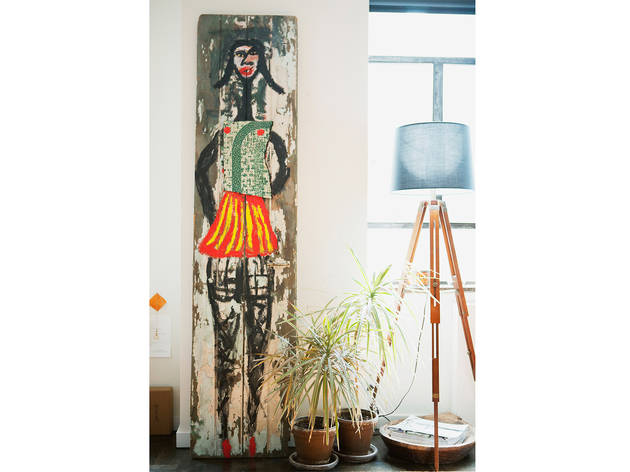 4/18
Photograph: Mimi Ko
Cummings bought this Ross Brodar (rossbrodar.com) painting off of the artist's truck on the periphery of the Outsider Art Fair (sanfordsmith.com). He hadn't been able to gain access to the bazaar, so he sold his goods outside. "We were in an alley [when we bought it] so we named her Alley Girl," notes Cummings. "She's followed me around to a lot of apartments. I like that [Brodar] always thought of her as a prostitute." It rests next to a Pottery Barn (locations throughout the city; visit potterybarn.com) tripod lamp base, modified by a blue topper from Just Shades (21 Spring St between Elizabeth and Mott Sts; 212-966-2757, justshadesny.com).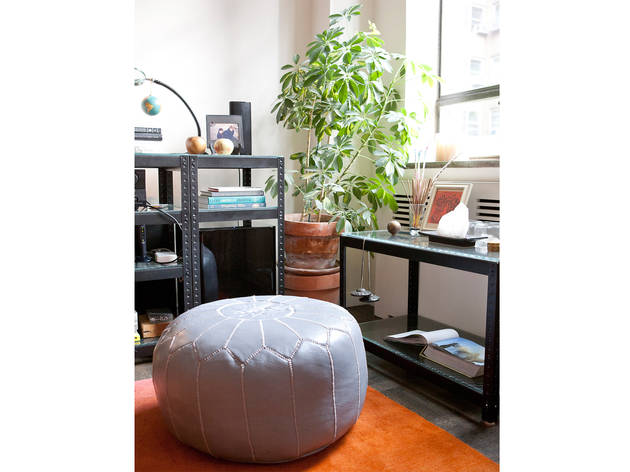 5/18
Photograph: Mimi Ko
This serene corner is reserved for Cummings's daily meditation and yoga. A Lillian August Moroccan pouf that she scored when she was an interior designer for the company two years ago sits on top of a vibrant rug from ABC Carpet & Home. Metal shelving units from Ikea provide storage for mementos, as well as crystals, incense and a "reminder" card of daily mantras she got at the Kripalu Center for Yoga & Health (kripalu.org) in Massachusetts.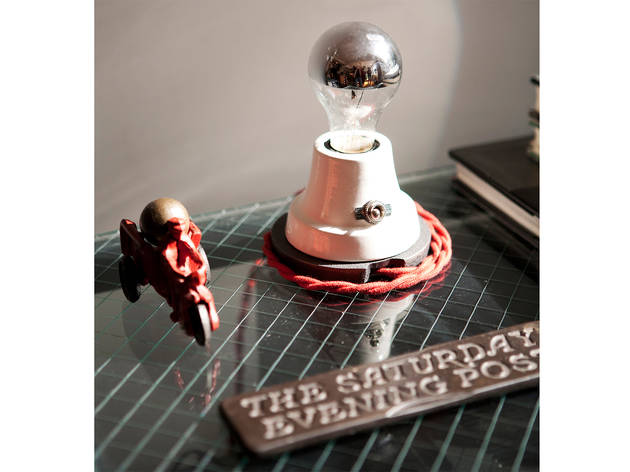 6/18
Photograph: Mimi Ko
A porcelain Edison-bulb lamp from Schoolhouse Electric & Supply Co.'s showroom (27 Vestry St at Hudson St; 212-226-6113, schoolhouseelectric.com) is displayed alongside a motorcycle figurine from Mantiques Modern (146 W 22nd St between Sixth and Seventh Aves; 212-206-1494, mantiquesmodern.com) and a Saturday Evening Post paperweight from a newsstand on the Lower East Side.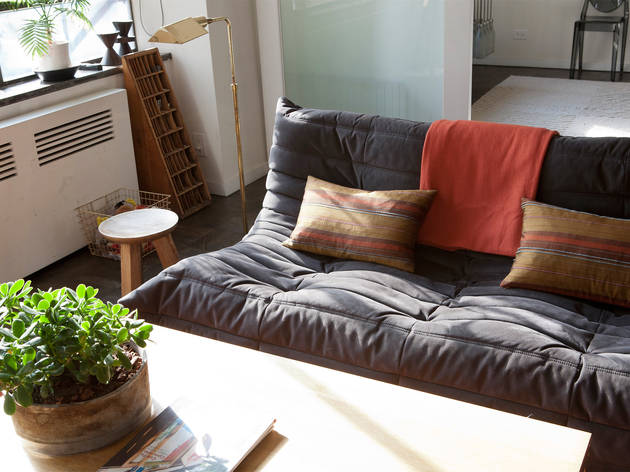 7/18
Photograph: Mimi Ko
"I took these from a free bin on a Brooklyn stoop," admits Cummings of these striped pillows, which provide color to a French contemporary couch from the Ligne Roset showroom (250 Park Ave South between 19th and 20th St; 212-375-1036, lignerosetny.com). "I think they were actually [actor] Keri Russell's since she was my neighbor." A floor lamp from Cummings's parents' garage and an Ikea coffee table round out the lounging area.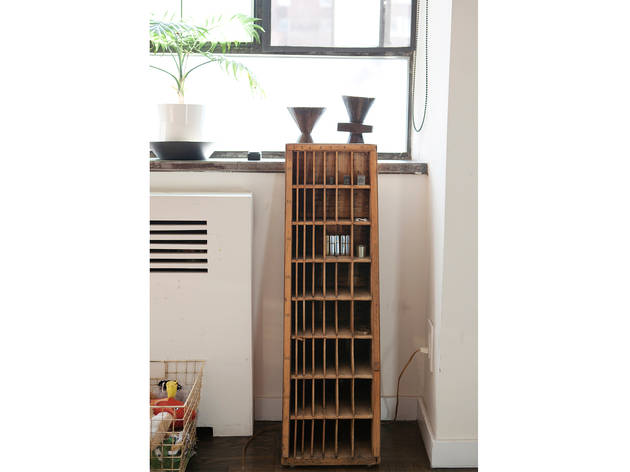 8/18
Photograph: Mimi Ko
"This is actually an antique printer's letterpress type box from when they used to store stamps and pieces of lead," says Cummings of the piece that the couple found at an antique show in Illinois. African male and female symbols, which were a gift from a neighbor, rest on the windowsill just behind it.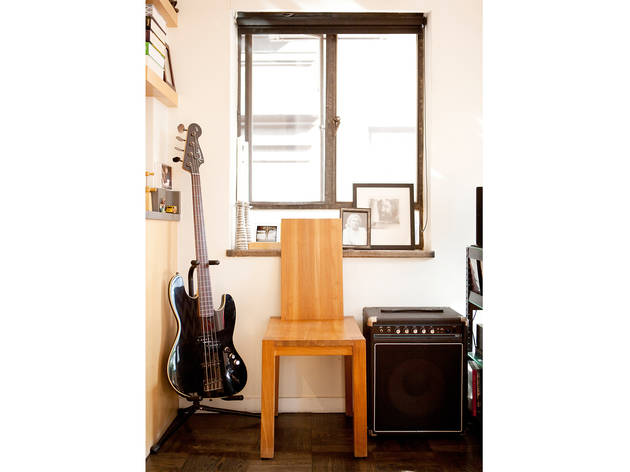 9/18
Photograph: Mimi Ko
The couple calls this area Stenger's "bass-practicing spot," complete with family photos and a chair from a now-closed African import shop in Soho. "Last year, Griffin decided he wanted to go on stage, so he threw himself a birthday party and had to practice for six months," explains Cummings. "He hasn't played since."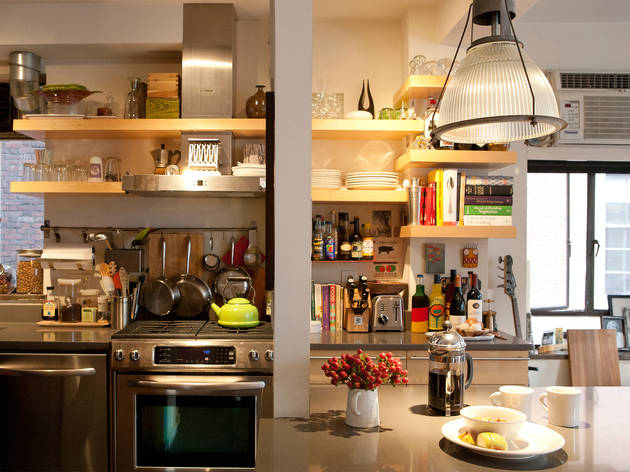 10/18
Photograph: Mimi Ko
Although Stenger had previously renovated the kitchen, gaining two extra feet of space by knocking out a massive pantry closet, it was Cummings who made it homey. "When I moved in, Griffin didn't cook—it was just takeout," she says. "I gave [the kitchen] a lot more love." She did so by enhancing the area's neutral color palette with green and brown accents, including kitchenware from Broadway Panhandler (65 E 8th St between Broadway and Mercer St; 866-266-5927, broadwaypanhandler.com) and a lime-colored teapot from Sur La Table (75 Spring St at Crosby St; 212-966-3375, surlatable.com). "Since it's so open, you really have to edit," she explains.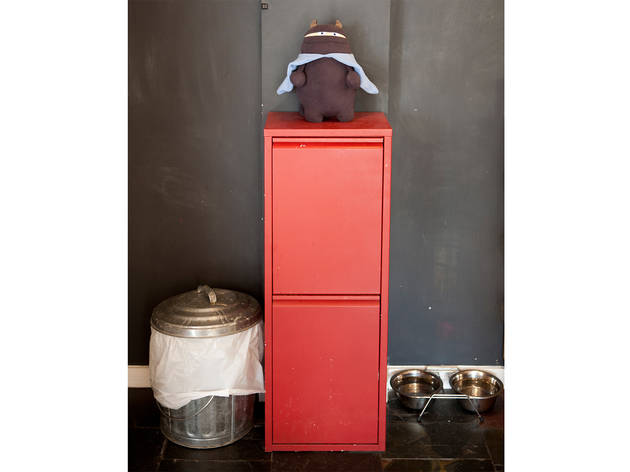 11/18
Photograph: Mimi Ko
Stenger bought an office filing cabinet from the Container Store (629 Sixth Ave between 18th and 19th Sts ● 725 Lexington Ave at 58th St ● 212-366-4200, containerstore.com), spray-painted it red and repurposed it as the couple's recycling bins. Murphy, a caped stuffed animal Stenger found at Farfetch (farfetch.com), symbolizes the couple's ability to compromise in sharing the space. "I probably would not have put him there myself," admits Cummings. "But now I love him; it's his home."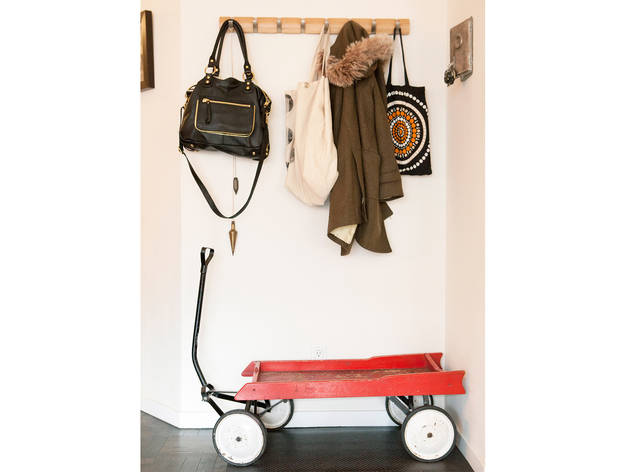 12/18
Photograph: Mimi Ko
Stenger inherited this wagon from his father after he passed away in 1989, but says it "probably wasn't anything special." Although much of their home contains sentimental items, the pair doesn't want it to feel museum-like. "There's nothing inherently precious in the [apartment]," adds Cummings. "It's all livable."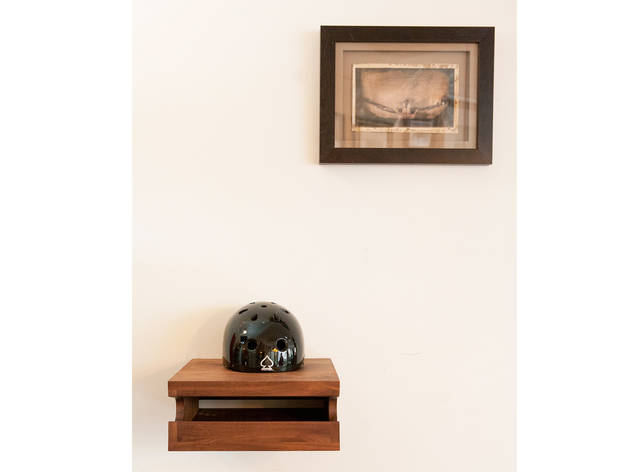 13/18
Photograph: Mimi Ko
This custom bike shelf, made by Knife & Saw (theknifeandsaw.com), normally holds Stenger's favored method of transportation. A photograph purchased from a Brazilian artist in Union Square hangs above it.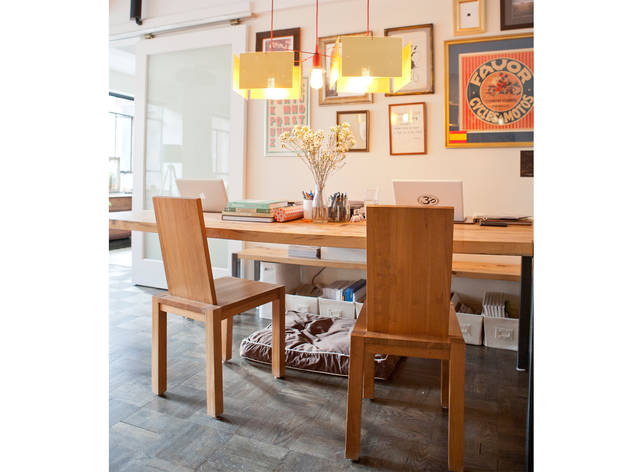 14/18
Photograph: Mimi Ko
"This is my workspace, but when we have parties, we eat here," explains Cummings. The Desiron (151 Wooster St at West Houston St; 212-353-2600, desiron.com) table was built in pieces, allowing the couple to expand and contract the surface as needed for entertaining. Pendant light fixtures are by Ingo Maurer (89 Grand St at Greene St; 212-965-8817, ingo-maurer.com) hang above the wood set. An illustration by Stenger's father hangs on the back wall alongside various note cards and pictures the couple picked up through the years. "It's hard to afford art, but we have all these things that we collect," says Cummings. "[Otherwise] they get shoved into drawers, never to be seen again. But they tell a story as part of you and the people you know."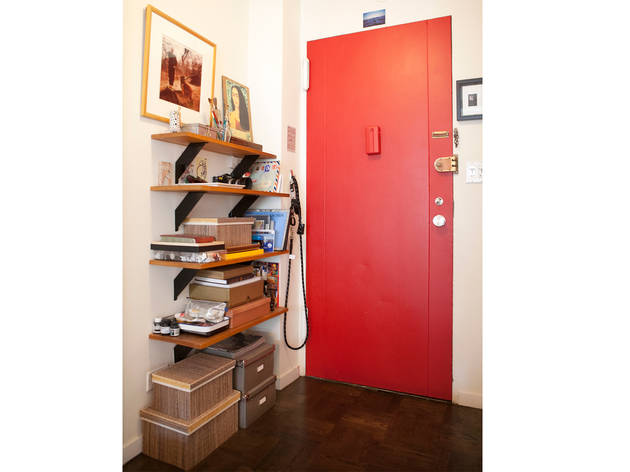 15/18
Photograph: Mimi Ko
Shelves from the Container Store and baskets from Kate's Paperie (435 Broome St between Broadway and Crosby St; 212-941-9816, katespaperie.com) hold everyday essentials such as keys and subway cards—as well as Cummings's art supplies—to create an organized entryway, making mornings more efficient. Inspired by the red wires on the light fixtures in the dining room, the couple painted the front door using Benjamin Moore's Ladybug Red.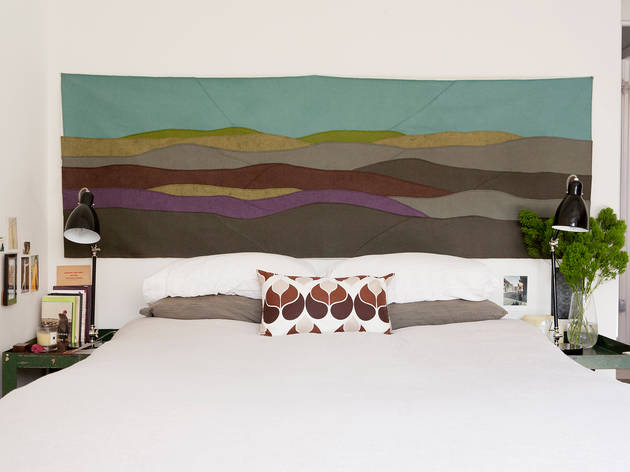 16/18
Photograph: Mimi Ko
"It's the most natural bed you can have," enthuses Cummings of her Hästens (75 Grand St between Greene and Wooster Sts; 212-219-8022, hastens.com) organic sleeper, which is topped with Muji (locations throughout the city; visit muji.us) bedding and a pillow from West Elm (112 W 18th St between Sixth and Seventh Aves, 212-929-4464 ● 1870 Broadway between 61st and 62nd Sts, 212-247-8077 ● 75 Front St at Main St, Dumbo, Brooklyn; 718-875-7757 ● westelm.com). Stenger's mother, who makes puppets, crafted the felt wall hanging. The side tables were East Village trash-can finds that Cummings surmises were "probably from a school."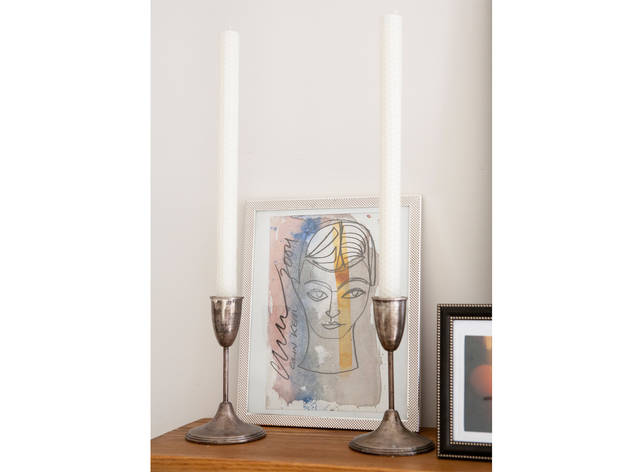 17/18
Photograph: Mimi Ko
Cummings found this Colin Kerr (nyireland.com/websites/colinkerr) watercolor-and-pencil painting at the GreenFlea (Columbus Ave between 76th and 77th Sts; 212-239-3025, greenfleamarkets.com; Sun 10am–5:30pm). It's flanked by candlesticks from a small antique shop in upstate New York.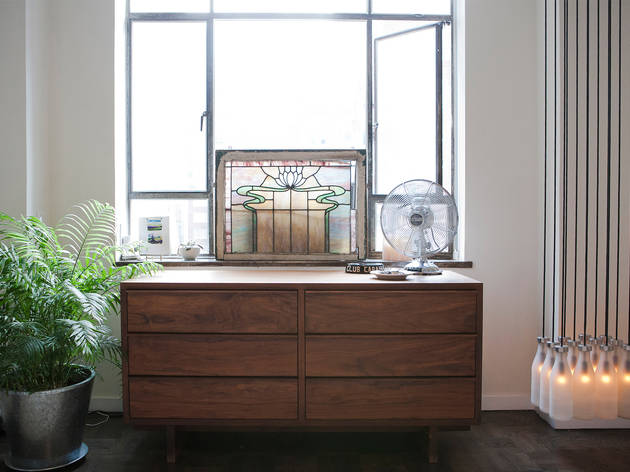 18/18
Photograph: Mimi Ko
"At night, you can't see the bulbs," says Cummings of the milk-bottle light fixture from Amsterdam company Droog (droog.com). "It provides a really soft orange glow." A stained-glass piece that Stenger nabbed from a restaurant that was closing in Hoboken sits atop a solid walnut bureau from Room & Board (105 Wooster St between Prince and Spring Sts; 212-334-4343, roomandboard.com).
Apartment tour: 1BR in Murray Hill
Couple Kate Cummings and Griffin Stenger use their combined design skills to create an eclectic abode.
Love the look? Get it here!
Moss Bureau 256 W 36th St between Seventh and Eighth Aves, tenth floor (212-204-7100, mossonline.com)
"It's housewares, but it's art," notes Cummings of the high-brow stock at this modern design store. "It's like a museum. You're looking at a sponge, but it's special and somehow conceptual."
Kartell 39 Greene St between Broome and Grand Sts (212-966-6665, kartellus.com)
"I like anything that has an industrial, contemporary spirit," says Cummings, referring to this modern home shop known for durable plastic furniture. "Mass-produced stuff is fun and cool­—it's just part of our culture."
Thomas O'Brien/Aero Studios 419 Broome St between Crosby and Lafayette Sts (212-966-1500, aerostudios.com)
"He started out as a lighting designer and now has his own store," notes Cummings. "It's masculine, heirloomesque and industrial. It's an interesting combination."
ABC Carpet & Home 881 Broadway at 19th St (212-473-3000, abchome.com)
"I grew up on 12th Street and Fifth Avenue, and I used to go here as a kid and imagine hiding and getting closed in there," says Cummings. "I still sort of feel that way. That store is like magic."
You might also like
Apartment tour: 3BR in Brooklyn Heights
Apartment tour: 2BR in Cobble Hill, Brooklyn
See more in Style & Design